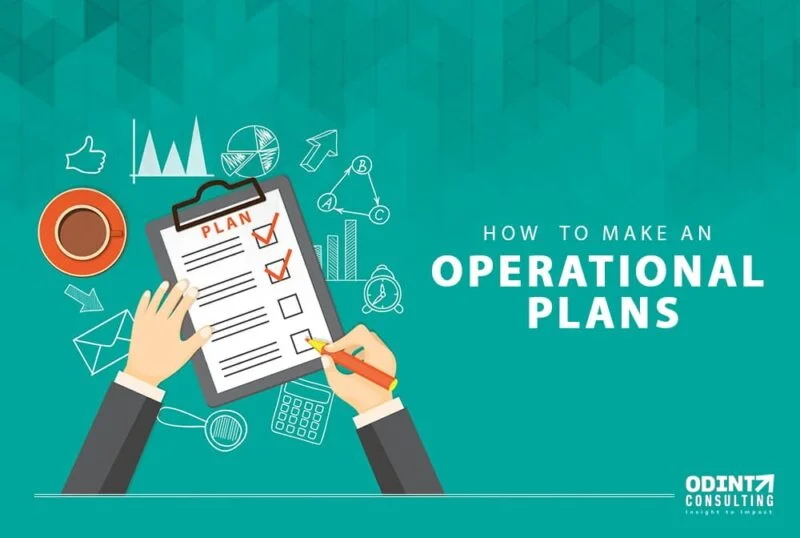 Overview: Operational Planning
A company needs a strategy plan, but that's not enough. To ensure that your organization's larger goals are achievable, you need an operational plan to manage the day-to-day tasks.
Operational plans do not have to be reserved for large companies. Individuals and small businesses can also benefit with operational planning.
This article will explain, what is operational planning is and how to make one without feeling overwhelmed.
What is an Operational Plan?
Operational planning is a documented plan that outlines the goals and key objectives of an organization, and how they can be achieved. It ensures that team members understand their responsibilities as well as what they need to do.
The operational plan guides and helps the teams to stay on the required project timeline and to make crucial decisions about the company's long-term goals.
Who should develop an Operational Plan?
An operational plan is necessary to capture who is doing what and when. An operational plan should be smaller than your strategic plan in terms of scope and timeline. 
Instead of creating an operational plan for the entire company, you can create one for each department or team. You could create an operational plan for one initiative in a larger company. This is similar to a detailed plan.
To illustrate, you might create an operational plan that outlines the daily tasks your IT department must perform to support the company. 
The operational plan for your IT department might include details such as how often IT team members will check the IT request project inbox and budget details. It also may detail how IT team members will onboard new employees and how they will equip them.
An operational plan should be created at three levels:
Scope:- Your operational plan will detail the who, what, and when for each activity. This plan should be focused on one team or initiative.
Timeline:- Depending on the speed of your organization's movements, your operational plan should be spread over a quarter, six months, or a full fiscal year.
The stakeholder:- Make sure that the people involved with operational planning are near the work so they can accurately project the work and predict the work to be included in it.
Types of Operational Planning
There are basically two types of operational plans: Standing or single-use.
A single-use plan is operational planning that relates to one project. It is discarded after the project is completed. This is useful if the project doesn't align with another project or won't be used again in the future. It can be customized to suit each project.
A standing program is operational planning that's repeated. This plan is used by a department for tasks or projects that arise frequently. These plans will save you the hassle of having to reinvent the wheel every time. However, you will lose some flexibility.
5 Steps For Operational Planning
You are not expected to create new plans or set new goals during the operational planning process. To create an operational plan, you should assess the work of your team and what you need to do daily or weekly to reach your strategic goals. Here's how:
1. Get started with a strategy plan
Create a strategic plan if you don't have one. Before you can begin to break down the details, you need a long-term vision.
A strategic plan can be created in four steps:
Identify your position
Develop your strategy
Your strategic plan should be created
Manage, share, and monitor your strategic plan
2. Reduce your scope
To create an operational plan that is detailed-oriented, it is important to limit the scope of your project to a specific team, department, or focus area. Your company's size will determine the scope of your operational plans.
Imagine, for example, that you are breaking down your strategic plans into action plans for different company departments. 
Marketing teams can include design, product marketing, and social media. You should develop an operational plan for each of the smaller teams to capture daily functions.
3. Identify key stakeholders
Before you create an operational plan, determine who will be involved in it. The members of the team responsible for creating the operational plan should have a good understanding of the actions described in the plan.
Depending on the size of your team, the head of the design group and the team leaders should create the operational plan for the design team. After creating their operational plan, they should share it with the head of marketing to finalize approval.
4. Plan it
Your operational plan describes the actions that your team will take to reach your goals within a given timeframe. 
You can outline an operational plan here:
The goals of your team
The deliverables will be realized by the operational plan
Any desired outcome or quality standards
Your operating budget, as well as your staffing and resource needs
How to monitor progress and make reports
These are the questions to ask yourself if you have difficulty figuring out the details of your operational plan.
What are we supposed to do? This information should be derived from your strategic plan or yearly goals.
What are the daily tasks we must complete to reach our goals? These could be your daily tasks or new work you need to do.
Who is responsible for these tasks? Each task should have a single owner to ensure that there is no confusion as to who to contact for updates or questions.
What are the metrics that will help us achieve our goals? If you don't have SMART, create it.
5. Update and share your operational plan
Once you have created your plan, share it with key stakeholders to make sure they know the team's main goals and the daily tasks required to achieve them. You can manage your plan and update it on a shared platform that tracks real-time progress.
Things will change, just like any other element of project planning. You must monitor the progress of your operational plan, and provide updates to key stakeholders and team members about how you are tracking towards your goals. Written status updates provide a monthly progress report.
What are the things should be included in Operational Planning?
The things should be included in Operational planning are:
Operational Budget: An operational budget is a forecast of projected running expenditures and income for a specific time period. The operational budget, like other types of budgets, outlines the amount of money available to buy raw materials, equipment, or anything else required for corporate operations. It is critical to keep your expenditure under your operating budget; otherwise, your firm will run out of resources to carry out its routine operations.
Operational Objectives: It is critical to link your operational goals with your strategic goals. For example, if one of your strategic goals is to boost sales by 25% over the next three years, one alternative operational goal is to hire more salespeople. Always take your strategic plan objectives and transform them into one or more action items.
Operational Timeline: It is critical to create a timetable for your operating plan. Most of the time, your operational plan will be the same length as your strategic plan, but in other circumstances, you may need to produce numerous operational plans for different goals. Because not all operational plans are created equal, the length of your operational timetable will be determined by the length of your projects, workflows, and procedures.
Quality Assurance and Control: Most businesses have quality assurance and control methods in place for a number of reasons, including consumer safety and regulatory compliance. Furthermore, quality assurance concerns may cost your company millions of dollars, thus creating quality management practices is an important stage in operational planning.
Executive Summary: An executive summary is a short document that highlights the content of longer papers such as business plans, strategic plans, or operational plans. Their primary goal is to offer a short summary for time-pressed stakeholders.
Key Performance Indicators: Establishing key performance indicators (KPIs) to monitor the productivity of your business operations is critical. You may create as many KPIs as you need for each of your business operations. You may, for example, set KPIs for marketing, sales, product development, and other critical departments in your organization. Product launch dates, the number of manufactured items, the number of customer care cases closed, the number of 5-star reviews received, the number of clients acquired, revenue increased by a specific percentage, and so on are examples of this.
Advantages of Operational Planning
Clarifies your organizational goals
Managers and department heads can use an operational plan to define their daily tasks, activities, and responsibilities.
This also shows how each team member contributes to the overall goals of the company or department. Managers and employees cannot measure the success of their daily tasks against predetermined outcomes if they don't have a plan.
Team productivity is increased
Businesses are always on the lookout for ways to improve productivity. This in turn leads to higher profits. An operational plan is one of the most influential and simple ways to increase efficiency.
Employees who know their daily responsibilities and objectives are more productive. If they aren't clear on what is expected of them, their productivity could suffer.
This vital information is provided to employees across the company and in every department by an operational plan.
Boost your organization's profitability
A plan can help keep teams and projects on track. Teams can increase their revenue and create new products when they are well managed. Innovation pays off. According to a BCG survey, 60% of innovation-focused companies report steady increases in revenues year after year. Teams can innovate faster and better when they have an operating plan.
Increases Competitive Advantage
Components and multiple levels are combined to get competitive advantages.
Your workflows will run more smoothly if you coordinate the various parts using an operational plan. This will allow you to deliver high-quality deliverables on time, providing a great customer experience and helping you stay ahead of your competitors.
Operational Planning Disadvantages
Human error possible
Human error is a problem in manufacturing. It can happen when a product goes from production to sales.
Operations management teams must coordinate with cross-functional teams like finance, engineering, and Human Resources. Each team will be able to clearly understand the department's end goals.
Interdependency amongst parts
Implementing an operations planning process can be a problem because it depends on the coordination between parts.
One component failing can cause a plan to fail, which can have a negative impact on the next. One process disruption can lead to a breakdown in the whole process and render the operational plan useless.
Operational planning vs. Strategic planning
Although they are related, these planning strategies have a different focus.
Operational planning refers to the daily work involved in executing your strategy. This ensures that you have the right resources and people to do your work efficiently.
Strategic planning, on the other hand, is about planning for the future and identifying the pipelines that will be needed.
The U.S. Bureau of Labor estimates that nearly 7 million Americans are self-employed, while another 10 million are employed by small businesses.
Chances are that your company has a form of strategic planning if you work for a large corporation. If you are one of the millions working remotely, however, success will depend on your operational planning.
Read More: Operational planning vs. Strategic planning
An operational plan isn't rocket science. But you have to do the work. An operational plan that is well-designed will include detailed information about manpower, resources, and the steps to be taken.
Although it may seem like a lot of work, the result will be worth it when your department completes a highly-rated project on schedule and within budget.
However, to get the help in managing/creating your operation plan, we are OnDemand International, here we are to help you out in each & every step of yours.
Once the company's goal is established, the team will create a strategic plan that includes three components: sales, marketing, and operations.
A solid plan is essential for any operation. There are five main components that you should focus on: Preparation (marketing), logistics, human resources (HR), financial limits, and preparation.
The most common difference between the two types are ongoing and single-use plans