Company Registration in Ottawa
Are you thinking about starting a company in Ottawa? The capital of Canada, Ottawa, has a booming economy and provides business owners with a range of prospects. Due to its solid economic base, Ottawa is a safe choice for businesses. 
The city's entire economy, which includes the government, healthcare, education, and technological sectors, offers ample room for expansion. Ottawa offers strong government support for businesses. Through grants, incentives, and other resources, businesses, both new and existing, can greatly benefit. 
In this guide, we will be covering the steps and benefits of Ottawa company registration.
Benefits of Ottawa Company Registration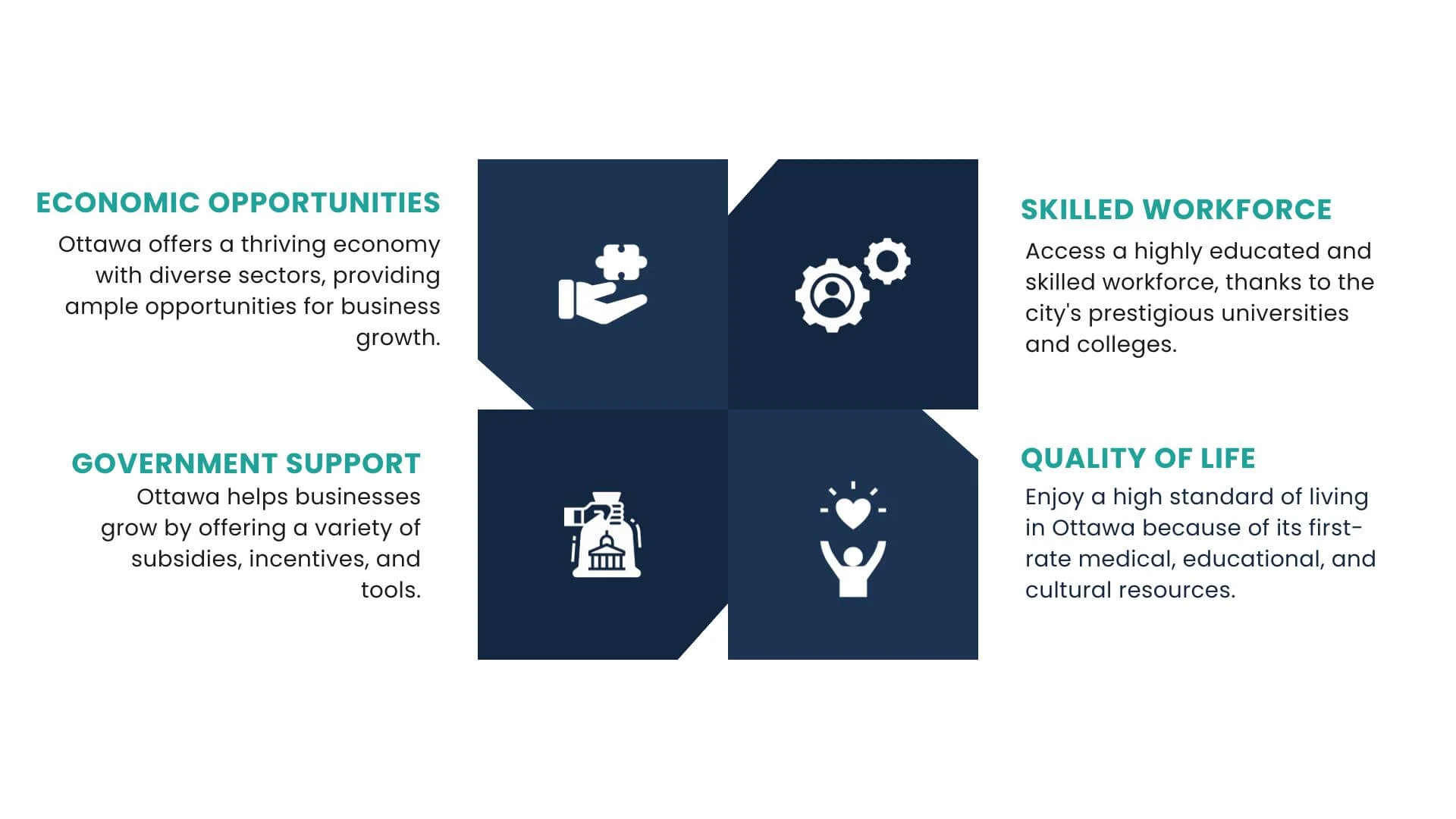 If you are looking to establish a company in Canada, the capital city of the country, Ottawa offers a range of benefits.
Registering a company in Ottawa comes with a multitude of benefits:
Economic Opportunities:

Ottawa offers a thriving economy with diverse sectors, providing ample opportunities for business growth.

Skilled Workforce:

Access a highly educated and skilled workforce, thanks to the city's prestigious universities and colleges.

Government Support:

Ottawa helps businesses grow by offering a variety of subsidies, incentives, and tools.

Quality of Life:

Enjoy a high standard of living in Ottawa because of its first-rate medical, educational, and cultural resources.
Documents Required for Ottawa Company Formation
When you're in the process of registering your company in Ottawa, it's essential to prepare and submit the necessary documents.
Here's a list of documents you'll typically need for company registration in Ottawa:
1. Articles of Incorporation
Articles of incorporation must be submitted if you're starting a corporation in Ottawa. These documents provide crucial details about your company, such as its name, internal structure, and registration location.
2. Business Name Registration
Before you can register your company in Ottawa, you must choose a unique business name. The registration process will require you to provide this selected name, ensuring it's not already in use.
3. Business Plan
The goals of your firm, a market study, financial estimates, and marketing plans are all included in a solid business plan. It provides details about your company's long-term goals and viability.
4. Licenses and Permits
Depending on your industry of operation and your particular requirements, you might need a number of licenses and permissions. Research the appropriate paperwork for your particular business type because the specific permissions needed can vary greatly.
5. Tax Information
You will have to present proof of your tax responsibilities, your federal business number, and other tax-related paperwork to make sure that your company is adhering to all local, state, and federal tax regulations.
6. Identification Documents
You can be asked to present identification documents, like a driver's license or passport, to prove your identity as the business's owner or another important shareholder.
7. Location Lease or Ownership Documents
If your company operates out of a physical site, you'll require records pertaining to the lease or ownership of the land. This proves you have a respectable and easily accessible business location.
8. Financial Statements
Financial statements may be requested from some businesses as part of the registration procedure. These assertions provide a broad perspective of the stability and soundness of your company's financial position.
Steps to Register A Company in Ottawa
Company registration in Ottawa involves several steps, each of which plays a vital role in the registration process:
1. Select a business name:
The first step is to select a distinctive name for your business and confirm that it is available for usage. Make a good choice as this name will act as a symbol for your brand.
2. Business Structure Selection: 
Choose the best legal structure for your organization, such as a corporation, partnership, or sole proprietorship. Your decision has an effect on operational, legal, and tax implications.
3. Business Plan Development: 
Create a thorough business plan that details your goals, target market, financial expectations, and marketing plans. A well-organized plan is crucial for operational guidance as well as for luring potential investors.
4. Permits and Licenses: 
Based on your company type and industry, you may need various permits and licenses. Investigate the precise specifications that apply to your business activity.
5. Business Location: 
Choose a suitable location for your business in Ottawa. Factors like accessibility, proximity to your target audience, and affordability should be considered.
6. Tax Registration: 
Register for the necessary taxes, including federal, provincial, and municipal taxes, based on your business structure and operations.
Things to do before registering a company in Ottawa
Market Research

: You may start by researching your target market and competition in Ottawa. Understand the demand for your goods or services.

Business Plan:

Develop a solid business plan, including financial projections and a marketing strategy. A well-thought-out plan is necessary for success.

Legal Requirements:

Register your company, get the required licenses, and make sure you abide by all local laws.

Funding

: To get the money you need to launch and maintain your firm, look into financing sources including loans, grants, or investors.
A multitude of intriguing options for aspiring business visionaries are revealed by starting an entrepreneurial endeavor in Ottawa. An appropriate environment for converting entrepreneurial aspirations into successful businesses is provided by this city's dynamic ecosystem and lively community of innovators. With the correct plan and the will to succeed, you may take advantage of the plethora of chances Ottawa has to offer and find success right in the middle of Canada's capital.
At OnDemand International, we are aware of the challenges involved in starting and expanding a successful business in this bustling metropolis. Our team of experts is dedicated to helping you register your business in Ottawa, offering you wise counsel, and giving you the support you need to fulfill your entrepreneurial aspirations.