Singapore Money Changer License
If you're planning to start a money changer business in Singapore, it is important to understand the regulatory requirements and obtain the necessary license to operate legally. The regulatory body in charge of governing the money-changing business is the Monetary Authority of Singapore (MAS).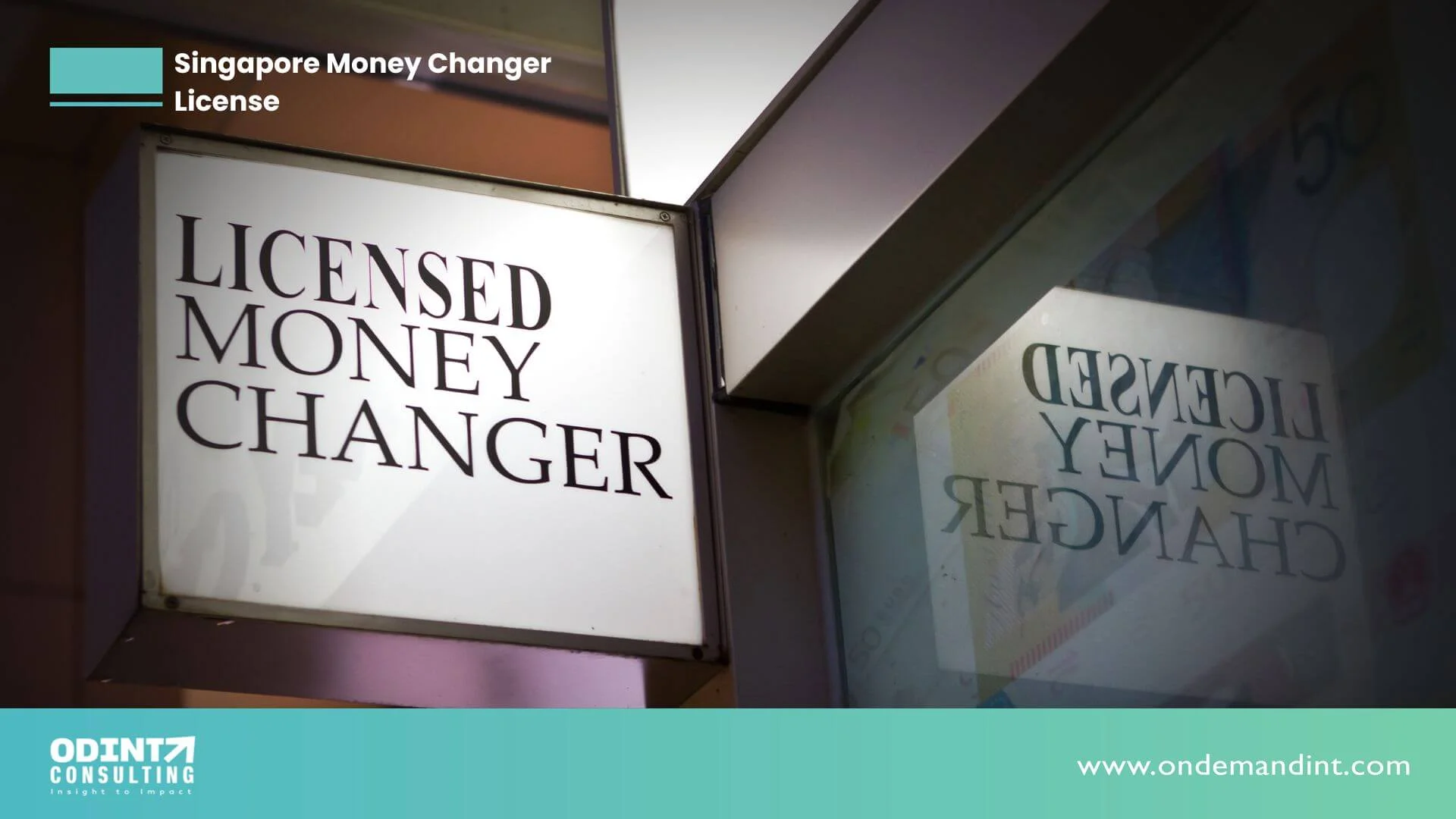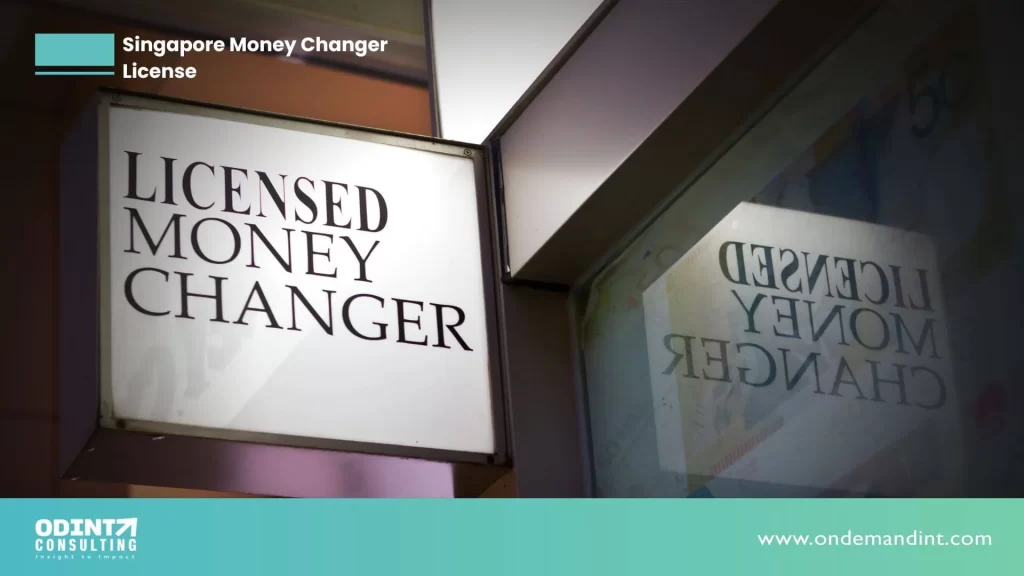 To operate a money-changing business in Singapore, you need to obtain a money changer license from the MAS. Singapore money changer license enables you to operate your business in accordance with the law while also giving your clients a sense of legitimacy.
Through this article, we would be outlining the procedure for acquiring the Singapore Money Changer license. We will discuss the requirements, documentation expected, as well as repercussions of operating a money changer business without a license in Singapore.
Overview of the Money Changing License in Singapore
The world of currencies provides a variety of lucrative and exciting job options, one of which is "money-changing businesses."  The international market provides a vital setting for currency exchange. Such businesses are expanding to make it simple for individuals to purchase and sell things across international borders in response to the increase in worldwide travel. Therefore, it is obvious that the money-changing industry is expanding.
The Payment Services Act ("PS Act") licenses and regulates money-changing licensees solely for the purpose of conducting money-changing services, such as the purchasing and selling of international currency notes. Organizations that offer additional payment-related services have to possess either a major payment institution or a standard payment institution license.
The regulatory body in charge of overseeing Singapore's currency exchange market is called the Monetary Authority of Singapore, or MAS. The MAS establishes rules and regulations to guarantee that money changers uphold high standards of professionalism, security, and client safety.
Activities of the Singapore Money Changer License
| | |
| --- | --- |
| Types of Activity | Description of the Activity |
| Account issuance service    | The service of creating a payment account or any service connected to a task necessary for running a payment account, like an e-wallet or a credit card not issued by a bank. |
| Domestic money transfer service    | Offering local cash transfer services in Singapore such as payment gateways |
| Cross-border money transfer service  | Delivering inbound and outward remittance services in Singapore. |
| Merchant acquisition service   | The provision of merchant acquisition services in Singapore, whereby the service provider handles receipts for payments on the client's behalf as well as payment transactions from the client. Typically, the service includes giving customers access to a point of sale or a digital payment channel. |
| E-money issuance service | Providing users with electronic money so they can send it to someone else or pay businesses. |
| Digital payment token service        | Purchasing or selling digital payment tokens ("DPTs"), also referred to as cryptocurrencies, or offering an interface that enables the exchange of DPTs. |
| Money-changing service | Purchasing or selling international currency notes. |
Eligibility for Money Changer License in Singapore
Each individual candidate, as well as any partners or directors of a firm submitting an application for a money changer license in Singapore, must have at least twelve months of relevant work or business experience.
Additionally, they must adhere to the following governance standards:
For sole proprietorships, the individual has to be a Singaporean citizen.

The majority of the partners in a limited liability company or partnership must be Singaporeans. If there are just two partners, only one must be a Singaporean citizen.

A Singaporean citizen must have ownership of at least 51% of the equity shareholdings of a corporation, and Singaporeans must make up the vast majority of the board of directors.

For an international bank's Singapore-incorporated wholly-owned subsidiary or an overseas corporation whose primary business activity is money exchange, the parent company must:
Be of significant size.

Possess a respectable track record and standing in the industry.
Be properly governed and overseen by its domestic regulatory body for AML/CFT.
Considerations for Singapore Money changer license
The following elements must be considered by MAS when evaluating a license application:
The candidate's financial standing, as well as, if they are a business, partnership, or LLP, their track record, and past financial health.

Ownership as well as shareholding arrangement.

Business model and strategy, with AML/CFT policies and practices.

Once the license has been granted, there is a guarantee that the public interest will be upheld.

Skills and knowledge, notably in administering a money-changing firm.
How to Obtain the Singapore Money Changer License?
To obtain a Money Changer License in Singapore, you will need to follow the guidelines and procedures set by the Monetary Authority of Singapore (MAS).
Fulfill the eligibility requirements
Make sure you meet the requirements established by MAS in order to be eligible to apply for a money changer license. Generally speaking, you must be a Singaporean national, a Permanent Resident, or a locally incorporated and actively operating business.
Create a Business Plan
Draught a thorough business plan that contains information on your intended revenue-generating activities, target market, marketing plans, operational procedures, and risk management.
Complete the application form
Get the application form for a money changer license from the MAS website or in person by going to their office. Fill out the application form that MAS has provided, making sure that all of the information is correct and up to date.
Gather supporting documentation
Prepare the appropriate documentation that must be provided with your application such as your business profile, financial accounts, identification documentation, etc.
Submitting the Application 
Send in your filled-out application form together with the relevant documentation to the Monetary Authority of Singapore either online or in person. Ensure that all the required documents are arranged and organized properly.
Pay the application fee
Make the necessary payments for the application as per the current fee structure specified by MAS. On the MAS portal or by contacting their office, you may obtain the specifics of the fees.
Evaluation and Approval
MAS will evaluate your application, run background checks, and examine your suggested business strategy and compliance measures. They may ask for further documentation or hold interviews during the evaluation process.
Notification of Results
You would be notified of the outcome of your application after MAS has finished its assessment. You will be given your money changer license if you are accepted.
Individuals looking to establish a money-changing business can obtain the Singapore money changer license by following the given steps. We at odint Consulting can guide you properly with the related steps and make sure that you establish a prosperous money-changing business by adhering to the regulations of the Monetary Authority of Singapore.
Expected documents to acquire the money changer license in Singapore
The following documentation is required of applicants in order to submit a license application:
Filled out the application.

Detailed company profile describing the money-changing business.

A company plan establishes the structure for managing risks, operations, and strategies.

Information on the people in charge of running the company.

Statements of financial position and anticipated cash flow during the initial three years of business.

Additional paperwork to prove adherence to AML/CFT (anti-money laundering and preventing the financing of terrorism) regulations.

Documents proving the credentials, identification, and work history of sole proprietors, partners, or directors in the money-changing or remittance industry, such as:
Most recent curriculum vitae

CPF contribution statements over the last three years

Identification records
Copies of academic transcripts and certificates
A solid plan must be created and well carried out in order to operate a successful money changer corporation in Singapore. If managed properly, the money changer business can be a profitable venture with excellent returns. Our experts at Odint can assist you in drafting the business plan that will assist you in successfully operating your business as well as in gathering the required documentation.
Hong long is the money changer license in Singapore valid?
Money changer licenses in Singapore hold validity for the following duration of time:
The Singaporean Monetary Authority has canceled the money changer license.

The money changer license expires as per Section 11(1) of the Payment Services Act and Regulation 10 of the Payment Services Regulations.

The holder of the money changer license gives up their permit.
Advantages of acquiring the money changer license in Singapore
Here are the numerous benefits of acquiring the Singapore money changer license:
Favorable exchange rates
The candidate must be assured that they are getting one of Singapore's best exchange rates. The exchange rates must regularly be higher than those provided by local, traditional money changers in Singapore.
Assurance of Rate
The applicant should reserve the currency rates digitally to secure them. The candidate no longer needs to be dismayed to learn that the exchange rates have been altered after traveling over 30 minutes across Singapore.
Avoid disputes
The candidate has the option to pay online without cash. This will help the candidate in avoiding disagreements.
Maximum Convenience
Online reservations are available for the Singapore Money Changer Licence services. The candidate can gather their currencies whenever it is convenient for them.
Capital Requirements with the Singapore Money Changer License
Singapore mandates that money exchangers have an initial paid-up capital of SGD 100,000. This capital must be maintained throughout the operation of the business. The capital requirement makes sure that money changers must possess the required capital to fulfill their commitments and safeguard the interests of their clients.
Other than that, the following fees are charged:
Application fees
The application price for a money changer license in Singapore is 200 Singaporean dollars for fresh applications.
License fees
The charge is $1300 for the new place of the business.

The cost is $1000 for every extra location of a business.

This fee may be paid by internal fund transfer, direct deposit, or account transfer at a bank counter.
Ongoing obligations for money-changing licensees in Singapore
Licensees are obligated to continuously abide by all applicable rules and regulations outlined in the PS Act and other pertinent laws. Licensees are required to establish systems, policies, and procedures to guarantee that they carry out their ongoing requirements, particularly in the following crucial aspects:
 

Requirements for Combating Money Laundering and Terrorist Finance

 

Required yearly audits

 

Business Conduct

 

Regular Returns

 

Disclosures and Communications

 

Cyber Hygiene
Repercussions of operating a money changer business without a license in Singapore
Operating a money changer business without a license in Singapore is illegal and can have serious consequences. To maintain the integrity of the financial system and safeguard customers, the Monetary Authority of Singapore (MAS) controls money-changing activities throughout the nation.
The following are possible repercussions associated with operating a money changer business without a license:
Penalties and Fines
The MAS may impose severe penalties and fines on you if you are found operating a money-changing business without a license. The specific amount may differ based on the seriousness of the offense, but it can be substantial.
Closure and Seizure
MAS has the authority to demand that an unregistered money changer firm close immediately. They have the authority to seize any money, property, or tools connected to the illicit activity.
Inability to Conduct Business
In Singapore, you cannot lawfully engage in money-changing activities without a valid license. Your operations can be stopped as a result, which could cost you commercial chances.
Legal Action
MAS has the power to file a lawsuit against people or businesses who are operating without a license. Criminal charges and prosecution may follow, which could result in court cases and convictions.
Damage to Reputation
Engaging in criminal activity can seriously harm your credibility and reputation. Word spreads quickly, and customers may lose trust in your business,  which may result in lost business and lost potential revenue.
Restricted Future Opportunities
Taking part in criminal activity might have long-term effects. It can limit your chances in the financial sector and have an impact on your future capacity to get licenses or permits.
Book end-to-end experts consultation with Odint finance and legal experts
To run a legitimate and compliant money changer business, it is essential to obtain a money changer license in Singapore. You can successfully operate your company by applying for a license with the MAS. Money changers can build a reliable and reputable position in Singapore's financial landscape by meeting the qualifying requirements, providing the necessary documentation, and adhering to ongoing obligations.
If you want to acquire the Singapore money changer license, you can consult with our experts at Odint Consulting. With our expertise in assisting clients in acquiring business licenses in Singapore, we can streamline the procedure for you and increase your chances of acquiring the Singapore money changer license. Our committed staff will assist you with the application process, make sure all required paperwork is in place, and offer invaluable knowledge and experience to help you satisfy the demanding specifications established by the Monetary Authority of Singapore. To explore how we can assist you with obtaining the license, connect with us right away.