Crowdfunding has grown more and more common as a means of supporting ventures and bringing entrepreneurial and inventive ideas to fruition in today's environment. Canada is a fantastic place to build your crowdfunding firm due to its vibrant startup ecosystem and varied pool of potential supporters.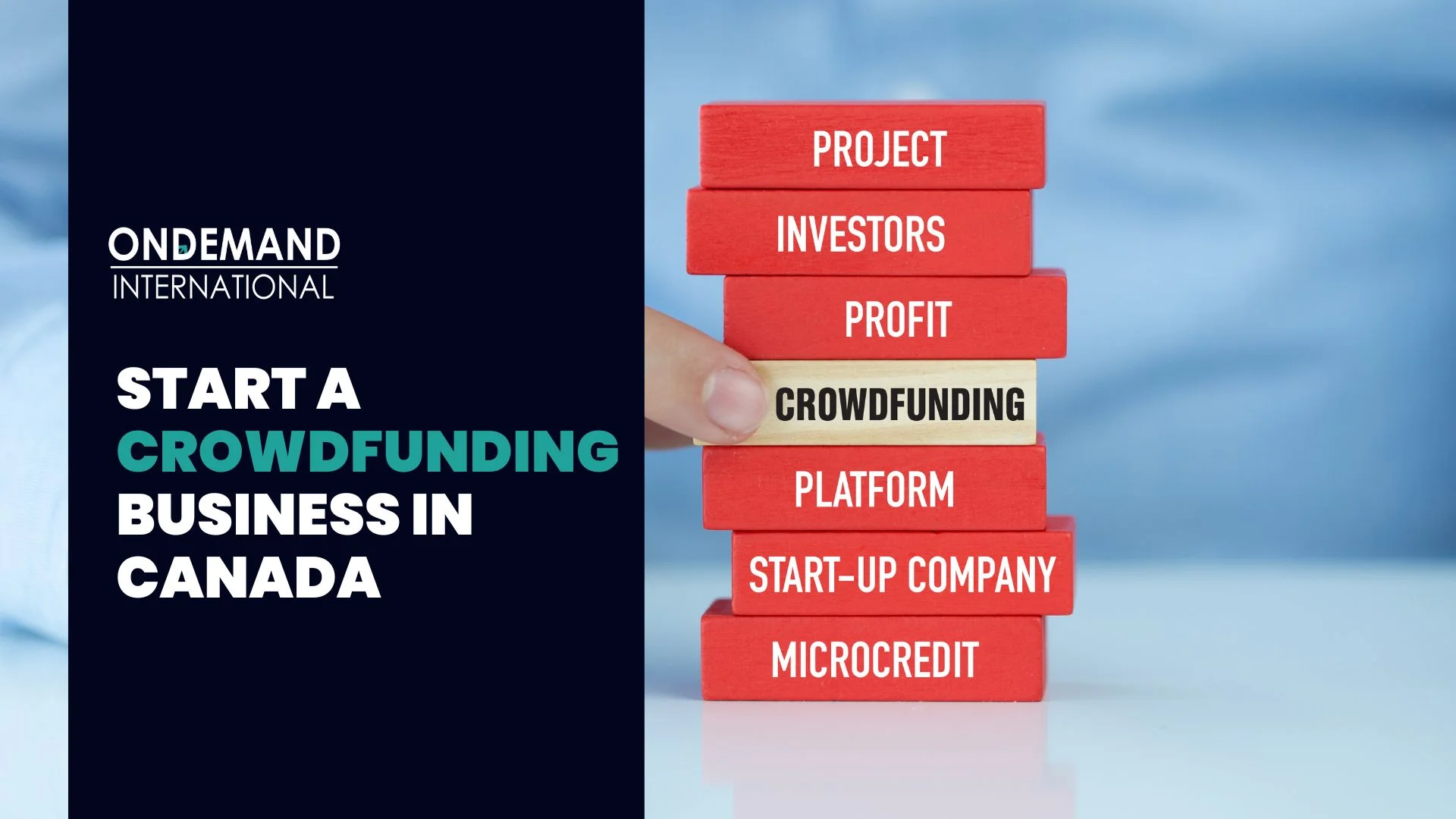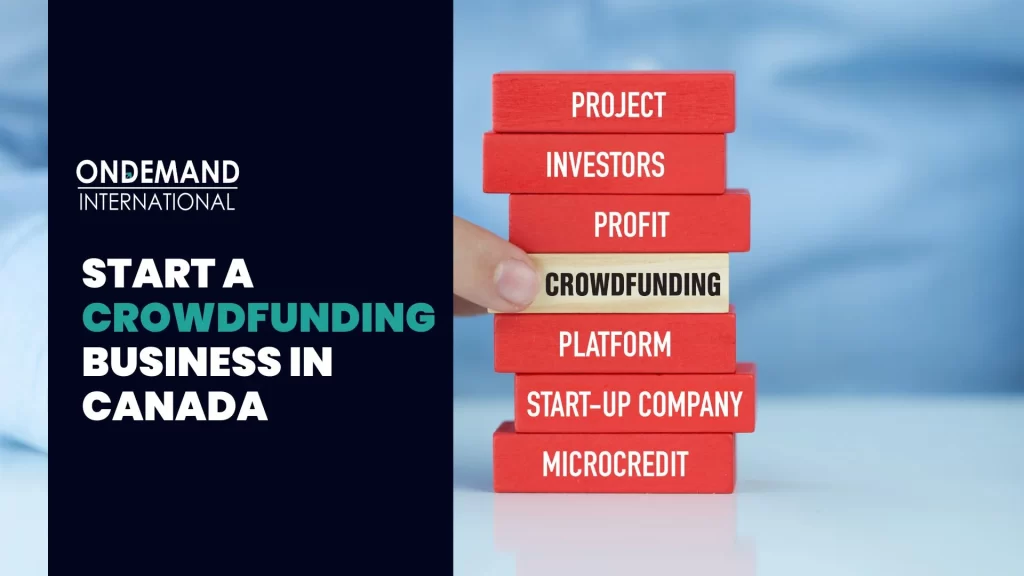 Crowdfunding is a way of raising finances that enables individuals or companies to do so by seeking donations from many different people, generally using an internet platform. It may be utilized to finance a creative venture, start an innovative business, or contribute to a noble cause, among other things.
If you want to start a crowdfunding business in Canada, this step-by-step guide will walk you through the process.
Types of Crowdfunding business in Canada
Equity-Based Crowdfunding
In equity-based crowdfunding, people contribute funds in exchange for ownership stakes or shares in a company. Through this sort of crowdfunding, small firms and startups can raise money by offering equity to lots of investors. In Canada, provincial securities commissioners oversee equity crowdfunding.
Reward-Based Crowdfunding
In reward-based crowdfunding, supporters give money to a project or company in exchange for a non-financial reward, such as a good, service, or other benefit. Kickstarter and Indiegogo are popular sites for reward crowdfunding.
Donation-Based Crowdfunding
Individuals contribute to a cause or project without expecting a financial return through donation crowdfunding. It's frequently used for philanthropic or personal fundraising, such as medical bills or disaster aid. GoFundMe is a popular donation crowdsourcing platform in Canada.
Debt-Based Crowdfunding
Peer-to-peer lending, commonly referred to as P2P lending or debt crowdfunding, is people lending money to other people or companies in exchange for interest payments over time. Instead of going to traditional financial institutions, this kind of crowdfunding enables borrowers to acquire loans from a pool of private lenders. Lending Loop is a well-known P2P lending network in Canada.
Community Investment-Based Crowdfunding
Community Investment-Based Crowdfunding is a sort of crowdfunding that is permitted in several Canadian provinces. It enables locals to invest in small enterprises or neighborhood initiatives. The goal of this kind of crowdsourcing is to promote local economic growth.
Regulated-Based Crowdfunding
Specific restrictions have been put in place to allow small businesses to raise funds through crowdsourcing while conforming to specific standards and constraints. This type of crowdsourcing is aimed at assisting small and medium-sized businesses (SMEs).
How to set up a crowdfunding company in Canada?
The procedure for setting up a crowdfunding Company in Canada is mentioned below:
1. Choose the type of Crowdfunding
Determine the type of crowdfunding you want to offer: equity crowdfunding, reward-based crowdfunding, or donation-based crowdfunding. Each type may have different regulatory requirements.
2. Business Structure
Consider several business structures, such as sole proprietorship, partnership, corporation, or cooperative, and obtain guidance from a legal professional or accountant to identify the best option for your company.
3. Business Name Registration
You should consider officially recording your business name with the relevant provincial or territorial governing body. In order to fulfill your tax duties, it could also be essential to finish the registration process for your company with the Canada Revenue Agency (CRA).
4. Incorporation (if applicable)
If you choose to operate as a corporation, you'll need to incorporate your company. This involves filing articles of incorporation with the relevant provincial or territorial authority.
5. Securities Regulation (for Equity Crowdfunding)
If you plan to offer equity crowdfunding, you will need to comply with securities regulations. This may involve registering as an exempt market dealer (EMD) or seeking approval from the appropriate securities regulatory authority. Consult with a legal advisor who specializes in securities law to navigate this process.
Compliance with Crowdfunding Regulations:
Depending on the type of crowdfunding you're offering, you must ensure compliance with specific crowdfunding regulations in Canada. These regulations may include:
For equity crowdfunding: Refer to the rules established by the Canadian Securities Administrators (CSA) and seek approval from the relevant regulatory authority.
For reward-based or donation-based crowdfunding: Ensure compliance with the rules set out by the Competition Bureau Canada and other relevant consumer protection agencies.

Register with a Self-Regulatory Organization (SRO) (if applicable):

In some cases, you may need to register with a recognized self-regulatory organization, such as the Investment Industry Regulatory Organization of Canada (IIROC), if you are involved in securities-related activities.
Compliance with Anti-Money Laundering (AML) and Know Your Customer (KYC) regulations is essential: Create and enforce Anti-Money Laundering (AML) and Know Your Customer (KYC) protocols in order to adhere to financial regulations and deter the illicit flow of funds. This involves verifying the identity of your users and monitoring transactions.
Payment Processing:

Set up payment processing for your crowdfunding platform. Work with a financial institution to handle fund transfers securely.

Terms and Conditions: Draft comprehensive terms and conditions for your platform, including user agreements, privacy policies, and any other necessary legal documents.
Launch and Marketing:

Once you have completed all the necessary registrations and compliance steps, you can launch your crowdfunding platform and start marketing it to potential fundraisers and backers.
Some of the leading Crowdfunding Platforms in Canada
Kickstarter: Kickstarter is a global crowdsourcing platform that allows people to fund creative projects such as films, music, games, and technology. It stands as one of the world's most beloved crowdfunding platforms, having gathered an astounding sum of over $5 billion to support various projects.

Indiegogo: Indiegogo is another famous crowdfunding platform where people may gather funds for a range of projects such as artistic ventures, enterprises, and social causes. It is well-known for its flexible funding strategy, which implies that fundraisers only receive the funds they raise, even if they do not meet their fundraising goal.

FundRazr: FundRazr is a crowdfunding site similar to GoFundMe. It is intended for personal and charitable purposes, and it has raised over $500 million for causes all around the world.

FrontFundr: FrontFundr is a crowdfunding website that allows consumers to invest in small businesses and startups. It is Canada's first equity crowdfunding platform, and it has helped firms raise more than $100 million.

GoFundMe: GoFundMe is a crowdfunding website that focuses on personal and philanthropic reasons. It is Canada's most popular crowdfunding platform, with over $1 billion raised for causes such as medical expenditures, disaster relief, and education.
Setting up a crowdfunding firm in Canada is an exciting prospect for both entrepreneurs and investors. Canada is a great market for crowdfunding endeavors due to its robust economy, stable regulatory environment, and diversified population. Whether you're interested in equity crowdfunding, reward-based crowdfunding, or other types of crowdfunding, Canada provides a healthy climate for fintech growth and innovation. At OnDemand International, we would assist you in successfully setting up a crowdfunding business in Canada.