One of the best places for people seeking a job abroad is Canada. The nation provides its workforce with great medical services, compensated sick days, and breaks that cover maternity leaves. Because of this, a lot of workers aspire to immigrate to Canada.
However, a work permit visa from Canada is necessary to move to the nation and begin working there.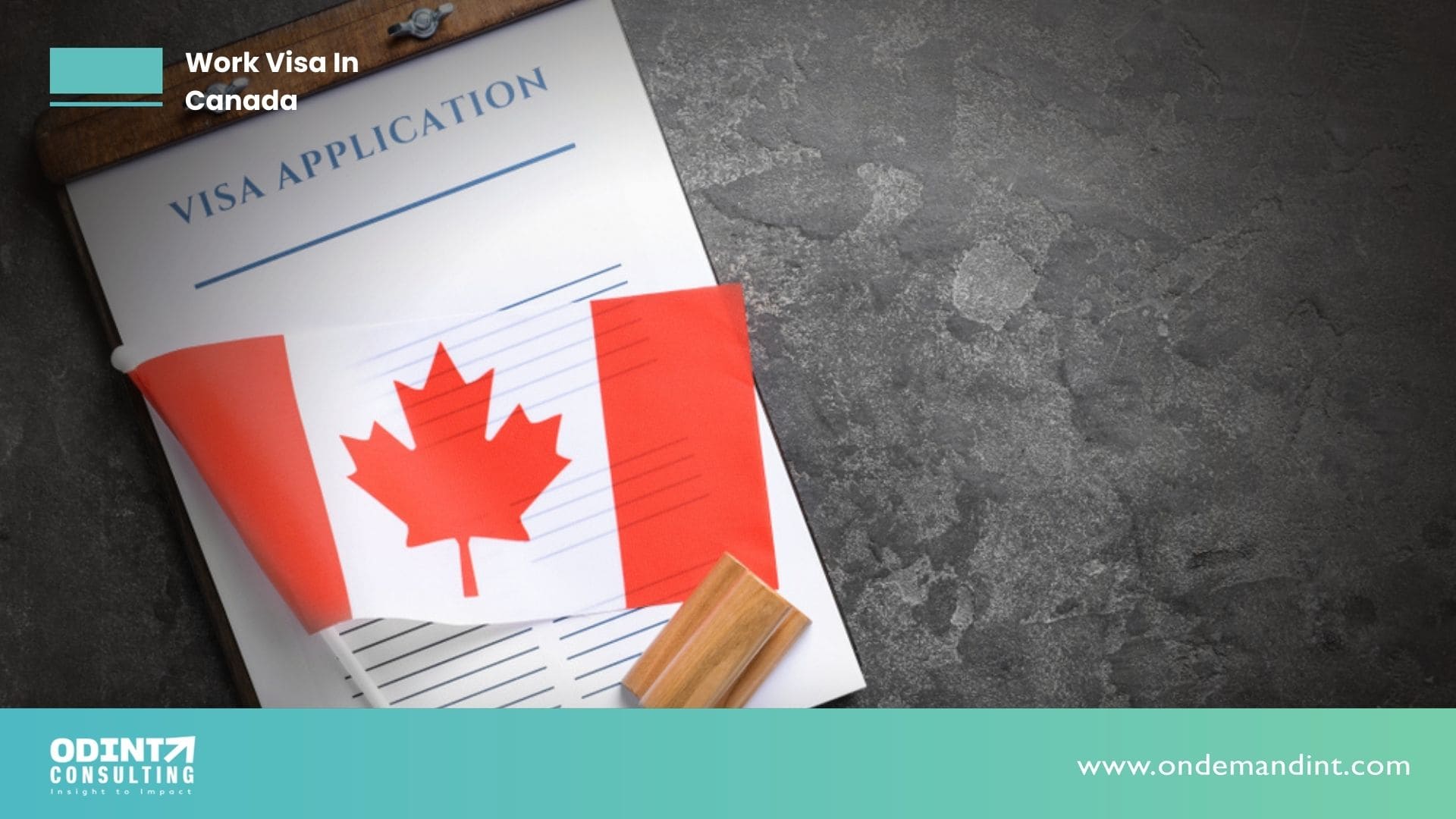 If you have established a company in Canada and want to employ foreign workers, they must first obtain the appropriate work visa in order to work legally there. A work visa for Canada is a legal authorization that enables visitors from other nations to carry out temporary employment in the nation. Acquiring a work visa will permit you to operate lawfully in Canada for the term of your visa.
This article will give comprehensive information on a work visa in Canada. It will cover the application process, forms, necessary paperwork, requirements, and duration of the Canadian work permit visa.
About Work Visa for Canada
A Work Visa for Canada, commonly referred to as a Canadian work permit, is given to qualified overseas individuals so they can work there for a specific period of time. A work permit in Canada is a legal authorization that enables international citizens to work while they are in Canada.
Only those who have received a work proposal or work agreement from an employer in Canada are individuals required to submit an application for a work visa. Employers are required to acquire a Labour Market Impact Assessment (LMIA) from Employment and Social Development Canada (ESDC), which authorizes employers to hire internationally qualified professionals for positions that can't be staffed by Canadian nationals or permanent residents.
Various schemes for work permits in Canada
The Temporary Foreign Worker Program (TFWP) and the International Mobility Program(IMP) are the two distinct categories of work permit initiatives in Canada. The distinction between both schemes is that the TFWP needs a labor market evaluation designated as the Labour Market Impact Assessment (LMIA). Although, for an overseas individual to get a work visa in the event of an IMP, LMIA is not necessary.
Through the LMIA, enterprises can demonstrate to the Canadian government that employing an international employee won't adversely impact the nation's existing labour force. Employment and Social Development Canada (ESDC), a government organisation, seeks to ensure that hiring overseas labour won't remove Canadian employees or reduce their compensation.
Even though the LMIA method is the standard, there are many work visas that are exempted from it because of free trade pacts, such as the former North American Free Trade Agreement, also known as the Canada-United States-Mexico Agreement (or CUSMA). In accordance with these free trade pacts, employers of overseas labour are not obligated to obtain an LMIA prior to applying for a work visa.
Some of the typical circumstances in which one may be employed in Canada include the following:
LMIA Required

– As a requirement for applying for these work permits, the business must acquire an LMIA.

LMIA Exemption-

Under specific conditions, people are allowed to be employees in Canada without first acquiring an LMIA.

CUSMA

– These are provided in compliance with the accords between Canada, the United States, and Mexico (previously known as NAFTA), enabling employment without the need for an LMIA.

Intra-Company Transfers

– A company might use these visas to deploy particular employees from its foreign sites to Canada without needing an LMIA.

Post-Graduation Work Permits

– After completing their studies and earning a credential from a reputable organisation, overseas students can seek employment in Canada for a maximum period of 3 years.
Different categories of Work Permit in Canada
The following categories of work permits are granted by the government in Canada.
They are:
Employer-specific work permit

Open work permit

Post-Graduation Work Permit (PGWP)

Intra-Company Transfer program
1. Employer-specific work permit
The employer-specific work permit entitles you to employment with a certain employer. If you have an employer-specific work permit in Canada, you are eligible for jobs in the country as long as you adhere to the terms of your working visa, which may include:
Your potential employer's name

The tenure of your work

Your potential working location
2. Open work permit
In essence, you can operate for any employer with an open work visa in Canada, however, there are certain exemptions. Due to the fact that this visa is not work-specific, candidates do not need to submit an LMIA and an acceptance statement from a company that has already submitted the compliance charge.
The only employers you can't work for with an open work visa for Canada are those that are noted as being unsuitable on the listing of companies that did not meet the requirements.
Requirements to be met for an open work permit in Canada
To be eligible for consideration for an open work permit, you must:
Have been a foreign student who has graduated from a recognized educational establishment and qualifies for the Post-Graduation Work Permit Scheme.

Be a student who can no longer afford to cover the financial expenses of your education.

Have submitted a request for Canadian permanent residency.

Own an employer-specific employment visa and are experiencing or in danger of experiencing abuses related to your employment in Canada.

Have been a dependent family relative of a person who submitted a permanent residence application.

Have been married to or living with an overseas student.

A young worker enrolled in specific programs.

Possesses permission for temporary residence.
 3. Post-Graduation Work Permit (PGWP)
As part of its initiatives to draw overseas students and keep them as immigrants, Canada provides the Post-Graduation Work Permit (PGWP). PGWP is good for at most 3 years.
The PGWP, an open work permit, enables foreign degree holders to find employment for any Canadian firm without requiring them to first receive an employment offer.
4. Intra-Company Transfer program
International enterprises intending to start an organisation can take advantage of the Intra-Company Transfer program in Canada to bring international staff into the country for initial operations.
Procedure for apply for Canada Work Visa
If you are an overseas individual looking for employment in Canada, you will normally need a work permit or visa.
The following are the fundamental procedures for obtaining a work visa for Canada:
1. Fulfill the eligibility requirements
One of the most crucial steps before submitting an application for a work visa in Canada is to fulfill the eligibility requirements. 
 2. Get a job opportunity
You are only allowed to acquire a work permit if you have a job in Canada. Hence, it is crucial for you to have an offer of employment from a Canadian company in order to be eligible for a work visa application.
3. Acquire a Labour Market Impact Assessment (LMIA)
Your firm has to acquire the LMIA from the ESDC to prove that no citizens or permanent residents from Canada are qualified to take on the position. The LMIA would serve as the confirmation of your employment opportunity and will further outline the terms of recruitment, including compensation and perks.
4. Complete and submit the application for a work permit
When you are provided with an employment opportunity in Canada and the LMIA, the next step involves completing the work permit application and submitting it to the relevant authorities. Application may be mailed in or sent via the internet.
5. Provide the required paperwork
When you submit your application for a work permit in Canada, you must also submit the required documents along with it. You will be required to submit individual details, including passport information, details about your background, such as your schooling and employment history, and documentation of your monetary stability. Additionally, you must pay the required charge for your work permit visa in Canada.
6. Move to Canada
If your application is accepted, you will get a work visa that outlines the terms of your job and the time frame for which you are allowed to stay. After acquiring the work visa, you can relocate to Canada and start working there.
Canada Work Visa Doucment Requirement
The following documentation could be required to be submitted by applicants in order to acquire a work permit visa in Canada:
Filled-out application form

A passport in good standing, valid for at least six months from the scheduled date of entrance into Canada

A certification confirming you meet the qualifications for the position

Certificates of academic achievement

2 current passport-size photos

Financial proof of showing the ability to remain in Canada as well as leave for your home nation.

Evidence of professional credentials, particularly job history

Confirmation that the necessary governmental charges have been paid

Upon request, the outcomes of medical examinations performed at accredited hospitals
Prerequisites to qualify for a work permit visa in Canada
Regardless of the type of work permit you are requesting, there are particular prerequisites you must fulfill, such as:
Provide proof of your departure from Canada once your work visa expires to the immigration officer.

Confirmation of the monetary capacity to maintain your family's residence in Canada for the duration of the work permit.

Manifestation of your lack of criminal history.

A document attesting to your excellent health and willingness to undertake a medical checkup, if necessary.

You must guarantee that you wouldn't jeopardize Canadian security.

Ability to follow the guidelines outlined in your work permit in Canada

You must satisfy prerequisites including language competency, biometric information, and coverage in order to prove your qualification for immigration into Canada.
Canada Work Visa Processing Time
Depending on the sort of work permit the candidate requests, a work permit application's processing period varies. Also, it is based on the candidate's domicile when they were submitting their application.
The processing timeframe may last from a few weeks to many months. Initial online processing for a work permit from within Canada could require 151 days, while paper applications take 28 days.
It is crucial to keep in mind that the processing duration may vary depending on the situation. However, in order to be sure of the duration it is advisable to check the official portal in Canada's Immigration, Refugees and Citizenship Canada (IRCC) department.
How can you extend your work permit in Canada?
If you possess a Canadian work permit that is about to expire, you must request an extension. To accomplish that, you must apply for a new work permit at no later than thirty days before the expiration of your existing work permit.
While your application is being reviewed, you may reside freely in Canada if you request an extension before your Canadian work visa expires.
If the work permit is expired then your position will be revoked. In order to reestablish your position and resume working in Canada, you must either put in a request for status restoration or get a fresh work permit in the country.
The following prerequisites must be met before a request for status recovery can be made:
After losing your status, you have 90 days to lodge a request. Should you fail to comply, you will have to depart Canada.

Comply with the conditions for your stay

Satisfy the conditions outlined in your permit that have expired.
In order to preserve your standing, an application should be given before the work permit expires. Such an application may be provided either electronically or on paper.
Digital portal:

Before midnight UTC on the day your work visa expires, you must submit the request digitally.

Paper:

The paper requests are stamped on the day when they arrive at the case processing center.
The steps to renew your Canadian work permit are as follows:
Fulfill the eligibility requirements:

You must first ensure that you meet the required conditions in order to extend your work visa for Canada.

Provide the required paperwork:

The relevant documentation must be acquired before you can send in your application.

Complete your application:

Fill out the application and send it either electronically or via mail. Along with the application form, pay the relevant charges.
Canada Work Visa for Indians
If you are an Indian citizen considering working in Canada, you may be eligible for several different work visas. Because the eligibility requirements and process for each type of visa differ, it is critical to conduct a study and select the visa that is best for you.
How long are Canadian work permits valid?
The validity of a work permit visa in Canada depends on a number of elements, such as the kind of permit applied for and the employment opportunity.
The validity period for different work permit visas in Canada is listed below:
Open work permits
Open work permits are typically granted only for a predetermined duration, which can vary between a couple of months to many years, based on the situation.
Intra-company transfer permits
Permits for intra-company transfers are typically effective for the period of the transfer, with specialist knowledge personnel, executives, and senior managers having at most three-year validity.
Post-Graduation Work Permits
Post-Graduation work permits are typically good for a duration of 3 years.
Live-in Caregiver Scheme
The work permit has a four-year maximum duration.
Nations with special categories
Usually, work permits with a longer validity than a one-year period are given to international employees from these nations.
Grounds for rejecting a work permit application
The following are a few typical explanations for work permit denials:
The officer wasn't persuaded that you'd be able to carry out your proposed work satisfactorily.

You don't fit the requirements for the work visa in Canada you requested.

At the conclusion of your permitted visit to Canada, the officer wasn't persuaded that you'd depart to your place of origin.

Your application can be turned down if you suffer from a medical problem that jeopardizes the public's well-being or security.

If your documentation doesn't seem to be genuine, you can be rejected and find it difficult to reapply.

Canada is unlikely to assume that someone who is living illegally outside in Canada will follow Canadian rules and procedures.
Can you turn a work visa into a permanent residency in Canada?
Indeed, there are various immigration options that allow you to acquire permanent residency via a work visa for Canada.
Here are the numerous Canadian immigration schemes:
1. Provincial Nominee Program
Using this scheme, provinces, and regions may recommend international individuals for permanent residency in accordance with the demands of their particular labour markets. Candidates who submit an application for a provincial initiative should plan on living in the region for which they are submitting an application.
2. Canadian Experience Class
This scheme is intended for international workers with Canadian-based specialised job experience. The CEC requires candidates to have a minimum of two years of professional expertise in Canada or possess a degree from a Canadian post-secondary institution and one year of job expertise.
3. Quebec Experience Class
Temporary professionals can use the Quebec Experience Class to apply for permanent residency. Candidates for the QEC are required to possess a minimum of one year of specialised job experience in Quebec and communicate intermediate French.
4. Federal Skilled Worker Program
If you are provisionally hired by a Canadian company and the company has offered you the chance for a full-time job, you may be eligible to apply for permanent residence via the Federal Skilled Worker Scheme.
Each and every person who would like to work in Canada has to first acquire a work visa. In order to achieve the same, in most cases, people who want to submit an application for a work permit visa must possess a current employment offer. However, work visas are only valid for a specific period of time, you might be required to apply for renewal or extend the validity of your work permit if you want to keep on earning in Canada. Many immigration schemes may also enable you to submit an application for permanent residence in Canada.
The specialists at OnDemand International can help you apply for a work permit in Canada and can also help you assess whether you qualify for a particular type of visa. Additionally, our professionals can help you with finding employment, gathering paperwork, and Canadian immigration.