Cost To Start A Business In Portugal
Portugal is one of the best places for business owners who want to launch their organizations in a new destination. However, entrepreneurs must consider the cost to start a business in Portugal if they intend to register a company in the country. The cost for starting a business in Portugal as a foreigner varies depending on the type of business structure that is selected.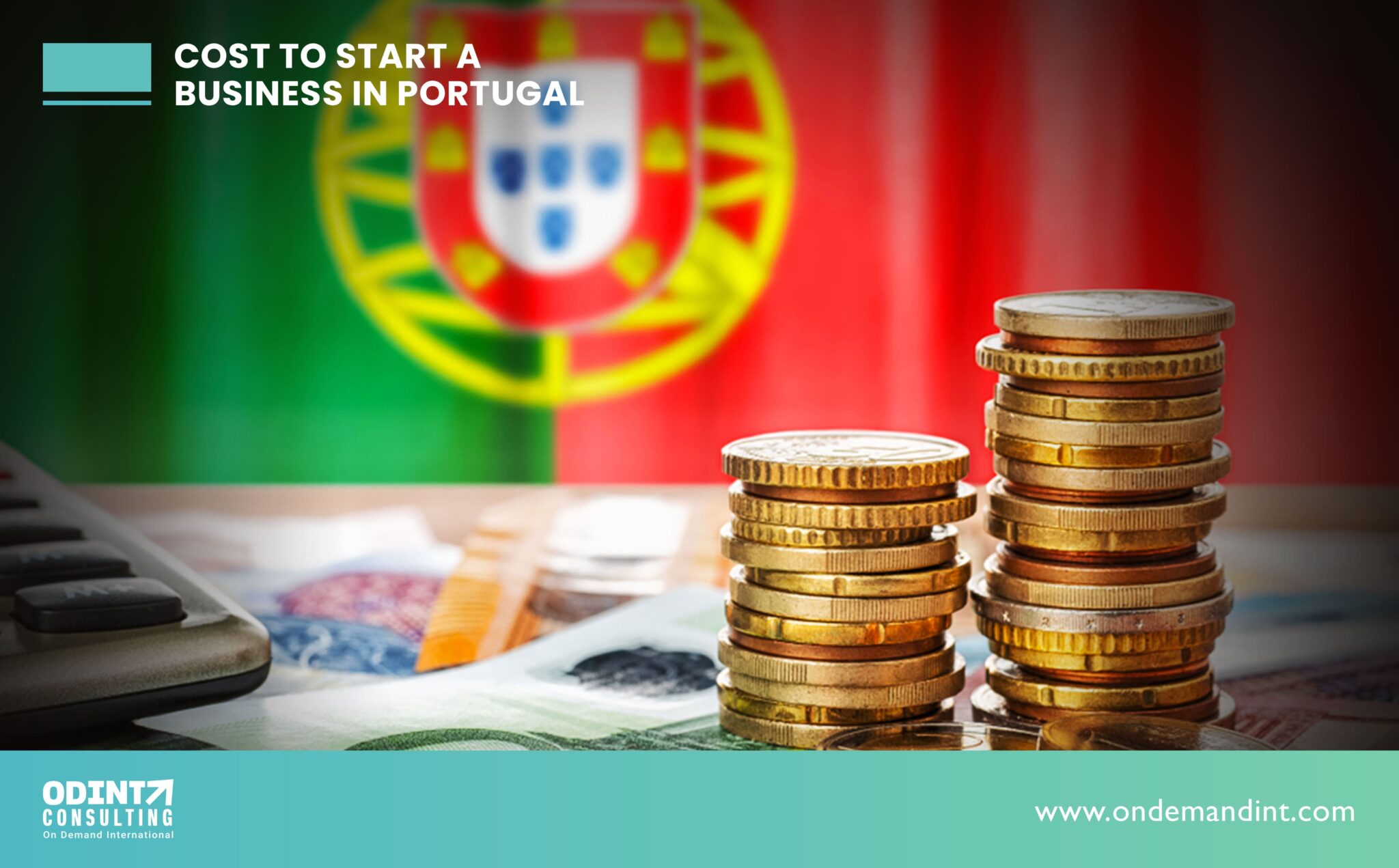 The registration cost to start a business in Portugal is €360 which can be done either offline or through the online portal. However, there are various other additional expenses that have to be considered while registering a company in Portugal, such as business registration fees, tax registration fees, bank account opening charges, accounting expenses, acquiring licenses and permits, etc.  
This article will go into great detail regarding the cost to start a business in Portugal.
Various cost for starting a business in Portugal as a foreigner
Since a lot of business proprietors register their companies in Portugal, they should be aware of the various expenses that will be incurred while incorporating a company in the nation. 
Here is the cost for starting a business in Portugal as a foreigner:
Corporate Registration expenses

The expense of a virtual office

Required share capital

Accounting expenses

Bank account opening charges

Registering for tax

Registering for the social security contributions

Fees for the licenses and permits
The corporate registration cost to start a business in Portugal
Based on how you choose to register, whether digitally or in one of the on-site company registration centers, the registration fees might change. The enrollment cost to start a business in Portugal is €360. In Portugal, every corporation is required to enroll with the Portuguese Trade Register.
Required share capital to start a corporation in Portugal
The required amount of share capital depends on the kind of legal entity that is chosen. In Portugal, an entrepreneur can set up a Private Limited Company(LDA), a Public Limited Company(LA), a General partnership, or any other form of business structure.
In order to set up an LDA, a required share capital of €5000 is needed. Similarly, to form an SA, the required share capital of €50,000 is essential. However, there is no minimum share capital to form a general partnership firm in Portugal.
Accounting cost to start a business in Portugal
It may appear simple to register a business in Portugal but there are other expenses that demand consideration. Expenses can begin to accumulate right from the outset of a corporation's existence. One of the most important cost for starting a business in Portugal as a foreigner is the accounting expenses. For a variety of accounting services, the starting monthly accounting charges begin at €150 + VAT.
Business insurance cost for starting a business in Portugal as a foreigner
In order to be protected from the hazards of operating a company, foreigners who begin a company in Portugal must get insurance. As such, it is crucial for entrepreneurs to pay for numerous business-related insurance policies when starting a business. Companies in Portugal should have a variety of insurance, including public liability, unemployment, and travel insurance.
The fundamental types of commercial insurance are:
Public liability insurance

– An insurance scheme for public liability is intended to guard against the possibility of harming another individual or their assets. The insurance defends against third-party accusations that cause damages, injuries, or economic losses. It may also include compensation for harm done to somebody's reputation.

Travel Insurance-

Those who often travel outside of Portugal, whether for business or work, should take travel insurance into account. If you wish to apply for a Schengen visa, you must have either a minimal level of €30,000 in health insurance or coverage for costs associated with medically justified repatriation.

Building insurance

– Acquiring building insurance protects against the destruction of property caused by fire, floods, or other calamities. It includes vandalism as well.

Equipment insurance

– Obtaining equipment insurance safeguards movable valuables against loss and robbery.

Insurance for business disruption

– Insurance for business disruption safeguards against economic losses, especially staff wages, in the event that the company has temporarily suspended operations.

Insurance for workers

– If you have workers, you must sign them up for social security and contribute to their coverage in case of a medical emergency, injury, or paternity leave. Additionally, businesses can create their own employment programs that can offer a higher level of security.
Numerous other cost for starting a business in Portugal as a foreigner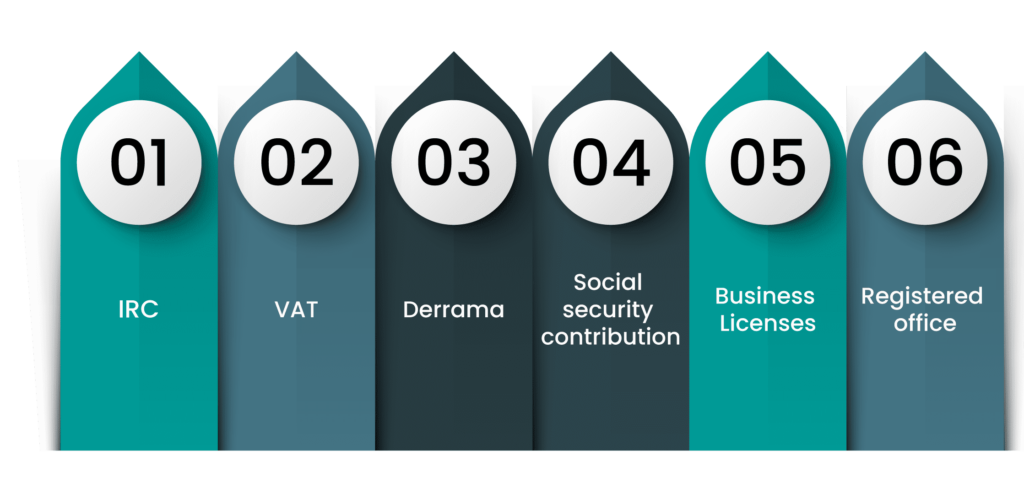 The business must pay any additional monthly expenditures after starting its operations, some of which include the following expenses:
IRC

– Corporate Income Tax is a tax levied on the profits of businesses doing commercial operations in Portugal. As a result, anytime a business produces a profit during a given financial year, you must report it and pay the appropriate amount of tax. The standard rate of IRC is 21%, although, for small and medium-sized businesses, the initial 25,000 Euros in revenue base is charged at a rate of 17%.

VAT-

The VAT is a tax and is levied on imports, exports, and business transactions. Depending on the categories of products and services, the rates are 23%, 13%, or 6%.

Derrama

– It is a local tax imposed on the taxed profits of organizations. As a result, several municipalities periodically decide their tariff.

Social security contribution

– If your company is incorporated in Portugal and you have employees, you must also register for social security contributions. The Portuguese Social Security scheme offers methods of assistance including unemployment benefits, paternity leave, as well as other economic assistance. It also protects the fundamental rights of the citizens and promotes equality of opportunity.

Business Licenses

– It is essential for businesses to obtain various business licenses in order to operate in Portugal. Therefore, the cost of acquiring business licenses is another expense that you need to take into account while incorporating a firm in the country.

Registered office-

If your company needs a physical address to set up a registered office, you must account for that cost when forming your company. These costs may include the monthly rent for the residence, the rental agreement, etc.
The cost for starting a business in Portugal as a foreigner is 360 euros, however, the cost may go up depending on the various other expenses that an entrepreneur has to incur while running the company. It is essential for the business person to consider other expenses, such as tax registration, accounting expenses, rent for the registered office address, business insurance, license fees, and so on. 
The preceding article goes into great detail on how much it cost to start a business in Portugal. You can speak with our professionals at Odint Consulting if you have any additional questions about the subject at hand. Your inquiries will be kindly addressed by our experts.