If you want to establish a business or grow your business, England can be the ideal location. Due to its solid administration, excellent amenities, well-equipped infrastructural facilities, and effectively implemented policies and regulations, it is one of the best places to launch a business.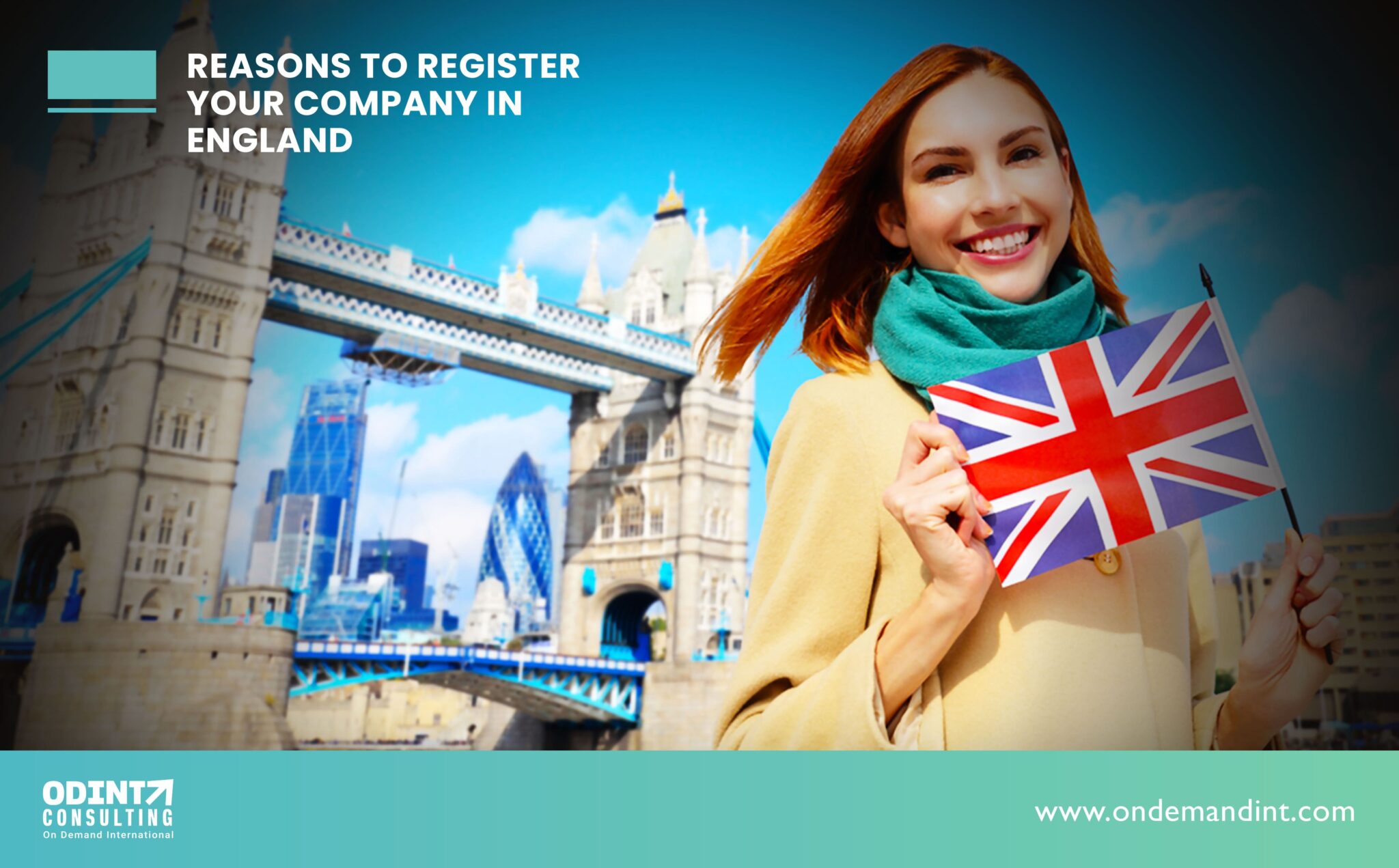 The UK has the seventh-freest economy on the globe and its economy is ranked as the ninth most competitive economy in the world, according to the World Economic Forum. The nation is considered to have minimal levels of corruption. The UK's workforce of 30 million people has a high level of education, is qualified, and offers a sizable talent pool for overseas companies. All these are the various reasons to register your company in England.
The various reasons to register your company in England are briefly described in the following article.
Reasons to register your company in England
If you are looking to register your company in a new location, you might consider establishing your company in England. There are numerous reasons to register your company in England. England offers business owners a thriving economy, generous government financial incentives, a straightforward tax system, a highly qualified and competent workforce, reliable infrastructure, and much more.
Here are several reasons to register your company in England.
The UK reportedly has one of Europe's best economic growth rates, exceeding both the average annual growth rate for the Eurozone and all of Europe, according to the OECD. 

Due to the booming economy, companies situated in England will have access to extremely wealthy consumers with high levels of disposable income. 

In the UK, there are many incentives available for entrepreneurs who want to incorporate a new company. Government-sponsored financing, technology clusters, and numerous other benefits are some of these incentives.
2. Simple Establishment Procedure
One of the reasons to register your company in England is the ease with which a company can be set up in the nation. Establishing a business in the UK is a straightforward procedure. You can incorporate the business either offline or through the online platform. 

In addition to that, in recent years, the legislative and regulatory conditions for launching a corporation in the UK have gotten substantially simpler. 

Whether you are starting a new business or submitting your income tax return online, the hurdles that once existed are progressively lowering. 
3. Simple Taxation Structure
Another one of the reasons to register your company in England is the simple taxation structure. In comparison to the systems in place in a number of other economies, the tax structure in England is quite straightforward. The UK has the most double taxation agreements worldwide. 
The UK's tax system appeals to international entrepreneurs for the following reasons:
The corporation tax rate is 19%, which is among the lowest in Europe.

Dividends received by UK-based businesses are often tax-free. Additionally, the UK does not charge a withholding tax on dividends given to overseas residents.

Corporations engaged in research and development are eligible for tax benefits. Larger businesses can exclude 30% of their existing eligible R&D expenditures from their taxable revenue.

If a UK firm maintains UK tax residency and conducts business through a branch or permanent establishment in a country with which England has a taxation agreement, the corporation may be lawfully excused from paying UK taxes.
4. A High Proportion Of Competent Workers
Another one of the reasons to register your company in England is the abundance of highly qualified labor in the country. The UK has the second-largest working population with 30 million workers in the whole EU. 

Additionally, the UK is among the few countries in Europe that may anticipate an increase in the supply of workers within the next 10 to 15 years. Moreover, because of employer-paid social security contributions, England boasts some of the most reasonable labor expenses in western Europe. 

When compared to nations like France, Germany, and Ireland, England has substantially reduced labor expenses.
5. Easy To Acquire Finance
The financial system in England is among the most advanced and reliable in the globe.

London, one of the major financial hotspots on the globe, is home to practically all of the major international banks.

Given that London is the greatest financial hub in the world, businesses based in the UK have greater options to obtain cash and funding from various banking and financial organizations.

Foreign entrepreneurs, thus have access to a broad range of financing solutions and assistance for business expansion. This is another one of the reasons to register your company in England.
6. Solid Infrastructural Facilities
The UK is continually enhancing its extremely robust infrastructural facilities, particularly in the fields of management of waste, transportation, electricity, and telecommunications network. 

The United Kingdom boasts one of the most robust ICT infrastructures in the world, the most comprehensive broadband market among the G7 nations, and an incredibly effective communications network. Hence, this is one of the reasons to register your company in England.
Enterprise zones (EZs) were established by the British government as an additional incentive for corporate growth and investments. 
These are recognized zones that provide financial assistance from the government, tax advantages, and streamlined local government planning. Consequently, EZs are excellent locations for both starting and growing businesses.
There are several advantages of establishing your company in an EZ, such as:
Discount on corporate rates of approximately £275,000 over five years.

If you engage in manufacturing facilities and equipment, you will receive millions in tax benefits.

Organization growth rates for Local Enterprise Partnerships have been maintained at 100%.
The government of England offers a wide range of financial programs that grant substantial tax advantages to entrepreneurs and employees. These programs are available to investors as well. 

You are eligible to receive a maximum of ten million pounds in entrepreneurship relief after selling a business. Additionally, investors may receive tax credits of up to £150,000 per year on their assets.
England is a great location from where both regional and global trade can be easily conducted. Large ports in the nation connect England to the rest of the world.

One of the finest and best transportation hubs around the world is Heathrow Airport.

The distance between major European cities is one hour. Within the EU, England has over 500 million customers.
For business owners looking to launch their operations in a new country, England may prove to be the perfect option. The government of England provides a range of financial incentives to business owners to support the expansion of their enterprises. Additionally, England has an excellent communications network, robust infrastructure facilities, a highly skilled workforce, a trade-friendly environment, Enterprise Zones, and a lot more. These are just a few of the various reasons to register your company in England.
If you wish to incorporate a firm in England, you can consult our experts at Odint Consulting. Our experts will help you with the process to set up your company.