Norway is a sovereign nation that is located in northern Europe. Despite being in Europe, this nation isn't a member of the European Union. It's a part of the European Free Trade Area. Norway is a prosperous nation with a robust economy and an innovative administration that supports open policies.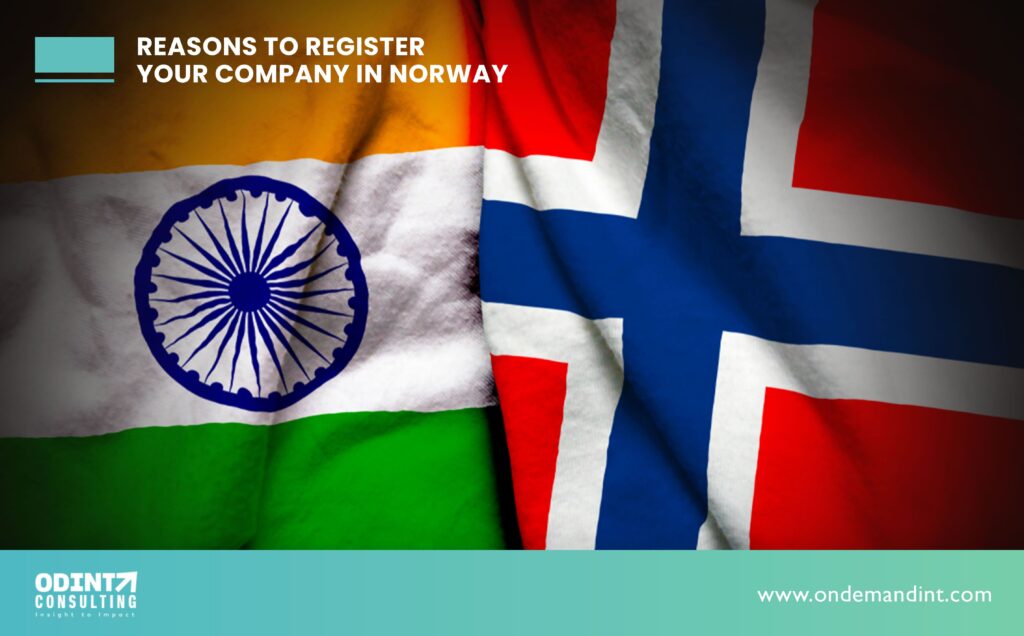 In addition to that, the Norwegian government provides a range of options for company owners to operate their enterprises. Norway boasts one of the greatest GDPs per capita, abundant wealth, and a strong economy. Norway's robust economic growth is a result of its abundant natural resources. These are several reasons to register your company in Norway.
This article will discuss the numerous reasons to register your company in Norway.
Reasons to register your company in Norway
Norway is a fantastic place to conduct business because of its strong economy and competent government. The government offers an array of benefits to entrepreneurs who wish to start their company in Norway. Additionally, there are numerous chances for entrepreneurs in a broad range of industries.
This section of the article will discuss the numerous reasons to register your company in Norway.
1. The simplicity of conducting business
Norway consistently rates among the top 10 nations for simplicity of conducting business, making it a preferred destination for both domestic and foreign organizations to establish a firm there.

Numerous incentives are offered to encourage economic activity in Norway.

Additionally, establishing a firm with a Norwegian registration may make it simpler to obtain financing, agreements, and licenses in Norway. For businesses involved in research and development operations, and power and petroleum industries, these incentives would comprise numerous tax reductions and grants.
2. Easy to set up a business in Norway
A company can be incorporated in Norway in a short amount of time. In Norway, opening a business is simple and requires little paperwork or administrative effort. 

The appointment of resident directors in Norway is not necessary. As a result, non-residents could be chosen as a corporation's directors.
3. Effective technological sector
Another one of the reasons to register your company in Norway is its effective technological sector. Norway is a pioneer in the technology sector, and both new businesses and existing ones can find plenty of chances in the technological sector of Norway.

In addition to a sizable pool of qualified personnel, the government provides several government funds and incentives to technology companies.

The government of the nation has a proven track record of fostering international investment, which has helped the nation to rise to the top of the world in a number of industries, particularly communications, and technology.

Norwegian technological hubs and areas of specialization and development can offer specialized information, pertinent networks, and possible partners to foreign businesses.
Norway is a leader in the field of renewable energy, and the industry is expanding quickly.  This sector offers a variety of options, from creating new technology to setting up solar and wind energy systems. 

The government provides large tax benefits for companies that engage in renewable energy, and over the next several years, the industry is anticipated to grow significantly.
5. Excellent healthcare sector
In addition to possessing one of the highest life expectancy rates worldwide, Norway has a flourishing healthcare sector. 

The options for medical professionals are numerous, ranging from hospitals, pharmacies, and health care services at home. 

The government provides tax rebates and subsidies for research and development as well as other benefits for healthcare enterprises.
Norway has a long history of fishing, making it a significant player in the marine sector. This industry offers a variety of options, from freight transportation and shipbuilding to port services.

For maritime industries, the government provides a variety of advantages, such as tax exemptions and grants for shipbuilding and port facilities. This is another of the reasons to register your company in Norway.
7. Easy access to the marketplaces
One of the main reasons to register your company in Norway is to have access to the European market economy, in addition to the EEA and Nordic marketplaces. 

Additionally, international and domestic entrepreneurs are treated fairly in Norway. Anyone can start a business there even if they don't live there as long as they have a permanent Norwegian address.

Given that Norway is encircled by water, commercial vessels serve as an affordable mode of transportation. As a result, Norway offers a plethora of trading prospects.
One of the reasons to register your company in Norway is the Free Trade Zones in the country. There are several free trade zones in Norway, where companies can operate.

A specific free trade zone in Norway called Svalbard provides advantages, like a full tariff and VAT exclusion. As a result, many entrepreneurs choose to register their companies in Norway.
In accordance with the Transparency International Index, Norway is one of the countries with the lowest levels of corruption around the world. It ranks fifth in terms of preventing money laundering and corruption.
10. Increase in foreign investment
Norway has a solid track record of fostering foreign investment, which has helped the nation establish itself as a global leader in a number of fields. 

The number of foreign-owned limited firms operating in Norway has increased significantly during the past ten years as a result of a significant inflow of foreign investment. 

About 25% of Norway's total value is created by international businesses, which also provide about 20% of the country's jobs.
Norway does not generally provide major tax benefits to both local and international investors. 
However, there are several exceptions for particular geographic areas and economic sectors:
Businesses that make investments in the far north of Norway pay reduced worker taxes.

Spitzbergen, an Arctic island, has low tax rates.

Grants for investments in low-employment regions are given out by government funds.

Research expenses are tax deductible in important industries like the oil industry.
12. Outstanding banking services
The banking industry in Norway is quite efficient and attentive to the requirements of foreign businesses. It's relatively easy to establish a bank account in Norway, as the process can either be completed physically or through the online portal. 

The majority of financial institutions provide online banking services that allow you to control your accounts from any location around the world. 

When you're traveling or residing overseas, using this method to manage your money and make transactions can be practical. This is one of the reasons to register your company in Norway.
Over 35,000 new enterprises are established in Norway every year. Norway has a secure, democratic government that fosters a vibrant business environment. Its GDP per person is the second-highest in all of Europe. It is one of the major exporters of oil and gas worldwide, with top-tier sectors in technology, communications, etc. All these are the various reasons to register your company in Norway.
You can speak with our professionals at Odint consulting if you wish to establish a business in Norway. Our professionals will aid you in the establishment of your business.