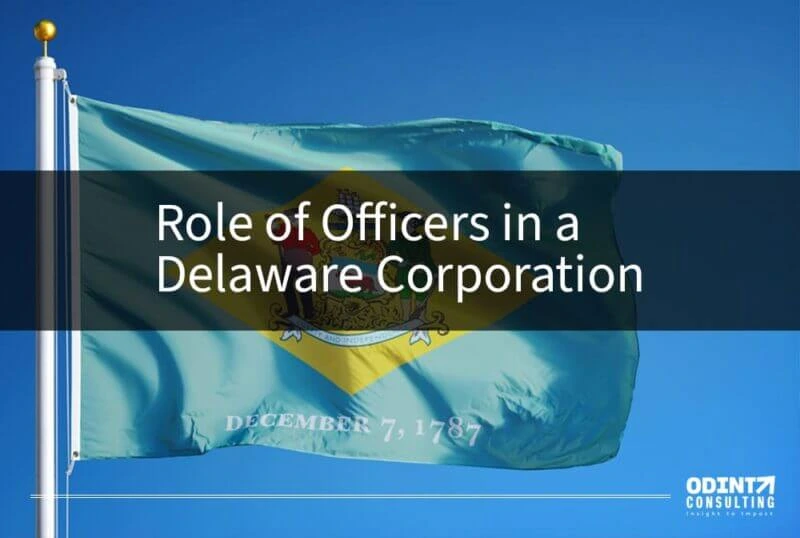 Overview: Officers in a Delaware Corporation
A Delaware corporation is one of the most preferred business structures in the state of Delaware because of the state's advantageous business regulations and solid legal system. The selection of executives who will be in charge of the business's day-to-day operations and its long-term strategy is a critical factor to take into account when forming an organization in Delaware.
Officers in a Delaware corporation, close corporation, or public benefit corporation assume a significant part in the everyday tasks and the management of the organization. The duties and titles of officials are customarily explained in the organization's bylaws. Eventually, such officers wouldn't be named on the Certificate of Incorporation filed with Delaware.
The Board of Directors appoints the officers. They then interpret the Board's vision and set the wheels in motion for achieving the goals best suited to the success of the business. Residents of countries that are restricted by the U.S. Treasury Dept. are exempted from this privilege. Anyone can be an officer in a Delaware corporation and can work from any part of the world.
Common Titles for Officers in a Delaware Corporation
Executive Officer (also known as Chief Executive Officer, President) 
Responsible to oversee the overall activities of the company and the signing of stock certificates that have been issued to shareholders.
Secretary 
Maintains detailed records of the corporation and prepares meeting minutes for internal shareholders.
Treasurer
Responsible to manage all financials, including reporting and finance records. Such officers are even recognized as Chief Financial Officers or CFO.
There are no required positions for officers that Delaware corporations must hold, unlike other states. An entire Delaware corporation can be made up of one person. Delaware corporations usually have at least one president and a secretary. 
It's very normal for any new startup to have a sole officer, director, and shareholder. Although, as the firm thrives, so will it's executive. Many people believe that Delaware must be notified of any director changes.
However, Delaware does not require a list of current directors to be filed with the annual report. The Board of Directors possesses an entire grip over the appointing of officials.
However, officers can be removed if necessary, provided that they are subject to any valid employment contract. The bylaws of the firm will regulate the process for eliminating an officer. Generally, it is determined by a majority of directors.
The bylaws may include certain outlay that expects a specific voting majority. This is why it can be beneficial for corporations to have a set of well-drafted bylaws.
The corporation must file a list of directors' addresses and names on its Annual Report. Although, each copy of documents should be delivered by March 1, every year. It requires the signature of one director or officer. If no officers have been appointed, you can file your online state filing.
Role of Officers in a Delaware Corporation
Depending on the size and organizational structure of the business, the officers of a Delaware corporation are responsible for a variety of tasks.
In comparison to a large organization, which may have numerous officers, each with a specific specialty, a small company's CEO could be responsible for a variety of duties including compliance, finances, operations, and administration.
The role of officers in a Delaware Corporation is outlined here.
Maintain meeting minutes 
You are required by Delaware law to choose one officer (the secretary) whose sole duty it is to keep documentation of and update the minutes of shareholders and board meetings.
Stock Certificate Signatures 
Stock certificates have to be signed by two officers who are qualified for doing so in accordance with Delaware law. You may sign as both officers if you have multiple officer positions.
Making Strategic Decisions 
Strategic decisions that support the long-term objectives and goals of the company must be made by officers. They identify risks, assess current market conditions, and create plans to promote business profitability and expansion.
Financial Reporting and Management
The management of the corporation's financial operations is the responsibility of the CFO and other financial officers. They are in charge of budgeting, funding management, accounting, and complying with regulations.
Duties of Officers in a Delaware Corporation
Officers will be elected in this manner. They shall serve their terms for the period prescribed by the bylaws, or as determined by the board or other governing body.
Each officer will hold office until the election and qualification of a successor or until resignation or removal. Any officer could withdraw at any period by providing written notification to the firm.
A corporation can obtain the fidelity of any or every officer or agent by bond or other means.
The failure to elect officers does not cause the corporation's dissolution or other adverse effects.
Any vacancy in a department of the firm due to death, resignation, expulsion, or any other explanation will be injected as per the bylaws. The board of directors, or any other regulating body, will serve the vacancy if there is no such condition.
Officers of Delaware's common corporations play a significant part in the day-to-day procedures & oversight of the firm. A Delaware corporation's success and efficient operation are greatly influenced by its officers. They contribute leadership, knowledge, and strategic judgment to advance the business. Every officer, from the CEO who provides leadership and direction to the CFO who oversees financial concerns, makes a difference in the overall expansion and success of the company. Officers are vital to the success of the company overall and have a significant influence in determining its future by efficiently performing their jobs. 
However, to know more about the role of officers in a Delaware Corporation, then we are ODINT Consultancy, here to help you out in each & every step of yours.