Currently, the Netherlands is a great place to launch an online store. Since the Netherlands is a member of the European Union, opening an e-commerce company there can be profitable because you can reach a larger segment of the population. Over 3% of the Dutch GDP is usually generated from e-commerce industries, making the Netherlands the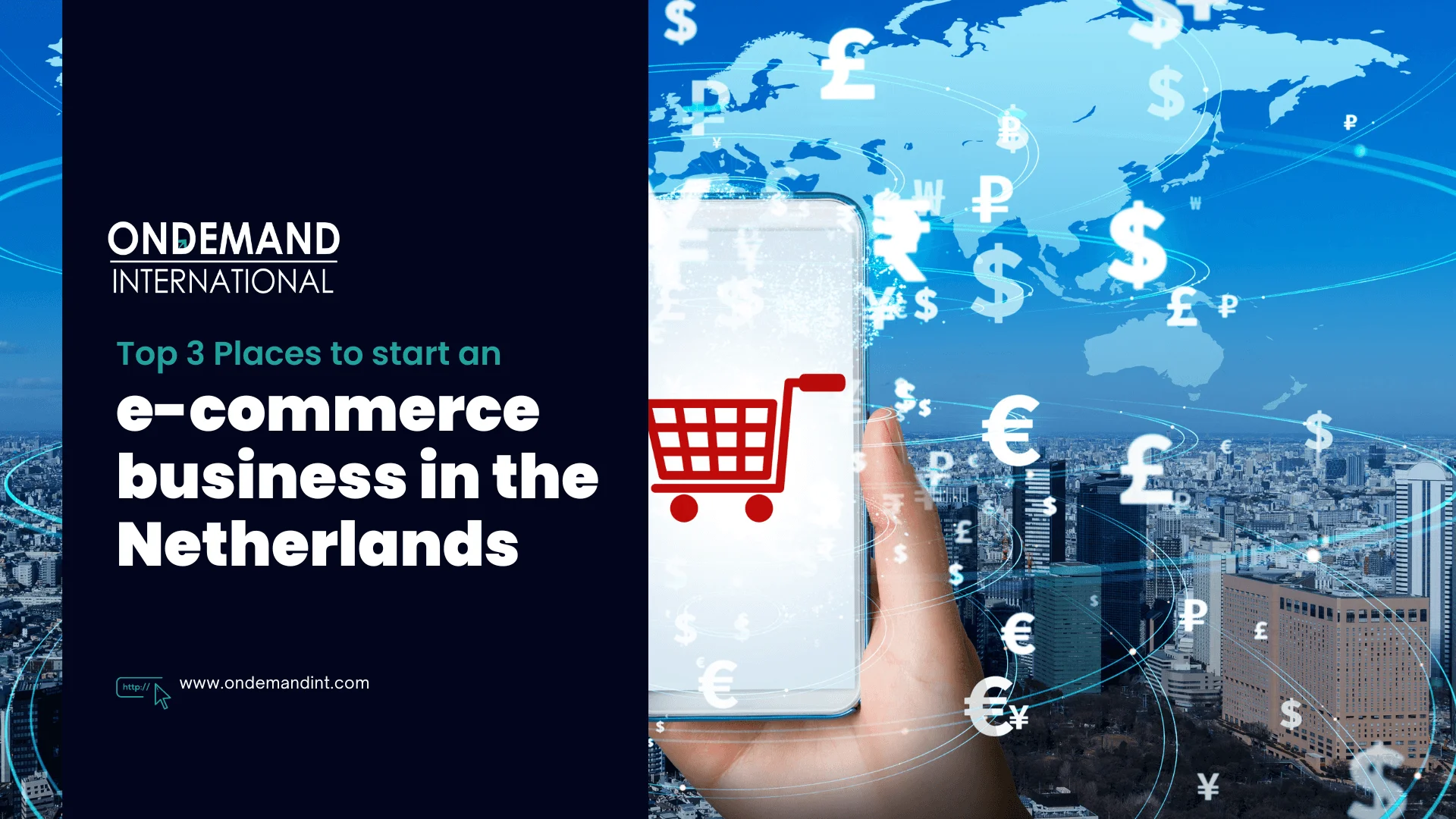 seventh-biggest e-commerce industry in Europe. The e-commerce market in the Netherlands has increased by over 20 billion euros over the past ten years and is still growing.
If you're thinking about entering the Dutch market to launch your e-commerce firm, it's crucial to strategically locate your company in an area with efficient transportation systems. The consumer base in the Netherlands shows a strong preference for online shopping and places a high value on prompt product delivery and a smooth flow of shipment. By selecting a strategic location that correlates with the good transportation infrastructure in the Netherlands, you can take advantage of this market's tendency for efficient logistics and raise the likelihood that your e-commerce business will be successful.
In order to make it easier for you we would be discussing the top 3 places to start an e-commerce business in the Netherlands.
What are the top 3 places to start an e-commerce business in the Netherlands?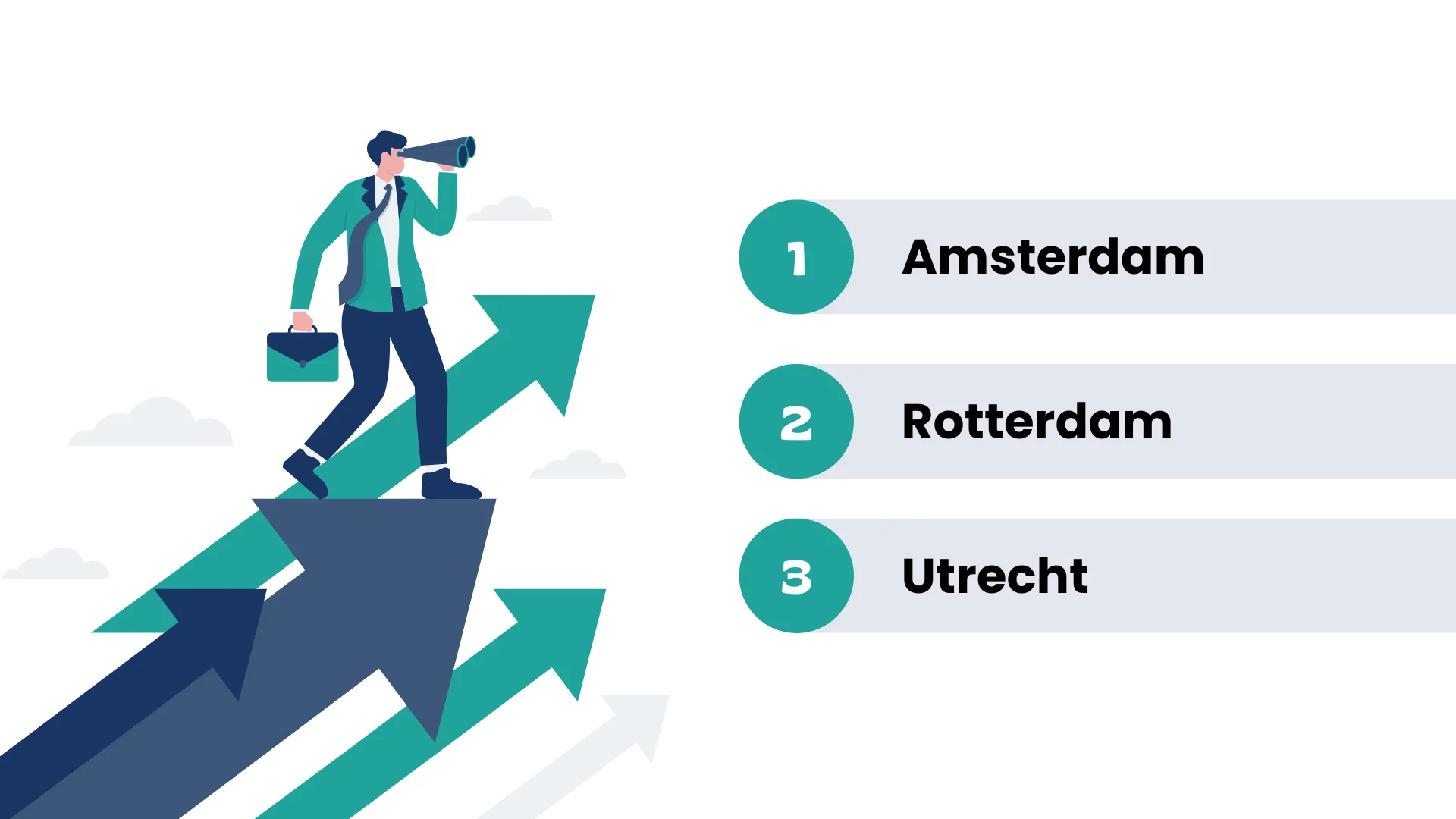 Considering that Amsterdam is the largest city in the Netherlands, establishing an e-commerce business there is a popular choice. It's well renowned for having a thriving business setting and an environment that's good for entrepreneurs. Customers in the Netherlands demand outstanding assistance after purchasing a product. This specifically covers the prompt delivery of the merchandise. As such, in order to be successful in the e-commerce industry, having a quick delivery system is crucial and is now considered standard in the industry with 90% of domestic items arriving within 24 hours.
One of the reasons to set up an e-commerce business in Amsterdam is the availability of well-developed infrastructural facilities. The availability of strong infrastructures including roadways, airways, and canals facilitates the transportation and distribution of goods inside the Netherlands and throughout all of Europe. Amsterdam Schiphol Airport, the third-largest cargo airport in Europe, has increased delivery effectiveness and assisted the region's development into one of the top e-commerce centers.
Since we already know that effective logistics and distribution are essential to running an online store successfully, Rotterdam is another location that is excellent for setting up an e-commerce business because of its convenient location, which expedites import and export procedures. 
The greatest seaport in Europe and one of the biggest worldwide is the Port of Rotterdam which makes the Netherlands a major hub for global trade. 
The city's sophisticated transportation system, which includes a substantial rail and road network, enables the smooth transportation of commodities throughout Europe. By reducing operational costs and accelerating product delivery, this logistical efficiency gives e-commerce businesses an advantage over their competitors.
Located in the middle of the Netherlands, Utrecht has good transport options and a developing economy. Utrecht possesses the biggest train station in the nation and makes it easy to offer services across the entire country of the Netherlands and throughout all of Europe. 
Utrecht's closeness to Amsterdam and Rotterdam along with its well-connected transport system, further makes it simple and efficient to deliver goods and reach important markets.
Book end-to-end experts consultation with Odint finance and legal experts
One of the most important entry points into European e-commerce is the Netherlands, which also has a big domestic market. Establishing a firm in Dutch would make it easier for you to enter the whole European marketplace, allowing you to offer goods to customers throughout all of Europe. 
If you want to launch an e-commerce firm in the Netherlands it is advisable to establish your firm in either Amsterdam, Rotterdam, or Utrecht. We can assist you in setting up your business in these locations and make sure you acquire the necessary licenses for your business.
Parshant Gaur is a company formation specialist with 4+ years of expertise in international business. Financial planning, risk management, and other related areas.