Limited Liability Company In Dubai
A Limited Liability Company, or LLC, is indeed an option to register a company in Dubai. One of the most common corporations in the UAE is an LLC. It can be formed by a least two owners and a limit of fifty investors, with responsibility limited to the value of their capital investment interests. LLCs are adaptable, and arrangements for mutual revenue sharing are also conceivable. It offers overseas businessmen a significant advantage because they have full rightful possession of their LLC.
LLC Registration In Dubai
Agreement with the Issuance is achieved by submitting the final document for the registered trademark as well as the official document for the authorization. If both participants are companies, a document of the Articles of Registration, an Organization Declaration, and directors of the company decision is required to authorize the LLC registration. It will also be necessary to get an Authorization allowing someone to operate on behalf of the owners who founded the LLC. In addition, photocopies of investors' visas and recommended management board and members were provided. Following that, the Division will provide the first authorization for this purpose. Depending on the tasks suggested by the LLC, further permits may be necessary.
Once preliminary authorization and certifications from the required departments and agencies have been acquired, the Attorney bearer must complete an LLC registration agreement in front of a registrar. Once the agreement has been finished, the mentioned paperwork must be acquired in order to register an LLC in Dubai.
The Registration Act 2011 , also known as the "Legislation on the International chamber of commerce Transactions Activity in the Emirate of Dubai," streamlined the licensing procedure by allowing the Division to receive permits from the necessary ministries and agencies.
Documents Required for the Formation of a Limited Liability Company in Dubai
The LLC business setup in Dubai includes the following documentation:
Photocopy of the applicant's passport (containing visa page copy)
Application form for registration from the Dubai Economic Department.
Trademark Reservation Form
For UAE nationals only, a photocopy of the applicant's naturalization identification is required.
NOC letter from the applicant's present sponsor (GCC citizens are exempt).
Other government agencies may provide approval depending on the sort of company activity.
Procedure for LLC Company registration in Dubai
In Dubai, forming a private limited corporation (LLC) is simple and quick. Yet, according to the preferred commercial enterprise, specific documents, procedures, and special permissions are essential. Here are the processes for forming an LLC in Dubai:
Pick a business venture
You must decide which business activity best fits your business idea before moving forward with company creation. Dubai provides a wide variety of business opportunities in a number of industries, including manufacturing, trading, services, and consulting. 
Register your business name 
The following step after choosing a business activity is to register a business name for your LLC in Dubai. Decide on a name for your business and register it with the appropriate authorities. 
Search for a Business Location 
Look for a business location and acquire the initial DED approval. A lease or rent agreement must be signed if you require a physical office space. 
Draft the Memorandum of Association
For your business, draft a Memorandum of Association (MOA). Describe the variety of commercial activities your company is involved in and who owns the organization's shares. Provide details on the legal standing and rights of your organization. Then, deliver your MOA along with the rental agreement to the appropriate authorities. 
Incorporating the Company
You must submit the required paperwork, including the MOA, to the DED or the appropriate free zone body in order to establish the LLC. Initial approvals, reserving the company name, and paying the needed costs are all steps in the registration procedure.
Request a Licence  
The UAE government provides a wide range of licenses, including commercial, industrial, and professional licenses. Apply for a license based on your LLCs business activity. Submit relevant documents to acquire the license.
Acquire the license
Once the documents are approved, you will get the business and trade license.
Advantages of LLC Company registration in Dubai
100% foreign participation, accessibility to a wide range of industrial operations when forming the firm, and so many more are just a few of the primary advantages of LLC Company Incorporation in Dubai. The LLC Web development Company provides a slew of commercial advantages to shareholders. The formation of a limited liability company (LLC) in Dubai enables shareholders to improve their position in the UAE regional supermarket and more efficiently boost community commerce.
An LLC Corporation enables shareholders to continue trading in the UAE and the remainder of the Opec area and the rest of the civilized world. Additionally, LLC Company Formation in Dubai allows businesses to easily construct a bigger branch on the continent when needed. They can also use the firm name to invest in property in Dubai, engage in bids, and take on public works projects and duties.
Entrepreneurs can apply for a permanent residency permit in the UAE.
Quickly globalized and business institutions.
There are only a few constraints on the behaviors, thus there is more flexibility.
The regional partnership will not be involved in the day-to-day operations.
The entrepreneur will be granted an accredited investor.
The corporation can open as many branches as it wants in the UAE.
Based on the number of workplaces available area, a variety of passports can be secured.
Earnings and investment money are fully repatriated.
There is no requirement for a certain level of money.
Owners can also acquire a UAE residency permit and nominate relatives to relocate to the UAE. You can increase the number of employees in the company as needed without having to worry about immigration quotas. When a business is listed as an LLC Services in Dubai, organizations lend it more authority when it comes to creating a Commercial Financial Institution. 
LLC Registration Cost In Dubai
The overall cost of forming an LLC in Dubai is estimated to be roughly AED 18500. The following are some of the most frequent costs that must be spent when forming an LLC in Dubai, they are as follows:
Fees for associate lodging
Monthly charges by the Business association
Department of the Economic Taxes
Charges for living in the area
Charges on a non-Arabic brand name
Expenses on the Global Market
Expenses for naming the committee
Processing fees
Costs for license agreements
Charges for regular speculative trading
Offshore company in Dubai
A Dubai international corporation is a prominent business structure in the UAE and around the world. It is classified as a white list country, meaning it is not included in any authorized FAFT 'tax shelter black lists.' As a result, an offshore business based in Dubai will have an internationally recognized and acknowledged position. However, a non-UAE citizen firm, a Dubai international corporation is a stamp duty UAE corporate body that is located in the UAE free trade zone. A Dubai corporation registration might be advantageous to an entrepreneur because it offers numerous benefits such as stamp duty registration, safety, privacy, and distinctive culture.
Read More: Jebel Ali Free Zone, Ajman Ali Free Zone, Dubai Silicon Oasis
Entrepreneurs wanting a booming business climate, limited liability protection, accessibility to a sizable market, and alluring tax advantages should strongly consider establishing an LLC in Dubai. Creating an LLC in Dubai has several advantages, such as limited liability protection, a wide variety of legal commercial activities, ease and speedy formation, etc.
If you are looking to start a Limited Liability Company in Dubai, consult with our business experts at OnDemand International. Our experts will assist you in setting up your LLC and make sure that you comply with the necessary requirements.
In this article, we have discussed about Dubai Company Registration Process in 2023-24. Read the complete article to get the complete information about Company formatiion process.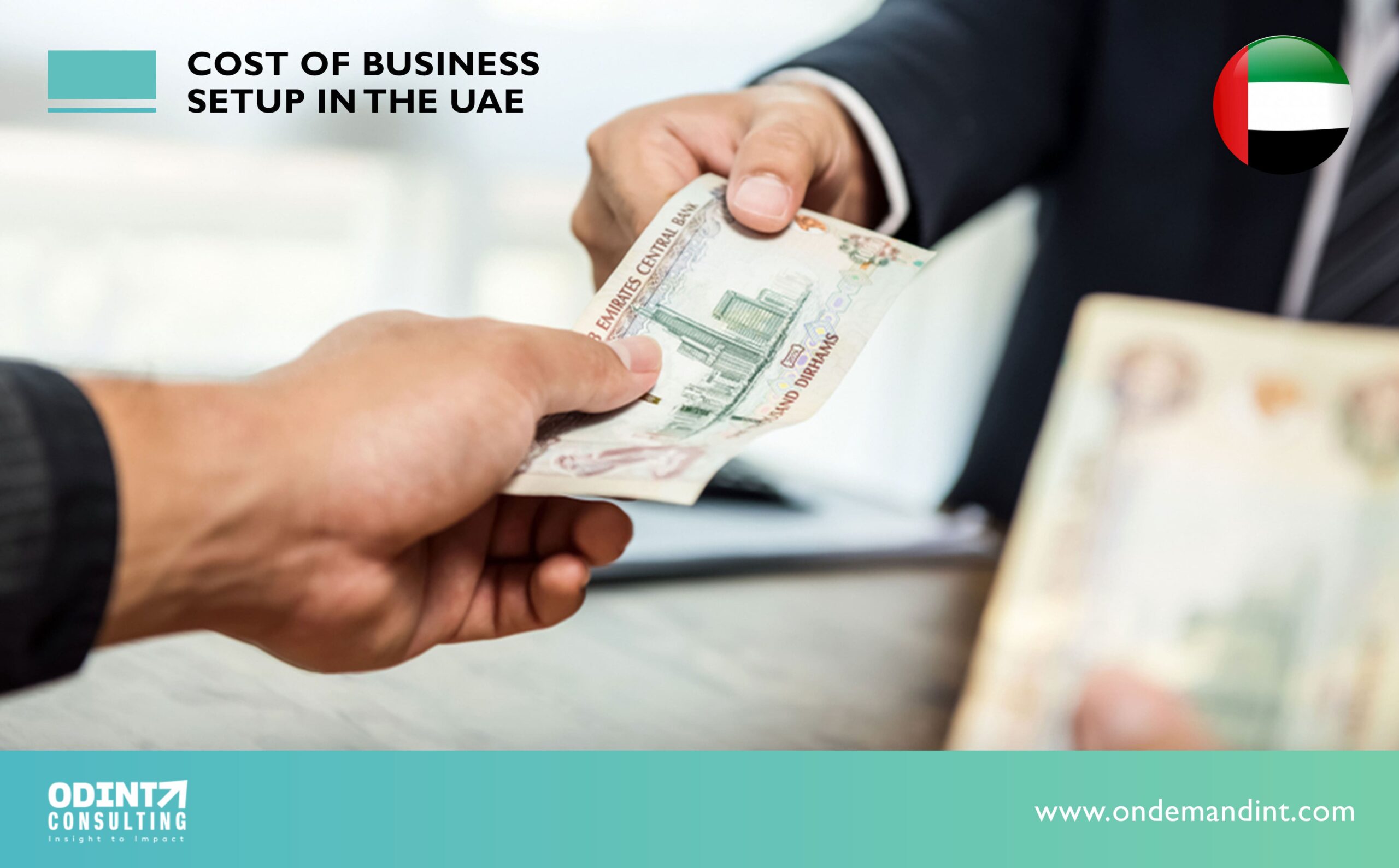 In this article we will discuss that the cost of business setup in the UAE is affected by a number of variables. The business's operations, location, license type as well as other aspects.
Entrepreneurs who intend to establish a business in the United Arab Emirates ought to be aware of the numerous business license in Dubai that apply