Are you dreaming of embarking on a culinary adventure and starting your own restaurant in Singapore? Well, you're not alone. Singapore's thriving food scene and diverse culinary culture make it a hotspot for aspiring restaurateurs. In this article, we'll explore why setting up a restaurant business in Singapore is a smart choice, the step-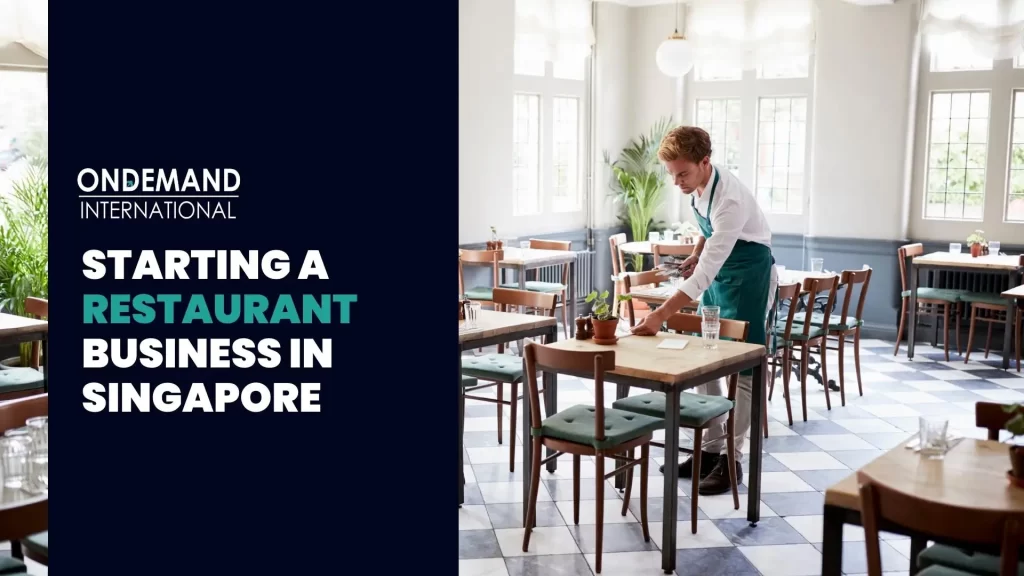 by-step procedure to get started, the essential documents required, and other key aspects to consider.
Why Set Up a Restaurant Business in Singapore?
If you want to set up a business in Singapore, then one of the most proftable business is to start a restaurant business there. Singapore's bustling food industry offers a myriad of opportunities for restaurant owners. 
Here are some reasons to start a restaurant business in Sinagpore:
Thriving Food Culture: Singaporeans are passionate about food, making it a prime destination for culinary ventures. The city-state has a diverse range of international cuisines, which contributes to its unique culinary legacy.
Tourist Hub: As a global travel hub, Singapore attracts millions of tourists annually. A restaurant situated in a good location can tap into this diverse customer base.
Stable Economy: Singapore has a stable and robust economy, making it a safe environment for business investments.
Government Support: The Singaporean government actively supports the F&B industry through various grants and incentives, making it easier for entrepreneurs to establish their restaurant businesses.
Procedure for Incorporating a Restaurant Business in Singapore
Incorporating a restaurant in Singapore involves several steps:
Business Structure: Decide on the legal structure of your restaurant, whether it's a sole proprietorship, partnership, limited liability partnership, or private limited company.
Register Your Business: Register your restaurant with the Accounting and Corporate Regulatory Authority (ACRA). This can be done digitally through the BizFile+ portal.
Food Establishment License: Obtain a Food Establishment License from the Singapore Food Agency (SFA). Ensure that the rules governing food safety and hygiene standards are followed.
Location: Select a site that is appropriate for your restaurant. Consider situations such as accessibility, and target audience.
Permits and Licenses: Based on your concept and operations, you may require extra permits such as a liquor license, or outdoor dining permit.
Staffing: Hire and train your staff, including chefs, waitstaff, and kitchen personnel. Comply with labour laws and regulations.
Marketing:

Create a robust online and offline presence through social media, websites, and local promotions.
Documents Required to Start a Restaurant Business in Singapore
To start your restaurant business in Singapore, you'll need to prepare several documents:
Business Registration Certificate: Issued by ACRA after registering your business.
Food Establishment License: Granted by SFA after inspecting your premises.
Menu and Price List: Include detailed descriptions of your dishes and their prices.
Tenancy Agreement: If you're renting a space, provide a copy of the tenancy agreement.
Health and Safety Certificates: Ensure that your kitchen and food preparation areas meet the required hygiene standards.
Liquor License (if applicable): Necessary for selling alcoholic beverages.
Important considerations to start a restaurant business in Singapore
Financial Planning: Create a detailed business plan and budget to secure funding and manage expenses.
Competition Analysis: Research your competitors and find your unique selling proposition (USP).
Technology Integration: Consider using restaurant management software for reservations, inventory, and customer management.
Sustainability: Embrace eco-friendly practices to attract customers who care about the environment.
Customer Experience: Concentrate on offering excellent service and creating a memorable dining experience.
Starting a restaurant business in Singapore is a thrilling endeavor that can be highly rewarding if approached with dedication, meticulous planning, and a passion for food. The city-state's vibrant food culture, stable economy, and government assistance make it a desirable location for aspiring restaurateurs.
At OnDemand International, our team of knowledgeable professionals is committed to offering thorough support at every level of your restaurant business venture in Singapore. We specialize in facilitating the acquisition of essential documents and licenses while guiding you through the intricacies of establishing a successful venture in the city-state. Our commitment is to ensure your restaurant's smooth initiation and growth, allowing you to focus on your culinary vision with confidence.