Overview: Singapore work Visa
Singapore is considered to be one of the most expensive cities in the world. Due to a steady financial center with a vibrant urban culture that provides a variety of options to visitors looking for employment.
This bustling metropolis in South East Asia, which attracts ex-pats from all over the world, draws students looking to pursue further education as well as job seekers looking for employment or entrepreneurs looking to launch their own enterprises.
As per Singapore laws, all foreign employees who are willing to work in Singapore must have a valid pass which is commonly known as a Singapore work visa, before they starT  legally working in Singapore. Therefore, it is required to apply for a valid pass for all foreign employees after the incorporation of the company in Singapore. If a company fails to do the same then it will lead to punitive penalties and prosecution for the company as well as its employees. 
Generally, there are three types of working visas for all foreign employees:
For laborers and domestic workers, there is a work permit.
For mid-level skilled workers, s pass is used.
For experienced PMEs, an Employment Pass is issued.
In this article, we will be going to cover all the details related to a Singapore work permit visa and the documentation required to obtain it, also the eligibility criteria of it. So, without any further delay, let's begin with it.
Work permits in Singapore are basically a pass for foreign workers of Singapore that gives them the right to legally work in the country. The minimum age required for issuance of a work visa is 18 years whereas the upper limit of age for Malaysians is 58 years and for non-Malaysians is 50 years.
For this, there are two additional conditions needed to be kept in mind are-
Payment of foreign worker levy for their work permit holders. This payment is given to the government of Singapore.
Adherence to the dependency ratio ceiling by the employer. This ratio is of foreign workers to the total workforce in Singaporean companies.
Procedure to apply for a Singapore work visa
For availing of a Singapore Work visa, the following steps are to be followed:
Determine the type of work visa
Selecting the type of visa you want to obtain is the first step if you want to obtain a work visa. Singapore offers a wide variety of work visas, including the Employment Pass and S Pass.
Check your eligibility
Find out if you are qualified to obtain the work visa of your choice. In terms of pay, job categories, and other criteria, each visa category will have its own requirements.
Search for a job
Find a Singaporean employer ready to sponsor your work visa and make an offer of employment. In Singapore, employers frequently participate actively in the application process for work visas.
Submit a work visa application
A work visa application can be submitted by your employer. It can be done by visiting the official portal of the Ministry of Manpower. Along with the application and the supporting documentation, pay the required application fee.
Provide necessary information
Provide the necessary information while submitting your application digitally using Singpass:
The application form that is filled out and signed

Documentation required with the form

Image of the banking tab that confirms your payment
Receive the In-principle approval (IPA) letter
You will be informed of the results following the processing of your application. You will obtain an In-principle Approval (IPA) letter following the acceptance of your request for a visa.
Get the pass issued 
You will have to provide the following details before you get the work visa issued:
You are required to get a thorough medical examination.

Give a delivery address for the card (your house or place of business).
After reviewing their documentation, the card is going to be sent to the specified address within five business days.
You will receive the information regarding the delivery of your card at least a day before the delivery either through SMS or email.
Eligibility and requirements for a Singapore work visa
Three main conditions which are required to be fulfilled by foreign employees for applying for work visas are-
The employee must hold a valid passport.
The employee must be of at least 18 years.
He must work within the scope mentioned in work permits.
Foreign workers are also needed to comply with some other conditions apart from the above-mentioned. 
These conditions are-
Can not start its own business or take part in any other business.
Work in the organization and for an employer who is specified in the work visa
Not be able to marry a citizen or permanent resident of Singapore without the permission of the Ministry of Manpower.
Allowed to reside only in the specified place in the work visa.
Required to carry the original pass for the whole employment period.
Types of Singapore work visa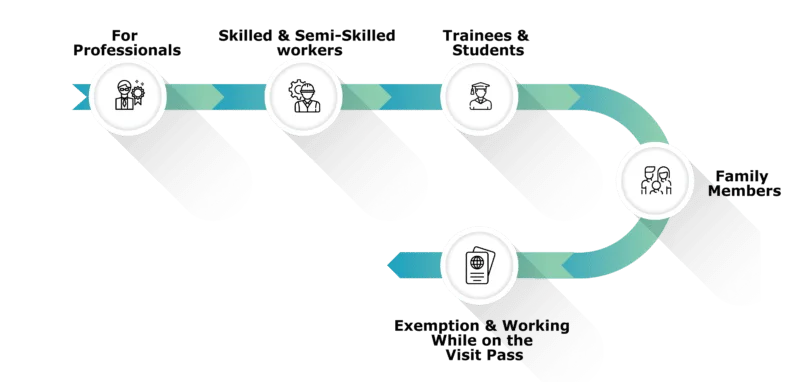 In Singapore, there are different types of work visas issued by the government of Singapore for different categories of employees according to their skills. It is required for every foreign employee to have a work visa to work in Singapore legally. 
A list of some Singapore work visas with the skills are given below:
 1. For Professionals
Personalized employment pass
Overseas Networks & Expertise Pass
2. For Skilled and semi-skilled workers
S pass
Work permit for migrant workers
Work permit for performing artiste
Work permit for confinement nanny
Work Permit for migrant domestic worker
3. For Trainees and students
Training employment pass
Work holiday pass (within the Work Holiday Program)
Training work permit
Work Holiday Pass (within the Work and Holiday Visa Programme)
4. Family members
Pre-approved letter of consent
LOC for ICA-issued LTVP/LTVP+ holders
LOC for Dependant's Pass holders who are entrepreneurs
5. Exemption and working while on the visit pass
Miscellaneous work pass
Work pass-exempt activities
Work pass exemption for foreign students
Work passes for holders of Long-Term Visit Passes issued by ICA
Fees payable for a Singapore work visa
There is a requirement to pay administrative fees according to the pass the employer is availing. Different passes required different administrative fees to be paid. On 1st April 2019, the Singaporean government revised the fees for the application, issuance, and renewal of different types of work visas in Singapore.
Employment Pass

– If you wish to apply for an employment pass, you have to pay a cost of $105 for each application and $225 for each pass.

EntrePass-

 If you wish to apply for an EntrePass, you have to pay a cost of $105 for each application and $225 for each pass.

S Pass-

You must spend an amount of $105 per application and an additional $100 for every pass granted if you want to apply for an S Pass.
Book end-to-end experts consultation with Odint finance and legal experts
In the end, we can see that Singapore has different types of work visas that are issued to different categories of foreign workers based on their skills. There is a very easy process to get these passes issued by the government of Singapore. There are very few fees required to pay for this process, and it is less time taking also.
Yet, to avoid any error's in filing a visa application it is best to consult with professional experts from OnDemand International to help you in applying for a Singapore work permit visa.