Company Registration Cost in Canada in 2023
Canada is a significant member of the G7 that boasts one of the most efficient workforces around the world and a secure, well-regulated financial sector. This encourages business owners from throughout the world to register their companies. Entrepreneurs must, however, be aware of the amount of capital needed to create a company in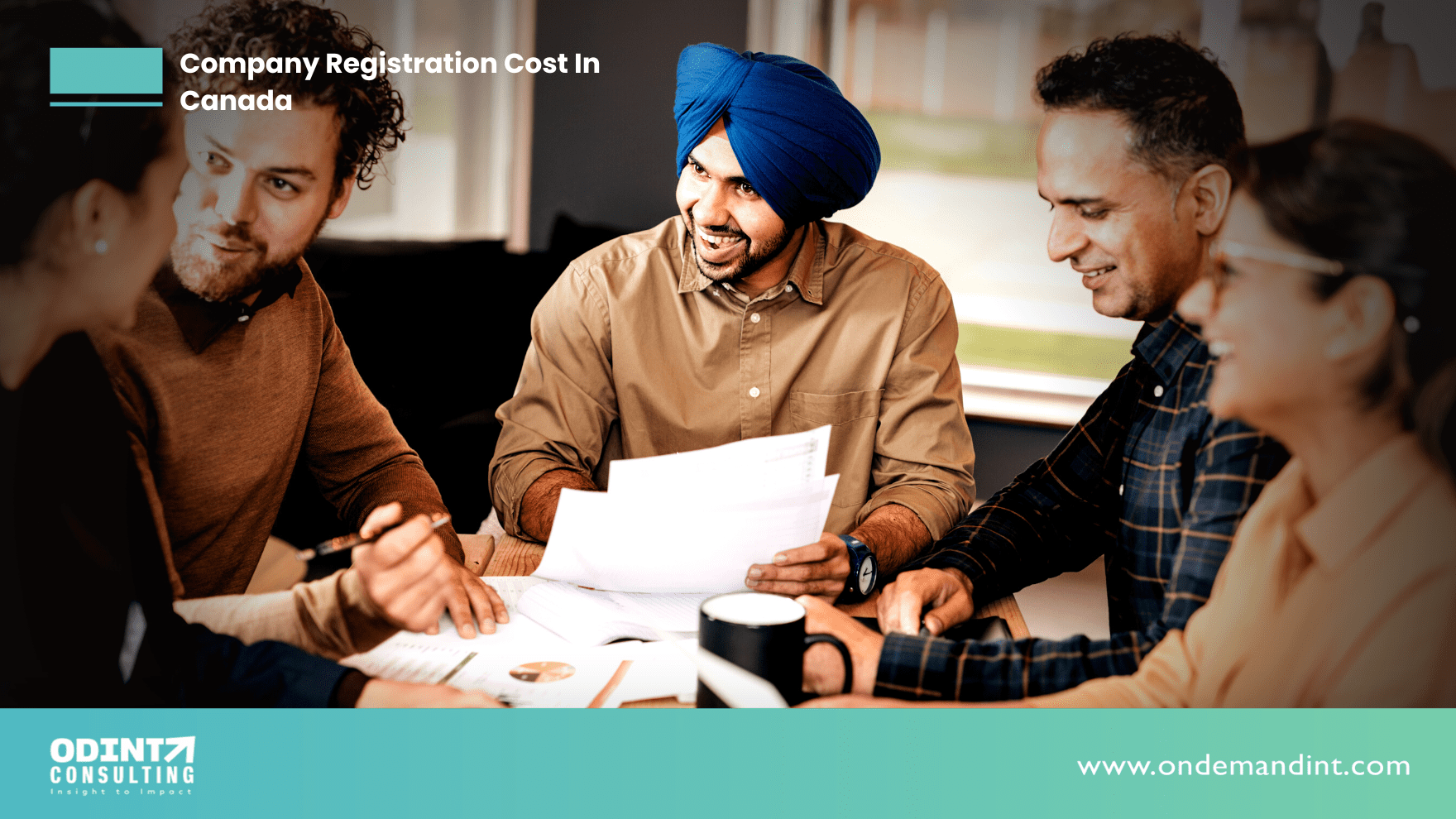 the nation before they can proceed with the business registration process. This will give them a better notion of the company registration cost in Canada.
Company registration cost in Canada varies depending on whether the business will be registered at the provincial or federal level. The price at the federal level is 200 CAD via the online portal.
This post will briefly go through the cost of establishing a firm in Canada. It will also go through the elements that influence the company registration cost in Canada.
Factors affecting company registration cost in Canada
Incorporating a business in Canada can be done at either the provincial or federal level. Because of this, whether a firm will be founded at the federal or provincial level will affect the costs associated with incorporation. Business owners, therefore, must be aware of the variables that determine the company registration cost in Canada.
Business name registration expenses:

The company registration cost in Canada for name registration might be around 30 CAD.

Expenses for filing business incorporation documents:

The company registration cost in Canada for preparing and filing company incorporation documents ranges from CAD200 to CAD250.

Expenses for maintaining the business address:

The price of a business address varies depending on where in Canada you decide to incorporate your company. However, you might anticipate paying fees for office space ranging from $3 per square foot to as much as CAD20 per square foot.

Expenses for furnishings and equipment:

Equipment and furnishings could cost between CAD 1,500 and CAD 2,500.

Expenditures related to supplies and inventory:

Depending on the kind of company you intend to launch, inventory and supplies may cost you CAD5,000 to CAD10,000.

Costs related to filing an annual return:

The expenses for submitting an annual return could range from $5,000 to $10,000.
An entrepreneur might also need to pay extra fees for things, like registering for GST or HST, getting a company seal, creating business documentation, getting licenses and permissions, and so forth.
Company registration cost in Canada at the Provincial level
On a provincial level, a business founded in a specific province is only allowed to carry out business operations in that region. As such, the price to incorporate a firm at the provincial level varies from region to region. The costs may differ in certain jurisdictions where the company registers services offered by businesses in the private sector that have been approved by the regional government.
The cost of provincial incorporation varies according to the region or province you choose.
Alberta:

The cost of establishing a firm in Alberta is $450 CAD plus a CAD30 name approval charge.

Manitoba:

In Manitoba, there is a CAD300 fee for registering business names in addition to a $300 CAD fee for government registration.

Ontario: The fee for company registration in Ontario is CAD 360 if done physically or by post.
British Columbia:

The initial fee to establish a business in British Columbia is CAD 350. Additionally, for name approval, a fee of CAD 30 must be paid, along with your articles of incorporation.

Saskatchewan: The cost of company registeration in Saskatchewan is CAD 265 in addition of $60 for searched report of named compannies.
Quebec:

In Quebec, incorporating costs $326 for the declaration of establishment and an extra $22 for reserving the business name.

NewFoundLand: In NewfoundLand, The incorporation fee is CAD 300 and for name $300.
Yukon: Company Formation cost in Yukon is CAD 354.
Company registration cost in Canada at the Federal level
Corporate owners have the choice to establish their corporations federally, which provides their company with greater brand protection and expanded business privileges across Canada. A business registered at the federal level allows an entrepreneur to conduct business in all Canadian regions using the same name.
The cost to submit articles of incorporation with the federal government is CAD200 if done digitally and CAD 250 if done otherwise. To prove that the company name you've chosen is legal and distinctive, you must also submit the NUANS name search record. The cost for a federal inquiry is CAD15.
Canada has been ranked in 23rd place in the ease of doing business index by the World Bank. The procedure for registering a business in Canada is simple because it can be done with only have one stockholder and one director, both of whom may be from any country. But before starting a business, an entrepreneur should be informed of the typical costs involved in registering a company in Canada.
You can get assistance from our business formation specialists at OnDemand International in understanding all of the requirements for Canadian company registration as well as the cost estimate for the same.