Poland was formed around 60 million years ago by the tectonic activity of Africa and Europe. With 38.5 million inhabitants, it's the sixth most populous state in the European Union, spanning 312,696 square kilometers and featuring a mild seasonal temperature. Warsaw is Poland's biggest capital and metropolis, with other significant cities including, ód, Gdansk, Pozna, and Wroclaw. It is bounded by the Baltic Sea as well as important countries such as the Czech Republic, Ukraine, Germany, and Slovakia.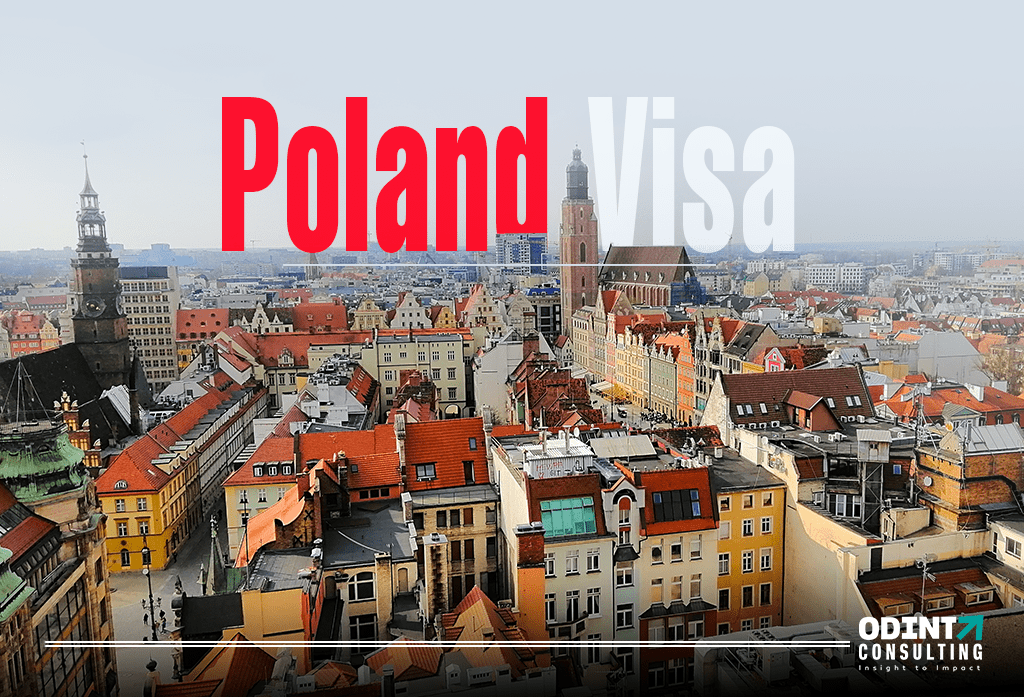 Poland is a mature market and rogue state, with the EU's ninth biggest and most successful economy. Warsaw, Poland's capital is the biggest and most significant site in Central Europe. Along with excellent living conditions, a high-income business, well-being, safety, and schooling are all regarded as extremely important and valuable. Despite not being as well-known as its stylish sisters, Italy and France, fashion has remained a significant component of Polish culture. Poland has made significant contributions to global developments, dress habits, beauty innovations, and cosmetics that are still used today. Its official currency is the Polish zloty.
In this article, we have discussed what is a Poland visa, what's the need to acquire one, the types of Poland visas,  how to apply for one, the costs involved, and more.
Looking To Establish Your Business In Poland?
Poland grants visas in a wide range of categories. Although most people traveling in this nation do not require a visa, residents of specific countries will require to have any one of the visas suitable to their condition. Persons relocating to Poland or entering the nation should check with the Department for Immigrants to see if they have to obtain a Poland visa.
Read More: Poland Immigration
Anyone who wishes to travel to Poland for any given purpose will need a visa. The type of visa needed depends on the purpose of the visit.
For example, if you wish to stay in Poland for 90 days or less, then go for a Poland Schengen visa, if you just wish to switch flights in Poland, go for a Poland Airport Transit Visa, if you wish to establish your work in Poland then go for Poland work visa, etc.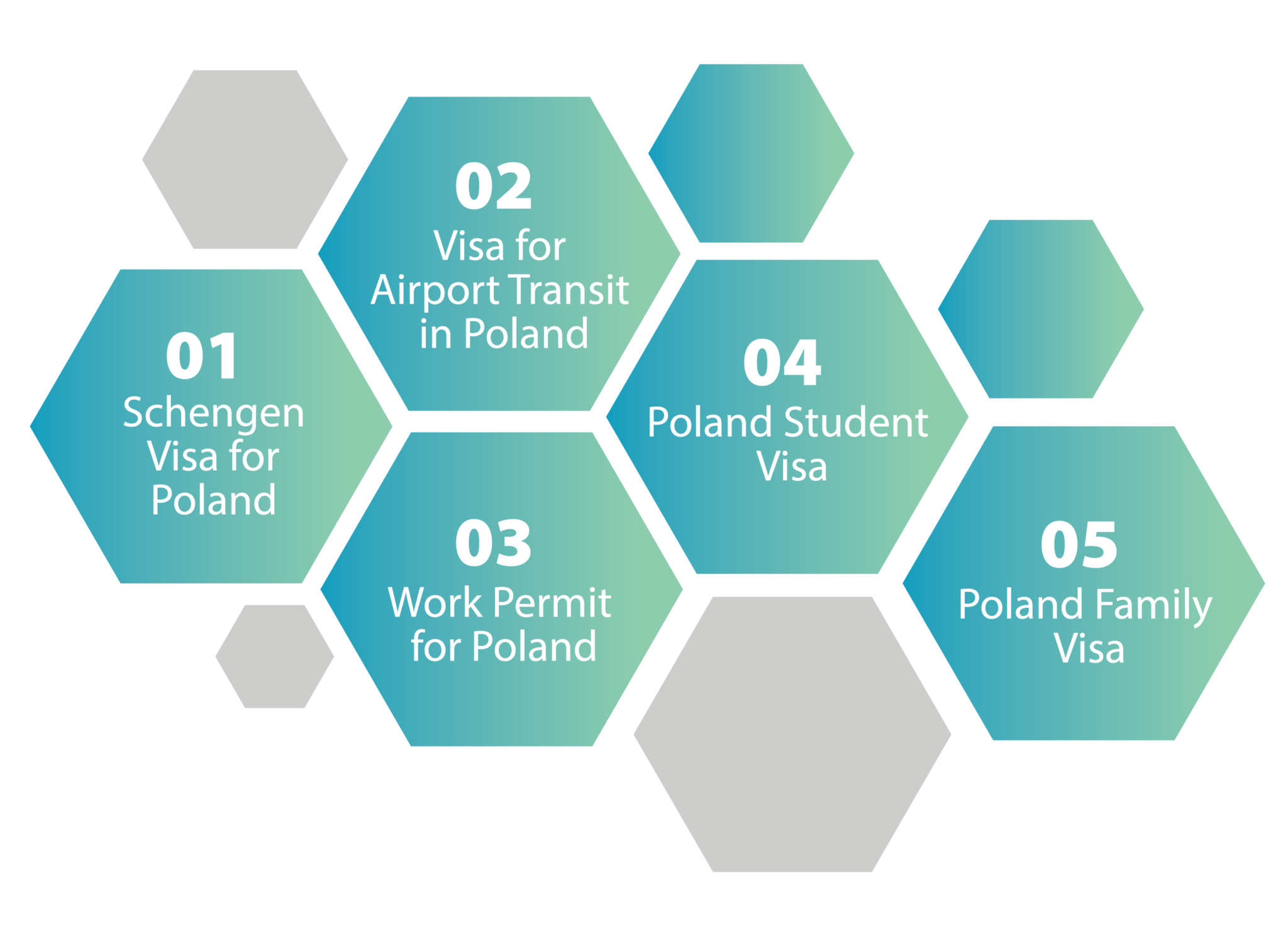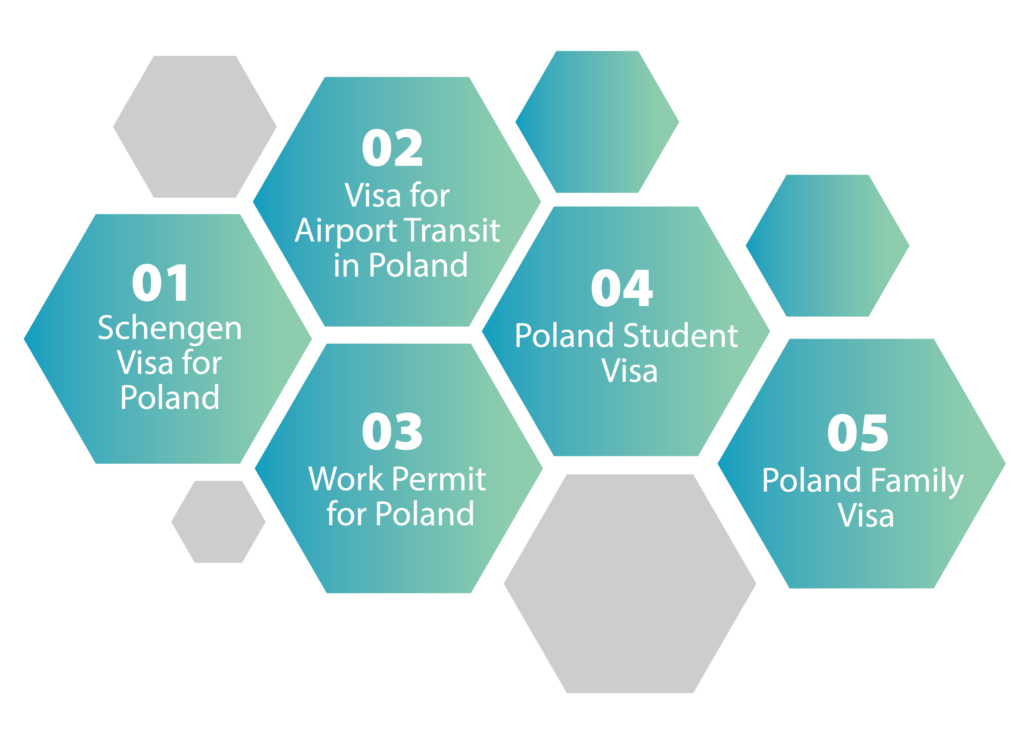 There are various sorts of Polish visas available based on why you wish to enter Poland. The following are the many types of Polish permits:
Schengen Visa for Poland:
If you wish to be in Poland for fewer than 3 months, you must obtain a Polish visitor's visa. This visa is ideal for visiting Poland for vacation, commerce, or hospital attention. It is known as a Schengen visa since it enables the owner to travel to all the Schengen nations during the period of validity of the Poland visa.
Visa for Airport Transit in Poland:
This visa permits the bearer to access the major transport zone of Poland airport to change planes. It is intended for people flying to a foreign nation but connecting in Poland. If they don't exit the international transit zone, they don't require a Polish travel visa.
Work Permit for Poland:
You should register for a Poland work permit if you intend to start your work in Poland. You should have a company that will file a working visa application on your account to the regional Voivodeship department. Based on the length and purpose of your activity, there are various sorts of work visas available. You can only begin working if your company issues you a work visa.
Poland Student Visa:
If you're a non-EU citizen who has been admitted to an institution in Poland, you must register for a residence permit and a student visa.
Poland Family Visa:
You must register for this type of Polish visa if you wish to visit your partner or family who resides in Poland. This visa stays legitimate for 2 years and allows you to perform business activities in Poland during that time. You must give evidence of family background, like a marriage contract (for couples) or an adoption/birth certificate for minors.
Book end-to-end experts consultation with Odint finance and legal experts
Documents Required For Poland Visa
Now we will learn about all the essential documents that are needed for a Poland Visa:
Either download your application or fill the form online and print a hard copy
Your photographs with a simple background
Copies of old visas (applicable for at least 90 days ahead of your date of return) and passport with atleast 2 blanl pages

A copy of the return ticket

Insurance of travel with a guaranteed coverage of 30,000 € (minimum) in all the Schengen regions and Poland
A cover letter with the specific purpose of the visit
Residential proof
Financial proof to justify the staying period
Civil status proof
The itinerary for the flight with exit and entry details with the flight numbers
Documents Required As Per Category
In the above heading, we discussed the general documents that are compulsory for everyone to carry, irrespective of their category. But now let's learn what are the essential documents as per a candidate's category:
Employed personnel:
Latest bank records (up to 3 months)
Employment contract
ITR form
NOC by the employer
Self-employed:
Firm bank records up to 3 months
A copy of the corporate license
ITR form
Student:
Proof of admission
Agreement letter from the institution
Fee receipt's copy
Retired:
A pension report for the most recent six months is necessary, however consistent revenue raised by the property is occasionally needed as proof for the prior six months.
The above-mentioned documents are required; else, the visa would not be provided and your request will be denied.
Procedure To Get Poland Visa
Next, we will discuss all the steps related to getting a Polish visa. It is to be noted that the candidate will have to make an in-person visit when filing for any Polish visa. Why? Because of the fingerprint enrolment process. More information concerning the enrolment is mentioned below.
1st step: Candidate must ensure his/her proper, genuine reason for entering Poland.
2nd step: Fill out the visa application form, attach your photograph to it, and check that you have all the needed verification documents and their original copies.
3rd step: Get an appointment beforehand and the candidate should be present to provide their biometric data.
The visa form submission can only be done by:
The candidate herself/himself
The legal guardians or parents of a minor by submitting his/her birth certificate. The parent's signature with proper written consent must be provided with papers as evidence for the child's legal ship.
4th step: Be present at your scheduled time and date and handover your request with the asked fees.
5th step: A brief interview will be held relating to the reason for your trip by an official.
6th step: Once your visa request is processed, you can track your request via the digital portal.
7th step: Pick your visa from the Poland embassy. If it's a Schengen visa, an authorized person collects it or you can collect it personally. But in the case of a national visa, you'll have to collect it personally.
Fees Required for Poland Visa Application
Let's now learn about the fee required when filing for a Poland visa application. The price for the Polish visa is based on the type of visa you are applying for. A Schengen visa and a Long-Term visa(D) costs 80 euros.
There are some points related to the fee payment one should always keep in mind:
Pay the visa fee and note that you cannot ask for a refund
Complete your payment either through cash or by transfer
Whenever you decide to file for a short-term residential permit, you'll have to submit an additional 500 PLN or 8000 Rs.
Biometric Registration For Poland Visa
All the candidates must be present in-person to give their biometric information. It is a simple process and is usually held for the candidates who apply for short-term Polish Schengen visas.
Some people who are free from the obligation of providing the biometric data are:
Children with ages less than 12
People with handicapped or amputated hands or fingers.
The members of government or Head of state with their spouses, and the team of the authorized delegation where get invited by the foreign businesses or the Member state's government for a special official purpose.
In general terms, it means that the 1st Poland visit after June 23rd, 2015 to a state embassy of Schengen nations and the visa application offices would get extended by sometime. It is important for the obligation of the biometric information. Else, the present process stays the same as in previous times.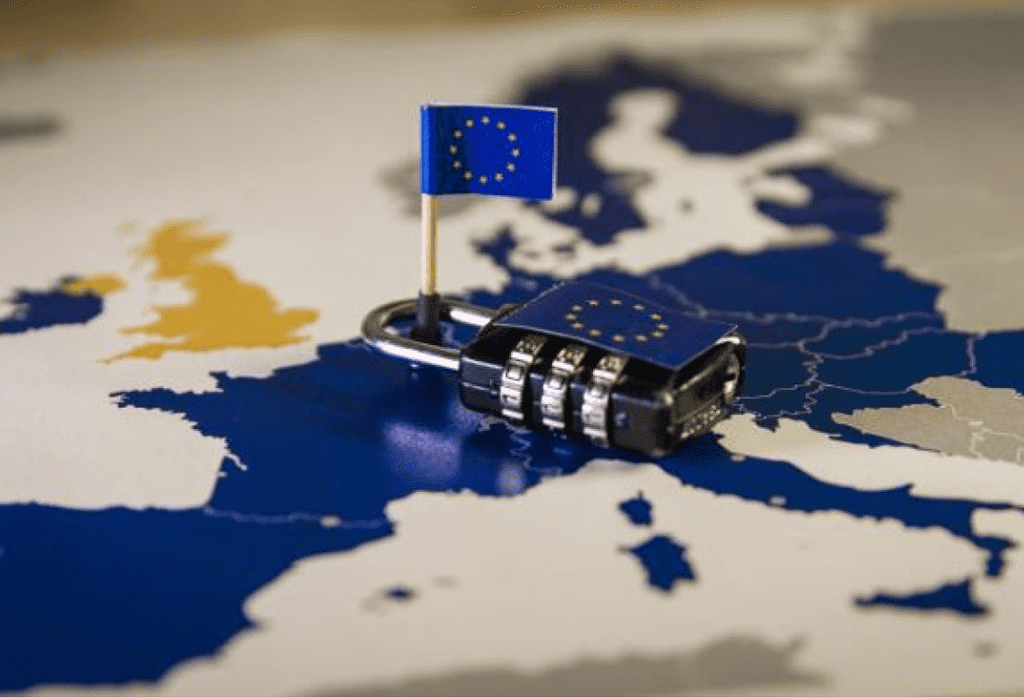 Poland is a part of both the Schengen Zone and the European Union. The government allows US residents to visit the nation without the need for a visa for three months, whether for tourism or business purposes. Nevertheless, the passport must be valid for 90 days beyond the duration of the trip. You'll also require 10,000 Euros or the equivalent in cash, as well as a return plane ticket.
The Schengen zone is made up of 26 European nations. There are no border checks between them. The participating nations are:
Denmark
Austria
Greece
Germany
France
Finland
Italy
Belgium
the Netherlands
Switzerland
Norway
Poland
Luxembourg
Malta
Liechtenstein
Lithuania
Iceland
Hungary
Slovakia
Estonia
the Czech Republic
Slovenia
Portugal
Sweden
Latvia
They all share the same short-term visa policy.
If you have filed for a brief stay visa, you may reside in Poland for three months within 180 days once your visa request is accepted. With the help of a Poland Schengen visa, you can travel to other Schengen nations too. The days spent everywhere in Schengen will contribute to your three-month visa term.
Living in Poland For More Than 90 Days
If you wish to live in Poland for more than 90 days (3 months), you will have to file for a D-type visa, and later for a residential permit. But what's a D-type visa? It's a kind of a visa that is for a longer stay in Poland. 
With this kind of visa, you can stay in Poland anywhere from 3 months to a year, but not more than that. But with the D-type visa, you can file for a residence permit as soon as you visit Poland, which can be filed for years.
This visa isn't like the residence permit in Poland. The D-type visa, which is obtained at an office abroad, permits you to visit Poland with the objective of job, studies, family gatherings, and so on. After entering Poland, you should convert your D-type visa into a residency permit.
If you wish to extend your stay in Poland, your visa can get extended. The condition being you meet all the criteria of the visa. For instance, you can stretch your student visa if you're still a part of the university. But extending a Poland Schengen Visa is a tough task. A tourist visa can only be extended in special situations, like:
A battle or war in your nation which can harm your safety if you return
Health-related issues
Other reasons
Book end-to-end experts consultation with Odint finance and legal experts
For various reasons, including educational and employment opportunities, obtaining a Poland visa is essential if you want to enter the country. To enter the nation, you must, however, apply for a visa and meet all requirements. In any circumstances, if the relevant Polish authorities determine that the requirements for granting the visa are no longer met, your Poland visa may be withdrawn.
You will be assigned a departure date if you are still in Poland during the time your visa is revoked. And you will be regarded as an unlawful resident of Poland if you do not depart the country or the Schengen region within the given time frame. As a result, you must adhere to all requirements and follow all applicable laws.
As we have reached the end, we hope that this article helped you in learning and understand all the important details related to the Poland Visa. In case of any business-related query or assistance, feel free to reach out to us at Odint Consulting.