Overview: Poland Business Visa
Poland is the 6th largest economy in Europe making it one of the most important destinations for business setup and immigration. The nation offers investors a robust economy, tax benefits, and several business opportunities. Entrepreneurs and investors from all around the globe wish to visit the nation to start their business operations in Poland.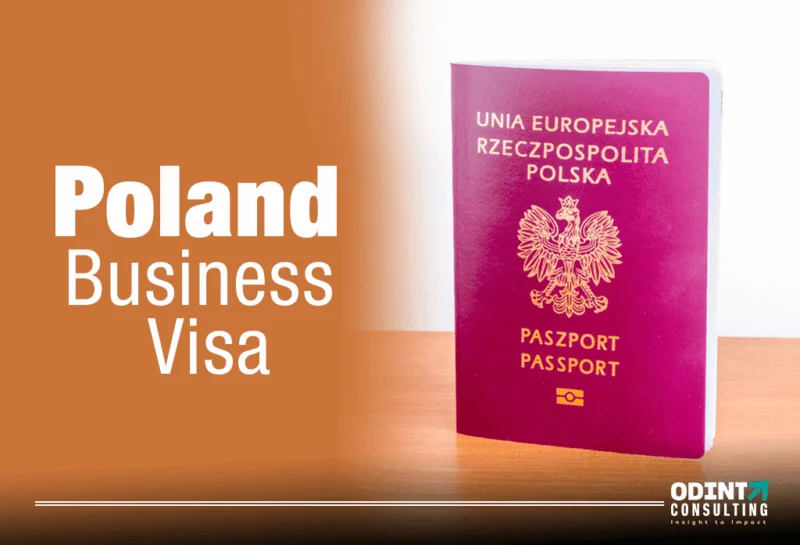 Whether you want to forge new business alliances, go to business-related meetings, or look into investment prospects, accessing this dynamic market frequently starts with securing a Poland business visa.
A Poland business visa is usually granted to professionals and business owners who want to enter the nation to engage in short-term business-related activities. A Poland business visa facilitates travel both within Poland and within the Schengen region, facilitating access to the European economy.
Through this guide, we will be explaining about Poland business visas, their requirements, and how to apply for one.
Types of Poland Business Visa
The Type-C visa, also known as the Uniform Schengen Visa, is valid in the Schengen region and allows the bearer to stay in the Schengen Area member nations for up to 90 days throughout the course of a 180-day duration.
A D-type national visa allows holders to visit Poland and remain there continuously or intermittently for a total of more than 90 days during the visa's validity duration, but not more than a year.
Read More: Poland Immigration 
Importance Of Poland Business Visa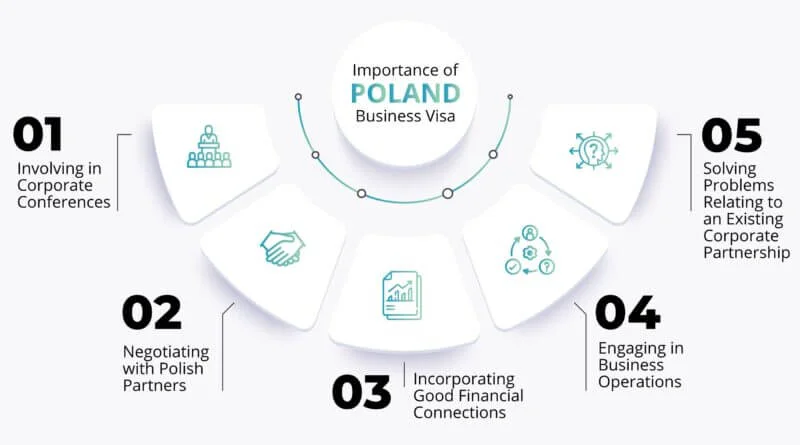 You may need a Poland Business Visa in the following scenarios:
Involving in corporate conferences
Negotiating with Polish partners
Incorporating good financial connections
Engaging in business operations
Solving problems relating to an existing corporate partnership
The foundation is a work visa offered by a legal body in Poland or from an independent entrepreneur. Please keep in mind that the Poland work visa (Schengen) doesn't grant permission to commence business in Poland or any other EU country.
However, the fundamental concern is whether it is feasible to carry trade on a Polish work visa. Yes, you can, however, obtain an invitation. To do so, you must first form a business in Poland and then file an invitation on its behalf.
Filing for other sorts of organizations will be needed officially in Poland, where you can obtain depending on other kinds of visas. The reason for entering the country with a work visa should be documented.
Documents Required For Poland Business Visa
Let's now move on and learn about the important documents that are needed for filing a Poland business visa. So, before registering for a work visa, you will have to gather some data.
All in all, the documents must comprise:
A visa application that has been completed

Having a passport that is valid for a minimum of 3 months

A travel insurance coverage for £30,000

Evidence of sufficient funds to cover your stay in Poland and return travel

A letter stating the trip's objectives

Bank statements from the previous six months

Two passport-size photographs

Evidence of accommodations
Apart from the standard papers, you will also have to give:
Confirmed proof of economical solvency, like your salary certificate, employment certificate, and account status.
Individual biometrics details
In situations where the candidate applies from an unregistered location, he/she will have to submit a certificate from his/her workplace.
If the request is given depending on a firm established for the candidate, the standard papers, original, as well as the copies, and a statement from the tax officials of Poland regarding the lack of debts, are submitted.
Some PPVAs in certain situations might need extra papers, like travel tickets, housing availability, etc.
Invitation needs
Requirement For Poland Business Visa
Remember that such a record is officially necessary only when the applicant presents paperwork at the workplace rather than the location of registration. Nevertheless, some Centers still require this credential.
The certification must include the following information on the letterhead:
Details about the company:
Title
Actual and statutory addresses
Phone numbers
About the candidate's position
Stating the start of work
About the individual's average monthly wage which has to be specified for a particular nation when filing for Schengen visas.
Furthermore, the support must include:
The period of issue, which can't be greater than 1 month after the application date
The incoming number, that is used to enroll the document at the organization
And the person's signature.
Please keep in mind that workers of entrepreneurs must also supply copies of their tax registration and registration certificates.
How To Get Business Visa In Poland?
One of the first steps to obtain a business visa for Poland is to check if you qualify for a visa.

If you are qualified, the next step to get the Poland business visa is to gather the required documentation such as passport-sixed photos, travel insurance and visa application form.

The third step is to fill out the visa application form and submit and submit it along with the required documentation to the appropriate authorities. Along with that you must pay the fees associated with acquiring the Poland business visa.

Once you have submitted the application, it will be reviewed by the authorities. You might have to attend an appointment at the Polish embassy or consulate in your country. 

The processing period after submission can change, but it usually lasts 15 calendar days. When demand is higher or if more paperwork or a more thorough examination are needed, the process may take more time.

If your visa application is accepted, you will be informed and your visa will be stamped or affixed to your passport. In the event that your business visa application is rejected, then you might appeal the rejection.
Read More: Poland PR Permit For Indian
Processing Period for a Polish Business Visa
The quantity of submissions received at the embassy or consulate, the legality, the number of entries allowed, and your prior trip record all affect how quickly the business visa will be processed. Typically, the processing of a Polish business visa takes 15 business days. But, in certain instances, this could require as long as thirty days, and in rare circumstances, it could possibly go a maximum of sixty days. You must therefore submit your application in advance.
Benefits Of Poland Business Visa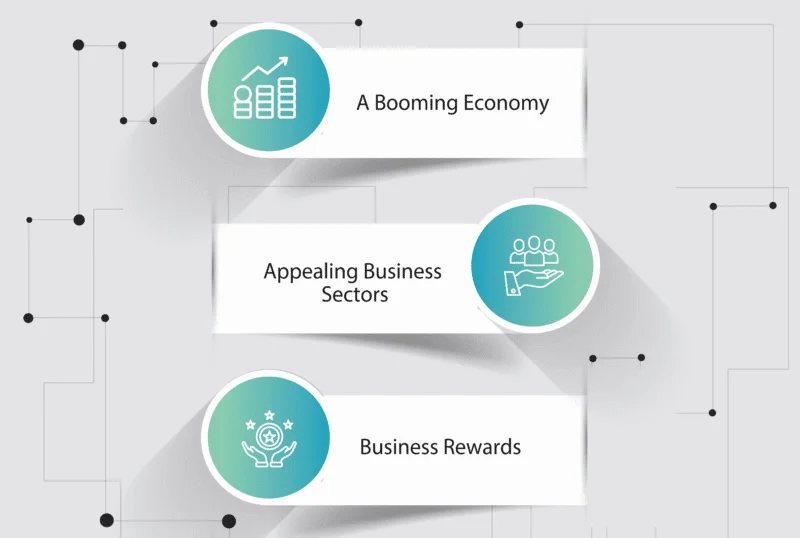 Even though Poland is not one of the best low-tax destinations in Europe, like Belize, Poland business visa does offer many significant benefits to foreign businesses. Amongst these include a stable economy, a huge internal industry, and lower start-up and operating costs when contrasted to certain other Western European nations.
1. A booming economy
Poland is a nation with a strong economic basis, and it was also the only EU nation to expand its GDP while the rising world economic crisis. After avoiding recession, the nation continued to advance, and some of the variables that have led to the present economic growth can incorporate private company, labor market efficiency, large export prices, and the competition demonstrated by Polish firms. Another appealing European place for starting a new venture in Romania, a nation with several chances for international investors.
2. Appealing business sectors
Poland is a renowned European business destination, and businesses will find a plethora of economic prospects here. Food production, automobile, aviation, technology, and marketing services are among the leading industries. Poland is also becoming a more desirable site for IT firms from Western and Northern Europe. Its outsourcing industry has also been steadily expanding. The commercial services industry is one of the major industries in the nation, with most enterprises situated in major urban centers. In actuality, many entrepreneurs who establish a business in Poland want to register in its different states.
3. Business Rewards
A significant benefit for entrepreneurs who build a company in the country of Poland is the availability of a number of tax breaks and rewards. The highest limit of investment assistance is controlled by the firm's size and the location in which it will operate.
Some of the amounts spent by enterprises that may be qualified for assistance are those related to the purchase of land, facilities, or technology, technical assistance fees, and, in certain situations, leasing charges. Furthermore, the regulatory procedures associated with establishing a corporation in Poland, like the business setup process or name registration, are not overly complex.
In conjunction with the consistency and benefits offered, low unit labor prices, convenient access to the European Union market paired with a huge internal sector, and the notion that Polish workers are bright and extremely competent are all benefits for shareholders who build a company.
Those were just a few of the factors why international investors opt for a Poland business visa. We encourage prospective entrepreneurs to investigate all of the business options available in this nation.
Read More: Cost of Living in Poland
Validity Of Poland Business Visa
The business visa can be awarded for a variety of durations and variety of entries, ranging from a long-term multiple entry visa (multi) to a simple work visa (short-term).
In most cases, if the necessity for involvement in business activities can be objectively demonstrated, a business Schengen visa is provided for the course of these operations. You might anticipate staying for a prolonged period of time if you re-register.
Obtaining a Poland business visa is an excellent option for anyone who wants to travel to Poland for business related reasons. You can apply for a business visa for a variety of activities, including attending conferences, forming business partnerships and other business-related reasons. But, in order to obtain a business visa in Poland, you must first determine whether you qualify for a visa.
For any further queries regarding Poland business visa or want to set up your business in Poland, you may speak with our experts at OnDemand International. Our experts will assist you with any questions you may have and can also assist you in the procedure for Poland business formation.