Corporate Bank Account in Spain
If you're an entrepreneur who wants to transform the Spanish startup industry or just enjoyed Spain for a holiday and are thinking that it is the ideal home for you, then one thing you must get around is establishing a corporate bank account in Spain.
Foreigners who wish to open a corporate bank account in Spain can establish them at the commercial institution of their choice.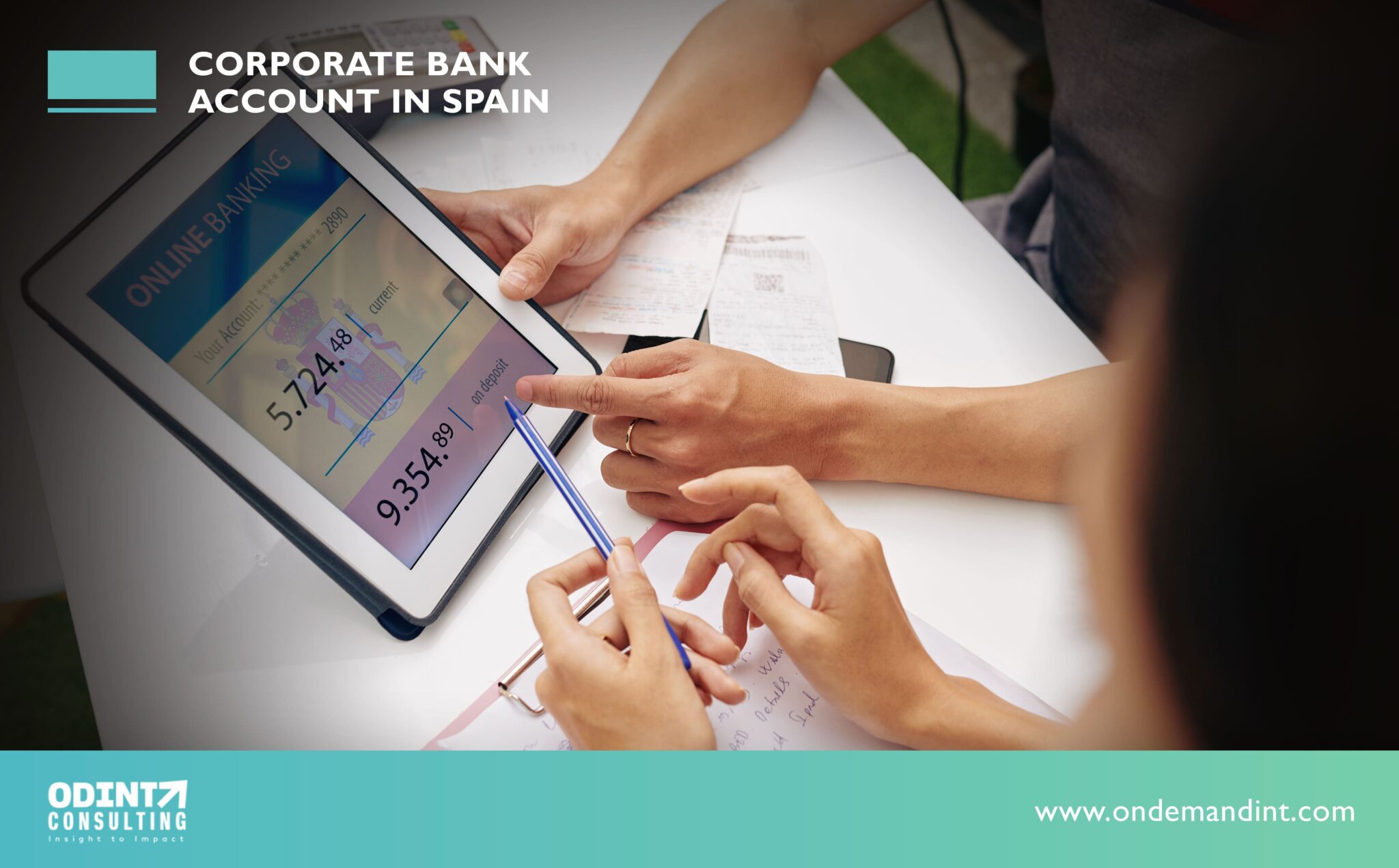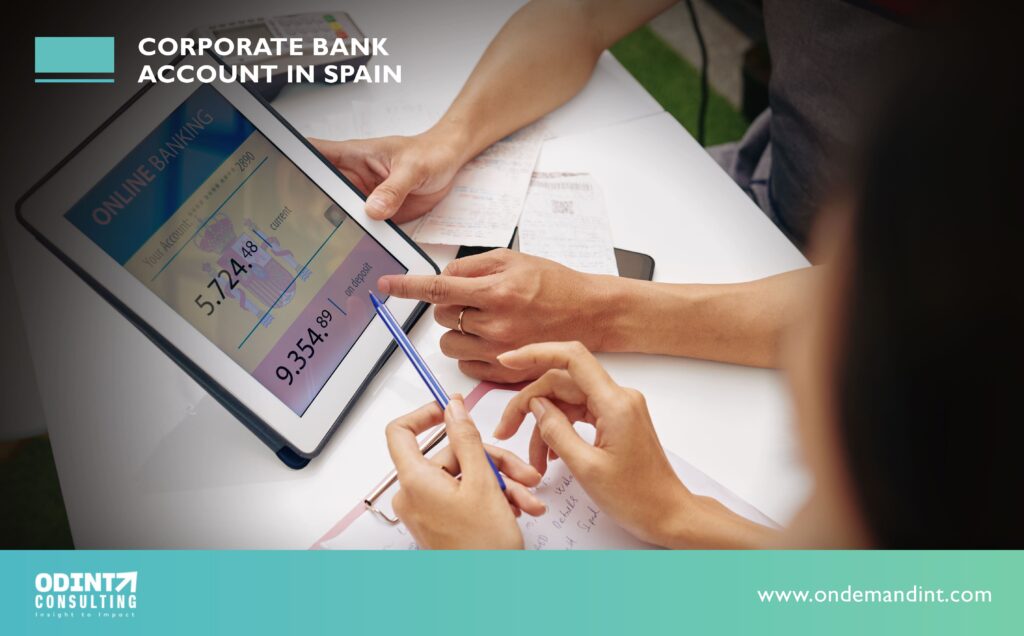 It is important to note that companies in the process of incorporation within Spain are obliged to establish a corporate bank account which is used to deposit the required share capital as well as for company transactions.
Opening a bank account in Spain, either as an individual or as a company is crucial and is quite manageable. However, you just need to have a prior knowledge of the laws & norms of the Spanish government. 
In this article, we will be discussing the process & detail requirements to open a corporate bank account in Spain. So, without any delay, let's begin with it.
Reason to establish a corporate bank account in Spain
It is important to note that the Spanish bank system has been connected to the global financial markets, and also includes stocks, credit, and derivative markets. The banking sector in Spain has seen significant growth in the span of 15 years of economic expansion.
Spain is home to one of the major banks in the Eurozone. It has several major national banks, which include ones that are operating in other countries. Spain accepts the majority of distinct types of foreign credit and bank cards, provided you're using Mastercard, Visa, or American Express. 
However, they could be subject to foreign transaction charges, which could increase the cost in the end. The cards are typically restricted to routine purchases, like food, clothing, etc.
For instance, when you need to pay your utility bills, taxes rent, and even the mortgage, it's better to have a Spanish-based bank account to streamline the process. The majority of these payments are only able to be made through the Spanish savings account.
How to open a corporate bank account in Spain?
When you've decided on the bank you'd like to create an account at, it is recommended to open your account in the person of the account. The majority of institutions in Spain are usually operational between 8:30 am and 2 pm, from Monday through Friday.
If you need someone who can speak English, you'll need to schedule an appointment with staff or someone who can translate for you.
The procedures to open a corporate bank account in France are given below:
Step 1:- Decide the bank
One of the most crucial things that you must do is decide the bank where you want to establish a business bank account in Spain. We will assist you in selecting the best bank based on your business requirements.
Step 2:- Select the method of applying 
You can apply for a bank opening process, over the telephone, in person, or even by mailing an application. The online application process can take approximately 10 or 20 minutes.
We will offer you a hassle-free and secure online account opening process in Spain. You can complete the entire procedure remotely from anywhere in the world.
Step 3:- Provide contact details
Alongside an ID card, be prepared to provide your contact details which include your first and last names along with your telephone number and Spain local address. Along with this, it requires a passport.
Step 4:- Choose a joint or single account
If you'll be opening an account for yourself or with an additional person, you need to add a person's name included on your account if you decide to open a joint account.
Step 5:- Accept the terms and conditions
The bank requires you to prove that you have read the disclosure documents that outline fees, liabilities, and how interest for the account is calculated.
Step 6:- Submit your application
You could receive an acknowledgment in a matter of minutes when you submit your application online, however, it may take anywhere between two and five days for the bank to confirm your identity, create the account, and grant you access.
Step 7:- Fund your new account
A lot of banks will require you to make a certain deposit, usually ranging between $25 and $100. However, some banks do not have minimum deposit requirements.
Documents required to open a corporate bank account in Spain
In the process of opening a bank account in Spain, the businessperson is required to submit their identification documents for themselves along with the company's legal documents and many more things. 
We've provided a list of the paperwork needed to open a corporate bank account in Spain.
Articles of Association

Certificate of Incorporation for businesses

Your NIE number and numero de identificacion de extranjeros (certificate)

Proof of address

A valid passport is required for natural people

Good Standing Certificate 

Latest financial report.
Our team of experts will handle the collection and submission of your documents for verification. We will ensure that all provided documents comply with the bank's requirements.
Types of accounts in a Spanish bank
One of the most useful advantages of Spain is the fact that it provides a range of accounts and banks to meet the needs of a variety of clients, such as:
Current Accounts
Current accounts are used for daily baking as well as financial requirements. The majority of banks offer some kind of current account, which is usually geared toward certain groups of people, such as young people and students.
Savings Accounts
Alongside current accounts, banks typically have savings accounts. Savings accounts can range from basic savings accounts to accounts that connect to shares and investment funds.
A lot of regional Spanish banks- Cajas–offer these kinds of savings accounts, too.
Digital Accounts
Everything is digital in recent times, even in Spain with its system of banking. Today, you can download any of the numerous Spanish banking, mobile applications to manage all your banking requirements online. Of course, digital accounts are the current ones and are only accessible available on your phone
Foreign Accounts
Many of the main Spanish banks also have accounts that are specifically targeted at those who live in Spain. But, they are generally euros-based accounts, which means they'll let you get by effortlessly throughout the whole European Union (EU).
Offshore Accounts
Many ex-pats believe that having an offshore account for international banking is the best method to handle their financial obligations. Offshore accounts are especially useful for people who are working overseas and spend a significant amount of time in different countries or making frequent payments between countries.
Offshore banks are generally located outside of the home country and provide lower taxes on the money and certain services that cross borders.

The Spanish banks that provide services and accounts to foreigners comprise the following:
1. Santander
Santander is the largest bank in Spain and is likely one you're familiar with if reside here in the US. Santander provides a variety of current accounts, ranging from basic to non-resident accounts as well as its "Classic" account that is geared towards younger individuals.
They also have a variety of choices for debit and credit cards for customers to select from and baking apps for those who require banking via digital channels.
2. Banco Sabadell
Banco Sabadell is another population bank that is popular with ex-pats because they provide a no-cost translation service that is available the "Key" account, which is available to all residents of the world. 
They also have their customers an "Expansion" account that includes unlimited free withdrawals and deposits, as well as a "Primera", accounts for savings that are geared towards youngsters, and a "Higher Sterling" savings account that is open to all other customers.
3. BBVA
BBVA is one of the most frequently used banks for ex-pats. This particular bank offers a variety of account types that are commission-free, including an account for current transactions and the "young blue" account for those between 18 and 29, and an account for payroll to assist employees with managing their income.
They also have an international banking app that allows mobile payments through Apple Pay, Samsung Pay, Google Pay, and several debit, credit and prepay cards.
4. International Banks
Finally, they provide various low-cost international money transfer alternatives. If you don't want to create an account with a Spanish bank, there are other options. 
Spain also has international options that include:
Barclays

Citibank

Deutsche Bank

HSBC

ING
The above options offer basic current accounts and saving accounts and mobile apps and much more.
Things to consider while opening a bank account in Spain
For opening a bank account in Spain, it is important to consider your financial requirements in terms of the services and products the bank can provide.
Here are a few suggestions to bear in mind when you wish to open a corporate bank account in Spain:
The price:

 It's rare to find bank services that are free in Spain but there are many free current accounts. The fees typically depend on the service, so it would be better for you to carefully analyse the services you require.

The services: 

The services will not only determine the cost, but also the kind of bank you select. For instance, perhaps you're seeking an institution where you can make an account and then take out a Spanish mortgage. In this instance, you'll need to select a Spanish bank.

It's easy to use:

 If you're searching for a financial institution that gives access to its services at any time it is best to sign up for the option of a mobile account. No matter which bank you choose, make sure you can receive their services anytime.

Translation services: 

International banks generally provide services in English or other widely spoken foreign languages. However, regional banks generally have staff that speaks Spanish, as well as details.
Before opening a bank account in Spain, be sure it is suitable for your requirements first. If not, you may find yourself with limited services and high service charges.
Book end-to-end experts consultation with Odint legal, accounting and company formation experts.
Although opening a corporate bank account in Spain can be simple, it is best to do your research thoroughly to determine which bank will best serve your company's needs. Opening a corporate bank account can have many benefits for business owners, including easier access to capital with reduced interest rates, improved financial transaction management, foreign payment alternatives, and use for tax purposes.
If you are looking for opening a bank account in Spain for your company, consult with our specialist on Odint consultancy, they will assist you throughout the process of opening a bank account in Spain.