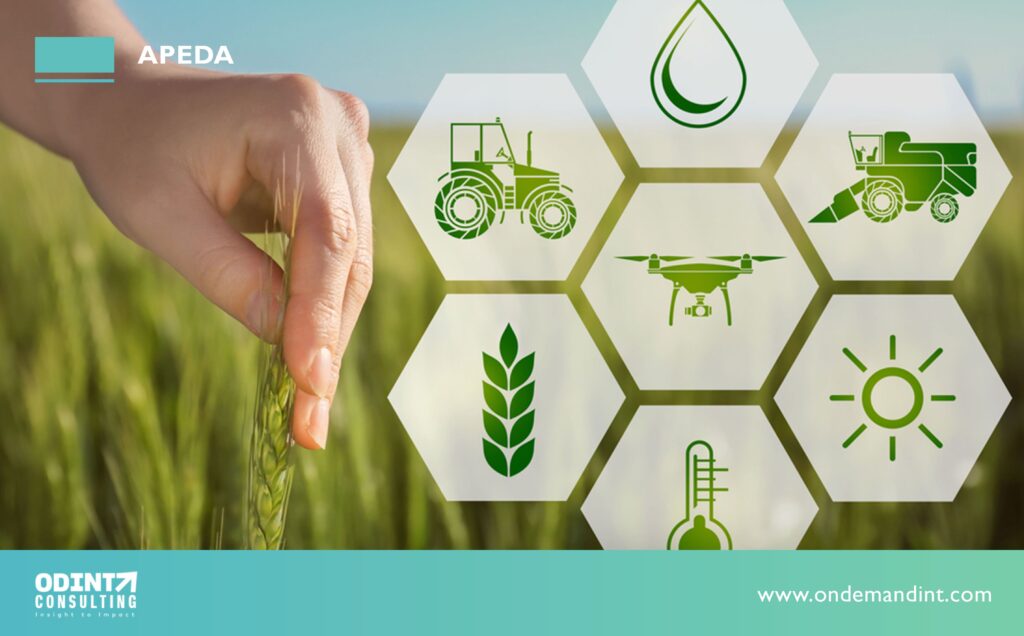 APEDA is understood to be the Agricultural and Processed Food Products Export Development Authority, which is an Indian government-owned organization that promotes farmland as well as processed food and exports of fish stocks from India.
It was created in 1984 to serve as an alternative to the Export Inspection Council under the Ministry of Commerce of the Government of India (GOI) (EIC). In 2003 it altered its name to APEDA. It was founded in December 1985.
APEDA's primary goal is to promote and facilitate the export of processed agricultural food items from India. In addition, APEDA serves as an intermediary for collectives, farmers as well as industries to make farmers' lives more lucrative and to increase the value of their products economically.
It accomplishes this through the development and implementation of plans, and strategies, as well as providing data on how to export agricultural products like cereal grains and pulses fibers, oilseeds, and more as well as filtered food products such as jams, fruits, and vegetables.
Development of industries linked to export-oriented products planned for development via financial support or other methods for conducting surveys.
Individuals are registered as exporters of the products after payment of any fees applicable. The establishment of specifications and standards to be used for the export of scheduled goods.
Inspecting the meat and other products at slaughterhouses, warehouses, processing facilities, transport modes, or other areas in which these products are handled to maintain or treated to guarantee their quality.
Better packaging for Routine products
Expanding market research on Scheduled Products outside of India
Endorsement of manufacturing that is export-oriented and the promotion of Scheduled goods
Statistics were gathered from factory owners or institutions that specialized in the manufacturing, packaging, handling marketing, or export of the products scheduled for export or from other people who may be referred to on any subject that is related to the products planned and publication of the data collected, or any portion of them, or derivatives of the location.
Any other difference which is defined.
Benefits of APEDA Registration
APEDA certification is necessary to export scheduled goods.
The various methods of financial support offered by APEDA are accessible to exporters.
It aids exporters in marketing their brand through advertisement packaging development as well as database updates and tests in addition to other services.
Exporters can get information on different goods and countries to export.
APEDA can register members to take part in classes for different scheduled product lines offered by APEDA and, consequently, increase their efficiency.
Read more: Documents Required for APEDA Registration in India
APEDA Helps Develop Industries
APEDA provides, for instance, offers facilities to Indian and foreign businesses involved in the exports of products like processed food products and vegetables that they are making to be sold in other countries. 
APEDA helps in the establishment of new elements of industries involved in the fields of agriculture processing, food products processed, and milk-based products it's a beneficial organization for those who export these products out of India.
APEDA gives Financial assistance or other Entities For Researching
The APEDA encourages exports of processed and agricultural products from India. It was organized by the Government of India in 1989. 
The company offers ways of financial or other for gathering data from countries outside of India. It also provides essential information about market conditions and policies, as well as regulatory requirements and guidelines. The company also hosts market operations, trade fairs, and other marketing operations.
APEDA Financial Assistance and Defining Scope
Numerous government agencies help smaller businesses as well as food and beverage companies and entrepreneurs in expanding into these sectors. APEDA is among the agencies. 
This association assists in exporting agricultural products. It was established through the Act of Parliament, in 2003 to help farmers receive greater funding to purchase their crops from export markets, thus promoting the agriculture industry. 
The primary service it provides includes Business Advisory Services (BAS) which includes feasibility analyses as well as marketing research and other such services. It also acts as a bridge between investors from overseas and farmers looking for quality agricultural products.
APEDA Facilitates Research Capital Investment via Joint Ventures
If you are the APEDA rep, members can be a part of publicly-funded contracts as well as trade shows, and also join forces with other members. In addition, businesses that participate in the Chambers of Commerce can able of creating joint ventures in conjunction with Chamber members. 
This is a good thing for business owners as they're more likely to meet partners who are similar in size, history, and geographic location than the case if they had to find partnerships independently.
APEDA helps With Saving and Subsidy Programs
APEDA exports a huge amount of government-subsidized entities. APEDA also assists in aid to disaster relief, such as the victims of floods and relief from earthquakes. It also provides foreign items on agricultural products and prepared food products to improve farmers' income and jobs. 
It is the Agricultural Export Market Development Authority (AEMDA) that assists exporters of fish, flowers shrimp, wheat, woolen carpets, cotton fabrics, and yarns.
Read More: RCMC Number in APEDA
APEDA is an autonomous entity that is part of the Indian Department of Agriculture and Cooperation (DAC) intending to deliver useful results for exporting agricultural products from India. 
If you're still having questions regarding the APEDA, we are ODINT Consultancy. We are here to assist you in every way.