In Southeast Asia, Singapore is a thriving location renowned for its cosmopolitan culture, effective infrastructure, and thriving economy. Singapore is regarded as one of the best cities to reside in terms of public transit, company ecosystems, and technological advancements. Although a lot of people wish to live in Singapore, they must consider the cost of living there. 
The city-state provides a high quality of life in addition to outstanding infrastructure, medical treatment, and educational facilities. However, living expenses in Singapore can be rather high, especially for housing and educational achievement.
In this article, we will examine the elements that affect Singapore's cost of living and describe what life will be like for you in this dynamic metropolis.
Brief Overview of Life in Singapore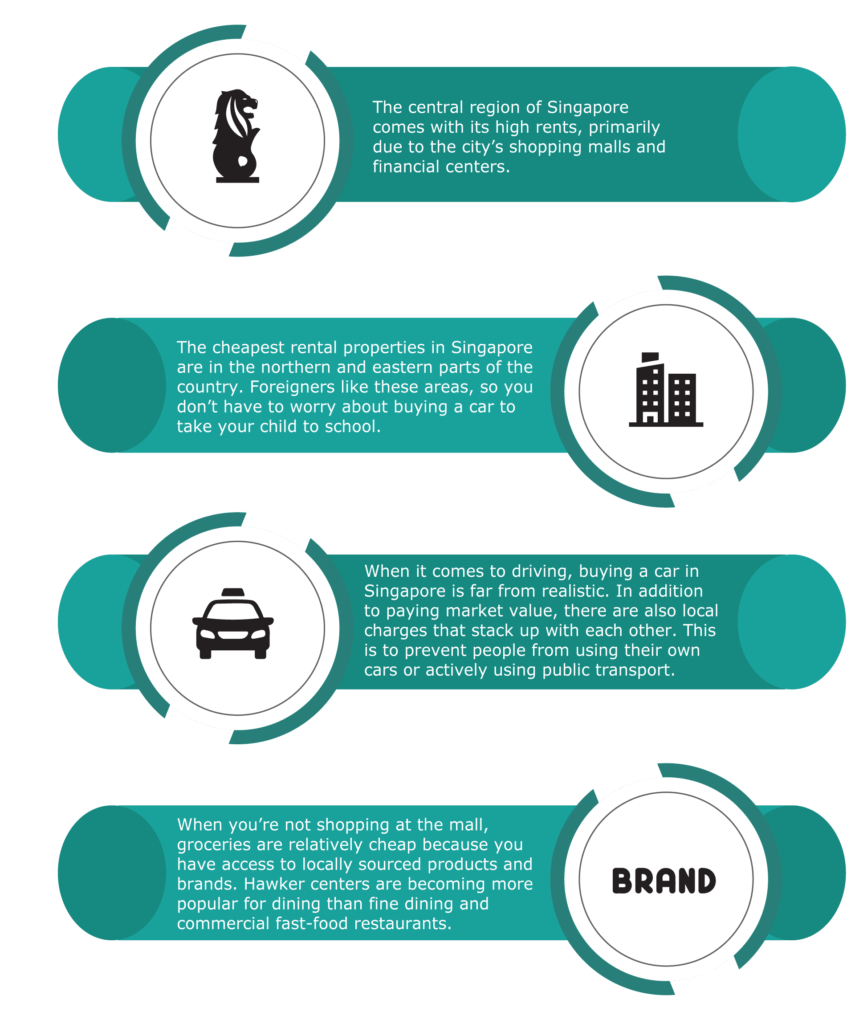 Singapore is famous and is taken as one of the best places to live, and for a good reason. They do a lot better than most countries, from public transport and business ecosystems to innovations in many areas.
But it comes with a price, literally. Singapore makes no secret of the fact that rent and education prices are high. But that doesn't mean you have to keep up with the country's high prices to live comfortably and within your means.
As in most countries, Singapore's lifestyle varies from region to region. Some areas include shopping districts, and others include financial districts. If you live in Singapore, these and other factors can determine your budget.

The central region of Singapore comes with its high rents, primarily due to the city's shopping malls and financial centers.
The cheapest rental properties in Singapore are in the northern and eastern parts of the country. Foreigners like these areas, so you don't have to worry about buying a car to take your child to school.
When it comes to driving, buying a car in Singapore is far from realistic. In addition to paying market value, there are also local charges that stack up with each other. This is to prevent people from using their own cars or actively using public transport.
When you're not shopping at the mall, groceries are relatively cheap because you have access to locally sourced products and brands. Hawker centers are becoming more popular for dining than fine dining and commercial fast-food restaurants.
Where to Live in Singapore?
If you are an expatriate that includes transportation and car allowances, housing, childcare, tuition, entertainment allowances, and other work-related allowances, you don't have to worry too much about these costs and live in Singapore.
It will be quite comfortable. You can always find the one that fits your budget, even if you don't have a comprehensive package. Singapore has a wide range of offers and prices available in all categories.
In Singapore, rent prices may differ significantly by region. There are five regions in Singapore that you should be aware of as they can have a strategic impact on your daily budget.
The five regions are:
1. Central Region:
Housing in the Central Region is expensive since there are many large retail centers and international educational institutions nearby. It's a terrific spot for a residence if you'd like to be near the city's top sights, entertainment options, and shopping because the neighborhood is easily accessible by public transit.
Expected monthly rent for private property on Orchard Road:
Studio Apartment- S$ 4,000 (US $2,900)
3-Bedroom Apartment- S$ 7,000 (US $5,040)
2. North Region:
The most famous district in the northern region is the Woodlands district, home to the country's largest international school.
This is very attractive to foreigners considering moving to Singapore. The region is primarily residential and contains public as well as private dwellings. The area is perfect for individuals because it has many ecological parks and reservoirs.
Expected monthly private home rentals in the Woodlands area:
Studio Apartment – S$ 1,500 (US $1,080)
3-Bedroom Apartment – S$ 2,600 (US $1,870)
3. North-Eastern Region:
The northeastern region also has extensive connections to large shopping centers and the central region. Public transportation is readily available, and there are numerous restaurants and retail centres in the area.
Expected monthly rent for private real estate in Moschino.
Studio Apartment – S$ 1,700 (US $1,220)
3-Bedroom Apartment – S$ 2,700 (US $1950)
4. Eastern Region:
The Eastern district may be a fast-growing business hub and is home to international restaurants from different countries and access to outdoor activities and parks.
Expected Monthly Rent for Private Properties located in Tampines:
Studio Apartment – S$1,900 (US$1,370)
Three-Bedroom Apartment – S$2,450 (US$1,760)
5. Western Region:
The western part of Singapore is probably the most densely populated area just because it is an industrial area. There are many offices here, and many residential areas have been set up to reduce commuting. Due to the presence of numerous schools, parks, and environmental reserves, the region is a great place for outdoor pursuits.
Expected monthly rent for private real estate in Buona Vista:
Studio Apartment S $2,700 (US $1,950)
3-Bedroom Apartment S $4,000 (US $2,900)
The above-mentioned rates may not remain the same and are subject to shift higher or lower at any point in time.
Read More: Want to relocate with Singapore work visa?
Daily Miscellaneous Expenses In Singapore
Daily costs will depend on your lifestyle. These are the costs of options that can impact your budget here in Singapore.
Eating out is cheap in Singapore. The price difference between these stalls and restaurants is quite large. A cheap takeaway dinner for two people costs about S$ 25, while a meal in a mid-range restaurant costs S$ 60-80.
Monthly gym subscriptions can be quite expensive. The average medium membership is about S$ 100.
Recreational costs such as movie tickets, liquor, and karaoke rooms are not cheap either. Movie tickets cost an average of S$ 9 on weekdays and S$ 13 on weekends. IMAX and 3D can cost more.
Drinking alcohol at the bar costs S$10 to S$15 per bottle.
Karaoke rooms (excluding alcohol and food) cost S$25 to S$35 per person.
Healthcare Expenses in Singapore
Singapore is famous for owning a top-quality, modernly equipped healthcare framework in Asia. The World Health Organization also ranks the country's health system sixth in the world. Even without insurance, the cost of health care is not necessarily unreasonable.
The average GP consultation fee is S$40.
Blood tests and X-rays will cost you S$50 and up to S$80.
Expert consultation fees will vary between S$75 and S$125 per consultation.
In-hospital service fees can be up to S$30 for non-air-conditioned hospitals.
A private room can cost you at least S$3,000.
Coverage policies for surgery and hospital stay can cost you at least S$2,000 per year.
Traveling and Transportation
Singapore also comes with fame for its highly efficient transportation system. While there are many options, getting around by public transport is easy, while owning a car can be daunting.
The average one-way fare for buses and the MRT is around S$1.60 per person. Either way, you are making $3.20 a day. At 20 business days, you are spending S$64 on average commuting to work.
For taxis, the base fare is currently S$4.05 with a per kilometer price of S$0.78 at the time of writing. These fees range from location-based surcharges, especially in downtown areas, to airport fees.
It is not easy for foreigners to own a car because there are additional costs above the market value of the vehicle. Taxes and fees make it more expensive, not to mention other requirements like a Certificate of Eligibility that are needed in case of foreigners.
Despite having a high cost of living, Singapore offers its citizens a decent level of living. The high expense of living in Singapore can be compensated by its superior infrastructure, convenient access to public transit, pleasant and secure environment, and availability of top-notch entertainment, medical treatment, and educational opportunities. However, before moving to Singapore, it is important to think about the many elements that could affect your quality of life there and to make cautious preparations in advance.
For any queries, you can consult our specialists at OnDemand International.