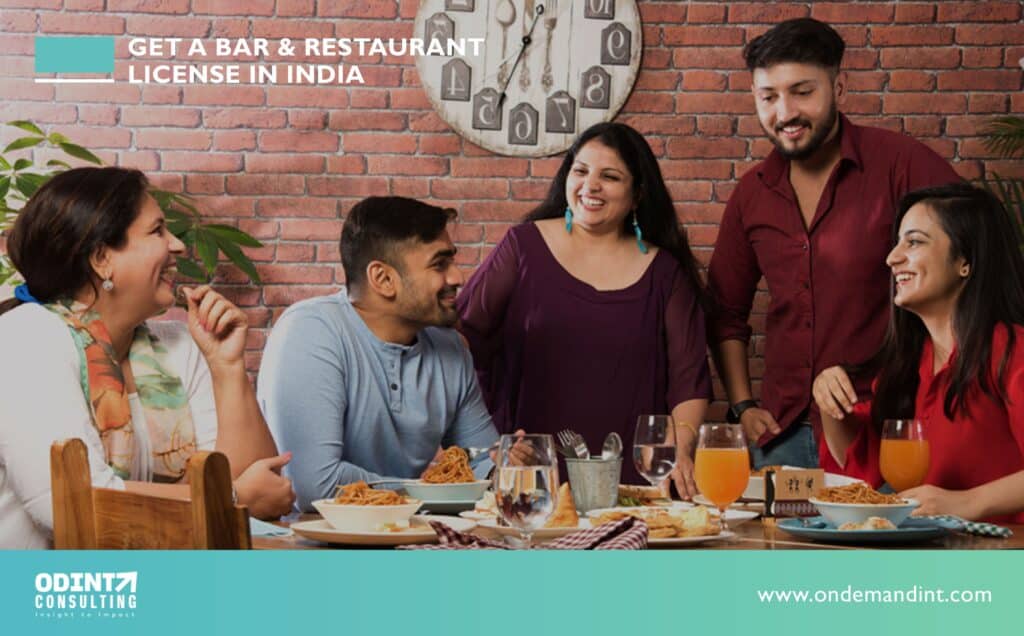 The opening of a restaurant is a process that requires careful thought, research, and planning. If you are planning to start your bar as well as a restaurant, the process gets more complex. This requires an extensive amount of documentation and compliance measures like registrations and licenses.
These establishments permit business owners the opportunity to broaden their businesses and generate income through food and drinks. The owners of the business must get a bar and restaurant license in India to sell alcohol products to customers in India legally.
By the way,  Are you considering adding the option of alcohol to your menu? If yes, continue reading to find out more about getting a bar and restaurant license in India and the required documents to obtain the same.
What Is a Liquor License?
A restaurant or other establishment which plans to offer alcohol in India requires a liquor license. A bar that is not operating with this license could lead to massive penalties, closures, and legal consequences. To obtain the same the business owners should contact the local excise commissioner. 
Because liquor laws differ between states entrepreneurs should research local laws on excise to be legal and comply with the law. Thus, you must employ the services of a lawyer to learn about the laws of your state and apply for the proper kind of license.
How much does it cost to Get Bar and Restaurant License in India?
In some states where there is a set annual fee for licensing, based on the location of the restaurant. Cities in the top tier have an annual licensing cost of 10 lakhs. In contrast, cities in the tier 4 category are charged Rs2.5 lakhs. 
For other states, companies are required to pay a processing fee of Rs5,000 following the submission of documents. The restaurant's owner has to be liable for Rs50,000 per spirit brand or type they want to offer in their restaurant.
Documents Required for Liquor License
Corporate registration (also known as incorporation certificate)
The proof of address for the premises of the business
Certificate of completion from the bar or restaurant.
Trade license
House license for eating from the Commissioner District of Police
GST registration
NoC issued by the state department of fire
Affidavit to prove that the applicant has no outstanding dues or a criminal record
License L-1 –

for the wholesale distribution of Indian liquor to license holders.

License L-3 –

for hotels to allow guests to have alcohol from outside their rooms. (Requires approval from the Tourism Department)
License L-5 – for hotels to offer liquor within bars that are on their premises.
License L-19 – for registered club serving foreign liquor to members.

License L-49A –

for serving alcohol during weddings or celebrations at an address in Delhi.
Tavern License– establishments that earn 50 percent of earnings by selling alcohol
Alcohol and Wine License – Allow bars and restaurants to sell milf liquor, such as beers and wine
Restaurant license– establishments that earn only less than 40 percent of revenue from sales of alcohol.
Personal Bar license– permits the sale of alcohol by individuals on behalf of a licensed and registered company.
What Are the Licenses Needed to Run a Bar & Restaurant in India?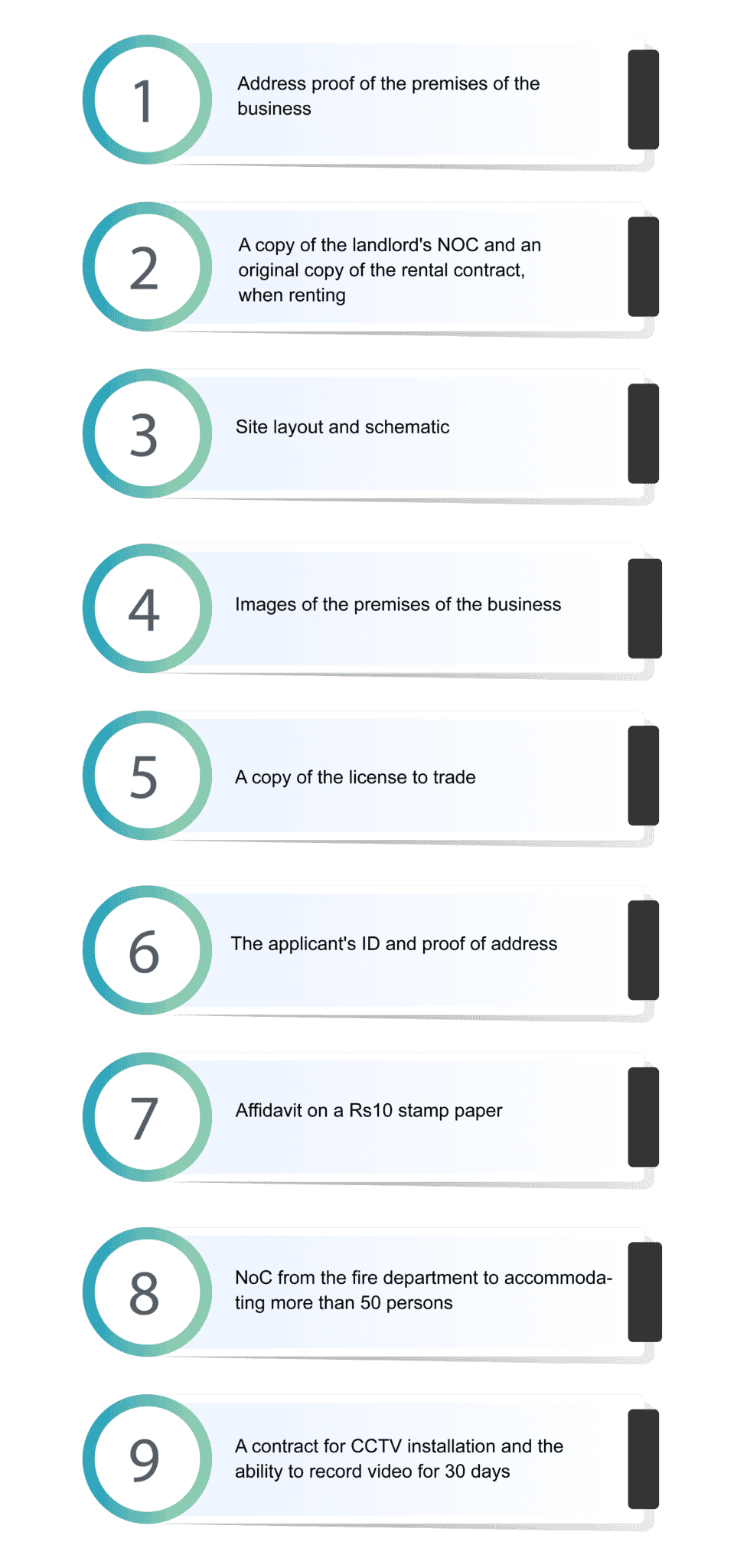 When it comes to choosing the ideal site and hiring the right personnel is important, obtaining the correct permits is the most crucial aspect to get a bar and restaurant license in India. 
So, let's look at an overview of the various permits and documents that you require to begin operating a restaurant in India.
FSSAI License
Every food business operating in India needs to obtain an official food license from the Food Safety and Standards Authority of India. It is among India's most important permits for any establishment that deals with food products. 
Additionally, the license acts as an endorsement from the FSSAI which certifies that the establishment has met the standards required for food safety and security. After registration, the owners should show the 14-digit registration number on their food containers and at the entry point of their establishment.
Documents Required
ID evidence of the applicant
The address of the applicant is proof
A valid email id and phone number
Affidavit
Food Safety Management Plan
Kitchen layout and diagram
Food categories and their list
Report on water testing
No objection Certificate from the proprietors of the premises
Medical certificates for employees
The FSSAI has three kinds of licenses, which are based on the type and size of the food-related business. Entrepreneurs need to consult with experts in the field to determine the type of registration they wish to seek before submitting their application. 
After obtaining all the necessary documents, they need to complete the proper application form and send them to FSSAI. Many entrepreneurs seek the assistance of third-party legal services such as Odint Consultancy to obtain such licenses since they require meticulous documentation.
Trade License
This medical and license for trade assures that your restaurant or bar complies with all the rules set out by the department of health. It also eliminates the possibility of health risks in your establishment. It generally takes about 60 days to obtain.
Documents Required
Address proof of the premises of the business
A copy of the landlord's NOC and an original copy of the rental contract, if you are renting
Layout and site plan
Bond of indemnity worth 100 rupees
Structural stability certification
Water and power bills
Evidence of sewer connection 
Police letter
Reports on water testing
Lal Dora Certificate, if appropriate
Eating House License
As issued by the District Police Chief, an eating house license is needed to cater to guests who are staying in the house. 
To be able to obtain this license, restaurant owners need to complete a form and submit the necessary supporting documents to the police department of the city. Additionally, they will review the authenticity of the documents, visit the establishment and accept the certificate.
Documents Required
Address proof of the premises of the business
A copy of the landlord's NOC and an original copy of the rental contract, when renting
Site layout and schematic
Images of the premises of the business
A copy of the license to trade
The applicant's ID and proof of address
Affidavit on at Rs10 stamp paper
NOC from the fire department to accommodating more than 50 persons
A contract for CCTV installation and the ability to record video for 30 days
Other licenses you may include are:
Establishments of shops and stores license.
Fire safety certificate issued by The state department for fire.
Lift clearance is required if you want to put in a lift at your restaurant or bar, you must obtain clearance from the electricity department as well as the Labour Commissioner's office.
Furthermore, you need a music license from Phonographic Performance Limited is also available. Phonographic Performance Limited, if you want to play music in your establishment
Certificate of approval for environmental protection that will ensure that your business is not damaging the environment.
Signage: You need a permit issued by the municipality is required if you intend to advertise your restaurant and bar.
Additionally, GST registration to file your taxes on time, and ensure that your company complies.
Process for registration of Bar licenses in India
The first step is to must identify the type of license you need.
After that, visit the official State Excise Department's website.
On the site there, you can download an application to get a Wine Shop License.
Fill out the form completely in detail, including the kind of liquor, the address of your business as well as the type of license, and information about your background.
And, with the necessary supporting documents, you must complete the form and submit it with the appropriate authority.
In addition, you have to pay the application fee when you submit your application.
The information you provide is not cross-checked or verified by the authorities of the state You may also be required to supply additional details if required.
Following verification, you'll receive a letter at your personal or business address containing the information that your permit is valid. The notice you receive may be challenged. may be made by local authorities.
You have to defend your right to operate wine shops if there is a complaint or if there are no objections then you'll be granted a liquor license.
If you contact Odint Consultancy and our team members will set up a time to meet with you to discuss your requirements and wants. We'll then gather the necessary supporting documents from you and apply for you. 
Additionally, our team of experts in legal will take care of all the paperwork necessary to get your license with no issues or delays. If you're still having any questions about getting a bar and restaurant license in India, just reach out to us, and we will decipher your issues.