Since the European e-commerce sector is growing quickly, businesses have a great chance to enter the market and establish a successful operation. The possibility of entering the European e-commerce market provides the chance to begin operations in any EU member state. This enables you to dramatically increase the number of customers you serve and sell your items in less competitive markets.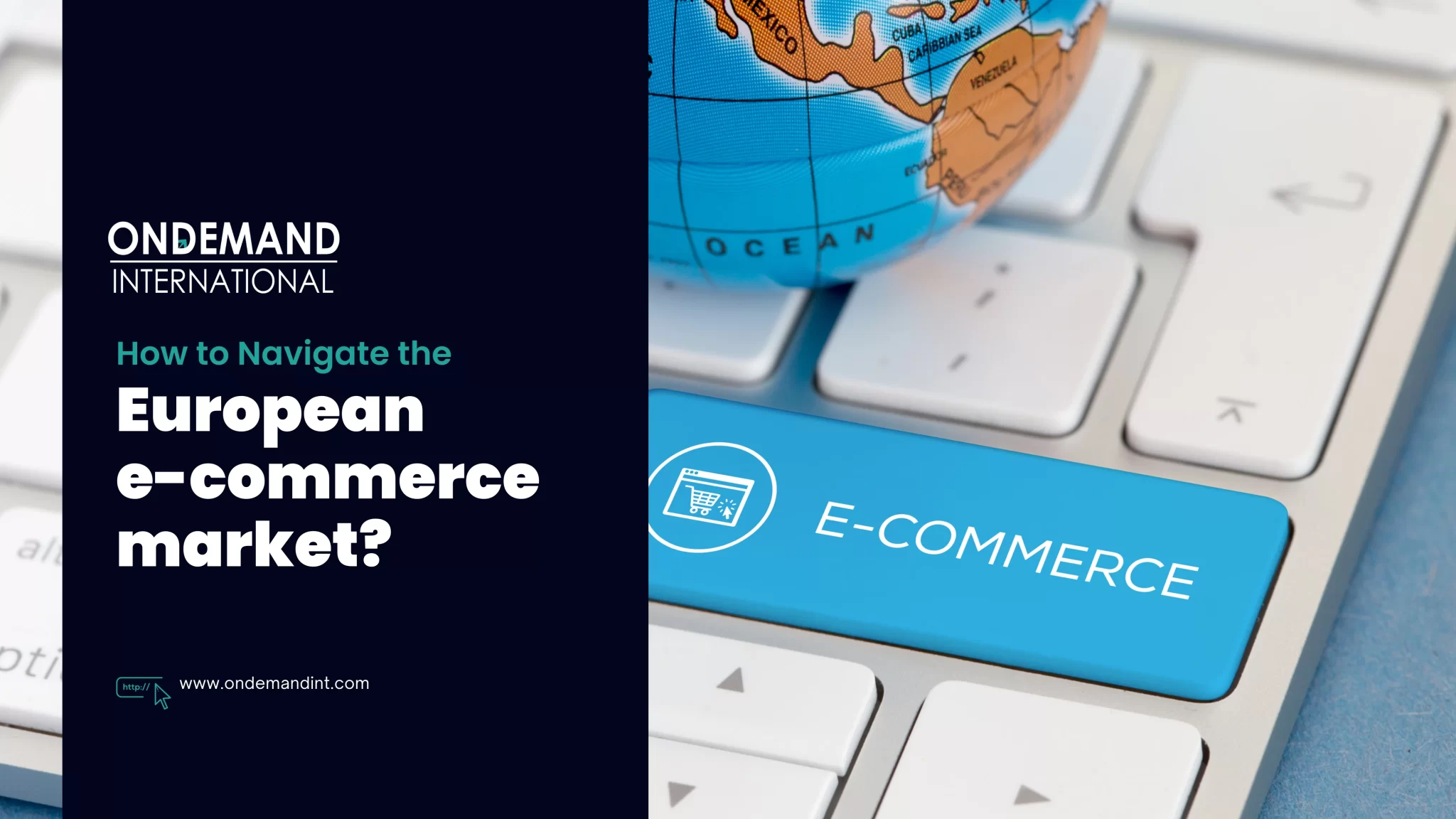 Starting a business in Europe can be a lucrative option for entrepreneurs looking to expand their operations. However, in order to accomplish this properly, you must take into account a number of crucial variables, including localization of online material, increasing logistics investment, cashless transactions, and so on.
Things to consider when navigating the European e-commerce market
Cultural Awareness
It might be challenging to comprehend how cultural differences affect people's requirements, demands, and purchasing behaviors. You must conduct research and develop a marketing plan that will be appealing to clients around the world. In addition to that, all kinds of commodities are not regarded as appropriate in every culture, so you must choose the commodities you wish to sell to European clients more wisely. To establish a trustworthy relationship among the customers of the European Union, you must adjust your marketing tactics and product to take into account regional preferences. 
Leveraging E-commerce Platforms
You must perform thorough research and try to comprehend how other e-commerce companies in the country promote their commodities and which channels provide the most potential for success. Think about utilizing widely recognized e-commerce marketplaces in Europe that have a sizable following in the nation.
Setting Up Reliable Logistics
Priority must be given to timely delivery and effective logistics. Ensure quick and secure product delivery across several European nations by working with dependable shipping partners. Offering tracked shipping choices can improve customer satisfaction.
Mode of Payment
Different modes of payment, including credit cards, e-wallets, and bank transfers, may be accepted by different countries. Considering that, the mode of payment is one of the most important details an interested consumer would check, this component shouldn't be ignored. 
How to Navigate the European e-commerce market?
A well-planned approach that considers the various cultures, languages, and preferences present across the continent is necessary to successfully enter the European e-commerce marketplace. 
Here is a step-by-step procedure:
Market analysis 
You can start by performing a market analysis of the numerous nations in Europe in order to fund the most appropriate market for your commodities and services. Take into account elements like market size, consumer preferences and behavior, and cultural quirks.
Legal Compliance 
Become familiar with the governing laws and regulations that apply to each nation you intend to visit. This includes being aware of tax rules, consumer rights, and data privacy regulations.
Create effective logistics 
Establish effective shipping and logistics strategies to guarantee prompt and affordable delivery. To simplify your operations, collaborate with nearby fulfillment facilities and shipping businesses.
Marketing Strategy
Creative effective marketing strategies to promote your brand for each nation you plan to enter. This might entail influencer partnerships, localized advertising efforts, and social media marketing.
Customer service 
Offer great customer service in the local languages. Customers' buying experiences are improved when customer service representatives respond quickly and speak their native language.
Benefits of the European E-commerce Market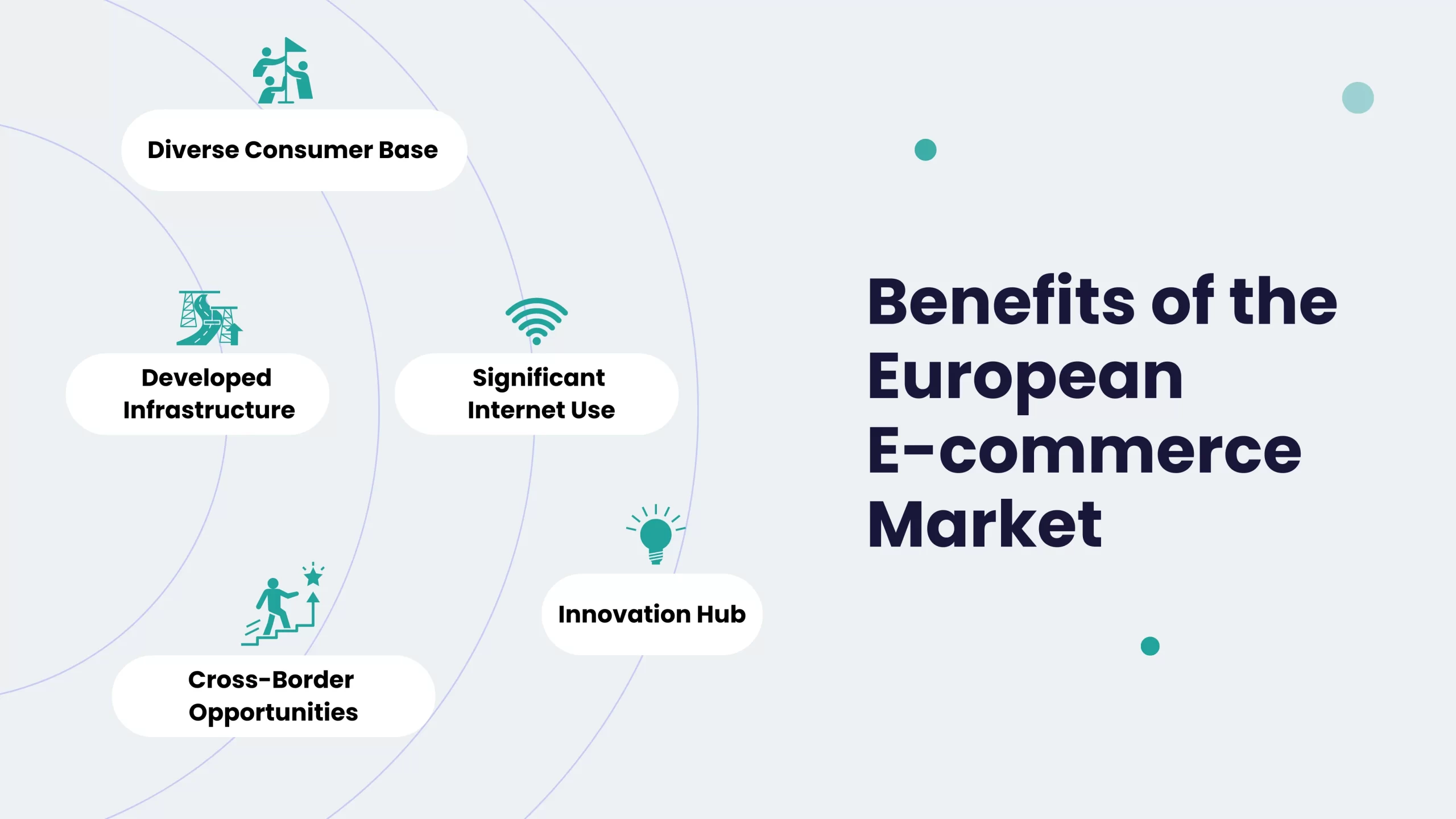 Diverse Consumer Base:

With a population of 448 million people, Europe offers a sizable and diverse consumer base with a range of income levels and tastes. This enables you to reach out to various customer demographics.

Developed Infrastructure:

Europe's well-developed infrastructure enables effective logistics and distribution networks, guaranteeing speedy delivery of commodities across the area.

Significant Internet Use:

The average internet penetration rate in Europe is over 89 percent, making it one of the highest rates in the world. This implies that you may effectively reach a sizeable percentage of the public through Internet platforms.
Innovation Hub:

Europe is a center for technical innovation, giving you access to advanced amenities for e-commerce management, marketing, and consumer interaction.

Cross-Border Opportunities:

The European Union's single market and the Schengen Agreement create a conducive environment for cross-border e-commerce, allowing you to contact clients in many nations relatively easily.
Book end-to-end experts consultation with Odint finance and legal experts
An all-encompassing strategy that takes into account cultural diversity, laws, and growth prospects is needed to successfully navigate the European e-commerce industry. You may develop a solid base and succeed in e-commerce in Europe by being aware of regional preferences, abiding by laws, and utilizing strategic insights.
You can speak with our professionals at Odint Consulting in order to navigate the European e-commerce market. Odint experts will assist you in devising a strategy, and will further guide you through the best markets in Europe. Make use of our expertise, commitment, and understanding to carve your niche in the European markets. Plan your strategy for e-commerce excellence by consulting with Odint Consulting right away.
Meet Apurva Gaur, an accomplished and dedicated Company Secretary, whose passion for corporate governance and legal compliance has shaped her remarkable journey in the business world. With a wealth of experience and a keen eye for detail, Apurva has emerged as a leading authority in the field of corporate governance, earning accolades for her invaluable contributions to the companies she serves.