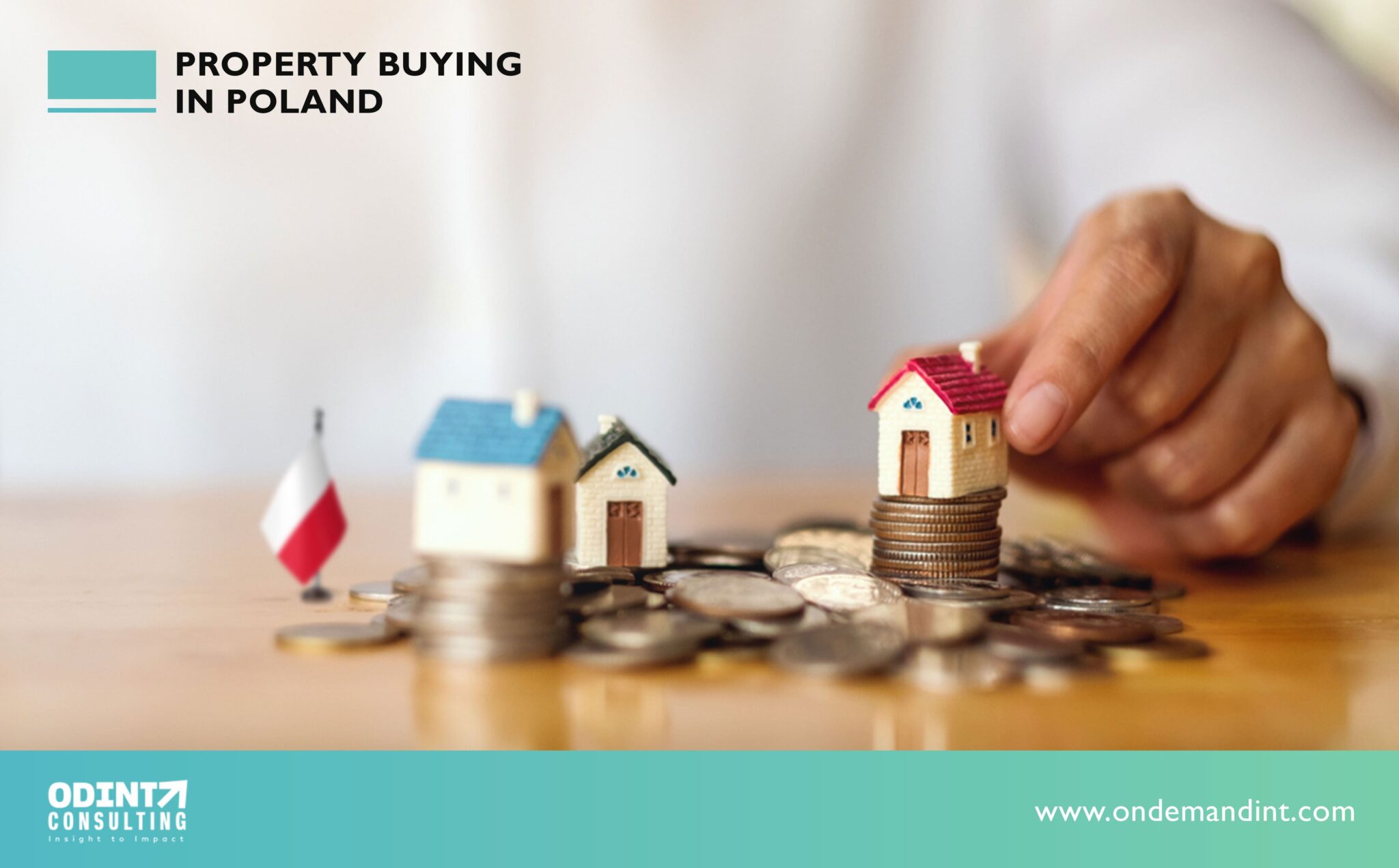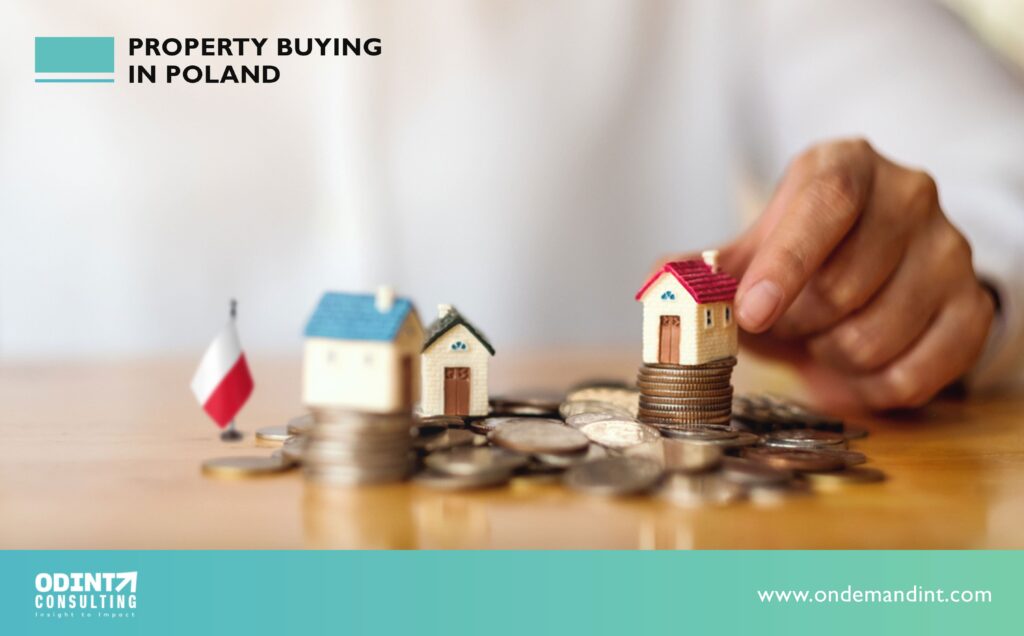 Property buying in Poland
Real estate investment in Poland has grown to be a desirable choice for both domestic and foreign buyers. The nation is a desirable location for real estate investment due to its expanding economy, steady housing market, and competitive property pricing. Whether you are someone who is searching for a new house, a holiday home, or looking for a business office, understanding the process of property buying in Poland is essential to make informed decisions.
Through this article, we will cover the procedure for property buying in Poland and will discuss certain factors that you should consider when buying properties in the nation.
Legitimate Process of Property buying in Poland
A foreign national is allowed the Property buying in Poland. However, it is necessary to understand the procedure & laws which are obtained by the ministry of home affairs of the Republic of Poland for Property buying in Poland.
Here is the necessary step to be taken at the time of Property buying in Poland.
Step 1: Researching property legal status before a transaction
You should first investigate the legal status of the property before you purchase to buy it.
The title of the seller to the property.
The existence of limited real rights
Other third-party claims, and rights
Planning Regulations
Historic preservation protection
Compliance with building and construction law.
Step 2: Get a good Real Estate Agent
If you're looking for Property buying in Poland, though you should look for a professional and legal agent & you must ensure that the agent has a license to practice his profession.
He/she must be fluent in English, & able to provide a history of transactions, which are essential requirements for your agent. Ask him to describe briefly the transactions that he has completed in the last few months, or within the past few months. 
You may be given the phone numbers of his contractors to contact him & inquire about his work. The Agent should be familiar with Polish law and have experience in dealing with foreign clients.
Step 3: The preliminary property purchase contract and the final property purchase arrangement
Most of the time, it is not feasible or advisable to execute the final property sale agreement without having signed the preliminary agreement. In practice, real property purchase transactions are usually divided into these stages:
Execution of a preliminary sales agreement, which includes at least:
The essential provisions of the final sales agreement are the description and price of the property.
The conditions each party must meet to ensure the execution of the final sale agreement
The satisfaction of the agreed conditions between the parties (e.g. obtaining consent from various public bodies, obtaining financing from the bank buyer, reclassification, and preliminary planning decisions).
Execution of the final Property Sale Agreement.
Stage 4: Post-closing Actions – Obligations after the purchase of property
Handover of property
At the time of the handover of the property, these documents should be asked for:
Handover of documents related to the property
Applying for a place in the land- and mortgage register
Reporting a transaction for real-estate tax purposes
Creating utility supplier contracts
Notification to leaseholders of the sale
Notifying a housing association or cooperative that the property was sold
Home Insurance
Other obligations that result from the type of transaction
Key facts to consider when buying property in Poland
Here are some of the factors you may consider when you think about property buying in Poland:
Legal Requirements:

Acquaint yourself with the Polish legal system's rules governing real estate transactions. 

Property Ownership:

Confirm the ownership and legal standing of the asset that you want to buy. Verify the real estate thoroughly to make sure there aren't any liens, debts, or legal challenges pertaining to it.

Real Asset Market Research:

Market research on real estate is essential to understanding the costs, trends, and demand for properties in the area you are considering. 

Infrastructure:

Evaluate the state of the neighborhood's roads, utilities, and internet connectivity.
Additional Costs:

Evaluate the extra expenses related to purchasing a home in Poland, such as the property transfer tax and notary fees.
Here are the few key facts that need to be considered when Property buying in Poland to reduce the hustle & capital losses.
| | |
| --- | --- |
| Property search websites | https://www.otodom.pl/ https://www.morizon.pl/ |
| Property prices in Poland | Apartment (Warsaw – PLN 112.000 /m; Krakow– PLN 10.000/m2 House (Warsaw – PLN 8.500 / m2; Krakow– PLN7.000 / m2). Land (Mazovia- PLN 50.000 /ha; Greater Poland- PLN 70.000/ha). |
| Basic broker commissions in Poland | Most brokers charge 2.0-3.0%. |
| Property purchase tax | VAT - 23% (mainly for new properties and undeveloped real property) Transaction Tax - 2% |
| Land and Mortgage Register Registration - registration fee | 200 PLN |
| Property and Residence in Poland | While Poland's real estate does not grant residency, it may be used as a criterion for evaluating a temporary and permanent residence. |
| Price of purchase | The purchase price must be equal to the market value. You can agree in any currency - PLN or EUR, USD, etc. |
| Standard payment methods | In Poland, checks are very common. Payments for price are usually made by bank transfer, notarial deposit or escrow account |
| Electronic land register | https://ekw.ms.gov.pl/eukw_ogol/menu.do |
Property purchase in Poland - Agreements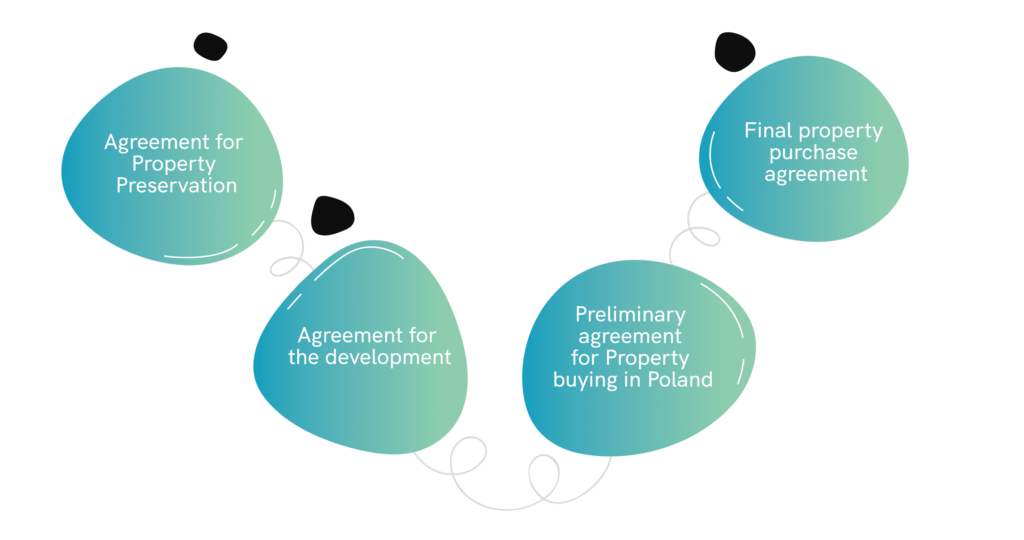 You will need an agreement for Property buying in Poland, as this is usually a sale agreement in the legal form of a notarial document. You may be required to sign additional contracts in some cases.
The type of property being purchased and the stage of negotiations will determine the type of additional contracts. As there are a few distinct types of agreements that may be encountered when Property buying in Poland.
1. Agreement for property preservation
When a property is sold by a real agent (realty agency), a reservation agreement will usually be executed. A reservation agreement is a contract that the seller of a property agrees to not sell, to anyone else for a specific period. 
The reservation agreement should contain, among other things, the property description, the sale price, the reservation period, and any applicable reservation fees.
2. Agreement for the development
A development contract is a unique type of contract that deals with residential properties. A development agreement is a contract in which a developer agrees to construct a building and transfer the title to a property to the buyer. 
Importantly, terms in a development agreement that are less favorable for a buyer than those provided by legislation are null. If the terms of a development contract are found to be less favorable than the provisions in the legislation, they will apply.
3. Preliminary agreement for Property buying in Poland
A preliminary property purchase contract can be executed by the parties to ensure that the closing of the transaction takes place at a future date. 
The preliminary agreement should outline at least the basic terms of the final property purchase contract, including the precise designation of the property and its sale price. A preliminary agreement should also specify the date on which the final agreement will be signed.
4. Final property purchase agreement
A notarial document / notarial act is required to form the f real estate purchase agreement. This is a property purchase agreement that is executed in fulfillment of a preliminary agreement. 
The final agreement should contain all elements of a property sale agreement such as:
The exact description and designation of the legal status, as well as information about any changes to the legal status, after execution of the preliminary agreements.
The sale price and payment terms. If the buyer has paid earnest money, there will be a clause stating that earnest cash will be credited to the sale price.
The conditions and the date of handover to the buyer.
The agreement must be signed in Polish.
Book end-to-end experts consultation with Odint finance and legal experts
Property buying in Poland offers individuals the option to tap into the marketplace of the nation and take advantage of the wide range of opportunities available to anyone looking to invest in a dynamic and culturally diverse country. To effectively manage the legal and financial sides of the procedure and make educated decisions, it is imperative to approach it with serious thought and thorough research. When thinking about property buying in Poland, you should conduct a full market analysis and take a number of factors into account, including costs, tax implications, amenities, infrastructure, property ownership, and so forth.
Odint Consultancy can help you in getting your dream property in Poland, while helping toy in the legal matter of property purchasing & make it easy for you to buy it.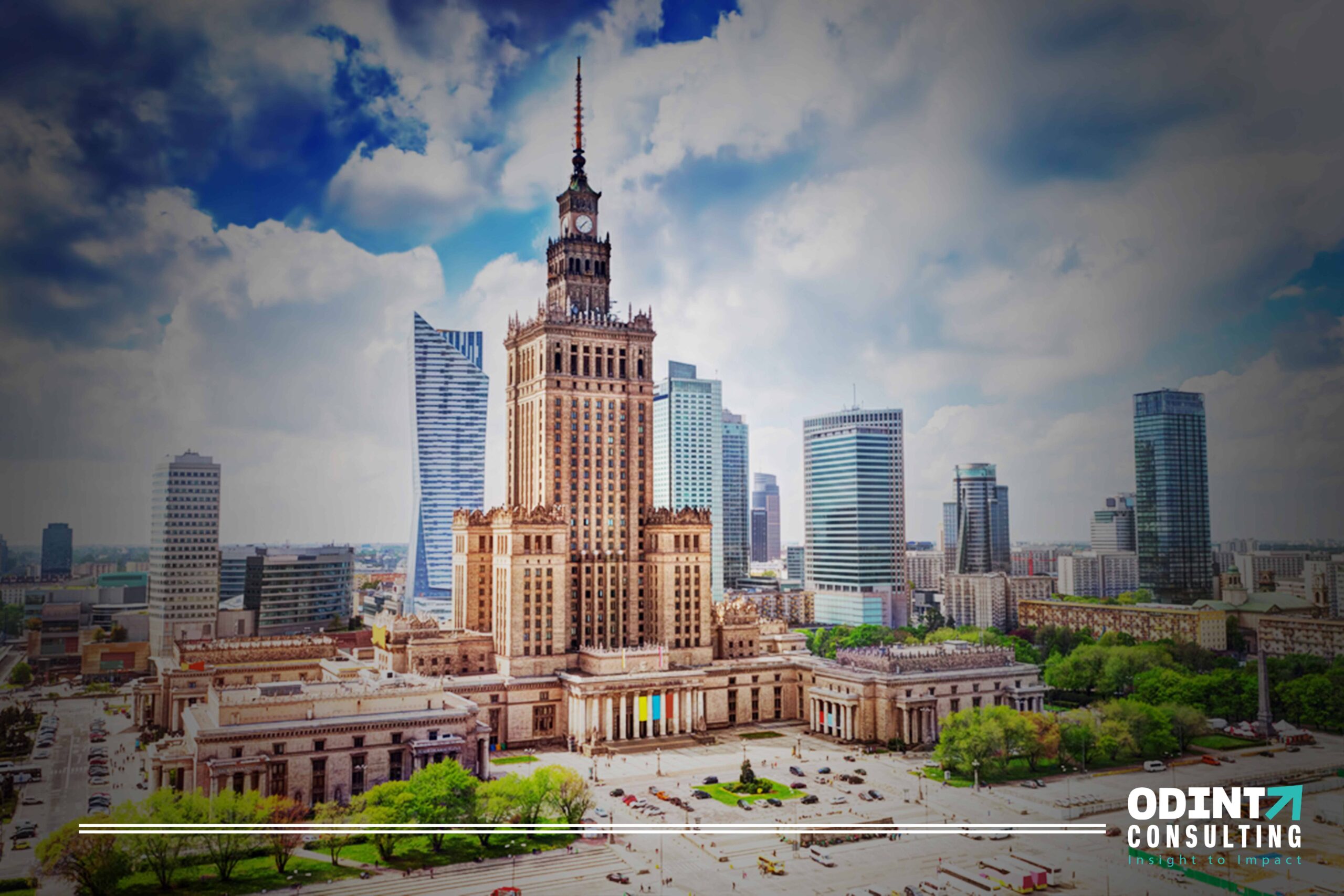 Setup your company and get European PR residency
A PESEL Number is a national number for identification in Poland. It stands for Powszechny Elektroniczny System Ewidencji Ludności. This is a universal digital structure for population registration.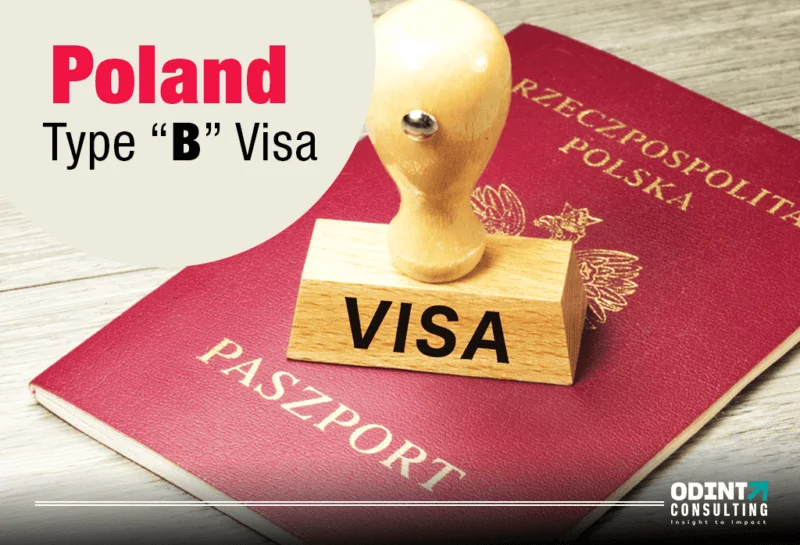 The Poland type b visa is non-immigrant immigration that permits you to visit and operate in Poland for the purpose of trade or travel and hospitality. B1 & B2 Visa and their purposes are explained in this article.
Meet Apurva Gaur, an accomplished and dedicated Company Secretary, whose passion for corporate governance and legal compliance has shaped her remarkable journey in the business world. With a wealth of experience and a keen eye for detail, Apurva has emerged as a leading authority in the field of corporate governance, earning accolades for her invaluable contributions to the companies she serves.