Remove a Director From Your Company 2023
Organizational changes are unavoidable in the duration of every business. A director may need to be fired from your firm at some point for a variety of reasons, including strategy changes, changes in the leadership team, or regulatory requirements. Removing a director is a big decision that must be made cautiously and legally. 
The requirements, justifications, and procedures for dismissing a director from a corporation will be covered in this article.
Eligibility Conditions for Becoming a Director
The following requirements should be satisfied by a person in order to be qualified to serve as a director of an organization in India:
The person has to be a minimum of 18 years old.

The person must possess a current DIN granted by the MCA.

The person should provide consent by submitting Form DIR-2 to the MCA.

The person shouldn't have been declared bankrupt, found guilty of a crime, or excluded by an administrative body or court.
Motives to Remove a Director From Your Company
There might be several reasons to remove a director from your company and some of them are listed below:
If they are subject to some of the penalties mentioned in the Companies Act.
If they do not attend board meetings for more than 12 months, they will be deemed to have been absent.
If they sign arrangements or contracts in contravention of the requirements in Section 184 of the Companies Act.
If they're disqualified under an order of a tribunal.
If they are found guilty by a judge of an offense and sentenced to prison for not less than six month.
If they haven't adhered to the rules and procedures outlined within the Companies Act of 2013.
If they have resigned involuntarily from their job.
When multiple directors collaborate regularly, a conflict of opinion might take place. As a consequence, the general performance of the business is hampered. In this situation, the directors may be dismissed with proper deliberation. 
There are a variety of reasons to remove a director from your company and there are three ways to do it based on the various reasons.
Documentation Necessary for Removing a Director
Board Resolution:

The board of directors has to establish and pass an official board resolution outlining their choice for dismissing the director. All essential board members ought to approve this resolution, which should include an explanation of the removal's causes.

Director Special Notice:

The director who will be dismissed should receive a special notice. Together with a copy of the board resolution, this communication ought to include the explanations for the director's departure.

Notice of Resignation:

Obtaining and submitting a notice of resignation to the MCA is necessary if the director who is being dismissed desires to leave voluntarily.

Statement from the Director:

The director who is going to be dismissed must sign a statement declaring that they don't have anything against the dismissal.
Ways to Remove a Director from your Company
Down below we have mentioned the three ways to remove a director from your company. Let's see what are they.
1. If the Directors Offer Their Resignation
The steps to follow in the following scenario include:
Step 1: Conducting board meetings by providing seven days' clear notice.
Step 2: At the meeting, all board members make a note of the resignation.
Step 3: Then, they must submit a resolution in the format specified for that result.
Step 4: Following that, Form DIIR-11 has to be completed by the departing director in his capacity.
Step 5: Your company needs to complete Form DIR-12 with the company's registrar (RoC) together with the registration form and the resolution of the board.
Step 6: After all of the paperwork has been completed and all formalities for the removal of directors are completed and completed, the director's name will be removed from the master records of the company's Ministry of Corporate Affairs (MCA) website.
2. Director is Absent from board meetings for 12 months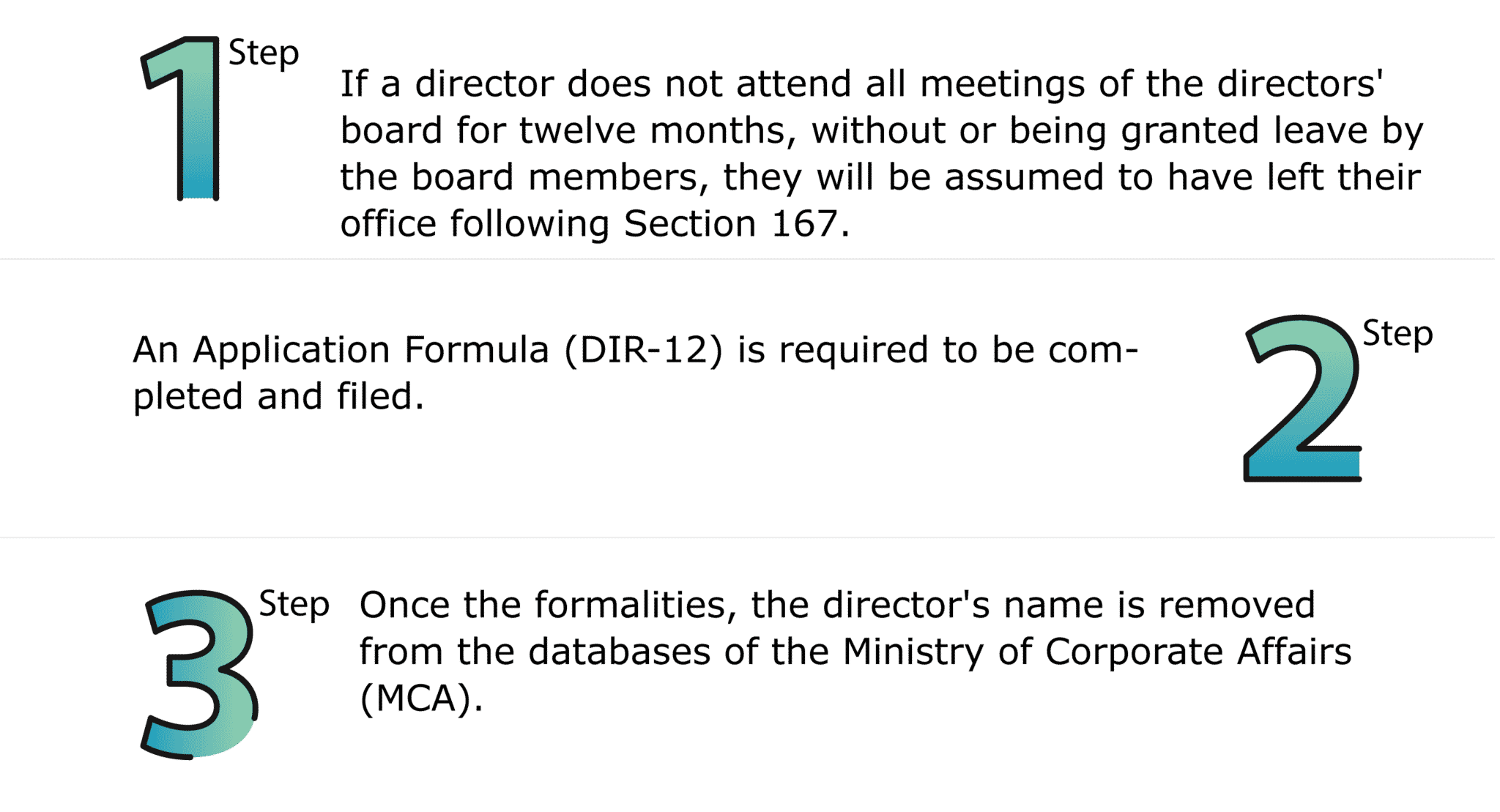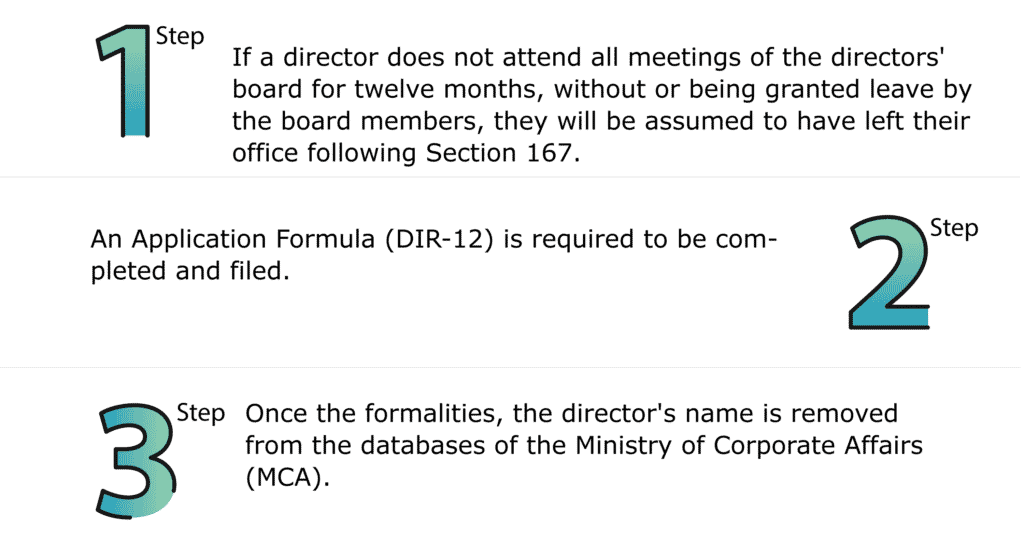 Step 1: If a director does not attend all meetings of the directors' board for twelve months, without or being granted leave by the board members, they will be assumed to have left their office following Section 167.
Step 2: An Application Formula (DIR-12) is required to be completed and filed.
Step 3: Once the formalities, the director's name is removed from the databases of the Ministry of Corporate Affairs (MCA).
3. The removal of Directors by Shareholders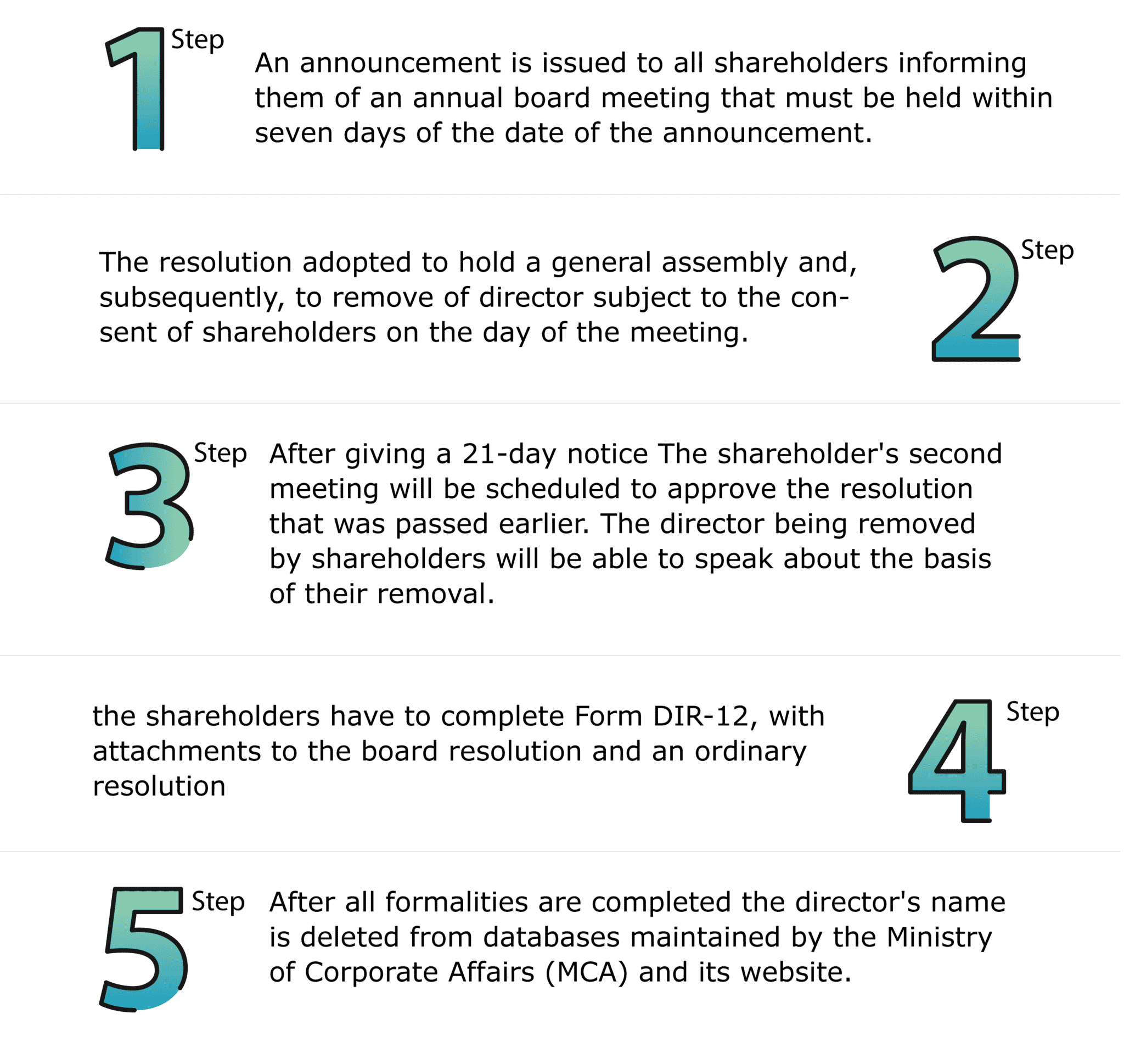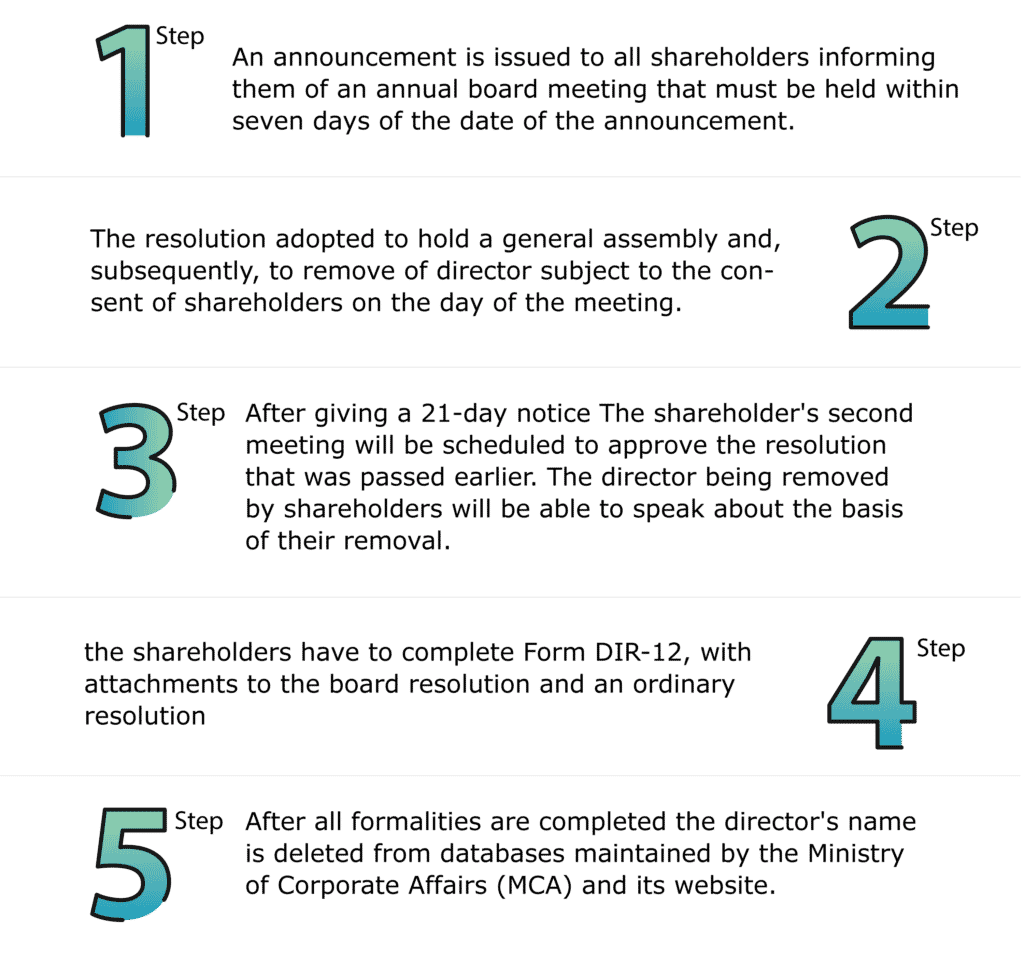 Step 1: An announcement is issued to all shareholders informing them of an annual board meeting that must be held within seven days of the date of the announcement.
Step 2: The resolution adopted to hold a general assembly and, subsequently, to remove of director subject to the consent of shareholders on the day of the meeting.
Step 3: After giving a 21-day notice The shareholder's second meeting will be scheduled to approve the resolution that was passed earlier. The director being removed by shareholders will be able to speak about the basis of their removal.
Step 4: the shareholders have to complete Form DIR-12, with attachments to the board resolution and an ordinary resolution
Step 5: After all formalities are completed the director's name is deleted from databases maintained by the Ministry of Corporate Affairs (MCA) and its website.
This is the most simplified version of the procedure. The process to remove a director from your company has to be done with care and in line with the process set out by the Companies Act.
Consequences of Not Filing Form DIR-12
DIR-12 must be submitted within 30 days of the day of resignation. 
If the company fails to file it then these penalties are imposed:
Concrete government costs paid once up to 15 days;

It is double the first government penalty if it continues for longer than 15 days.

If it goes past 30 to 60 days, there is a penalty that is 4 times the exact amount levied by the government.

If it takes longer than 180 days, then the appropriate charges are 10 times the actual administrative costs.

The fine also applies to the business that misses the deadline of 300 days after the resolution was reached for submitting the form DIR-12. The corporation is required to pay compounding fines in addition to 12 times the precise government fees.

 
Book end-to-end experts consultation with Odint finance and legal experts
Removing a director from your company is a significant decision that needs to be handled carefully and in accordance with the law. For a director to be removed, there must be good cause, such as misconduct, poor performance, or a violation of fiduciary duty. In this article, we have discussed some of the options to remove a director from your company. However, any public entity must have at minimum of three directors for any period, or Each private company must be able to count at least two directors.
So, if you still have any queries related to Removing a Director from your company, we are ODINT Consultancy. We're we are here to assist you at each step of your way.
Meet Apurva Gaur, an accomplished and dedicated Company Secretary, whose passion for corporate governance and legal compliance has shaped her remarkable journey in the business world. With a wealth of experience and a keen eye for detail, Apurva has emerged as a leading authority in the field of corporate governance, earning accolades for her invaluable contributions to the companies she serves.