Shannon Free Zone in Ireland
Ireland is one of the most appealing business locations in Europe due to its many incentives to foreign and local firms. The country is among the first European country to have a freedom zone of its own. Free zones are commercial areas where businesses are operating within a restricted number of related industries.
The majority of businessmen opt to start a company in an area that is free due to the advantages associated with it. Shannon Free Zone in Ireland was created in 1959 & is the world's first open trade zone.
This free trade zone in Ireland is well-known for its distribution across Europe due to the exclusion of taxes on customs and the ease of access to land, air, and water.
In this article, we will be discussing all the aspects of the Shannon Free Zone in Ireland. So, without any further, delay let's jump into it.
What is the Shannon Free Zone?
Shannon Free Zone (SFZ) was established in 1959 and is the first free trade zone globally. The 600-acre SFZ in Ireland, which is situated next to Shannon Airport, has 200 residential buildings along with more than 100 operational businesses. Organizations are allowed to conduct business in the Shannon Free Zone without many of the limitations and tariffs that ordinarily govern international trade. It offers a favorable setting for businesses to establish offices, laboratories for research, and industrial facilities. Tax breaks, simplified customs processes, and access to qualified staff are just a few of the attractions the zone provides to entice enterprises.
Reason to establish a business in Shannon Free Zone in Ireland
The Shannon free zone in Ireland is among the most important source of FDI (Foreign Direct Investment) and hosts hundreds of companies from around the globe. It allows investment in various sectors and currently has around 8000 employees.
This zone of no cost is favored by the majority of companies as they are exempt from VAT on imports which includes raw materials if, 75% of the final product (or the product that is manufactured) is further exported.
Shannon free zones in Ireland can offer investors the possibility of keeping stock and raw materials at an extremely low cost has increased the free zone's popularity across the globe. The incentives and exemptions have made multinational companies flock to the free zone to set up their operations in Europe.
Activities allowed in the Shannon Free Zone in Ireland
Maintenance and Repair of the aircraft.
Trading activities that require approval before the Minister of Finance. Ministry of Finance.
IP rights-related activities.
Production of products associated with the industry.
Key Sectors in the Shannon Free Zone in Ireland
The Shannon Free Zone is home to a variety of enterprises that draw businesses from different fields. Numerous international firms have decided to establish their operations in the SFZ due to its advantageous location and business environment.
Here are the key sectors in the Shannon Free Zone:
Aviation- Companies that deal with maintenance for aircraft fall in the aviation sector. Because this zone is situated near Shannon Airport, most business owners prefer having their aviation companies here because it eliminates the requirement to create separate runways for aircraft.
Engineering
Pharmaceuticals
Medical Devices
Commercial Industries – This sector involves activities that span in scope from Information & Communication Technology to insurance, telecommunications & Finance.
International Services
Trading is a type of trading that includes secondary or ancillary trading.
Benefits of the Shannon Free Zone in Ireland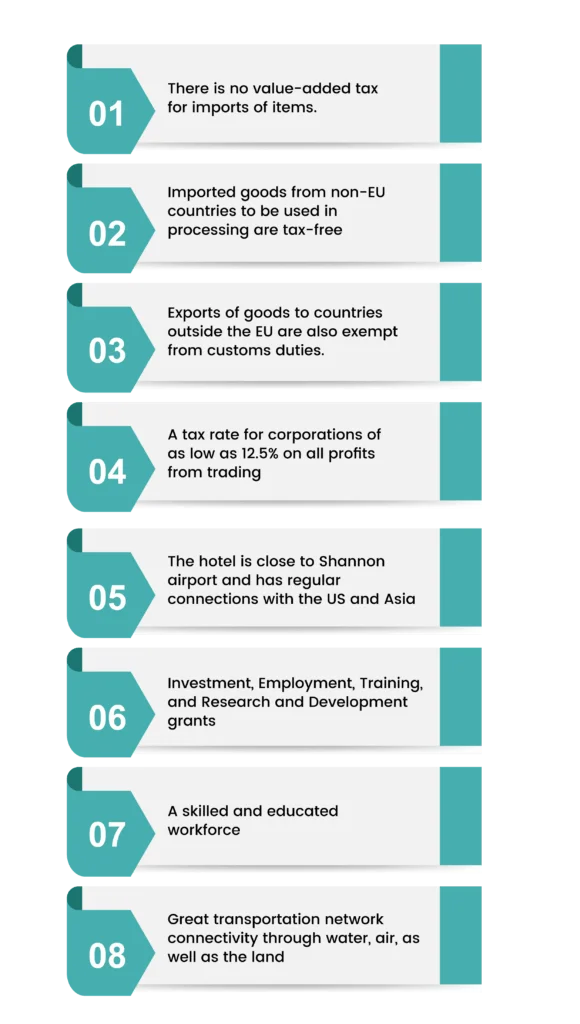 There is no value-added tax for imports of items.
Imported goods from non-EU countries to be used in processing are tax-free.
Exports of goods to countries outside the EU are also exempt from customs duties.
A tax rate for corporations of as low as 12.5% on all profits from trading.
The hotel is close to Shannon airport and has regular connections with the US and Asia.
Investment, Employment, Training, and Research and Development grants.
A skilled and educated workforce.
Great transportation network connectivity through water, air, as well as the land.
Ireland's Shannon Free Zone is a flourishing business park that has contributed significantly to regional economic development and attracted foreign investment. The Shannon Free Zone has promoted innovation and research in addition to producing a large number of job possibilities. Businesses searching for expansion prospects frequently choose the SFZ because of its infrastructure and dedication to sustainability and innovation. Businesses established in the SFZ take advantage of a beneficial tax framework, which includes low corporation tax rates and tax breaks for R&D operations. 
You can speak with our qualified experts at Odint Consulting if you're planning to set up your business in the Shannon Free Zone. Our experts will provide all the information needed for starting a business.