Start a Real Estate Business in Canada in 2023-24
In this article, we have discussed about how to start a real estate business in Canada. Through this guide, you will know about the procedure and advantages.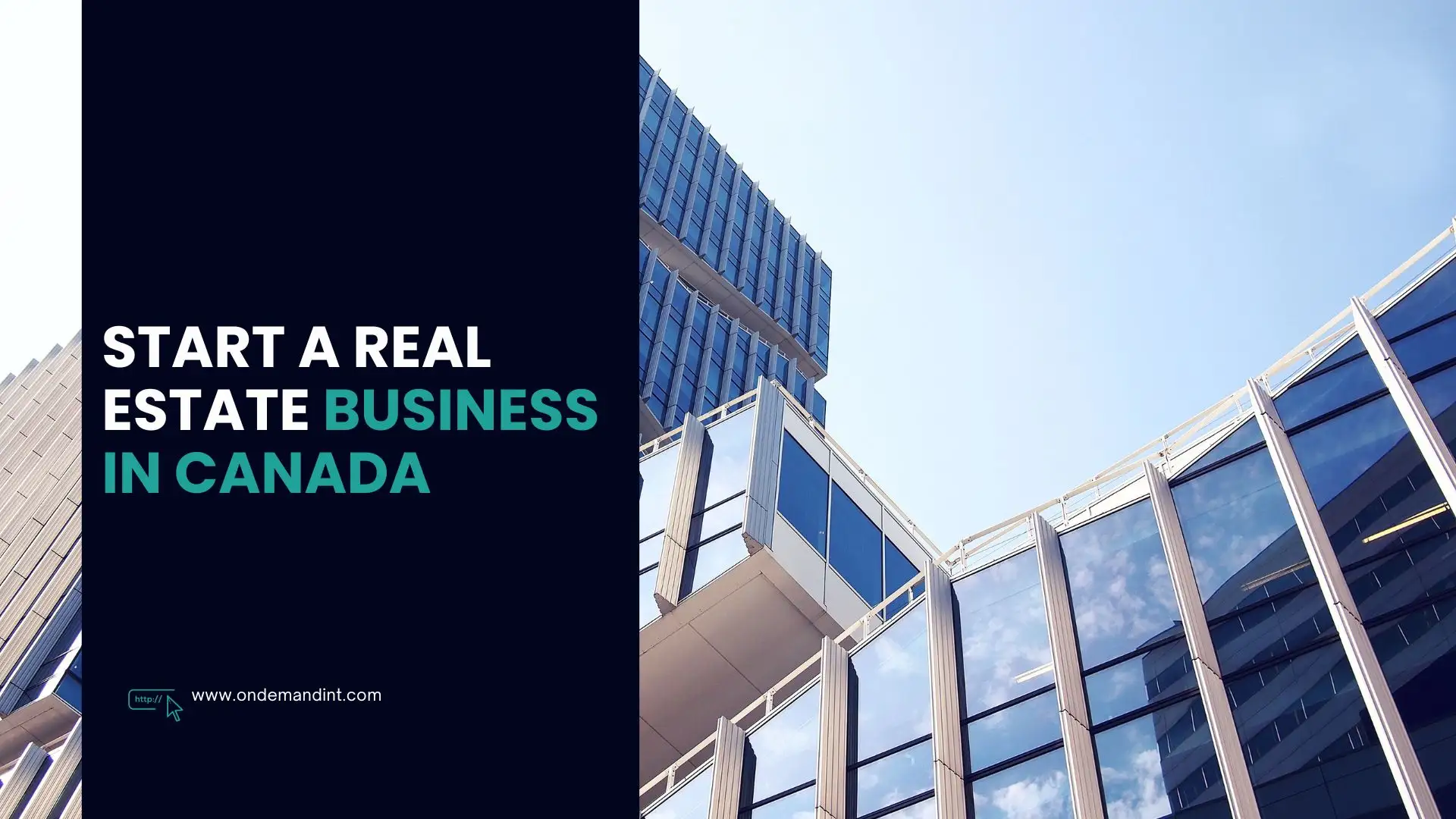 Are you an aspirant looking to break into the lucrative Canadian real estate market? If done right, starting a real estate business in Canada can be a gratifying and successful endeavour. In this article, We will lead you through the procedure, requirements, kinds of company entities, and the various advantages of going on this road in this detailed guide. Whether you're a Canadian resident or an overseas investor, the Canadian real estate market has a lot to offer. So, let's get started and look at how to establish a real estate firm in Canada.
How to Start a Real Estate Business in Canada?
The list of procedures to start a Real Estate business in Canada are as follows:
Planning and research:

Thorough study and preparation are required before you begin your real estate endeavour. Determine your target market, geographical preferences, and real estate sector specialisation. Understanding the local real estate market's tendencies and characteristics will be key to your success.

Get your Real Estate Licence: Individuals in Canada who intend to participate in real estate activities must get a real estate license. The licencing criteria differ from one province to the next. In most cases, you must finish a pre-licensing education programme and pass a licencing test. For further information, contact your province's real estate regulating organisation.
Select Your Business Model:

Choose the sort of real estate company you wish to start. Residential, commercial, industrial, and even property management are common alternatives. The choice you make will have an impact on the subsequent stages of your company's formation.
Requirements to start a Real Estate business in Canada
Some of the requirements to start a Canadian real estate business in Canada are:
Licencing:

As previously stated, having a real estate license is a legal obligation. Each province may have its own real estate regulatory body in charge of issuing real estate licences. Check to see whether you fulfil the educational and experience standards set forth by your province's regulatory authority.

Company Registration: Register your real estate firm with the relevant government agencies. The registration procedure may differ depending on your selected company structure (sole proprietorship, partnership, corporation, etc.). Consult with OnDemand International

to verify that all registration and tax duties are met.

Capital Availability:

Real estate endeavours sometimes need a considerable monetary commitment. You'll need money for real estate, marketing, personnel, and day-to-day operations. Obtain sufficient funding from personal savings, loans, or investment partners.
Types of Business Entities for Your Real Estate Company in Canada
Sole Proprietorship:

This is the most basic and often used type of business ownership. You have complete control over your real estate firm as a single owner, but you are personally liable for its debts and obligations.

Partnership:

You can opt to form a real estate partnership with one or more people. Partnerships enable you to share tasks and resources while agreeing on how to split profits and losses.

Corporatio

n: By forming a corporation, you can legally separate your assets from the firm. This structure offers liability protection as well as possible tax benefits, making it a popular option for bigger real estate businesses.
Advantages of Starting a Real Estate Business in Canada
Profitable Investment Opportunities:

The Canadian real estate market has expanded steadily throughout the years. It provides investors with a secure and appealing environment in which to build long-term wealth.

Diversification:

You may diversify your investing portfolio by purchasing real estate. You may reduce risk and increase possible profits by investing in a variety of property types, including residential, commercial, and industrial.

Stream of Passive Income:

Real estate rental income can be a reliable source of passive income. Owning and managing rental properties may provide a consistent stream of income.

Tax Advantages:

Canada provides tax breaks to real estate investors. You may deduct property management, maintenance, and mortgage interest expenditures, lowering your total tax obligation.

Appreciation:

Property prices often rise over time. You may increase your wealth by keeping your real estate holdings and benefiting from capital appreciation.
Conclusion
Starting a real estate firm in Canada provides several prospects for both entrepreneurs and investors. However, managing the complexities of the real estate market and maintaining regulatory compliance may be difficult. This is where OnDemand International enters the picture.
OnDemand International is your reliable partner for establishing and expanding your real estate company in Canada. We provide experienced advice on licencing, company formation, and market analysis. Our team of experts will guide you through every stage of the procedure, guaranteeing a smooth and successful introduction to the Canadian real estate market.
With our knowledge and skills, you may begin your real estate adventure with confidence, reaping the rewards of this flourishing business. Contact OnDemand International now to begin your journey to Canadian real estate success.