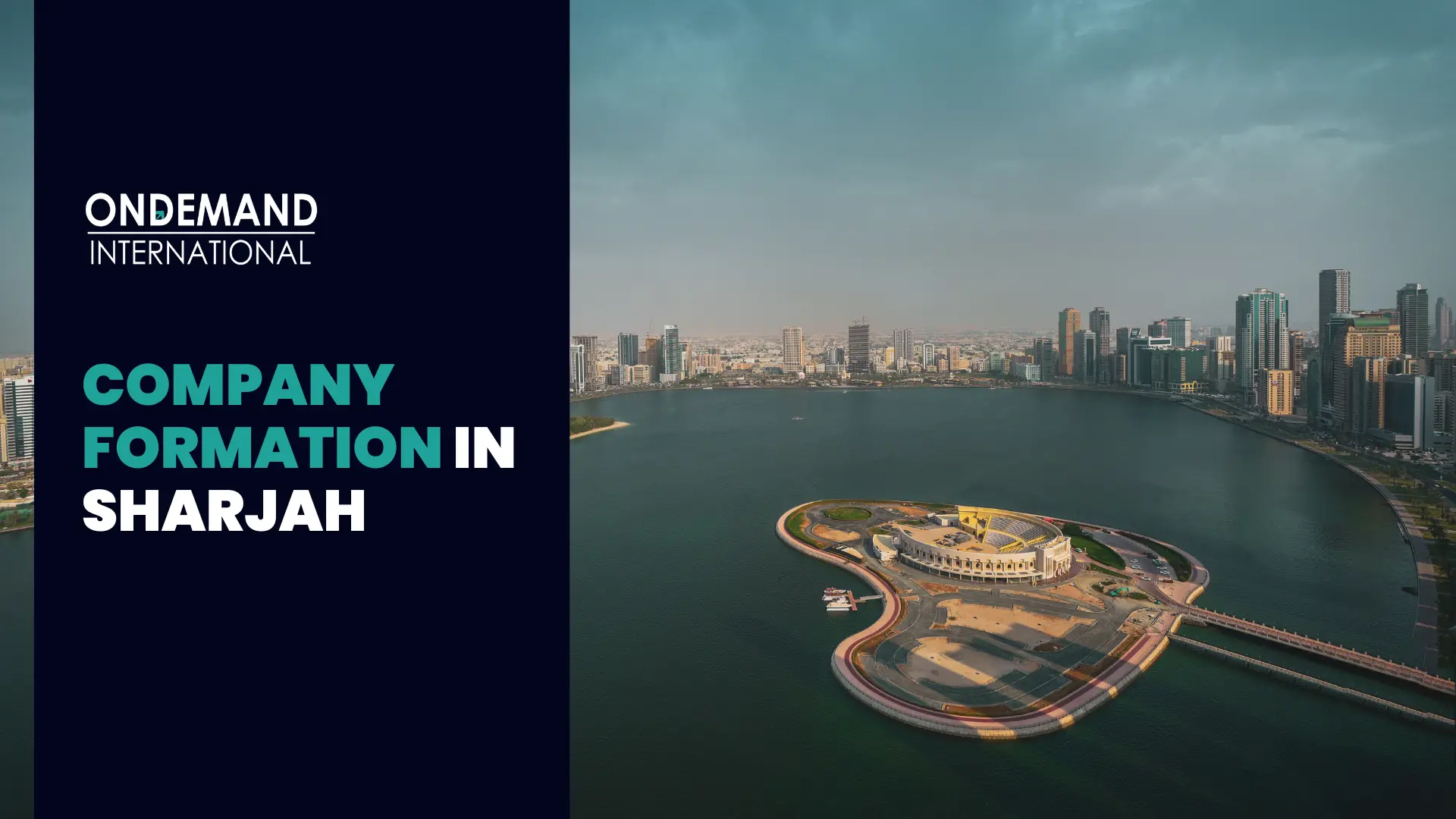 If you want to start a business in the UAE without paying exorbitant fees, Sharjah is the place to be! When it comes to starting a business, Sharjah is a cheaper option than Dubai and is regarded as one of the most lucrative industrial areas for international investment. Its prosperous commercial history may be attributed to its closeness to an international airport and its convenient position to ports on both the west and east coasts. As if that weren't enough, the government is incredibly business-friendly, the safest Emirate, and has made significant advances in technology, arts, and culture in recent years.
Why Start a business in Sharjah, UAE?
There are plenty of reasons for company setup in Sharjah Free Zone. Some of them are mentioned below
Simple Company Formation
The Sharjah business registration procedure is simplified, and you may anticipate finishing it in a few weeks. This efficiency is a great tool for businesses that want to get started quickly.
Complete Business Ownership
Foreign investors may own 100% of commercial and industrial enterprises in Sharjah, giving them complete control over their activities. This degree of ownership is a significant benefit for investors seeking autonomy.
Competitive taxes
Sharjah distinguishes itself by its tax-friendly laws, making it one of the most tax-competitive jurisdictions in the world. This is an important aspect for companies looking to maximize their earnings.
Strategic Positioning
Sharjah's strategic position, close to Dubai International Airport and the Jebel Ali Free Zone, allows for quick access to a diverse network of clients and suppliers. This geographical advantage is a driving force for corporate expansion.
Government Help
The Sharjah administration is well-known for its pro-business attitude, with several initiatives and incentives to help firms thrive. This support may be quite beneficial to business owners.
Reasonable Prices
Sharjah offers a more cost-effective business environment than other emirates. Lower rates for office space, labour, and other operating factors make it an appealing place for entrepreneurs.
Read More: Sharjah Publishing City Free Zone
Types of Business License in Sharjah Mainland
The first step in starting a company in Sharjah mainland is obtaining a trade license. It is illegal in Sharjah to do business without a trade license. The types of licenses available in Sharjah indicate the activities authorized by the SEDD. In Sharjah mainland, the following categories of permits are given according to the nature of the activities:
Industrial License
An industrial license is required for entrepreneurs to engage in operations that demand capital, such as manufacturing, mining, quarrying, and activities linked to power, oil & gas, and so on. To get an industrial license in Sharjah's mainland, special clearances are necessary. The Ministry of Labour, the Ministry of Economy & Commerce, and other relevant government agencies are the authorizing authority. When applying for an industrial license in Sharjah mainland, investors must present all essential external clearances. Sharjah business setup specialists may assist investors in navigating this need.
Service License
A service license in Sharjah mainland allows licensees to perform the services listed under the license. A professional license, often known as a service license, allows entrepreneurs to practice a skill in which they are skilled. Applicants must have suitable credentials and submit to exams to back up their claims. In Sharjah mainland, consultancy services, management consultancy services, accounting services, and all other professional services are covered by a service license.
Commercial License
A commercial license permits business owners to engage in operations such as distribution, consolidation, storage, warehousing, and the import and export of certain items. A standard commercial license in Sharjah permits investors to trade in a limited number of identical product lines. A general trading license in Sharjah mainland, on the other hand, permits license holders to deal in a wide variety of items.
Investors that receive a business license on the Sharjah mainland have the right to 100% foreign ownership in certain activities. More information on operations that are eligible for 100% foreign ownership may be obtained from Sharjah business setup experts.
Procedure for Company Formation in Sharjah
To ensure compliance with local legislation, forming a company in Sharjah requires a well-defined process.
Choose a Business Name: Select a unique business name that is not already registered in the UAE. You can verify name availability through the Department of Economic Development.
Choose a Business Location: Decide whether to set up your LLC on the mainland or in a free zone.
Mainland:

Offers flexibility in business activities but is more complex and relatively more expensive.

Free Zone:

Provides advantages like tax exemptions, 100% foreign ownership, and simplified setup procedures, although it may restrict your operational area.
Register Your Business and Obtain a Trade License: Submit your legal documentation to the Department of Economic Development (DED) or the local free zone authorities for examination and approval. Upon compliance, you will receive a license for your LLC.
Open a Corporate Bank Account: A corporate bank account in the UAE is required to manage financial transactions.
Office Space and Premises: Ensure your office space meets specific requirements for your chosen business activity.
Visa and Employee Registration: After registering your LLC, you can apply for visas for your employees, ensuring compliance with UAE's labour laws and regulations.
Types of Business Entities in Sharjah
Before setting up a company in Sharjah, it's crucial to understand the different types of business entities available:
Sole Proprietorship:

Owned by an individual responsible for all assets and liabilities.

Public and Private Shareholding Companies:

Suitable for large projects or operations. Public ones can offer shares to the public, while private ones cannot.

Limited Liability Company (LLC):

The most common form in the UAE, where the liability of shareholders is limited to their shares in the company's capital.

Partnership:

Two or more partners share ownership. They can be general or limited partnerships.

Branch Offices: Foreign companies can establish branch offices in Sharjah to conduct activities similar to their parent company.
Benefits of Company Registration in Sharjah
The list of benefits of company registration in Sharjah are:
There are no business or individual taxes in Sharjah.
It is simple to open a bank account.
Infrastructure of the highest caliber
The UAE's cultural capital
There are two coasts (the Indian Ocean and the Arabian Gulf).
Political security
Availability of low-cost labour
Dependents' residency visas may be easily sponsored.
Sharjah has 19 industrial zones that provide 49% of the UAE's industrial production.
Documents Required for Company Formation in Sharjah
The documentation required for company registration in Sharjah may vary depending on the type of the firm and the unique criteria. However, the following are the general documents required:
Photocopy of visa and passport

All stockholders' passport copies

Copy of the certified leasing contract Licence form

Bank statement of the company's bank account

Legal approvals, if necessary

Trade name certificate
Cost of Company Registration in Sharjah
The cost of company registration in Sharjah depends on various factors, including business activity, company size, and location (mainland or free zone). As a general guideline, the cost typically starts at AED 20,000. Additionally, other expenses may include business name reservation fees, bank account opening fees, legal fees, office space rental, visa fees, and more. It's advisable to consult a legal and business setup consultant to get a precise cost estimate.
Conclusion
Sharjah offers a dynamic and growth-oriented environment for businesses. It is an appealing site for company creation due to its strategic position, cutting-edge infrastructure, and business-friendly legislation. However, like with any company initiative, rigorous research, understanding local legislation, and seeking professional advice from a reputable consulting agency such as OnDemand International are all crucial.
By understanding the landscape, potential challenges, and opportunities, businesses can thrive and grow in Sharjah, making the most of what this vibrant emirate has to offer.