Company Registration In Latvia In 2023-24
Latvia is one of the most preferred nations for establishing a company. Latvia is a member country of the World Trade Organization, the OECD, and the EU. As a result, there are numerous prospects for commerce and incentives for both imports and exports across the nations involved in these international institutions. Due to its advantageous location between EU countries and significant eastern markets.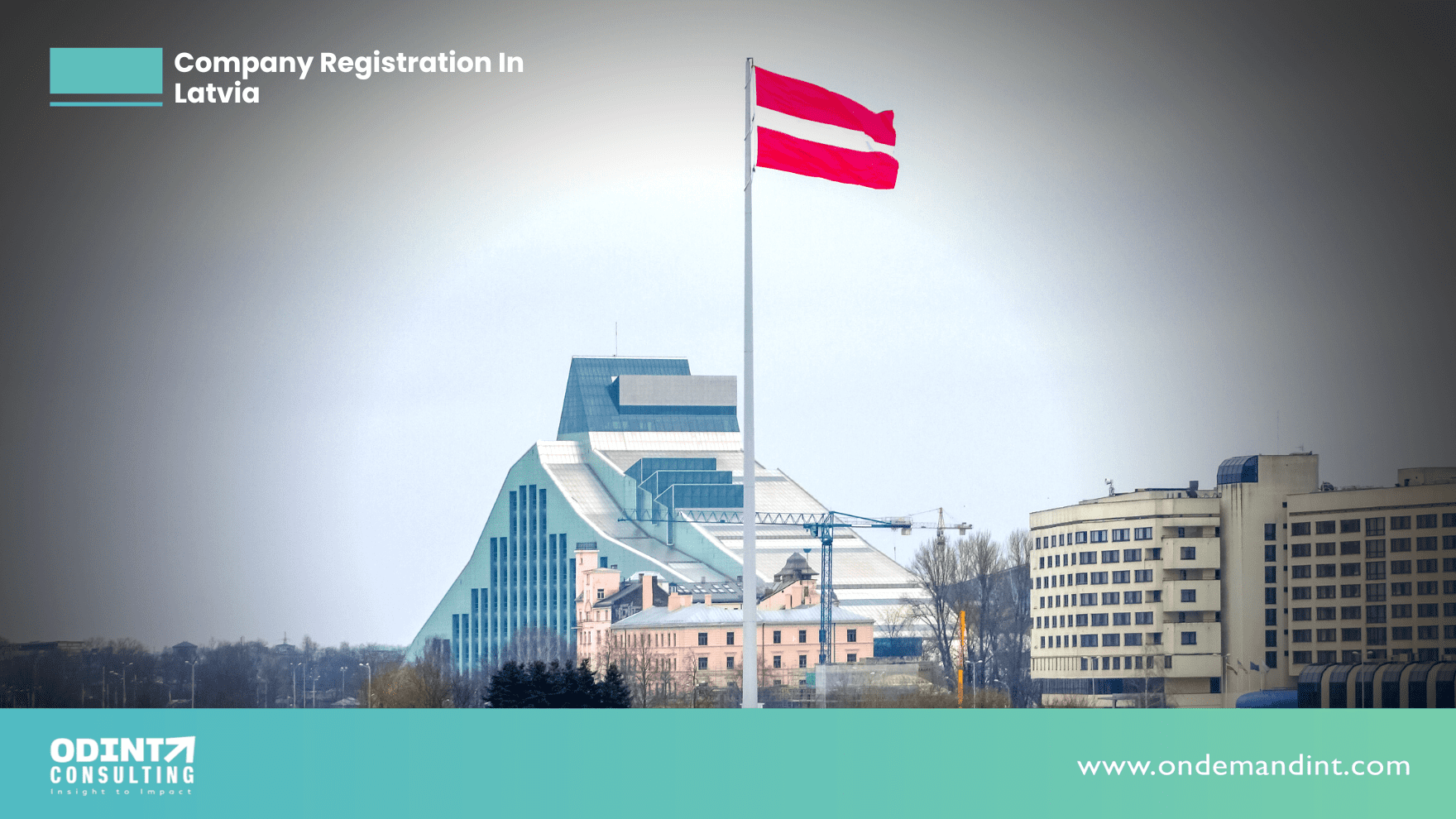 Latvia puts a high priority on the development of its logistics network and its transportation infrastructure to ease commerce between the nations. This has greatly boosted the nation's GDP. Entrepreneurs also favor Latvia company registration because of the country's low labor expenses and affordable industrial rental rates. 
This article will discuss how an entrepreneur can register a company in Latvia. Further, it will cover the advantages, costs, and documents required for Latvia company registration.
Procedure for Company Registration in Latvia
The several steps to register a company in Latvia are as follows:
Decide the corporate structure
One of the first steps for company registration in Latvia is to decide on the business form. A limited liability corporation is the most preferred form of business structure in Latvia.
Decide the company name
The second step for Latvia company registration involves deciding the name of your organization. However, the name shouldn't be the same as or similar to another already established company's name.
Collect the documents
Collect the necessary paperwork for the establishment of a business, including the articles of association and memorandums of association, and get it notarized by a public notary.
Create a temporary bank account
Create a temporary bank account in Latvia for your firm and deposit the necessary funds there.
Apply for business registration
The business should be registered with the Latvian Commercial Register and the relevant paperwork should be included. Upon establishment, the company will receive a Certificate of Incorporation.
Register for VAT
Following incorporation, the business owner will also need to complete Social Security and VAT registrations.
Documents Needed to Register a Company in Latvia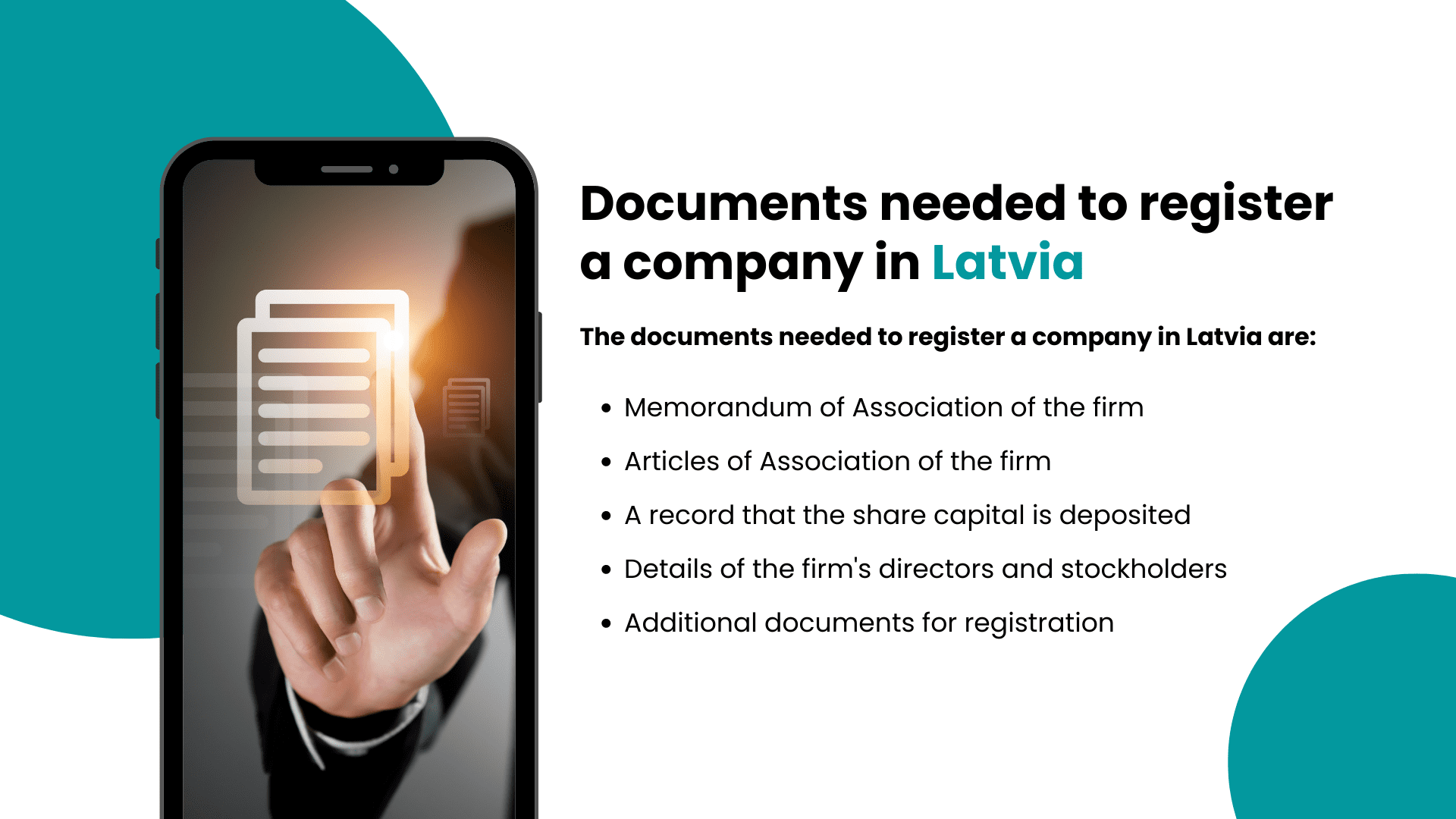 The documents needed to register a company in Latvia are:
Memorandum of Association of the firm

Articles of Association of the firm

A record that the share capital is deposited

Details of the firm's directors and stockholders

Additional documents for registration
Business Entities for Company Registration in Latvia
The various business entities for Latvia company registration are described below:
1. Limited Liability Company (SIA)
A limited liability company commonly referred to as a Sabiedriba ar Ierobezotu Atbildibu (SIA) is the most popular type of corporate organization in Latvia. The required share capital for a limited liability company registration in Latvia is EUR 2,800, and at least half of that amount must be maintained in the business bank account prior to registration. An LLC is a distinct legal entity from its stockholders, and as such, the directors and stockholders are not individually responsible for any debts or liabilities that the corporation incurs. A minimum of one stockholder and one director, who may be from any country, are required to form an LLC.
2. Partnership
A partnership is established when 2 or more individuals opt to manage a company jointly. A partnership is not a distinct legal entity, hence, each member may be held accountable for all obligations and liabilities committed by the company.
In Latvia, there are primarily two kinds of partnerships: 
General partnerships:

When it comes to general partnerships, the responsibility of any member is unlimited.   In other words, the members will be responsible for the entire amount of liabilities and obligations that the company has incurred.

Limited partnerships:

When it comes to limited partnerships, there is a general as well as a limited partner. The general partners are responsible for managing the firm and are accountable for all debts and liabilities that are incurred by the firm. Limited partners are not allowed to run the business, nevertheless. They will only be accountable for their portion of the partnership's contribution.
3. Joint Stock Company (AS)
Akciju Sabiedriba (AS) is the Latvian word for a Joint Stock Company. A Joint Stock Company normally only requires 1 shareholder and 1 director to be incorporated, with no limitations on citizenship or place of residence. The necessary share capital for Latvia company registration of a joint stock company is EUR 35,000.
4. Branch Office
The overseas corporation that wants to establish its presence in Latvia can choose to establish a branch office in the country. The branch office is not considered a distinct legal organization from its parent corporation. This implies that all liabilities and obligations committed by the branch firm will be borne by the parent corporation. A branch company is not required to have any minimum share capital.
5. Representative Office
Overseas corporations may decide to establish an extension of their company in the form of a representative office. A representative office is not permitted to carry out any business or economic operations that generate revenue. A representative office could only carry out market analysis and promote the operations of their parent corporation.
Eligibility criteria for Latvia company registration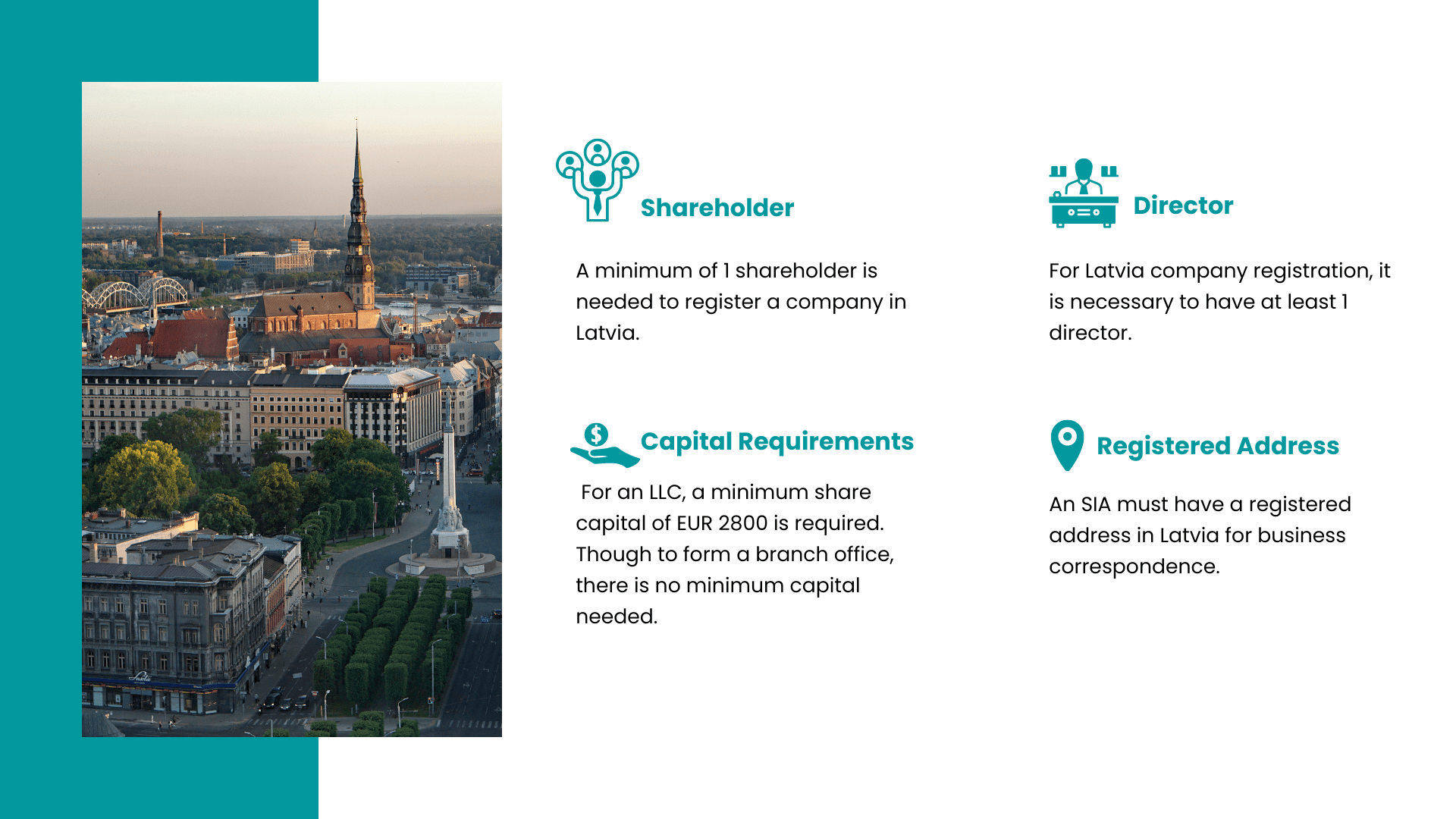 The eligibility criteria for Latvia company registration are described below:
Shareholder
A minimum of 1 shareholder is needed to register a company in Latvia.
Director
For Latvia company registration, it is necessary to have at least 1 director.
Capital requirements
For an LLC, a minimum share capital of EUR 2800 is required. Though to form a branch office, there is no minimum capital needed.
Registered address
An SIA must have a registered address in Latvia for business correspondence.
Taxation Structure in Latvia
Every company that has been established in Latvia is required to pay taxes there.
Corporate Income Tax

– The CIT rate in Latvia is 20%.

Value-added Tax-

The VAT rate in Latvia is 21%, however, lower rates of 12%, 5%, and 0% are also applicable to certain products and services.

Property Tax

– Assets owned by either a person or a company are subject to property taxes.

Social security contributions

– The rate of social security contributions is 35.09 percent, with the employer paying 24.09% and the employee contributing 11%.
Cost for Company Registration in Latvia
The costs that must be incurred for the business's registration, for the business address, for the preparation of the documents, etc., must be taken into account by the entrepreneur before deciding to register a company in Latvia.
Here are the expenses that have to be incurred for company registration in Latvia:
Business incorporation costs can range from EUR 450 to EUR 900 depending on the type of business.

The registered address may cost approximately EUR 500 for 1 year.

Annual service fees can range from 600-700 euros.
Why Register a Company in Latvia?
The government issues Latvian golden visas, which are perfect for anyone considering long-term relocation to Latvia, in an effort to entice overseas entrepreneurs.

Latvia has implemented major tax advantages to help businesses in the country.

To aid in the promotion of enterprises, the nation has created free ports and special economic zones (SEZ).

The internet connectivity in Latvia is among the quickest.

The process for forming a company in Latvia is simple.

The population in Latvia is highly competent and diverse.

Latvia has very advanced infrastructural facilities.

The technical and IT industries have grown in the country.
Benefits of Latvia Company Registration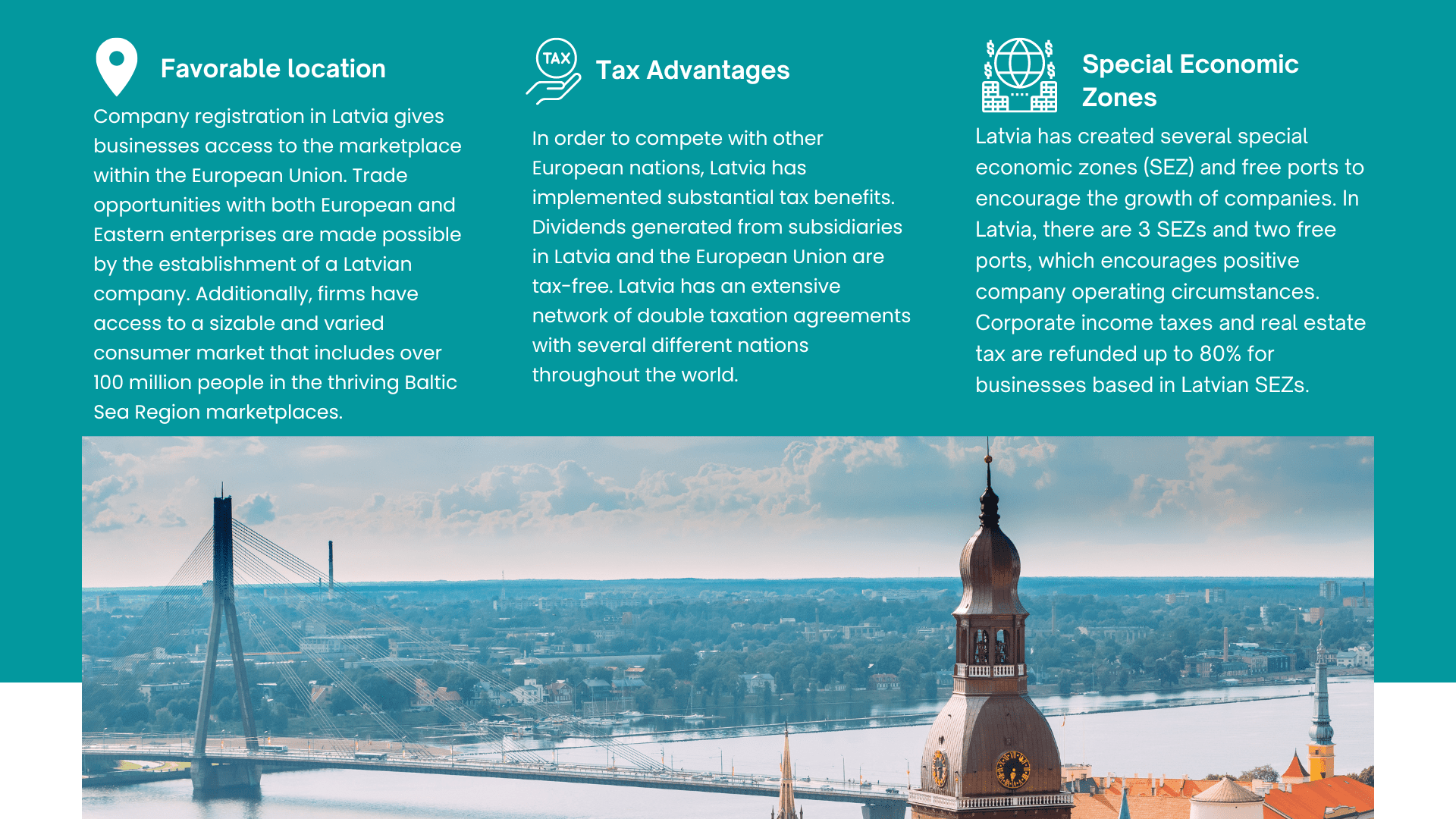 There are numerous benefits of company registration in Latvia.
Some of the advantages are discussed below:
Favorable location
Company registration in Latvia gives businesses access to the marketplace within the European Union. Trade opportunities with both European and Eastern enterprises are made possible by the establishment of a Latvian company. Additionally, firms have access to a sizable and varied consumer market that includes over 100 million people in the thriving Baltic Sea Region marketplaces.
Tax advantages
In order to compete with other European nations, Latvia has implemented substantial tax benefits. Dividends generated from subsidiaries in Latvia and the European Union are tax-free. Latvia has an extensive network of double taxation agreements with several different nations throughout the world.
Special Economic Zones
Latvia has created several special economic zones (SEZ) and free ports to encourage the growth of companies. In Latvia, there are 3 SEZs and two free ports, which encourages positive company operating circumstances. Corporate income taxes and real estate tax are refunded up to 80% for businesses based in Latvian SEZs.
Book end-to-end experts consultation with Odint company formation experts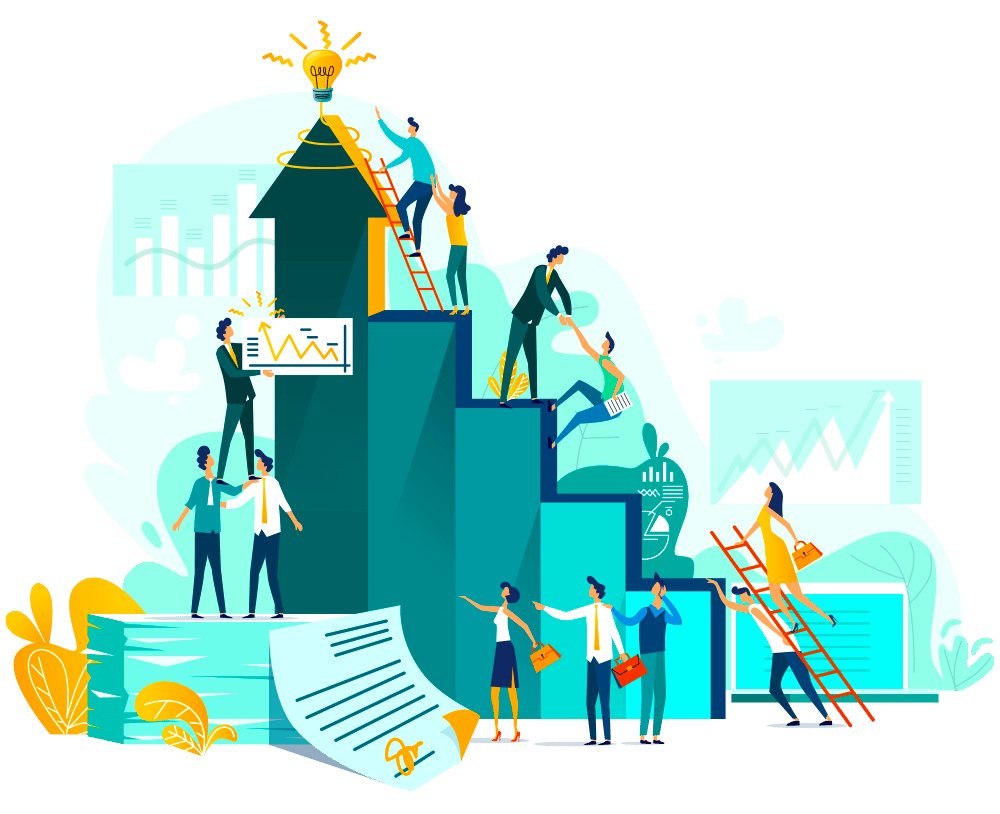 A lot of entrepreneurs want to register a company in Latvia as the nation has easy access to the marketplaces of the European Union. Latvia also has numerous tax advantages, double taxation treaties, Special Economic Zones, low labor costs, and one of the best internet connections worldwide.
If you wish to do company registration in Latvia, you can consult our business formation experts. Our professionals will direct you through every stage of the incorporation procedure.