Company Registration In New Zealand in 2023-24
The nation of New Zealand is located in the South Western Pacific Ocean and has numerous prospects in order to incorporate the business and grow it accordingly. With the capital city of Wellington and a good area in square kilometers in the city of Auckland.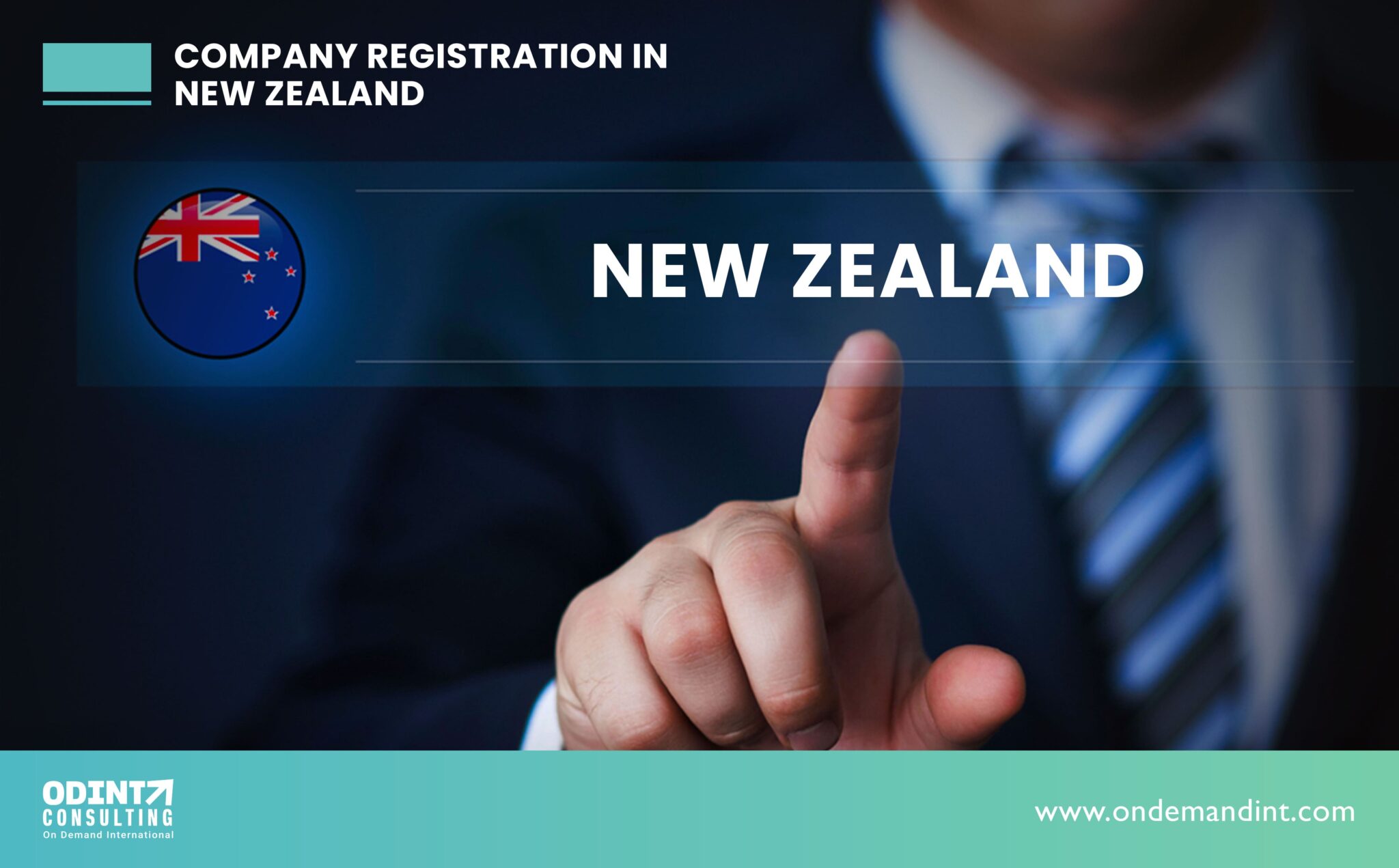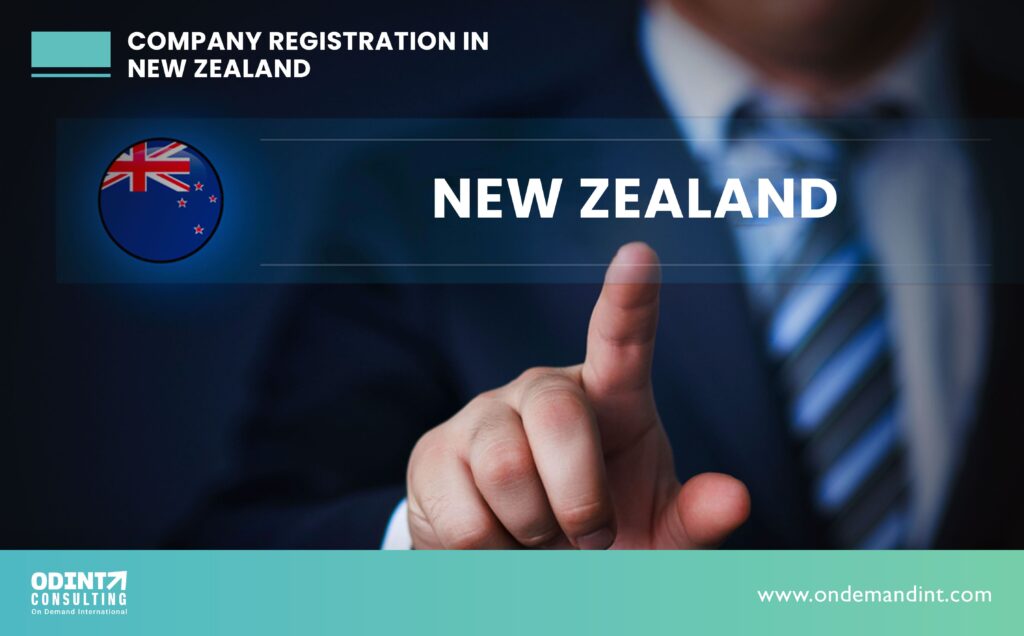 The country is basically surviving and gives a good edge to the businesses that incorporate their businesses in New Zealand. Pastoral Farming is one of the most important aspects of business incorporation in New Zealand.
Natural resources are the reason why it is a better area to register a business in New Zealand. The area with geothermal, hydro-thermal, and hydroelectric which constitutes the maximum amount in the economy.
Trade, manufacturing, and gas-power utilization is the reason for diversification in the economy and an invitation to register the company in New Zealand.
Why register a company in New Zealand?
According to World Bank assessments, New Zealand is regarded as being among the greatest locations for business convenience due to its robust economy and liberal economic framework.

New Zealand's startup businesses benefit from flexibility within the licensing and other legal requirements.

Transparency International's 2014, Corruption Perceptions Index, shows that New Zealand was placed 2nd out of 175 nations evaluated.

The nation is recognized for its initiatives to make bribes illegal, and guarantee a fair, accessible, and corruption-free environment for government procurement. 

New Zealand takes the initiative to make it easier for both domestic and international companies to operate and grow in the country.
Procedure for company registration in New Zealand

New Zealand Company Registration can be done by following the steps listed below:
Register your business name
You must decide on a name for your company before you register a company in New Zealand. Your company name cannot be one that is already in use or that resembles the name of another already existing corporation. The company name must not be defamatory or in conflict with any regulations governing company registration in New Zealand. Once the name has been selected, it must be registered by the applicant either physically or digitally in New Zealand. The chosen name must be checked on the website of the New Zealand Companies Register to see if it can be adopted by the firm. A list of names that have previously been registered in the New Zealand company registration will be displayed.
Reserve the business name
In order to reserve the company name, the entrepreneur must pay 10.22 in New Zealand dollars. The chosen name can be reserved for a period of 20 days, which may later be may be extended for an additional 20 working days. You will have to reactivate and spend an additional NZD 10.22 processing fee if the name is utilized or revoked in twenty business days.
Decide the legal structure
After deciding on the name of your business, another essential phase for company registration in New Zealand is to decide on the legal structure of the company.
Any of the businesses that are listed below may be established by an entrepreneur in New Zealand:
Partnership Firm

Limited Liability Company

Branch Office 

Sole Proprietorship
Acquire a New Zealand Business Number
The New Zealand Business Number is a special code for a company. This number connects to the details clients and customers have to engage with your business. Once you have a New Zealand company registration number, conducting commercial operations is simpler.
Draft the Company Constitution
The roles and responsibilities of a corporation, its board of directors, stockholders, and other partners are outlined in the company constitution. The provision of a constitution is not required if your business has limited liability.
Gather the necessary documents
For New Zealand Company Registration, it is essential to gather all the relevant documents. In order to register a company in New Zealand, certain documents are required, including the company constitution, director credentials, etc.
Complete the application
You must file an application with the New Zealand Companies Office (NZCO), in order to incorporate your business. The candidate must complete all required forms and submit genuine documentation which could also be done through the online portal. 
Acquiring the Certificate of Incorporation
Following the completion and submission of the form, the candidate's request will be assessed, and the candidate is going to get an email with the stockholder and director consent letter. The registration will terminate if the candidate fails to get the documents signed and faxed over to the NZCO administration within 20 days. Following receipt of the final consent forms, the certificate of incorporation will be provided.
Acquire Income Tax and GST License
The entrepreneur must get an Income Tax and GST license or certification from the Inland Revenue when the formation process has been completed in order to conduct business in New Zealand. If a firm in New Zealand earns more than $60,000 annually, it must sign up for GST.
Documents to register a company in New Zealand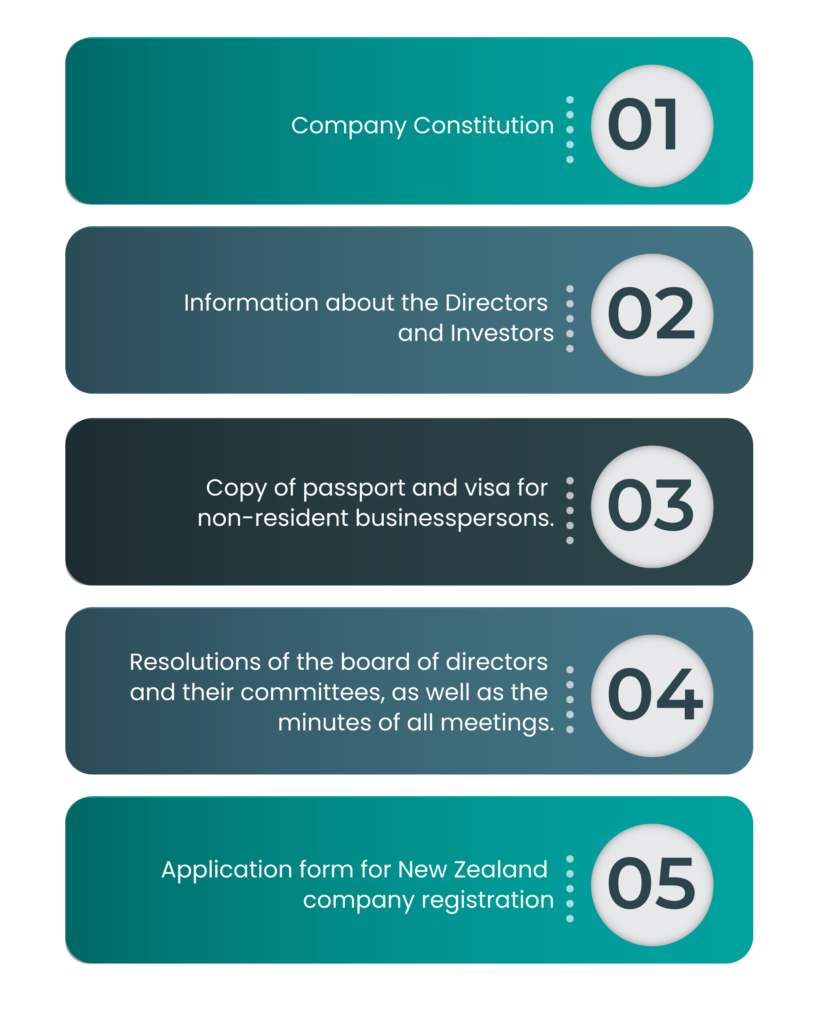 In order to register a company in New Zealand, the following documentation is needed:
Company Constitution

Information about the Directors and Investors

Copy of passport and visa for non-resident businesspersons.

Resolutions of the board of directors and their committees, as well as the minutes of all meetings.

Application form for New Zealand company registration
Eligible criteria for company registration in New Zealand
The number of directors– At least one director is required to register a company in New Zealand.
The number of shareholders-  At least one shareholder is required for New Zealand company registration. 
Registered office address– Having a registered office is necessary for company registration in New Zealand.
Various business structures to register a company in New Zealand
The various business structures to register a company in New Zealand are discussed below:
Limited Liability Company- The most prevalent type of company in the nation is the Limited Liability Company. It has a distinct legal identity. The stockholders' personal possessions are protected from the corporation's obligations.
Partnership- In a partnership firm, the corporate partners are jointly responsible for all profits and losses generated by the enterprise. A partnership is regarded to be an arrangement in which the members agree to split the company's profits. 
Branch Office– A branch office is a component of the holding organization and is limited to carrying out operations in New Zealand that are comparable to those of the original firm. The expenses and losses accumulated by the New Zealand branch office are entirely the responsibility of its holding organization.
Sole Proprietorship– A sole proprietorship is a company that has one founder, as the name implies. It is simple to establish a sole proprietorship firm. The proprietor is subject to unlimited liability, and as such, the entrepreneur is solely accountable for any earnings and liabilities of the firm.
Advantages of company registration in New Zealand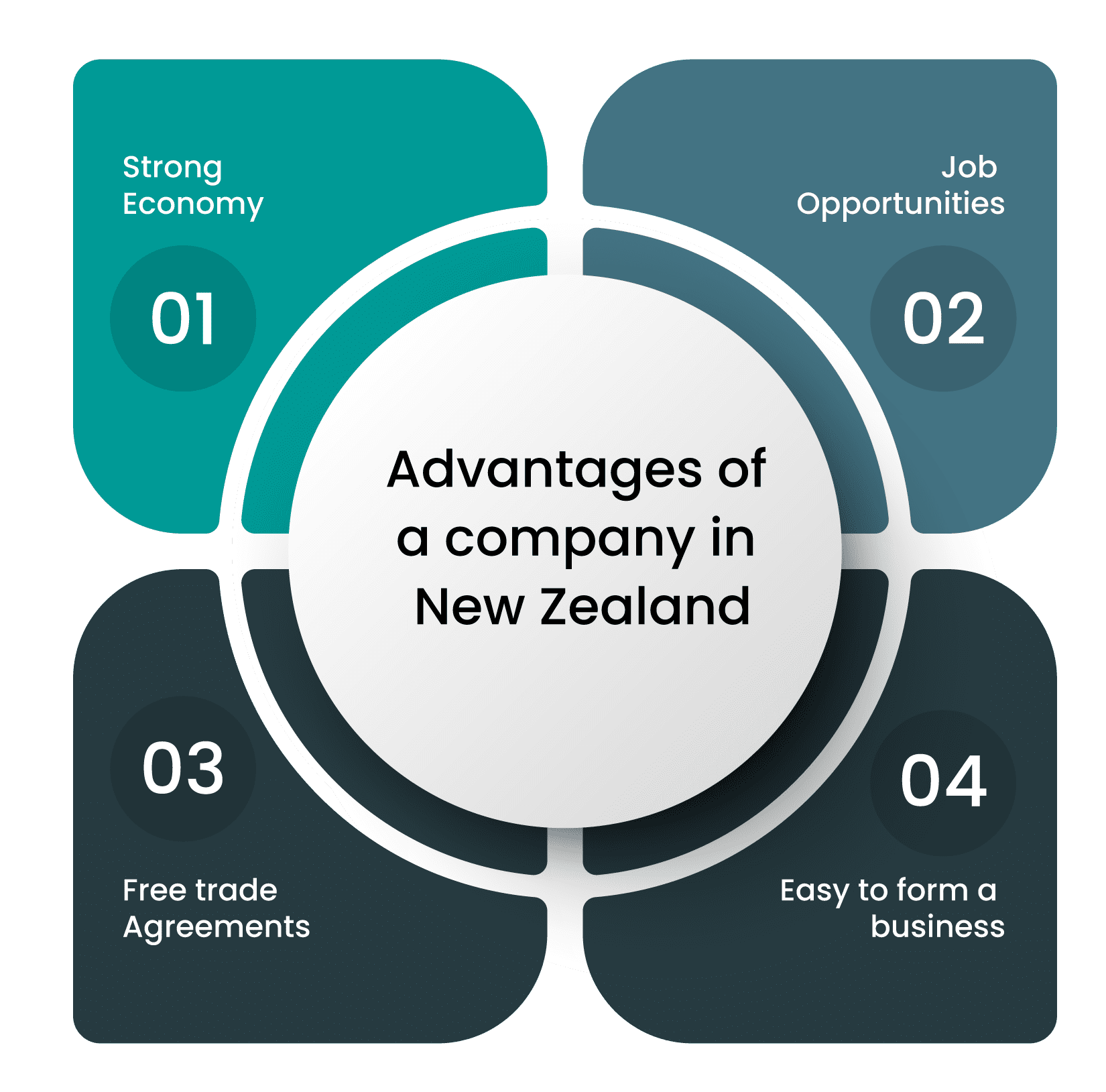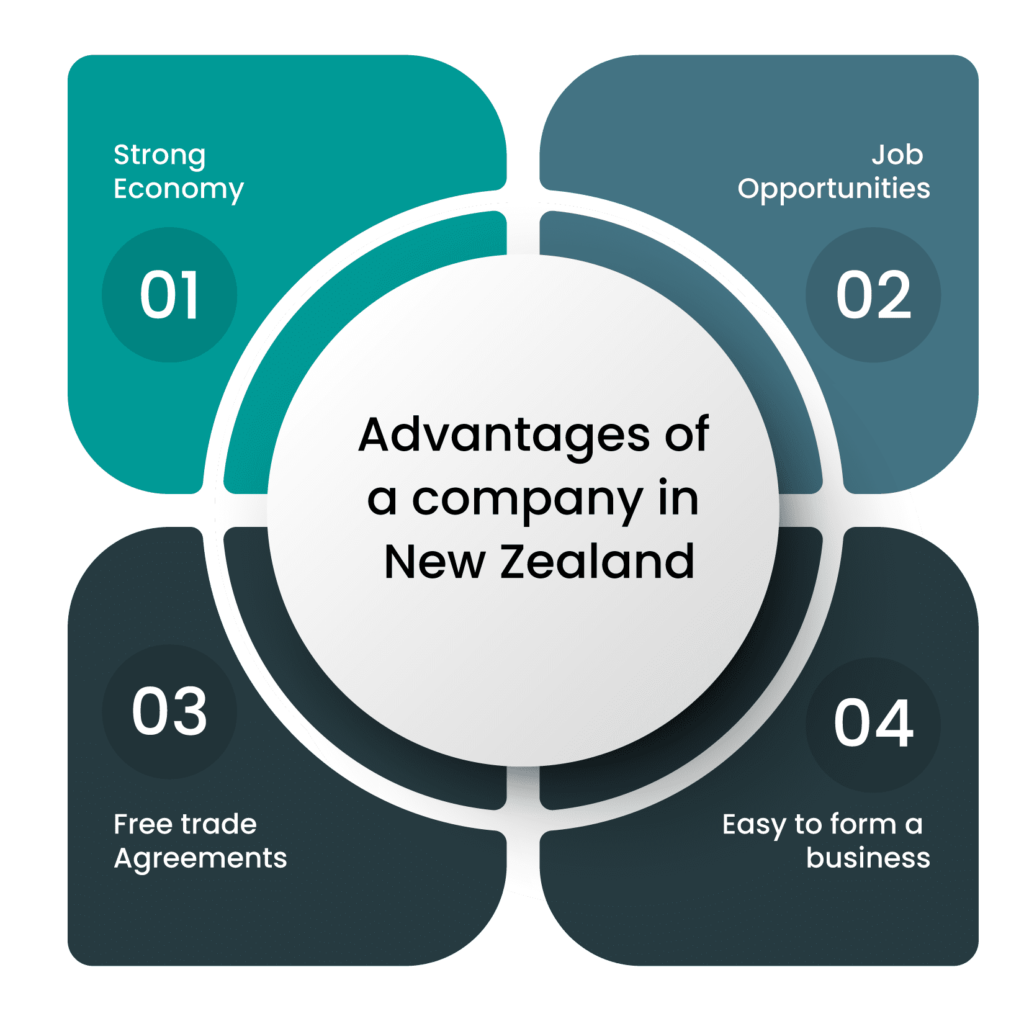 New Zealand company registration will offer an entrepreneur numerous advantages, some of which are stated below:
Strong economy-

The economy of New Zealand is comparatively free and managed. It frequently receives top rankings for being among the least corrupt, one of the most economically free, and one of the simplest countries to conduct business in.

Job Opportunities

– Many talented people travel from all over the world to New Zealand because of its open economy. Commercial establishment in New Zealand could lead to more job prospects. It will bring knowledge to the region and open up a lot of career opportunities.

Free trade agreements-

New Zealand has 13 Free Trade Agreements with different nations around the world. This makes it a desirable location for entrepreneurs to register a company in New Zealand

Easy to form a business

– In New Zealand, the procedure for establishing a business is simple and the nation is recognized as one of the most business-friendly jurisdictions. No specific authorization is required to start a corporation in New Zealand because the government is supportive of the idea of overseas investment.
All New Zealand-incorporated firms, including overseas branches, are subject to the nation's tax laws. Business owners who set up their corporations in New Zealand must pay the following taxes:
Corporate Income Tax (CIT):

The CIT rate in New Zealand is 28%.

Goods and Service Tax (GST):

The existing GST rates in New Zealand are 15% or 0%.

Withholding Taxes:

A withholding tax rate of 30% is applied to dividends given to non-residents and a 15% withholding tax is applied to royalties and interest payments made to non-residents.
Cost for company registration in New Zealand
The application fee to establish a corporation in New Zealand is $118.74 (plus GST). Along with that, for New Zealand company registration, an entrepreneur has to pay various other expenses, such as registering and reserving a company name, which may cost approximately $10.22 NZD, and submitting business documents may cost approximately, $160.22 NZD.
Annual reporting requirements in New Zealand
Except if the Inland Revenue Department grants an exception, a New Zealand organization's fiscal year usually runs from 1 April to 31 March. Every entity is expected to submit an annual return by the specified date. The directors of a business are required to check and confirm the business's information on the Companies Register annually by submitting an annual return.
The corporate income tax rate in New Zealand is 28% and applies to both foreign and domestic revenue. For a business with a 31 March fiscal year-end, the annual return must be submitted on 7 July. The deadline for filing taxes for a business with a different fiscal year end is the seventh day of the fourth month following the conclusion of the business's related income year.
New Zealand continues to be a preferred location for entrepreneurs since it is regarded as the nation with the best business environment. New Zealand has a strong economy, accessibility to global trade, and a track record of attracting international investors. Registering a company in New Zealand will you a chance to expand your business by making it easier for you to access other strong economies. 
Company registration in New Zealand is an easy procedure if the steps are followed correctly. You can speak with our company formation specialists at Odint Consultancy if you want to register a company in New Zealand. Odint Consulting has extensive knowledge and experience in helping businesses set up and set up companies in New Zealand. Our team is well-versed in local regulations, procedures, and requirements to ensure smooth and successful planning that provides prioritizes efficiency and timeliness in our projects. Our flexible processes, attention to detail and proactive approach help speed up the workflow, allowing you to get things started immediately.