Company Registration in Taiwan in 2023-24
Southeastern & Eastern Asian parts of the globe have seen it all since the day of revelation. Taiwan is one of those areas of this region which stands out for its excellent skills and the money to grow the industries and businesses which brings an adequate amount of FDI to create an appropriate amount of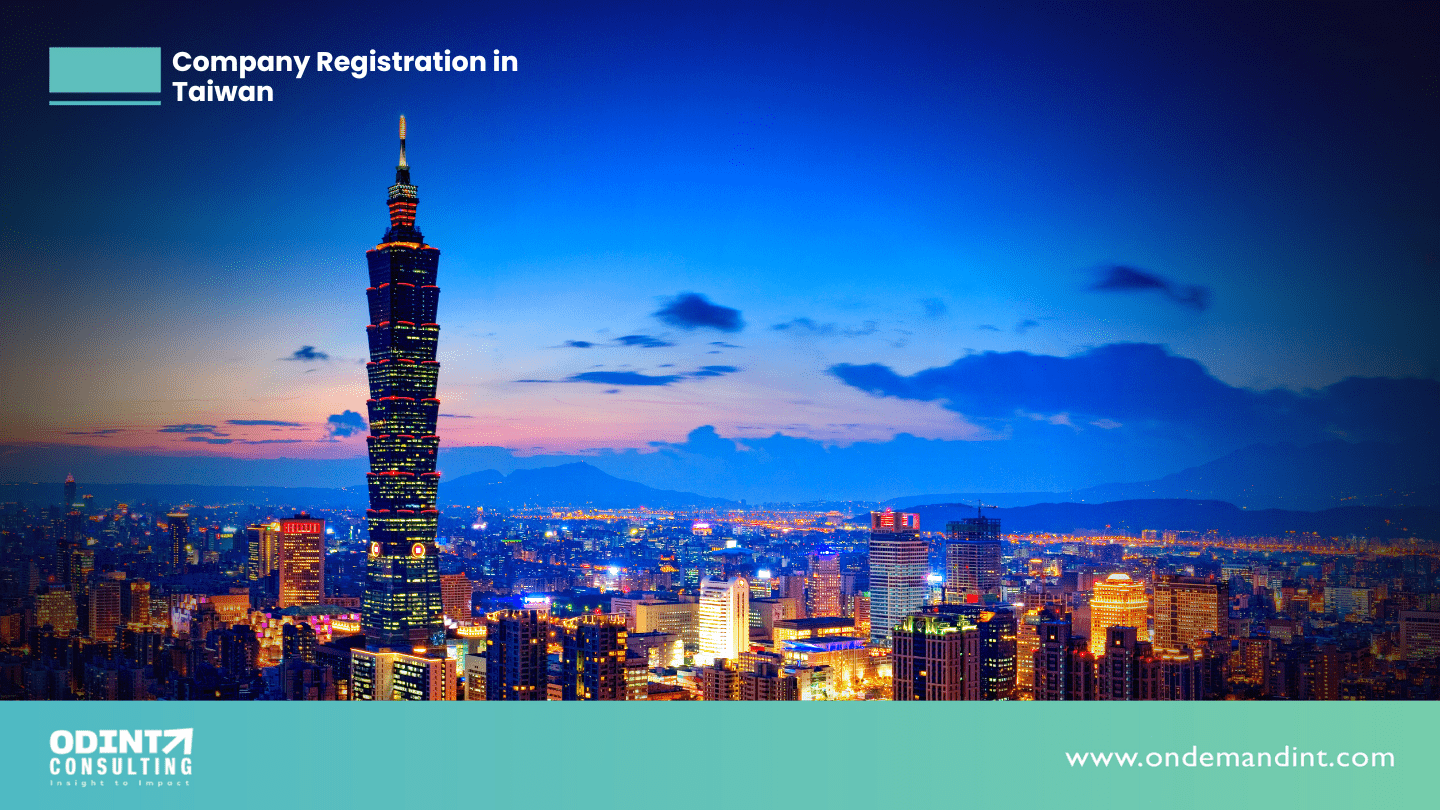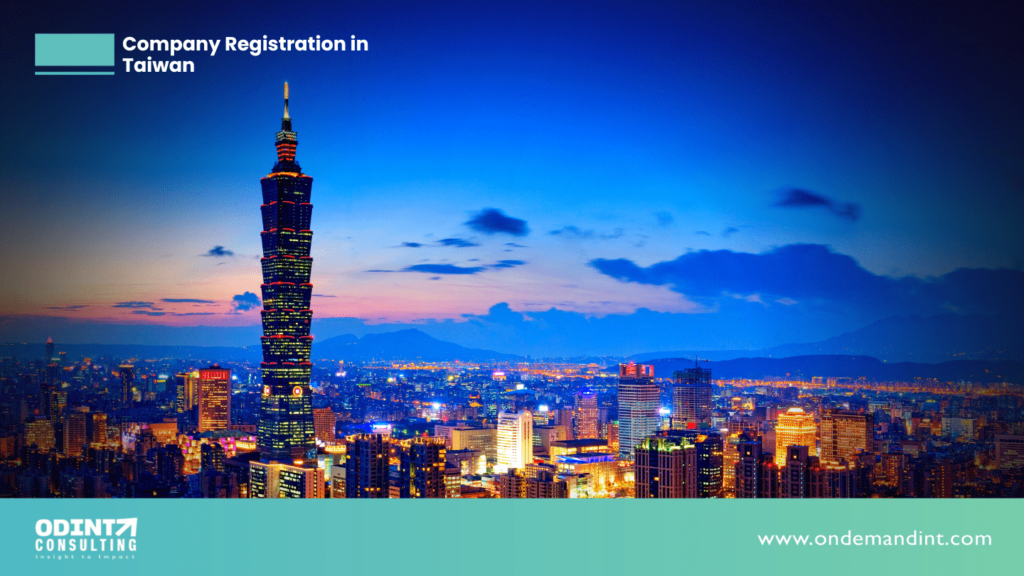 opportunities for the local population. The foreign investors who either wants to be part of the economy but also those who wants to register a company and contribute to the economy as well. 
Taiwan has been one of the major port islands in the east Asian region since the 7th century and has seen both economic boom and bust. This island country has been a hub for textile manufacturing and factories that produce light electronic appliances. This is one of the primary reasons why an international manufacturing unit should be found and incorporated in Taiwan. Workforce/labor is attainable at a cheaper rate, taxes are quite pocket friendly and the service sector contributes 2/3rd of the total country's GDP.

This article paints the steps and many more advantages of company registration in Taiwan.
Procedure for Taiwan Company Registration
Company registration in Taiwan is done through the Taiwan government's Department of Commerce (DoC).
The process of Taiwan company registration typically involves the following steps:
Choose a company name
The name of the firm should be distinctive and can't be the same as any existing company in Taiwan.
Obtain a business registration certificate
This can be done by submitting the essential documents, such as the company registration form, articles of incorporation, and proof of payment of the registration fee, to the DoC.
Obtain a tax registration certificate
This can be done by submitting the necessary documents, such as the business registration certificate, to the local tax office.
Obtain a company seal
This is a stamp that is used to seal official documents and is required for certain legal transactions.
Register for social insurance
Employers and employees in Taiwan are required to participate in the country's social insurance system.
Obtain essential licenses and permits
Relying on the type of the company, additional licenses and permits may be required.
It's important to note that the specific requirements and steps may vary depending on the type of company, such as a limited liability company or a joint stock company, and the industry in which the company operates. 
Documents Expected to Register a Company in Taiwan
The documents expected for company registration in Taiwan include:
Company name reservation certificate

Articles of Incorporation

ID or passport copies of the company's directors and shareholders

Company seal and seal registration certificate

Capital verification documents, such as a bank statement or capital verification certificate

Business license or permit, if applicable

Power of attorney, if the registration is being done by a representative
Types of Business Entities For Company Registration in Taiwan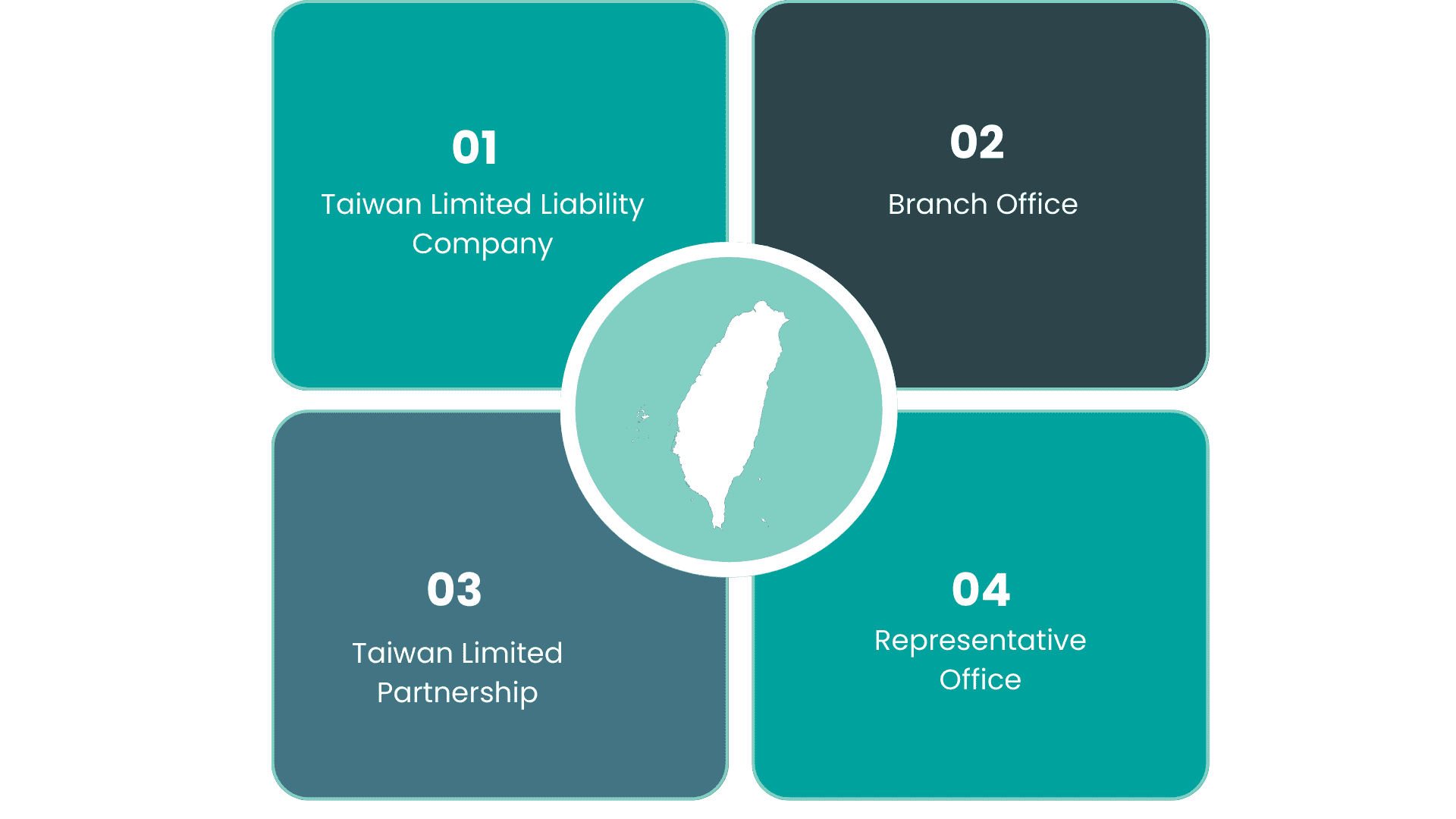 In Taiwan, several types of business entities can be established including:
Taiwan Limited Liability Company
A limited liability company is typically the preferred type of corporate entity for those looking to establish new ventures within the country. To register the LLC in Taiwan the shareholders must be one and one director is required. Both aren't required to reside in Taiwan. 
There aren't any minimum-paid-up capital requirements to establish an LLC with Taiwan. However, we suggest that investors have a minimum of $3,400. This will improve the chance of prompt registration and authorization from councils like the Ministry of Economic Affairs.
Taiwan Limited Partnership
Limited partnerships in Taiwan are established by at least two partners who are general partners as well as limited partners. A general partner is personally responsible for all liabilities as well as the day to daily obligations associated with managing the business. A limited partner, however, is responsible for obtaining capital for the company.
They will not be held responsible for any obligations. Since it is a tax-free entity, a partnership will not have to pay corporate tax in Taiwan. However, the partners are required to file their tax returns. The partnership must also complete and file the financial statement after each fiscal year.
Branch Office
While they're not considered to be separate legally-constituted entities, branches enjoy the same rights under the law as domestic corporations. The head office is responsible for all obligations of the branch office.
A foreign-owned company will manage the branch. The branch will not be able to have the minimum capital required unless the branch's office plans to recruit foreign employees in the initial year, and that requires NT$5 million.
Representative Office
A representative office is ideal for firms that wish to affirm a minimal existence before devoting themselves to Taiwan. It's one of the most efficient and speediest methods to incorporate a company, but it's not the most efficient in terms of operational options.
The only stuff that is expected is the process of applying. The application form for the representative office needs to be completed according to Section 383 under the Company Act and translated into Chinese when needed.
Eligibility for Taiwan Company Registration
To register a company in Taiwan, the following requirements must be met:
The firm should possess at least one director who is a Taiwanese citizen or a foreign national with a valid work permit.

The firm should possess at least one shareholder, who can be an individual or a legal entity.

The firm should possess a registered office address in Taiwan.

The company must have a business registration certificate, which can be acquired from the local government office.

The company must also register for various taxes, such as VAT and income tax.
It is also worth noting that different types of companies can be registered in Taiwan, such as limited liability companies and joint stock companies, and each type has its own set of requirements and regulations.
Various Taxes For Taiwan Company Registration
Taiwan has a progressive income tax system, where the tax rate increases as income increases. 
For the various entities to register a company in Taiwan, the following tax structure must be followed:
The corporate income tax rate in Taiwan is 20%, and there is also a 5% additional tax on income over NT$120 million. 

Value-added tax (VAT) in Taiwan is also assessed at a rate of 5%. 

Other taxes that may apply to a Taiwan company include land value tax, deed tax, and capital gains tax. 
It is important to consult with a local tax professional to ensure compliance with all relevant tax laws and regulations.
Cost to Register a Company in Taiwan
The cost to register a company in Taiwan can depend on the kind of firm and the services you use to register it. 
Typically, the cost to register a limited liability company (LLC) in Taiwan can range from around 100,000 to 200,000 Taiwan dollars (about 3,000 to 6,000 US dollars), including government fees and legal expenses. 
However, this cost can increase if you use additional services such as accounting, tax planning, or consulting services. 
Why Register a Company in Taiwan?
There are various explanations, for why one may want to register a company in Taiwan, including:
1. Strong economy
Taiwan has a strong and stable economy, with a highly developed infrastructure and a skilled workforce.
2. Strategic location
Taiwan is located in a strategic position in East Asia, making it a hub for trade and business in the region.
3. Favorable business environment
Taiwan has a business-friendly environment with low taxes and a relatively simple process for registering a company.
4. Access to markets
Taiwan is a member of the World Trade Organization and has free trade agreements with many countries, providing companies with access to a wide range of markets.
5. Access to talent
Taiwan has a well-educated workforce, making it an attractive location for companies looking for skilled employees.
6. Government support
Taiwan government provides many incentives and support for foreign companies to invest in Taiwan.
Overall, Taiwan offers many advantages for foreign companies looking to expand their operations in East Asia.
Advantages of Taiwan Company Registration
Various benefits of Taiwan company registration include:
Taiwan is an ideal location for businesses looking to expand into the Asian market, as it serves as a gateway to the rest of Asia.

It has a strong and stable economy, making it a credible spot to do business.

Taiwan has a favorable tax environment for businesses, with a corporate income tax rate of 20%.

It has a highly trained and qualified workforce, providing businesses with access to a talented pool of employees.

The government of Taiwan is supportive of foreign investment and provides various incentives for foreign companies looking to invest in Taiwan.
While you think that registering a company in Taiwan requires a complex process that requires compliance with various regulations and the submission of various documents. However, the country offers several benefits for foreign companies looking to establish operations, such as access to a large market, a well-developed infrastructure, and a skilled workforce.
It's recommended to hire a professional from Odint Consultancy to guide you through the process of company registration in Taiwan.