WHY CHOOSE INDIA
FOR COMPANY REGISTRATION
Largest Consumer Market in the Coming Decade
4th Largest Automobile Market, 3rd Largest Biotech Destination, many more
1.4 million Companies in Active Operation & Rising
Competent Legal Systems in Place to Safeguard Company Structures
Large Talent Pool at Low Wage Rates
Get 30 minutes of expert counselling. No Spam.No Sharing. 100% confidentiality
Company Registration in Netherlands
Company Registration in UAE
Company Registration in Turkey
Company Registration in Australia
Company Registration in Canada
GST Registration, GST Return Filing & GST Process in India
This article describes how you can register as a GST taxpayer, which is mandatory under law if you sell goods or services within India. You can also find information on how to file return forms and which of those apply to you. A brief checklist for GST registration and a list of relevant GST online filing forms are reviewed for your perusal.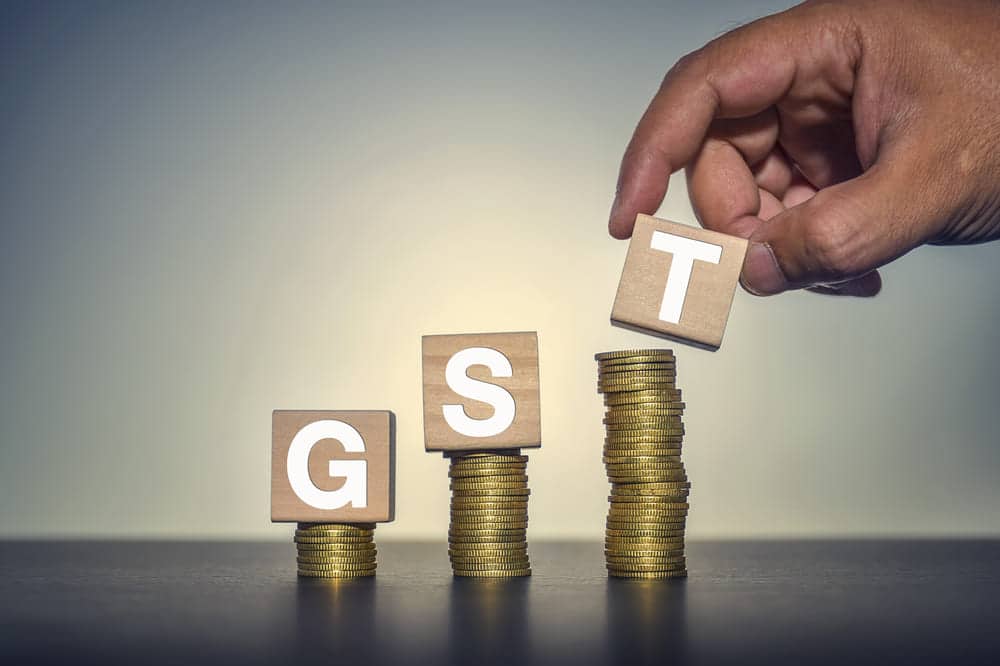 Why GST?
The Indian Goods and Services Tax (GST) was introduced as a statute in 2017 to rectify two of the biggest criticisms of indirect taxation prevalent before then. These rectifications were the cascading effect of tax and the multiplicity of taxes – from excise and customs duties to VAT(Value Added Tax) and octroi. Further, these taxes differed from state to state, thus making production, sale, and transport of goods very complicated and difficult.
More than 82% of the total number of countries in the world use some form of the GST. The GST unifies tax rates for goods and services sold within the country. The system also makes it easier to pay all taxes online at the place where the final goods are sold for consumption (a destination-based tax).
The Cascading Effect of Tax:
Taxes cascade when a country applies tax at every stage of the value chain of production – from manufacturing to retail. To explain with an example, consider a manufacturer of ceramic mugs. Let's assume that this manufacturer pays INR 100 as the cost of her inputs per mug. Next, she sells this mug to a wholesaler for which she has to pay the authorities a tax of 10%.
To the wholesaler, therefore, the cost becomes INR 100 + 10 = 110. Now the wholesaler adds prints to the mugs, thereby increasing their value and his costs amount to INR 30. Therefore, when he sells this mug to a retailer with a shop, he sells it at INR 110 + 30 + 14 (@ 10% tax on 140) = 154.
When the retailer buys the mug at INR 154 and adds his brand name, he adds further value which may cost INR 40 to him. So he will want to sell the mug at a minimum price of
INR 154 + 40 + 19.4 (@ 10% tax) = 213.4.
As you can see, the cost of the total value added from each stage is, in fact, just
INR 100 + 30 + 40 + 17 (@ 10% tax) = 187. By taxing the previously taxed amount at each stage, this system deliberately adds a cost of INR 26.4 to what could, effectively, have been a lower price. The lower price would have allowed the normal operation of the economics of demand and supply instead of distorting it.
How does the GST solve this problem of Cascading Taxes?
The multiplicity of Taxes:
Taxes in India have now been unified and centralized. Except for some State-based taxes, all the excise duties, value-added taxes (on sale of goods within a State), octroi (taxes on goods entering a State), etc., have been subsumed under the GST.
Types of GST Levied in India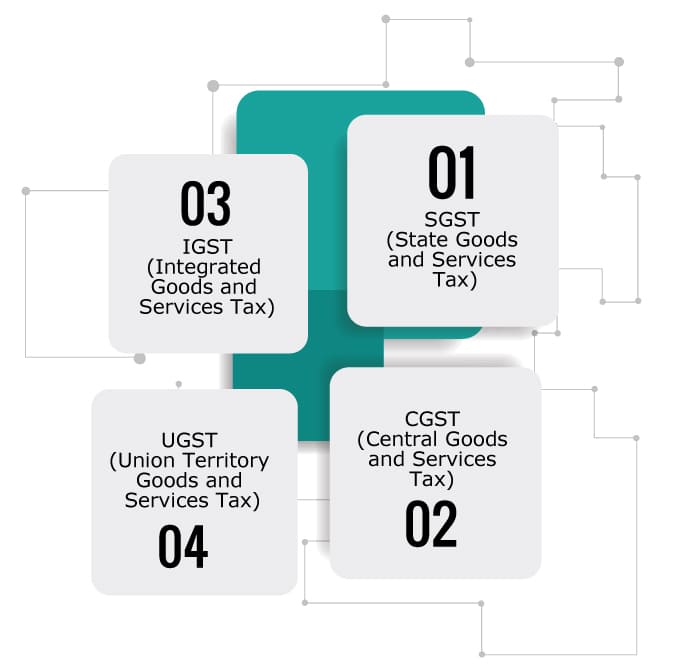 For the purposes of distribution of levies between federal forms of government, GST has been classified into the following types:
SGST (State Goods and Services Tax): The state government charges this tax on intra-state goods and services. Although the revenues are collected by the State Authorities where the transaction is questioned.

CGST (Central Goods and Services Tax): The CGST is charged on the intra-state transaction of goods and services, and it is imposed by the central government. Other concerned authorities are also responsible for collecting this revenue.

IGST (Integrated Goods and Services Tax): In this type of tax, charges are imposed on interstate transactions of goods and services and also applied on imports and exports of services. Also, both state and Central governments share the revenue collected through this IGST.

UGST (Union Territory Goods and Services Tax):The UGST is imposed by the union territory body and charged on all transactions carried out in Indian union territory. It is similar to payment rules on the GST platform.
The State or Union Territory within which the final consumer resides, collects and distributes this tax between itself and the Union Government.
For the purposes of tax, goods and services have been categorized into tax slabs with rates of 0%, 5%, 12%, 18%, and 28%. These rates are imposed on a good or service based on whether it is a necessity or a luxury. Usually, commodities of everyday consumption have a lower tariff rate of 5% or 12%, and luxury products are taxed in the slabs of 18% and 28%.
The goods and services tax is eventually paid by consumers, but it is remitted to the administration by the industry selling the goods or the service. GST is usually added by businesses to the price of their products. And a consumer who buys their products pays the actual price + GST. The whole amount of GST collected by businesses or sellers is forwarded to the government treasury.
5% GST RATE LIST
Medical Drugs and medicines

Print media advertisement
Dairy products, like butter, ghee, and cheese

Diagnostic kits and reagents

Notebooks and exercise books

Boarding renting between ₹1000 and ₹2500 per day
Domestic commodities, comprising hair oil, toothpaste, shampoo products, etc.

Salt-glazed stoneware pipes

Transformers, industrial electronics

Discharge lamps or electrical filaments

Furniture items made of bamboo

TVs with monitors up to 32 inches

Party arrangement and shamiana, food supplies
Tobacco products, such as cigarettes

State-owned and state-authorized lotteries
Exempted Products from GST
What is HSN Codes?
6-digit Harmonic Synchronized Number codes are needed to classify commodities for Customs and the GST. You will be required to associate each good or service with an appropriate HSN code while applying for Input Tax Credit, creating an E-Way Bill, or filing GST returns.
GST Registration Process
The new GST regime requires all companies concerned with the purchase or sale of commodities, the provision of services, or both to register and get a GSTIN. Registration is necessary anytime a company exceeds a certain level of output or when a person begins a new business that is likely to go beyond the prescribed threshold of turnover.
Businesses must register for GST if they meet up with one of the following requirements:
Documents Checklist for GST Registration
Regular taxpayers registering for GST registration must present the following documentation.
1. The company's PAN Card:
The GSTIN links GST registration to the business's PAN. As a result, before applying for GST Registration, the business entity must obtain a PAN.
2. Identity Proof along with a Photograph:
PAN, passport, driving license, Aadhar , or voter's identification card can be obtainable as identity proof along with photos. Photographs of the promoters/owners must also be supplied.
3. Company Promoter's Address Proof:
To address evidence, papers such as a passport, driving license, Aadhaar , voters' identity, and ration card can be provided.
4. Proof of Business Registration:
There is no need to submit this paperwork for a sole proprietorship because the proprietor and the entity are almost the same. It must present the partnership deed in the event of a partnership firm. In case you are an LLP or a company, you must submit the MCA incorporation certificate. Other business entities, such as a Society, Faith Denomination, Club, Government Agency, or Body of Persons, are necessary to submit a registration certificate.
5. Proof of business location:
It is required to address evidence for all commerce locations integrated into the GST registration application. The following papers can prove your address meant for GST registration.
Important Notes
Own property
Any evidence showing ownership of the building, like the most recent property tax receipt or a photocopy of the electricity rate.
Rented or leased property
A copy of a legal leasing agreement along with any paper sustaining the lessor's possession of the possessions, such as the most recent property tax receipt or an image of the energy bill. If the rental agreement or lease deed is not available, an affidavit to that effect, together with any document confirming ownership of the premise, such as a representation of the power bill, is enough.
SEZ premises
If the applicant's primary place of business is in an SEZ or it is an SEZ developer, suitable papers/certificates issued by the government of India have to be submitted.
In all other instances
A copy of the permission letter of the propositions' owner, jointly with any document supporting the consenter's ownership of the premises, such as an electricity bill. The equivalent documents may also be uploaded for shared belongings.
Evidence of a bank account
Present a passbook, an account number, or a bank statement.
Upload a scanned photocopy
Copies of the first page of a financial institution passbook or the suitability of a bank statement, or a copy of a canceled cheque with the name of the owner or company entity, bank account number, MICR, IFSC, and branch data counting code.
Identity Documents Required for GST registration
The applicant's Permanent Account Number (PAN)

A copy of the applicant's Aadhaar card

Certificate of amalgamation or testimony of business registration

Promoters/directors must give identification and address confirmation, as well as a photograph
The input tax credit is one of the most important terms of GST. It is like the backbone on which the base of GST is structured. Let us learn all and everything about Input Tax Credit.
What is Input Tax Credit?
Input Credit implies at the time of paying tax duty on the final output, you can diminish the expense you have effectively paid on inputs and pay the remaining sum.
At the point when you purchase an item/administration from a registered seller, you pay charges on the buy. On selling, you cumulate the taxes from the end-users. You balance out the taxes paid out at the time of buy with the measure of sale (charge on deals) and equilibrium obligation of duty (charge on deals short tax on buy) must be paid to the public authority. This instrument is called the use of Input Tax Credit in GST.
Most people get confused with what the GST ITC means. But it is just another term for the GST Input Tax Credit, which means to consume extra credits. In simpler words, the GST ITC (Input Tax credit) means to claim the credits of GST for further business. It can be claimed by all the registered taxable persons.
GST Claim applicable criteria
1. Usage of CGST credits: This is first allowed to be used for CGST and the balance can be utilized for IGST. It is not allowed to be utilized against the payment of SGST.
2. Usage of SGST/UGST credits: This is first allowed to be used for SGST/UGST and the balance can be utilized for IGST. It is not allowed to be utilized against the payment of CGST.
3. Usage of IGST credits: This is first allowed to be used for IGST then the balance can be utilized for CGST and the remaining towards the payment of SGST.
GST ITC can only be utilized against the payments made during business:
1. The ITC is not allowed to be used for the payment of personal Goods and Services.
2. If Goods and Services are partly for business and partly for personal usage then ITC can be used only for the part of goods and services used for business.
3. If Goods and Services are taxable partly and exempted partly, then they can only be used only for the taxable goods and services portion and not for exempted goods and services.
In other words, an input tax credit will not be available for Personal goods, exempted goods, supplies prohibited from ITC.
Input Tax Credit rate
According to the new standard, a citizen recording GSTR-3B can guarantee temporary Input Tax Credit (ITC) just to the degree of 10% of the qualified credit accessible in GSTR-2A. The measure of qualified credit is shown up upon those solicitations or charges taken note of, the details of which have been submitted by the ITC providers in the form GSTR-2A.
Who can Claim Input Tax Credit Benefits?
Input Tax Credit in GST can be claimed by a person who is registered as per the GST guidelines and fulfils the criteria mentioned below
1. The person has possession of a tax invoice
2. Has filed the GST return
3. Goods/services have been received
4. In case of installments of goods/services, the ITC can be claimed after the last installment
5. In case depreciation has already been claimed on capital goods, then Input Tax Credit can't be claimed
Documents required for claiming Input Tax Credit
Following documents are required for ITC:
1. Invoice of goods/services issued by the supplier
4. Input service distributor documents
6. Proof of payment of tax and invoice by the recipient
Reconciliation of Input Tax Credit in GST
ITC claimed by the individual needs to coordinate with the subtleties indicated by his provider in his GST return. If there should arise an occurrence of any confusion, the provider and beneficiary would be conveyed with respect to errors after the filling of GSTR-3B.
Reversal of Input Tax Credit GST
1. Capital goods are used partly for business and partly for personal use
2. Input partly for business and partially for exempted or personal goods
3. Payment has not been made within 180 days from the issue of the invoice
4. A credit note was given to ISD by the seller
5. Reversed ISD is less than required – This is determined after the yearly return is outfitted. In the event that the total ITC on the contributions of an exempted/non-business item is more than the ITC accumulated during the year then the distinction sum will be added to yield responsibility. Interest will be charged.
Reverse Charge Mechanism
Reverse Charge Mechanism (RCM) is a system in the GST where the receiver pays the tax on behalf of unregistered, smaller material and service suppliers. The receiver of the goods is eligible for Input Tax Credit, while the unregistered dealer is not.
GST Returns Filing
A tax return is a declaration that taxpayers are required to file under the law with the tax authorities. Under the GST Act, ordinary taxpayers will be required to furnish 3 monthly returns and 1 return every year. In the same way, there are separate returns for taxpayers who have opted for the Composition Scheme, taxpayers registered as Input Service Distributors, or persons liable to deduct or collect tax at source (TDS/ TCS).
GSTR-1
GSTR-1 is the return to be furnished for reporting details of all outward supplies of goods and services made.
Due Date: Monthly, by 11th of the following month.
GSTR-2A
GSTR-2A is a view-only dynamic GST return relevant for the recipient or buyer of goods and services. It contains the details of all inward supplies of goods and services i.e., purchases made from GST registered suppliers during a tax period. The data is auto-populated based on data filed by the corresponding suppliers in their GSTR-1 returns. Further, data filed in the Invoice Furnishing Facility (IFF) by the QRMP taxpayer, also get auto-filled.
GSTR-2B
GSTR-2B is again a view-only static GST return important for the recipient or buyer of goods and services. It is available every month, starting in August 2020 and contains constant ITC data for a period whenever checked back.
GSTR-3B
GSTR-3B is a monthly self-declaration to be filed, for furnishing summarised details of all outward supplies made, input tax credit claimed, tax liability ascertained and taxes paid.
Due Date: 20th of every month
GSTR-4
Filed by those registered under the Composition scheme supplying goods at wholesale. This is a return that must be filed every quarter.
Due Date: 18th of the succeeding month of every quarter
GSTR-5
Filed by non-resident taxpayers in India.
Due Date: 20th of every succeeding month
GSTR-6
Filed by Input Service Distributors. An ISD is an office/business that is set up to collect input tax invoices and disburses that available Input Tax Credit (ITC) to other offices belonging to the same business.
Note that these offices will have different GSTINs but the same PAN.
Due Date: 13th of succeeding month
GSTR-7
Filed by TDS deductors.
Due Date: 15th of succeeding month
GSTR-8
Filed by the 20th of every month when finalization of incoming and outgoing goods and services has been done.
GSTR-9
Filed by e-commerce operators or those who collect taxes on supplies made by them. This is due by the 20th of the succeeding month.
It contains the details of all outward supplies made, inward supplies received during the relevant financial year under different tax heads i.e. CGST, SGST & IGST and a summary value of supplies reported under every HSN code, along with details of taxes payable and paid.
Latest Update on GST Return Filing
Instead of filing multiple return forms over the year, the Central Board of Indirect Taxes (CBIC) now requires taxpayers to file one rationalized primary return form called the GST RET-1. You also need to file two annexures, the GST ANX-1 and the GST ANX-2, applicable to all categories of taxpayers.
Late filing of GST Returns
GSTR-1 and GSTR-3B, the total late fee – Rs. 50 /day
Interest
Interest is 18% per annum on Net tax liability
Composition Scheme
The Composition Scheme under the GST is a means of lowering the tax burden for small taxpayers who earn less than 150,000,000 as turnover in a year. You can use the form GSTR-4 to file returns under the Composition Scheme.
The cap on the amount charged as a late fee for GSTR-4 is now limited to INR 500 per return for Nil return filing and INR 2000 for all other GST returns under this scheme.
E-Way Bills
These are documents to be carried and checked at check-posts for goods in transit within an Indian State via road. E-Way Bills can be filed at http://ewaybill.nic.in/
If you are registered as a GST taxpayer, you cannot transport goods worth more than INR 50,000 via a motorized vehicle unless you generate an E-Way Bill number on the portal.
FAQ's
Get 30 minutes of expert counselling. No Spam.No Sharing. 100% confidentiality