Corporate Bank Account in France
If you're a resident as a worker in France or plan to do it shortly opening a bank account in France can simplify your life.
From paying taxes or utility bills, to collecting an income check, or purchasing property in France, needing a French bank account is essential.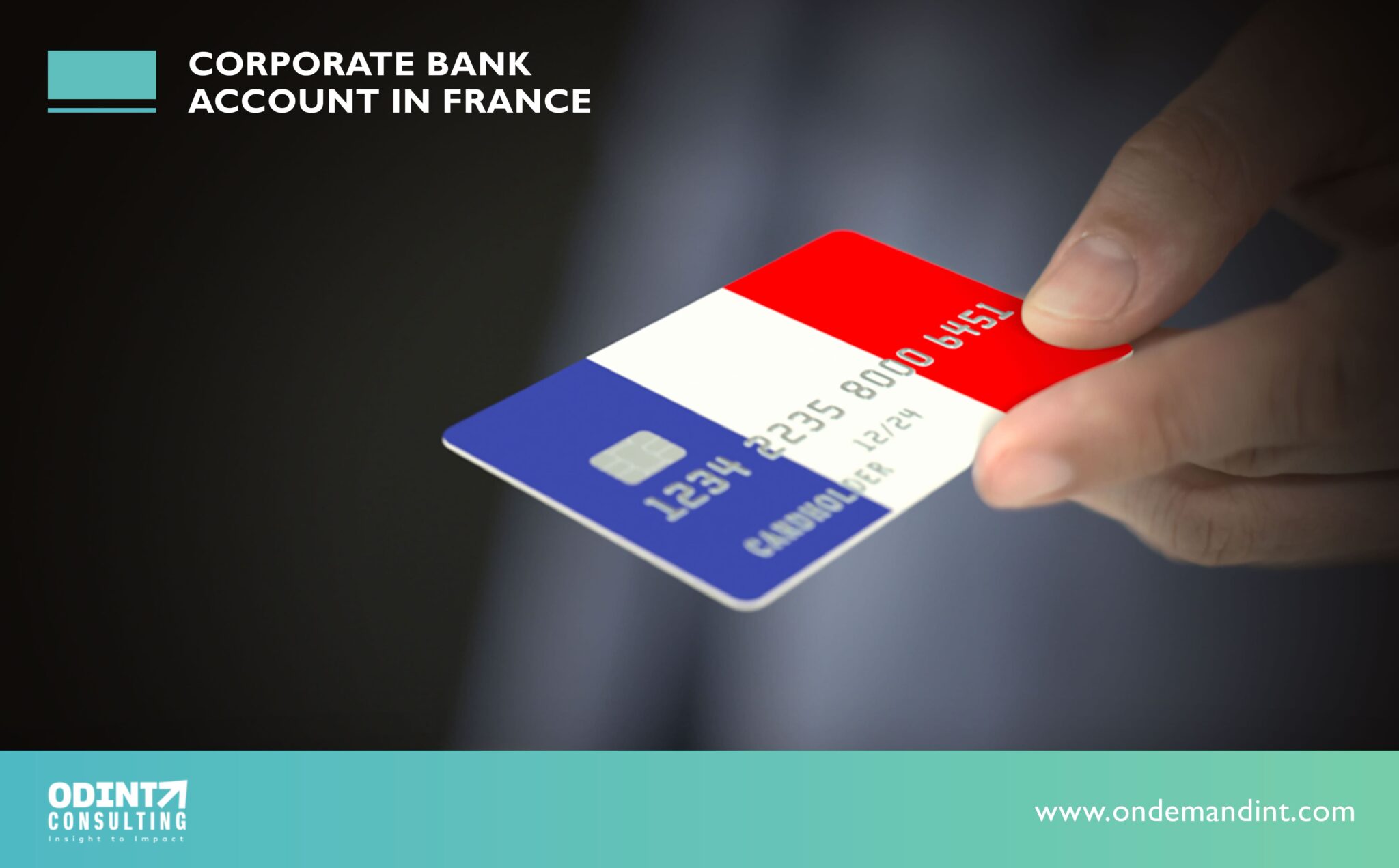 Additionally, you'll be able to cash in any earnings you earn and it's much easier to receive reimbursements for health expenses. 
France permits foreign residents to establish corporate bank accounts in France. There are also a variety of kinds of accounts that one can create, according to their specific needs.
In this article, we'll be discussing the procedure and documentation required for opening a bank account in France.
What are the reasons to open a corporate bank account in France?
You can reside with your family in France without opening a bank account in France since there is no lawful requirement for one. However, if you incorporate a company in France, managing your finances from other countries can prove difficult, and could be costly.
This is especially true about issues such as getting wages and the payment of utility charges in France. A corporate bank account in France can aid you in applying for a French mortgage.
France is also home to foreign banks that open branch offices or representative offices to meet the needs of citizens and businesses.
There is no doubt that the French bank system is one of the most modern which allows certain transactions to be conducted online. With a large number of bank branches operating locally in the smallest of villages in the country.
Procedure to open a corporate bank account in France
Below we've outlined the procedure for opening a bank account in France. 
Step 1: Select the bank that is located in France
The first step to open a corporate bank account in France is to must decide which bank they would like to work with, whether it's for business or personal issues. There are many banks in France and you can pick one based on your needs.
Step 2: Create the document
If you have a bank account for a company, a copy of the articles of association along with other relevant documents will suffice for opening a bank account in France. Utility bills for Unity and IDs are required for natural persons.
Step 3: Request information about the bank's services.
You should inquire about the services that the bank provides, to be aware of what they can expect. The bank's account manager will provide more information about the service.
Step 4: Request information about bank fees.
Most banks do not require fees for opening a bank account in France. However, some banks might request a small deposit to open an account with a bank. 
Step 5: Begin using the bank account
After the bank account has been established, you will receive the card along with personal information regarding the account. It is possible to begin financial transactions with a variety of currencies.
Documents required to open a corporate bank account in France
Here's a listing of the most important documents needed for opening a bank account in France:
Tax ID Number and Passport (of those who are entitled to the account)

Financial Forecasts/Business Plan

Certificate of Incorporation

Bylaws/Articles Of Association

The most recent annual return

Board resolution that appoints the representative legal

Latest financial statements

A document that explains precisely the legal entity(structure according to French legislation or law of international)

Evidence that the office is registered with the French company
Requirements to establish a corporate bank account in France
Based on whether an individual is a French resident or not, the bank may need several documents for creating a corporate bank account in France. 
The following are the requirements when opening a bank account in France:
ID card or passport valid is required for EU residents;

The residence visa for citizens of non-EU countries;

A utility bill, a rental contract, or an actual property deed to prove the address of the property;

A payslip.
Certain banks might also require a birth certificate or reference from another bank if the person applying for credit had different accounts. Additionally, foreign nationals can create a non-resident bank account even if they don't possess the right to reside in the country.
Foreign investors who are opening businesses in France must set up corporate bank accounts to facilitate the day-to-day operations of businesses. Odint Consultancy can guide you through the process of opening a bank account in France. They will also be able to assist with VAT registration in France. 
Types of accounts in a bank
There are three kinds of bank accounts offered by conventional French banks. This is a brief description of each.
Current Account (compete for courant

) – Most likely it's the account you're searching for. A current account is an ordinary bank account designed to use for everyday use. It enables you to use a credit card to make purchases, pay invoices, and withdraw cash from an ATM. Many banks offer special accounts such as non-resident accounts and student accounts that offer various advantages.

The general account (Livret

) – This is an account for savings that lets you transfer funds into or out of the account you have in. You can also choose the option of a savings account tax-free known as Livret A, which has additional restrictions.

A long-term savings bank account (Compte a Terme or Compte d'Epargne Logement)

– This savings account provides higher rates of interest to those who are saving money for a house or other major purchase.
When you research banks, look for banking fees. It is commonplace to find French banks to charge fees, for example, the monthly service fee or fees for debit cards. There are additionally ATM fees that differ between banks. To aid you, the French government has a no-cost tool that lets you look at the fees charged by various banks.
Costs to open a corporate bank account in France
It is possible to locate French business bank accounts that are free at the time of opening, but they might still be accompanied by an array of fixed costs and service charges.
There's a wide range of options available. The only way to choose one with an appropriate fee structure for your needs is to look at several companies and the specifics of your account. Make sure you read all the small print, for example, minimum balance, fall below fees, quarterly costs, and transaction fees.
Book end-to-end experts consultation with Odint legal, accounting and company formation experts.
The French banking system is one of the most modern which allows specific transactions to be conducted online, with a large number of local banks operating in the smallest of villages in the country.
If you are looking to open a corporate bank account in France with our specialist on Odint consultant, they will assist you throughout the process of opening a banking account within France.