Crowdfunding in Singapore 2022
A growing number of Singaporeans are turning to crowdfunding as a legal means of raising money for a range of objectives, such as obtaining the initial funding for a new company or sponsoring an endeavour. Crowdfunding entails collecting money from a big group of individuals, usually via an internet platform.
The objective of this post is to outline the landscape of crowdfunding in Singapore and provide information to those who want to make use of crowdfunding to raise funding to start or grow their business in Singapore. So, without any further ado, it's dive into it.
Crowdfunding is the process of financing a business by aggregating small amounts of money from various sources. However "crowdfunding" is formally considered a new field and is growing fast.
The idea of pooling resources of several organizations to fund a brand new venture is a long-standing one (for instance, it was the case when the British East India Company was established as a joint-stock corporation around 1599). 
The attraction of crowdfunding in Singapore is its simplicity, instead of having to deal with the massive documentation, bureaucratic processes, and expensive fees associated with an investment banking institution, entrepreneurs can swiftly and effortlessly raise money through an online platform for crowdfunding in Singapore. 
In general, VCs, investment banks & angel investors prefer companies & sectors, where they can invest substantial amounts (typically greater than 2 million USD) that are worth their due diligence expense and efforts. They avoid startups in the early stages because of the risks. 
Crowdfunding platforms can fill in this need; they serve as mediators that bring entrepreneurs seeking tiny funds and investors together. The intended audience of crowdfunding platforms is typically small-sized and mid-sized companies or start-ups. 
The majority of these companies struggle in the early stages due to their insufficient ability to access capital.
Crowdfunding Regulations in Singapore
Eventually, crowdfunding in Singapore is a new business & it is not without risk & fraud in this field. The fraud may be perpetrated through those who use crowdfunding platforms or by the business owner as well as through an investor.
In order to create a healthy & secure environment for all those involved in the industry of crowdfunding, Singapore has introduced a fundamental regulatory framework that must be met before platforms can offer crowdfunding in Singapore services. 
The Monetary Authority of Singapore (MAS) is the legislative body that regulates the activities of crowdfunding in the Securities & Futures Act (Cap.289) and the Financial Advisers Act.
Every crowdfunding in Singapore participant must be aware of these rules as they guarantee that honest investors are not in the hands of fraudulent users. If a platform is found to violate MAS guidelines, the sanction is not a possibility. MAS can conduct an enhanced audit or even remove the operator's license in the event of violations occurring again.
Regulations for Crowdfunding Platforms
Because platforms can act as financiers, they could require a Capital Market Services License (CMS) which can be granted by MAS. 2nd Schedule of Regulated Activities Part I includes a comprehensive listing of financial activities which fall within the scope of this regulation. 
In general, models of community for crowdfunding (reward-based and donation-based) are not subject to MAS; therefore, only models that generate financial returns from crowdfunding (equity-based and lending-based) require the license.
Regulations for Crowdfunding Investors
Singapore law defines a person who lends money using a crowdfunding platform to be a money-lender. Anyone engaged in the business of lending money is required to get authorization for money-lenders through Singapore's Registrar of Moneylenders. 
This license requires an initial deposit of at least S$20,000 and an experienced & qualified person responsible for managing the business of money lending. 
The exception can be granted when the loan is made exclusively to businesses or accredited investors. This kind of lender is considered the "excluded moneylender". The majority of crowdfunding in Singapore platforms use this exemption for investors.
Regulations for Companies Seeking Crowdfunding
Crowdfunding in Singapore may involve various kinds of relationships between an investor and the business. 
Before you begin to develop your crowdfunding in Singapore strategy it is crucial to understand the distinctions between these types of relationships:
Crowdfunding that is based on lending
Crowdfunding based on equity
The crowdfunding model is based on rewards.
Donations-based crowdfunding
Additional information about the various kinds of crowdfunding in Singapore, as well as the applicable Singapore regulations, are provided in the sections below.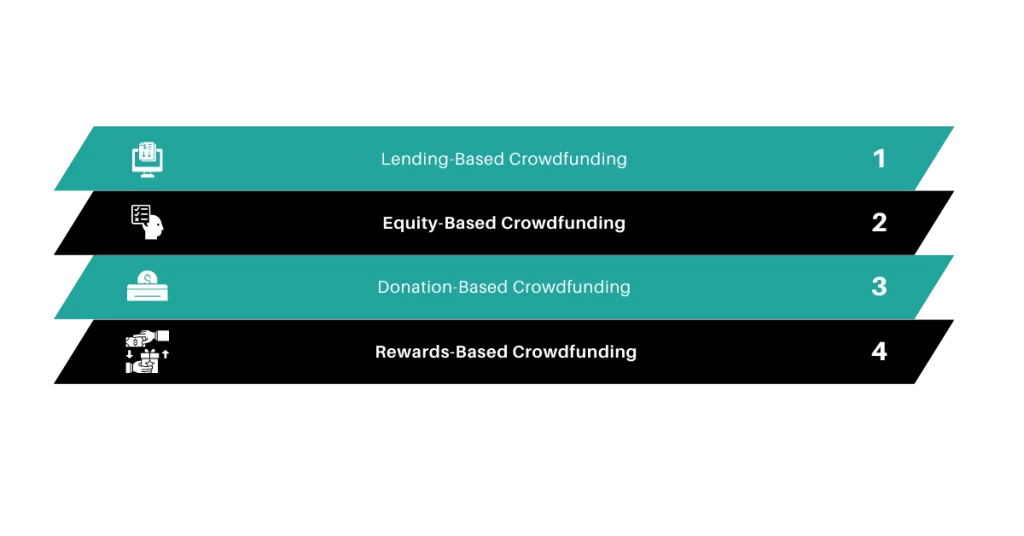 1. Lending-Based Crowdfunding

This kind of arrangement is also known as peer-to-peer lending. In this scenario, many people loan money to businesses. The company that is the recipient provides the legal obligation to repay the loan with an agreed-upon rate of interest.
The agreement may also stipulate the repayment date that is predetermined. The lending is mostly done via peer-to-peer crowdfunding platforms like FundedHere, Fundnel, InvestaCrowd, etc. 
Small offers:- The exemption is only applicable if the sum of funds of money raised by the securities issuer within any 12 months is not more than SG$5 million (or equivalent in another currency).
MAS has also altered the capital requirements of crowdfunding in Singapore companies from S250,000 to S$ 500.000. The company still has to be able to disclose the main risks of the investment to investors of all kinds.
Private advertisements:- To be eligible for this exemption the offer cannot be distributed to more than 50 people in any 12 months, and should not be accompanied by advertising that attracts people's attention people to an offer. 
Trustees and entities are considered to be one entity when the entity or trust is not formed primarily to acquire the securities which are the subject of the offer. 
However, if a trust or entity is created specifically with the intended acquisition of the security each person who is a member or trust beneficiary is counted separately.
Offers for institutions or investors who are accredited:-  These offers do not require a prospectus. If you are using an accredited crowdfunding platform soliciting crowdfunding in Singapore based on lending the platform will ensure that all the rules above are followed. Some of these platforms are funding societies, MoolahSense, Zopa, Upstart, etc.
2. Equity-Based Crowdfunding
The process involves investing in the capital of the business as well as receiving equity shares that allow for participation in the company's future profits. This is similar to the initial public offering on the stock market, with the sole difference being that businesses aren't listed, but are privately owned. 
Therefore, the shares that are part of an equity-based crowdfunded investment will not be traded on any secondary market, and therefore carry a risk of liquidity. Equity-based investment is common among startups because it offers the ideal risk-reward mix for investors.
MAS manages equity-based crowdfunding is similar to how it regulates crowdfunding based on debt. In both instances crowdfunding platforms, they must be licensed by a Capital Markets Service (CMS) license. 
3. Donation-Based Crowdfunding
In the case of donation-based crowdfunding in Singapore, investors function as donors and do not need to receive anything in exchange in exchange for their contribution. Typically, this type of crowdfunding in Singapore appeal is employed by charities and art projects as well as by social companies.
It's designed to ensure credibility, accountability, and transparency in appeals for charitable donations. It requires fundraisers who are online to sign a statement that they comply with regulations for fundraising. 
The code of ethics aims to help fundraisers make precise claims to donors. They must also maintain proper donor records and also make use of the funds to fulfill the purpose for which they were intended.
4. Rewards-Based Crowdfunding
This type of crowdfunding permits an entire group of people who are looking for a un financially rewarding benefit to pool their money to ensure that their intended reward will be realized. The reward could be an item or a service. 
Some examples of rewards are innovative gadgets such as a documentary and a personalized cruise and so on. The reward-based crowdfunding in the Singapore model is not included in MAS regulations.
In this scenario, however, fundraisers are also required to adhere to the law of charity. Similar to crowdfunding based on donations and reward-based crowdfunding, the COC code of practice COC code of conduct governs the reward-based model too.
Crowdfunding Your Venture - A Step-by-Step Roadmap
Crowdfunding in Singapore is a way for anyone to raise money for an idea or project and help bring it to life whether it's a novel social venture or gadget, mobile application video game, or something else. The diverse concepts have one thing that they all share: they will be showcased on the internet crowdfunding platforms. Therefore, your presentation as well as the presentation of the idea should appear appealing to the public. It is important to keep in mind that you're inviting strangers to donate their money for you.
For a broad overview and better understand how to execute a successful campaign, examine the examples below of successful campaigns:
Flowing
Hopping Gnome Brewing Company
TrackR Bravo – The Thinnest Tracking Device Ever
Lily: An Incredible Way to Learn Chinese
A step-by-step guide to organizing your crowdfunding campaign can be described as follows:
Step 1:- Define your fundraising needs
Determine how much you will need to ensure a successful project. Make sure you have the right financial information before you begin soliciting money. Develop your business plan. Define the organizing of your campaign. Then, think about what you can offer potential investors.
Step 2:- Make the program
The structure of the plan will be completely dependent on the nature of the project. The plan should include not just a beautiful campaign, but also the steps to implement it well. 
Proficient crowd funders will put their projects on the internet starting at the third or second stage of their plans since the public is more inclined to invest if they can see the final results are near.
Step 3:- Select a platform that has an approach to crowdfunding that is compatible with the idea. 
Research the existing crowdfunding platforms and select the ones which are a suitable fit for the market your business plan is aiming to.
This isn't the sole factor that can decide the fate of your project however it is important to be able to meet the needs of potential investors. Research the experience of fundraising for similar initiatives and refine your plan using the information.
Step 4:- Tell your story in a thoughtful way
Let your potential viewers be aware of what your product or idea could benefit them. This is an essential element, so make sure you spend the necessary time on this. Make a video, a prototyping, a schematic drawing, and so on. 
Make sure you convey your ideas clearly through an article, a website, or a video introduction. Be authentic, tell your story, and make it memorable Be authentic.
Step 5:- Make your website appear professional
The website of your venture will make it appear more professional. If you have a professional-looking website an investor who is interested in your project is more likely to see your project as serious and will find you more trustworthy than similar projects that do not have it.
Step 6:- Consider the idea of promotion
Making your project popular is among the most critical, yet challenging challenges you'll face. Ideally, your promoters should be those who have put their money into your venture and are eager for the project's success. You might also look at cross-promotion with other similar campaigns.
Step 7:- Give something back in exchange
Many successful campaigns provide perks to their supporters in return to show their appreciation for the money that was invested. To inspire investors, consider the possibility of tiring rewards. The more they give, the more rewards they receive.
Step 8:- Changes should be made in response to the feedback
Make sure you have had enough time to analyze and evaluate your prototype product or idea, and then made needed adjustments prior to the beginning of your marketing campaign. 
But, things that aren't expected can happen, so you should consider feedback as a serious matter. It will also demonstrate your commitment and may draw more funding.
Step 9:- Update your target audience
Be regular and sincere in your updates. If you fail to keep your customers informed about your progress, they will be bored and you won't be able to attract investors soon. 
If things don't go the way you'd like it's essential to communicate the situation. Be honest about the issues.
Read More: A Successful Online Fundraising Campaign
Crowdfunding has grown to be a well-liked and practical alternative funding option in Singapore as it reduces the likelihood of becoming involved with the excessive paperwork, and exorbitant costs connected with an investment banking institution. The Monetary Authority of Singapore (MAS) has seen the potential of crowdfunding and implemented rules to foster a safe and reliable atmosphere for everyone working in the sector. Nevertheless, it is essential to run a successful campaign in order to collect funds using crowdfunding platforms.
Therefore, before participating in crowdfunding projects, it is crucial to thoroughly weigh all possible dangers and benefits. You can accomplish your goals if you develop the right structure and plan.
Get in touch with our specialists at Odint Consulting if you have any questions about crowdfunding in Singapore. You can create the ideal framework and campaign strategy with the assistance of our professionals.