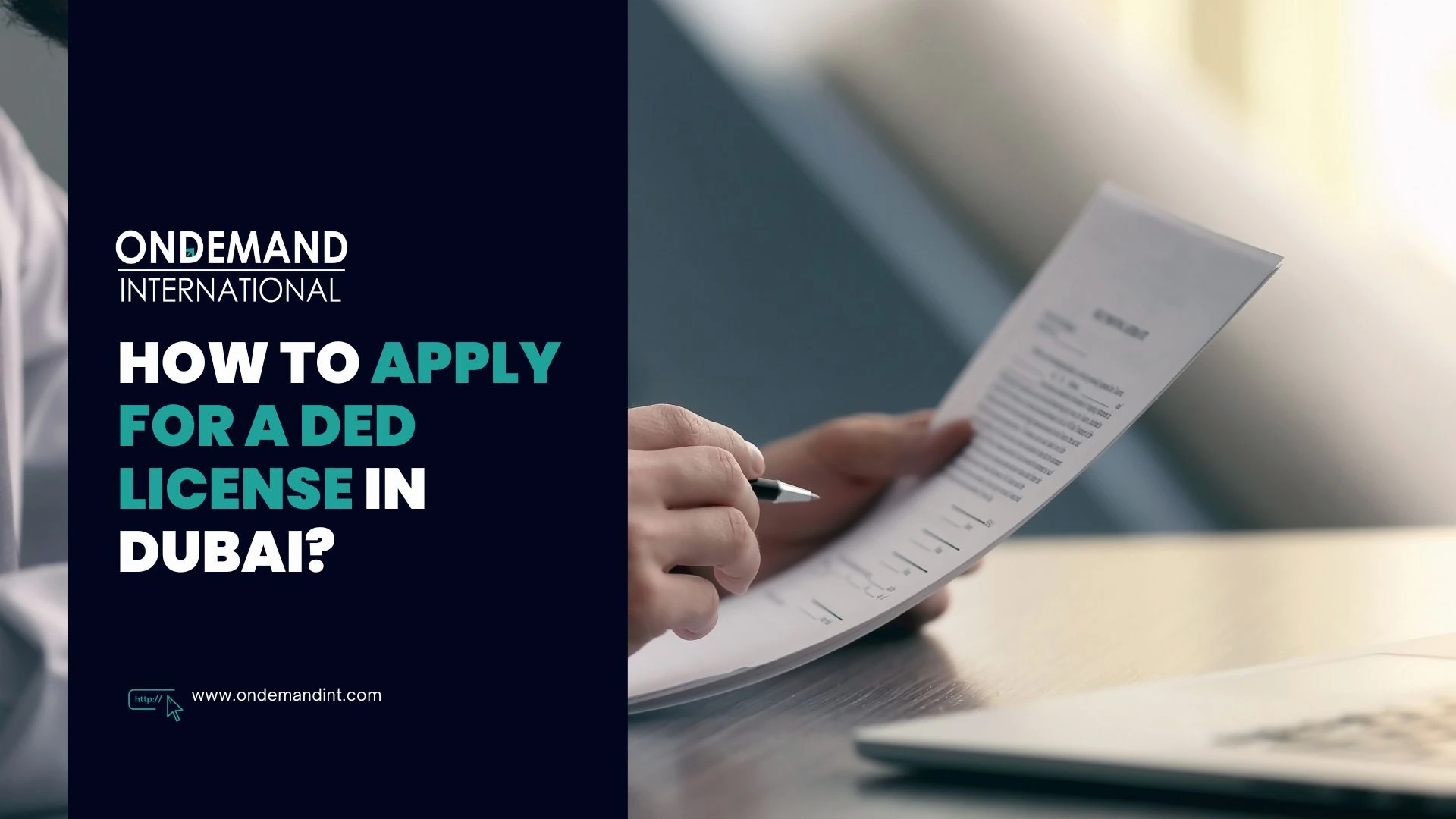 Dubai's commercial, professional, and tourist industries are supported by the Department of Economic Development. The Dubai DED professional license is a one-stop shop for entrepreneurs looking to build their businesses in the UAE. You can provide financial consulting, legal advice, and healthcare services, or create a beauty shop, printing firm, or other business.
Obtaining a professional license from the DED is an easy process if you have proper information about the procedure. When you contact the legal advisers at OnDemand International, you won't have to worry about any of this. We handle all of the laws and paperwork so you can focus on other aspects of your business's growth.
What exactly is a DED License in Dubai?
The DED license is your legal authorization to do all of the business operations specified in the license. The license is issued promptly by the Department of Economic Development following a satisfactory review of your application.
In Dubai, you can apply for a commercial license or a DED license based on your business needs. However, if you work with OnDemand International, you won't have to worry about the sort of license or the methods to obtain it. We help you achieve your desired license by doing all of the legwork for you.
Procedure to Obtain a DED License in Dubai
To obtain a professional license from the DED and begin your business activity, follow the steps outlined below:
Determine the legal entity type:

With a professional license, you can establish a service agency or single proprietorship in Dubai with 100% foreign ownership. All you have to do is make a list of all the activities you want to do and submit it to the DED. If there is an issue with your activity approval list, they will contact you.

Select a trading name:

The following step is to reserve a valid trading name for your UAE venture. Before finalizing the list of proposed business names, applicants must fulfil all naming convention guidelines. Make sure you don't use any negative remarks or language that would offend a community or faith.

Engage the Services of a Local Service Agent:

A local service agent (LSA) assists you in obtaining a DED license in Dubai without having any equity in your company. They supply the necessary documentation, licensing, and translation support but have no legal ownership in your company. 

Obtain a business license:

Once you've completed all of the preceding stages, you may begin the DED mainland license setup procedure. Make sure you submit all of the necessary documentation and certificates to the DED for review. If the economic body discovers an error in your business license application, they will inform you.
Establish a bank account:

Opening a corporate bank account is essential for keeping track of all your financial transactions. Always go with a reputable bank that provides long-term benefits and first-rate financial services.
Cost of DED License in Dubai
The cost of the DED license is determined by your business activity and the region in which the firm is formed. In Dubai, a DED professional license costs between AED 7,000 and AED 15,000. This includes a DED license, trade name, administrative services, and many other fees.
A commercial DED license in Dubai is greater in cost because it allows you to conduct more business activities. Furthermore, the quantity of visa applications varies across different licenses.
As a result, DED Dubai business incorporation might cost anywhere between AED 11,000 and AED 35,000. The best aspect is that both of these licenses allow you to have entire corporate ownership.
Renewal of DED License in Dubai?
To keep their DED license in the UAE valid, business owners must renew it regularly. If you are detected with an invalid license, the UAE government can fine or blacklist your company. Renewal of a trade license is a simple process.
Simply renew your lease, complete the BR/1 form, and submit it with a copy of your old license. The license will be renewed for one year, after which it must be renewed again.
Advantages of a DED License in Dubai
Dubai's wealthy marketplace and superior infrastructure provide numerous commercial advantages. Among them are the following:
Access to the Local Market:

The best part about establishing a DED Dubai company is exposure to the local market in Dubai. You can trade within Dubai as well as across the UAE if you have a DED license.

100% Ownership:

The best feature about establishing a company in Dubai is that it can be entirely foreign-owned. All you need is the support of an LSA, whether on the mainland or in one of the free zones. He will assist you in obtaining the business license without any legal involvement in your venture.

Diverse Business Opportunities:

In Dubai, the DED maintains a list of over 2,000 permitted business activities. You can choose which ones to conduct out in the UAE. Furthermore, you can get external permissions for activities not covered by your license.
Documentation Required to Obtain a DED License in Dubai
Here is a comprehensive list of all the documentation and approvals required to obtain a DED professional license in Dubai:
Completed license application form

Copy of the shareholders' passports

Visa page or entry stamp

Passport-size photograph taken by the protocols (size, background colour, etc.)

Initial approval receipt and previously submitted documentation

Certificates of external approval (if any)

Your local service agent's (LSA) Emirates ID
Conclusion
With a DED license, you can start, run, and expand your business in Dubai. The best thing is that you are always in direct contact with the department, which eliminates the possibility of miscommunication. All you have to do now is contact the business advisers at OnDemand International to get your venture started in the Emirates. We offer low-cost business setup services to assist you in forming your own company in Dubai.
In Dubai, the penalties for an expired trade license range from AED 5,000 to AED 50,000.
Click Renew License on the Business Dashboard's My Transactions page.

In the License renewal information section, put the license number that needs to be renewed into the License number that needs to be renewed text box.

Select Renew.