There are a variety of motives to get residency in the Netherlands. It is essential to pick the reason that best suits your needs, as it will affect the application process you choose and make.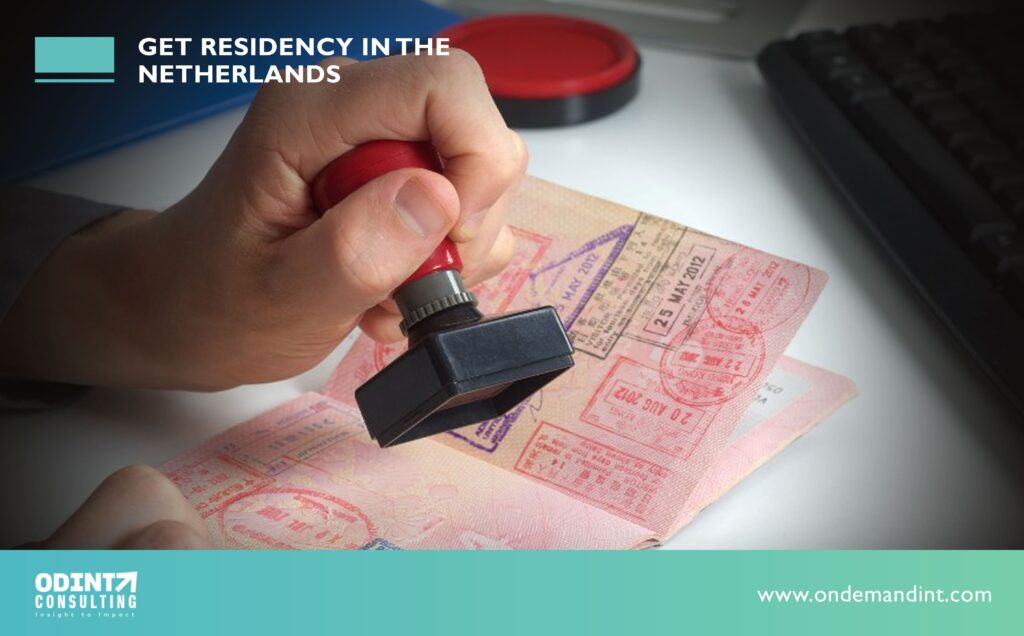 A residence permit as well as a short-stay visa is not necessary for those who are within the Netherlands for less than 90 days, and the country you are from has a non-visa arrangement in place with the Netherlands. 
Finding the best employees to help global expansion of your business can be a challenge. This guide will provide you with useful tips that can aid to (or your staff members) relocate or get residency in the Netherlands as non-EU citizens with our experts.
Get Residency in the Netherlands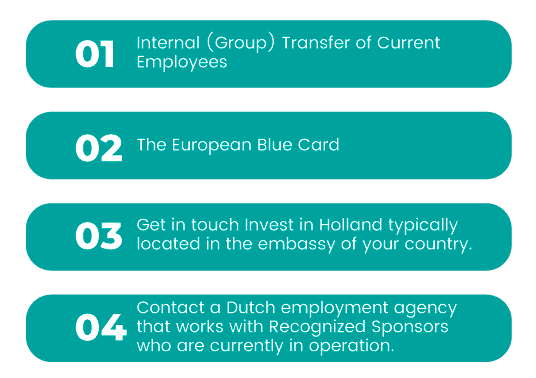 1. Internal (Group) Transfer of Current Employees
A commonly used method to get residency in the Netherlands is to get a residence permit for an employee who has worked for the parent company for at least 3 months and who meets the minimum salary requirements within the Netherlands (3,549 EUR, >30 years).
If you have some time, you could hire a new employee and pay for three months of their salary at a local cost in India, Dubai, or the location of your company. Within three months you can apply for a residence visa to the Netherlands and typically granted within 8 weeks.
It is to be noted that the candidate must possess the required professional experience to be able to justify the salary to be paid in the Netherlands.
Are you currently in a jobless state and are looking to get a residency in the Netherlands? 
Find a local company that wants to grow and wants to join the Dutch market. Consult Odint Consultancy. 
2. The European Blue Card
Every employee can apply for any employee who is eligible to use the EU Blue card, even when the Group has not given them a payment. In comparison to ICT relocation in general, this EU Blue card has two disadvantages. First, the requirement for a degree from a university is required (and legalization could be relevant) in addition to the fact that wages for minimum employees are (much) more than the current rate (5,670). Based on our previous experience, the application process is longer. The EU blue-card application is indeed limited to residency programs designed for "workers," but it can also be used to apply to other programs for residency.
3. Get in touch Invest in Holland typically located in the embassy of your country.
This agency of the government, called the Netherlands Foreign Investment Agency, might be able to provide your business with a recommendation letter that will allow your company to become a recognized Sponsor.
If you're an entrepreneur but you're not in the position to apply to get a residency in the Netherlands visa or a visa for relocation, the NFIA will help you locate a Startup Facilitator to help you make an application for this Startup Visa.
4. Contact a Dutch employment agency that works with recognized Sponsors who are currently in operation.
Are you unemployed but are you enjoying your time at home in the Netherlands? If your resume allows you to apply for positions with a starting pay in the region of EUR3.549 (> 30 years old) It is possible to contact acknowledged sponsors. Recruitment agencies could assist you in this regard by recommending companies like Young Capital, Randstad, and Adecco.
Your employer can submit a request for a Highly skilled Migrant visa by the minimum income requirement for a sponsor who is qualified.
Read More: Burgerservicenummer: BSN Number for the Netherlands
Who should submit an application for a Netherlands residency permit?
If you plan to get residency in the Netherlands then you'll need to apply for residency permission, except if you are a citizen of either the European Union (EU), European Economic Area (EEA), or Switzerland.
If you're a relative of a citizen of Europe, the EU, EEA, or Switzerland and you are not a citizen of Switzerland, you don't require a residence permit to the Netherlands. However, you'll be required to apply for verification in accordance with EU Law (certificate of lawful residency).
If you do not require a Dutch resident's permit to stay, you'll have to register with the local Dutch authorities if intending to stay for a long time.
If you don't fit into one of these 2 categories, you'll require a Dutch residence permit to remain in the Netherlands for a long time.
Conditions for acquiring the Netherlands Residence Permit
To be eligible to obtain a residence permit to the Netherlands it is necessary to meet the following conditions in general:
Your identity document or passport must be valid throughout your stay

You should have adequate financial resources. This could be pay slips or salary statements, proof that the ownership of shares in a business, or the letter of an agency for benefits.

You have to be covered by an insurance policy for health. It has to protect you for the entire duration of the time that you will reside in the Netherlands.

You should not be "a threat to the peace, public order, and national security."

It is necessary to show proof of why you are staying. Examples include an employment contract issued in the Netherlands or a form from a Dutch education institution or a divorce or certificate of civil partnerships.

It is possible to undergo a tuberculosis test. It should be conducted within 3 months of your arrival in the Netherlands. If you are suffering from this disease, then you should be treated for it. If you fail to take the test within 3 months, your permit to reside could be revoked.
The only people who are not required to undergo a tuberculosis screening are EU/EEA citizens or those who hold valid residence permits from one of the EU/EEA countries or Switzerland and those who have an EC residency permit for long-term residents of an EU country as well as their families members.
Be aware that these are only general guidelines. In accordance with the reason for your staying the purpose of your stay, you'll be subject to other conditions. For instance, a study visa comes with different restrictions and requirements than an employment visa.
Read More: Open a bank account in the Netherlands
Do you require an individual sponsor to obtain the Netherlands Residence permit?
Yes, you'll probably require an individual sponsor in order to obtain a Netherlands resident's permit. The sponsor is the person or business that is interested in traveling in the Netherlands.
If, for instance, you're applying for a permit to reside with family members (family visa) A family member or partner could serve as your sponsor. If you are seeking the right to reside at a university in the Netherlands (study visa) Your educational institution can be the sponsor. If you're looking for an employment permit in the Netherlands (work visa) Your company is sponsoring you.
Types of Netherlands Residence Permits
Based on the validity
Temporary Residence Permit:

The permit holders to stay within the Netherlands for up to five years. In the event of five years, they can prolong their visa, however, this is not always permitted.

Permanent Residence Permit (to Reside Permanently):

If you've been living in the Netherlands for five consecutive years, you could be eligible for a permanent residency permit. This permits you to stay in the Netherlands for a long time.
If you're planning to visit the Netherlands for less than 90 days and your home country has not signed an agreement on non-visa with the Netherlands then you'll need to be able to obtain a short-stay visa before traveling. It is possible to apply for a shorter stay visa at the Dutch consulate or embassy in the country you reside in.