Opening A Bank Account In Canada in 2023
If you're planning to move to Canada or have recently arrived, one of the essential tasks on your checklist should be opening a bank account. A Canadian bank account offers convenience and access to various financial services that will help you settle into your new life smoothly. Numerous advantages come with having a local bank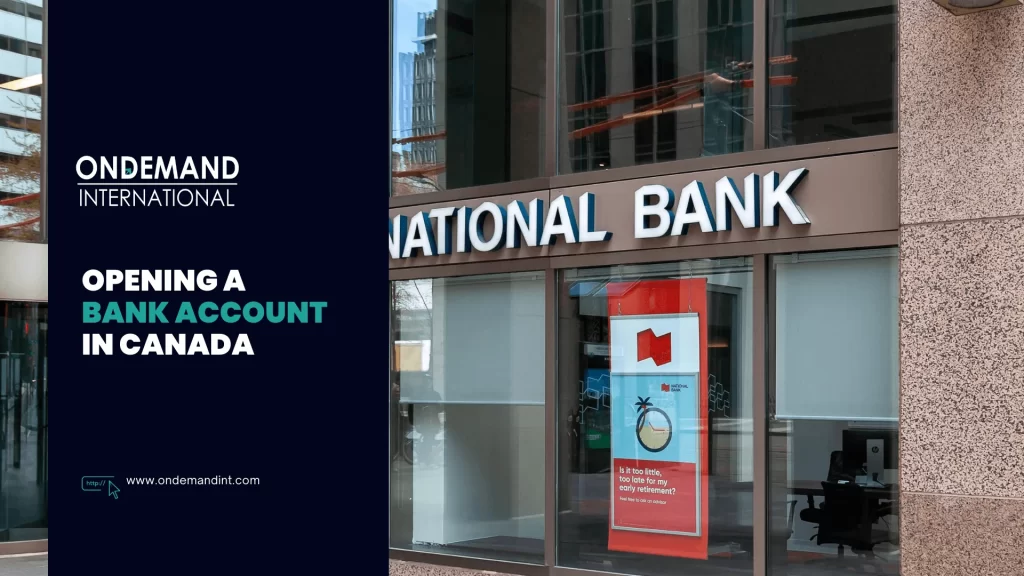 account, including simpler access to financial services, better spending management, and credit growth. From receiving your salary to paying bills and managing daily expenses, a bank account is a fundamental tool for establishing your business in Canada.
This article will describe how to open a bank account in Canada and will also describe the different types of bank accounts and the top Canadian banks.
Forms of Bank Accounts in Canada
There are numerous sorts of bank accounts accessible in Canada, each suited to a certain set of requirements and preferences.
Here are some common forms of accounts available to open a corporate bank account in Canada:
Savings Account:

It is a basic account designed for storing funds while earning a small amount of interest. It's suitable for keeping emergency funds or saving for short-term goals.

Foreign Currency Account:

It allows you to hold funds in currencies that are not in Canadian dollars. It is useful for frequent international travelers or those who carry out business elsewhere.

Business Account:

Designed for entrepreneurs and businesses, these accounts offer various features to manage business finances, such as multiple users, transaction limits, and account analysis.

Investment Account:

While not provided directly by traditional banks, investment accounts offered by financial institutions or brokerage firms allow you to invest in stocks, bonds, mutual funds, and other financial instruments.
Identification Record To Open A Corporate Bank Account In Canada
The bank needs to be able to verify your identity using valid identification before allowing you to establish a bank account in Canada. There are two strategies you can use to fulfill the identification (ID) criteria. You must present genuine identification documentation.
1. Two pieces of documentation from a dependable source should be provided:
One paper should have your name and address, while the other should provide your name and birthdate.
2. Give any documentation with your name and birthdate on it that comes from a reputable source.
Procedure For Opening A Bank Account In Canada
Opening a bank account in Canada is a simple procedure that involves a few key steps.
Whether you're a newcomer or a resident looking to set up a new account, here's a step-by-step guide to help you through the procedure:
Step 1: Research and Choose a Bank
Begin by researching different banks in Canada to find one that complies with your financial requirements and preferences. Aspects including account kinds, costs, services, and branch locations ought to be considered. Popular institutions in Canada include RBC, Scotiabank, BMO, and CIBC.
Step 2: Apply in Person or Online at the Bank
Once you've chosen a bank, decide whether you want to visit a bank branch physically or apply for an account online. Most major banks offer online account opening services, which can be convenient if you prefer a digital approach.
Step 3: Collect Required Documentation
Before going to the bank or applying online, ascertain that you have the necessary documents ready. Commonly required documents include valid government-issued photo identification, proof of address, etc.
Step 4: Fill Out the Application Form
You have to fill out an application form, either in person or digitally. Personal information, contact information, and facts regarding your employment or educational status will all be requested on the form. To avoid any delays, be careful to supply precise information.
Step 5: Provide Identification
When visiting a bank branch, bring your identification documents for verification. Bank representatives will need to confirm your identity prior to beginning the procedure of creating an account.
Step 6: Initial Deposit
Many bank accounts need initial funds to activate the account.  The minimum deposit fund may differ based on the form of account you're opening. Check that you have the required funds available to meet the deposit requirement.
Step 7: Set Up Online Banking 
If you're opening an account that offers online banking services, take the opportunity to set up your online banking profile. Our experts at OnDemand International can assist you in creating a business account digitally.
Can You Establish A Bank Account Online In Canada?
Yes, you can establish bank account online in Canada. Many banks offer the convenience of online account opening to make the process easier and more accessible for customers.
Here's the process of opening bank account online in Canada:
Select a Bank:

One of the initial phases of opening bank account online in Canada is to choose a bank that offers online account opening and the type of account that suits your needs, such as a chequing account, savings account, or specialized account.

Check out the bank's online portal:

Visit the bank's main web page to begin the online account opening process.

Present Personal Information:

You'll have to present personal details, like your name, address, date of birth, and contact details. Make sure to have valid identification documents on hand, like a driver's license, passport, or another kind of official identification.

Select Account Type:

Select the type of account you intend to create. The bank's website will usually provide information about the features and benefits of each account type.

Submit Documentation:

Your identity documents may need to be sent as scanned copies. This is typically done via an online form or document upload feature on the bank's website.

Verify Identity:

To ensure security and compliance with regulations, the bank may ask you to complete identity verification steps. This can entail supplying more information or responding to security inquiries.

Review:

Review the data you've provided to make sure it's accurate before completing the account opening. Additionally, at this time, you may need to agree to the institution's conditions.

Fund the Account:

Depending on the bank, you may need to make a deposit for the account to be activated. This can often be done through electronic funds transfer or by linking an existing account.

Receive Account Information:

When your account is properly opened, the bank is going to provide you with the details of your account, including your account number and any login credentials for internet banking.

Access Online Banking:

You can manage your account, conduct transactions, and access a variety of financial services by logging in to the bank's online banking system with your account information in hand.
Leading Banks For Opening A Bank Account In Canada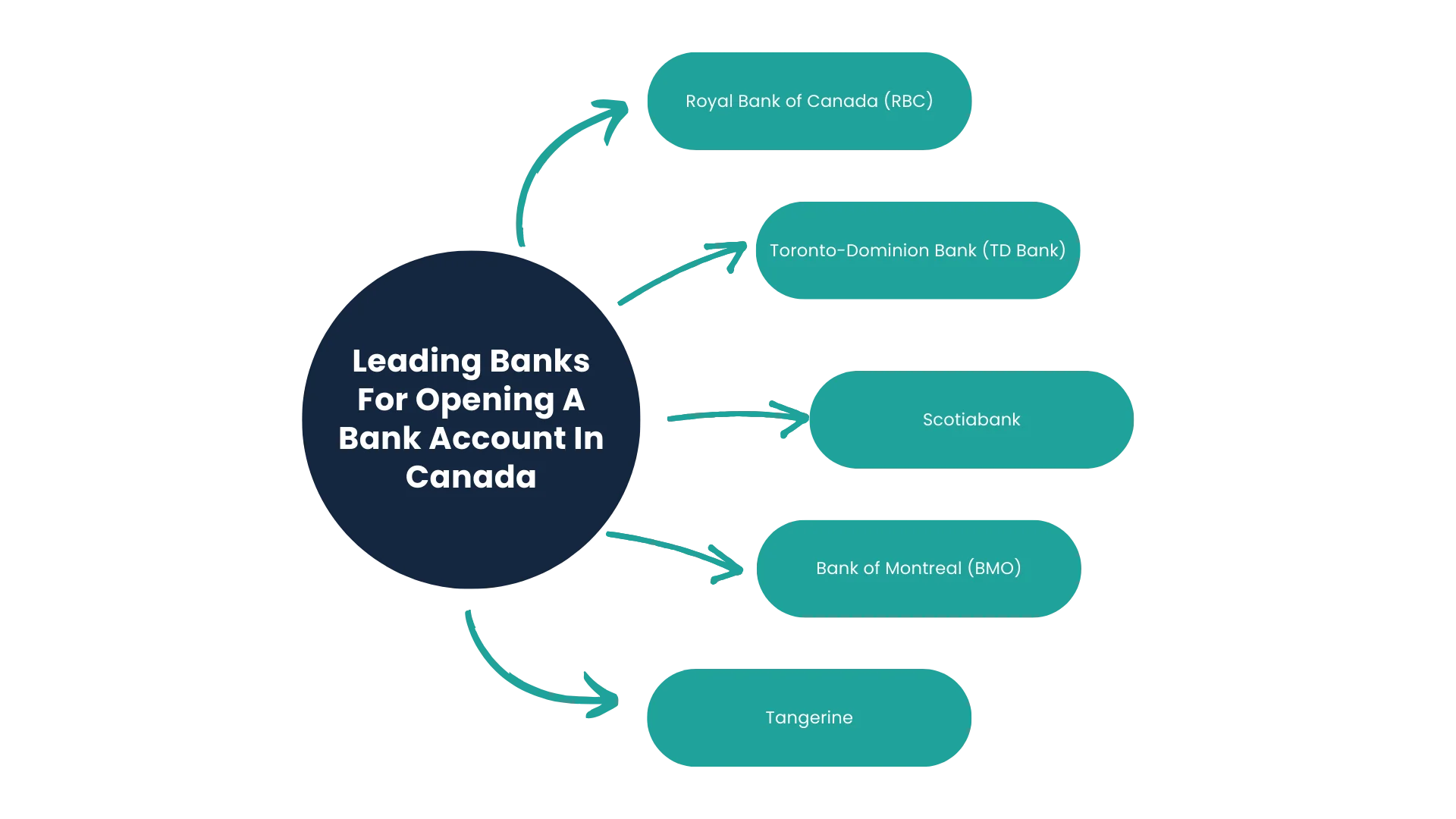 In Canada, several leading banks are well-known and widely used for opening bank accounts. These banks provide a variety of services and account options to accommodate different financial demands.
Here are a few of the leading banks for opening a bank account in Canada:
Royal Bank of Canada (RBC)
RBC is one of Canada's biggest and most reputable banks. They provide a range of banking choices for people and corporations, such as checking as well as savings accounts, credit cards, and investment services.
Toronto-Dominion Bank (TD Bank)
TD Bank is known for its extensive branch network and range of banking services. They provide credit cards, savings accounts, chequing accounts, and investment products.
Scotiabank
Another significant bank in the Canadian banking industry is Scotiabank. They provide a wide variety of banking and financial services, such as loans, investment opportunities, savings accounts, as well as checking accounts.
Bank of Montreal (BMO)
Chequing accounts, savings accounts, credit cards, and investment options are just a few of the financial services and products provided by Bank of Montreal (BMO).
Tangerine
Tangerine is an online bank that provides savings accounts, investment products, and daily banking services without any fees. They are renowned for having an easy-to-use internet interface.
Types Of Canadian Bank Account Services
In Canada, a range of bank account services are provided to meet the varying financial requirements of both individuals and corporations.
Here are a few typical forms of bank account services available:
Online Banking:

Access your account and perform transactions through the institution's website or smartphone app. You can check available money, transfer money, make bill payments, and conveniently handle your money.

Mobile Banking:

Similar to online banking, this service allows you to manage your accounts, make transfers, and pay bills using a dedicated mobile app.

ATM Services:

Use ATMs to make cash withdrawals, deposits, account balance inquiries, and transfers across accounts.

Debit Cards:

Issued with chequing accounts, debit cards enable you to make purchases and access funds from ATMs. They are connected directly to your financial account.

Credit Cards:

Banks provide a range of credit cards, each with distinctive characteristics and advantages. With these cards, you can make credit-based purchases and settle the debt over time.

Wire Transfers:

Transfer funds electronically to other bank accounts domestically or internationally. Useful for larger transactions or cross-border payments.

Overdraft Protection:

This helps to prevent you from going over your credit limit by immediately replacing insufficient funds. Interest may be charged on the borrowed amount.

Cheque Services:

Order and use cheques for payments or transfers. Some accounts provide just a certain amount of free cheques.

Online Bill Pay:

Set up and manage your bill payments through online banking, making it easier to stay on top of your financial obligations.
Book end-to-end experts consultation with Odint legal, accounting and company formation experts.
Opening a bank account in Canada is a crucial step towards establishing your financial roots in the country. You gain the ability to manage your finances, make payments on your obligations, and work toward your financial objectives. Remember that choosing the correct bank and account can have a big impact on your overall experience as you start your new adventure in Canada.
If you would like to open a corporate bank account in Canada, you may speak with experts from OnDemand International. Our experts will assist you in gathering the documents and making sure that all the requirements for opening a bank account in Canada are properly followed. Contact us today to open your Canadian bank account.