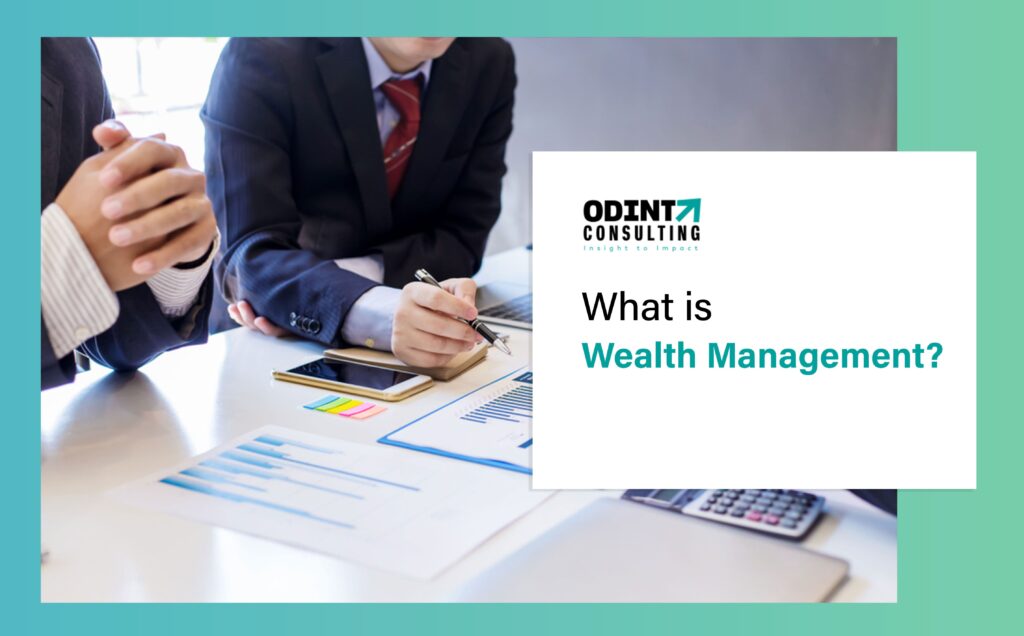 What is Wealth Management?
The practice of assimilating suggestions and different goods from a variety of experts is known as wealth management. When it comes to wealth management, one manager works closely with the customers to coordinate all the services required to manage their finances and make plans for their immediate and long-term needs as well as those of their families. 
Wealth management encompasses all facets of a person's financial life in addition to delivering investing advice. The process of managing your wealth entails safeguarding it, controlling your risk exposure, assembling it, positioning it properly, and distributing it later. Long-term wealth generation is the main goal of wealth management, which has a wider range of applications. Income generation from an asset basis is aided by wealth management.
Layout of Wealth Management
The goal of the wealth management adviser is to ensure that their customer fully understands everything that is happening in their accounts and the reasoning behind it. The client in wealth management works with a single designated wealth manager to receive the necessary services. 
Different titles, such as a financial consultant or financial adviser, are used by the wealth manager depending on the firm. The advice combines a flexible investment approach with a risk management policy while offering wealth management services.
Importance of wealth management
You will find yourself in a world of problems if your finances are not properly managed. Financial mismanagement does not look well for a person or company's financial standing. Money management mistakes result in financial stress and, ultimately, poverty. People invest a lot of money in their savings to build up capital with the hope of providing their loved ones with financial security. 
The goal will not be served by setting aside the savings. Making the appropriate plans to determine how one might use their savings is equally vital.
A person can receive a plan for how to invest their money from wealth management services. Wealth management advice aids individuals in developing a financial strategy to use their assets in a way that practically all of their financial goals are achieved. Through prudent investment practices or efficient tax planning, the advice ensures that the money invested keeps compounding.
Wealth Management Process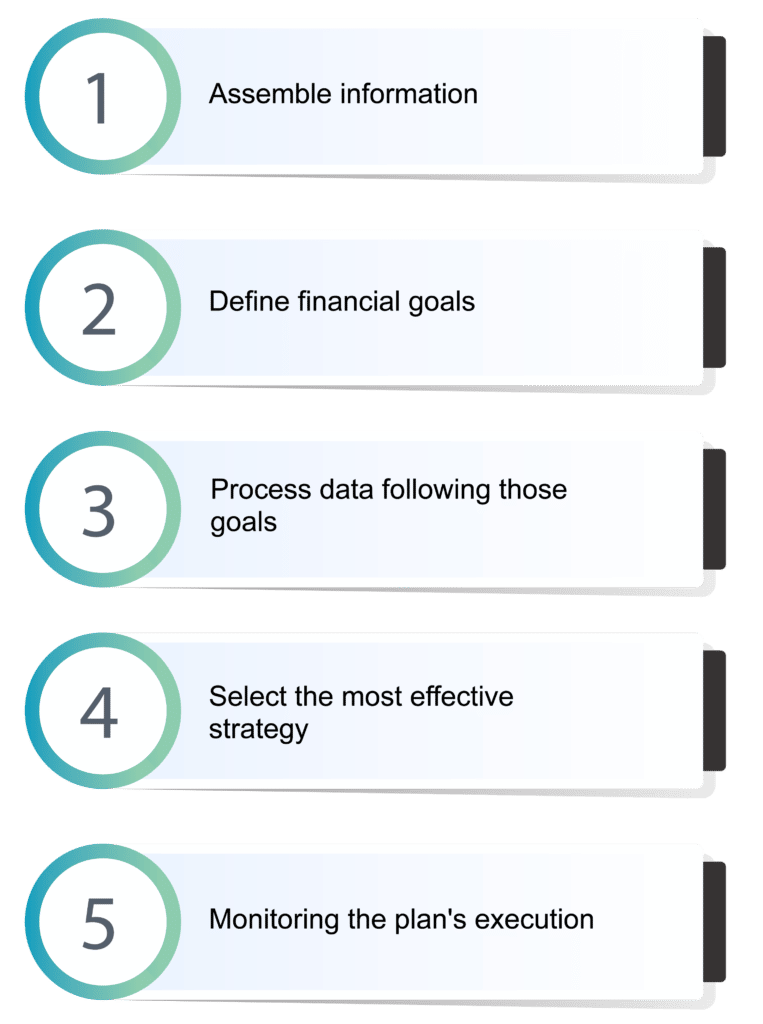 The steps involved in wealth management execution are as follows:
● Assemble information
● Define financial goals
● Process data following those goals
● Select the most effective strategy
● Monitoring the plan's execution
Advantages of Wealth Management
Wealth Management assists in creating a financially organized strategy
Financial planning is assisted by the wealth advisor through wealth management services. Offering appropriate advisory aids the customer in methodically raising funds. The knowledgeable wealth managers assist their clients in comprehending the needs and objectives to be met. Financial strategies are established with the aid of wealth management. The wealth advisory invests a lot of time and energy into comprehending the client's wants and aids in achieving the requested financial goals.
Can reduce financial anxiety
With their knowledge and experience, wealth consultants assist their clients in recognizing financial risks. When the need comes, the wealth of expertise assists in making crucial financial decisions. Financial management during erratic market conditions, which frequently cause stress, is assisted by wealth advisors for their clients.
Financial stress can be lessened, and financial decisions can be prioritized based on a timetable with the aid of wealth management. The wealth management advisor considers all financial factors while establishing goals, which finally aids in occasionally structuring the finances.
Offers specialized services
Based on a person's finances, wealth managers offer them specialized services. To put it another way, there is no one-size-fits-all strategy for asset management. The specialized wealth management advisory offers each client individualized services. The client's individual needs are taken into consideration when the wealth manager develops financial solutions. 
The wealth manager serves as both a financial advisor and counselor. The client can speak with their wealth manager at any time about any issue pertaining to their financial affairs, and the wealth management advisory supports its client by developing numerous solutions to meet all of their demands.
Gives investors a diversified investment method
Every time necessity occurs, the wealth manager offers a flexible investing method because they are continuously thinking about the client's improvement and financial well-being. Wealth management and advising take into account both market segments and market circumstances. 
Through wealth management, the advisers devote their time to assisting the customer in charting a course through difficult financial ups and downs, which aids in improving investment choices. This flexible investing technique is used by wealth managers, allowing the advisor to alter the financial strategies by considering fresh concepts, perspectives, and market circumstances.
Wealth management services
In order to meet the needs of wealthy clients, wealth management is a financial advising service that integrates other financial services. A wealth management advisor is a top-tier expert who, often for a set price, manages an affluent client's wealth holistically. By presenting wealth management services, the wealth advisor considers the type of financial planning and management that the customer needs. 
Planning and protecting your finances, creating a business plan, and taking care of your retirement needs are all part of the wealth management services that will help you improve your current and future financial situation and way of life. In wealth management, a persistent business strategy is combined with a clear indicator of individualized care and committed customer service.
Wealth management offers comprehensive, research-based consulting services in addition to adequate, individualized investment execution. Debt, stock, mutual funds, insurance, derivatives, commodities, and funds are just a few of the amazing product categories that Wealth Management offers. Making clients' goals a reality is the goal of wealth management services.
Role of a wealth manager 
Wealth management is a lifetime commitment. It is a process that seeks to offer methods and strategies that enable a person or business to achieve every potential goal in a methodical, practical way. The "Wealth Manager" is the expert who provides guidance to individuals and families as they go through this process. 
It is important to understand that wealth management is a process, or, as we might say, a way of thinking and acting on a person's financial matters, to achieve his financial goals, which in turn facilitate the achievement of one's life goals. Wealth management is not a target or destination, nor is it one or more products.
Wealth managers in wealth management organizations perform a vital role by providing valuable suggestions to a client. It acts as a backbone for an investor. Apart from all these there are several functions that a wealth manager looks after and they are:
➔ To gather the necessary data to create a financial plan, consult customers to learn about their current income, expenses, insurance coverage, tax situation, financial goals, and risk tolerance.
➔ Respond to inquiries from clients regarding the goals and specifics of financial plans and strategies.
➔ Provide customers with advice on strategies for money management, insurance protection, investment planning, and other areas to help them reach their financial goals.
➔ Examine financial information provided by the client to find strategies for helping them reach their financial objectives. Implement financial planning advice or direct consumers to a person who can help them carry it out.
➔ Examine the accounts and plans of clients on a regular basis to see if economic shifts, environmental concerns, or financial performance call for a plan re-evaluation.
➔ Maintain client plans up to date while managing their holdings.
➔ Periodically get base with clients to ascertain any changes
➔ For clients, data is prepared or interpreted in the form of investment performance reports, financial document summaries, or income predictions.
➔ Inform clients about the duties of a personal financial advisor and the different services that will be rendered.
➔ Look into potential investment options to see if they work with the client's financial plans.
➔ Assist customers in compiling documents including wills, income tax returns, records of the life and disability insurance, pension plans, and bank account information.
Qualities needed to become a wealth manager
Each firm has a different set of requirements for a wealth manager's level of training. It is required of wealth managers to complete employer-based training before starting on the job. A degree and knowledge in a variety of subjects, such as finance, economics, management, or mathematics-related topics, are required. Strong accounting services experience This is a possible alternative path to becoming a wealth manager. An approved qualification from the Financial Conduct Authority's (FCA) list of Appropriate Qualifications must be completed before a wealth manager can practice. Once qualified, it is necessary to maintain your training, stay informed of any changes to legislation or procedures, and enroll in further courses to broaden your expertise.
Abilities needed to become a wealth manager
The abilities needed to be a wealth manager include –
Ability to manage a complex problem with organization
Strong interactive Knowledge and proficiency in various subjects.
Capabilities in IT
A capable manager
Improved judgment
Examine the risks associated with investments.
Healthy interpersonal and dependability skills.
How does Wealth Management deal with different areas of management?
Wealth management consultants provide their client's customized solutions that address all of their demands. As part of these activities, several of the following could be provided: Financial services include things like insurance, tax preparation, estate planning, accounting, debt management, leasing, stock broking, retirement planning, mortgages, banking, charity giving, financial structuring, gearing, and specialized goods. It offers direct and proactive customer services.
Asset Management
The only focus of Asset Allocation Management, a portfolio manager, is to manage investment portfolios with the intention of making money. By switching between investment categories, it seeks to balance the risk.
Practical Management
By deciding on the finest choices and tactics, tactical management aids in identifying the suitable means to implement financial strategies.
Integrated Management
The management team at Diversifier assists its clients by offering a customizable model that meets their needs.
Book end-to-end experts consultation with Odint finance and legal experts
The practise of wealth management establishes definite, manageable, and realistic financial goals. Your future goals and the ways in which your financial resources can assist you achieve them are both made clear to you by a wealth management company. The secret to effective wealth management is preparing ahead to accomplish your objectives, whether it's an one year plan, five year plan, or more than that. 
Finding a wealth manager that is recognized, qualified, and experienced to provide you with appropriate advice for your particular circumstances is crucial when making this decision. OnDemand International's professionals can help you choose a wealth manager based on your unique requirements and preferences by carefully evaluating the qualities of the manager.