Switzerland Company Registration in 2023-24
The process of registering a business in Switzerland is a way to take your business to the highest possible level. Switzerland is among the most trustworthy and famous nations worldwide to incorporate a business. The strong banking and insurance industries and the stability of the economy, the favourable corporate law, and the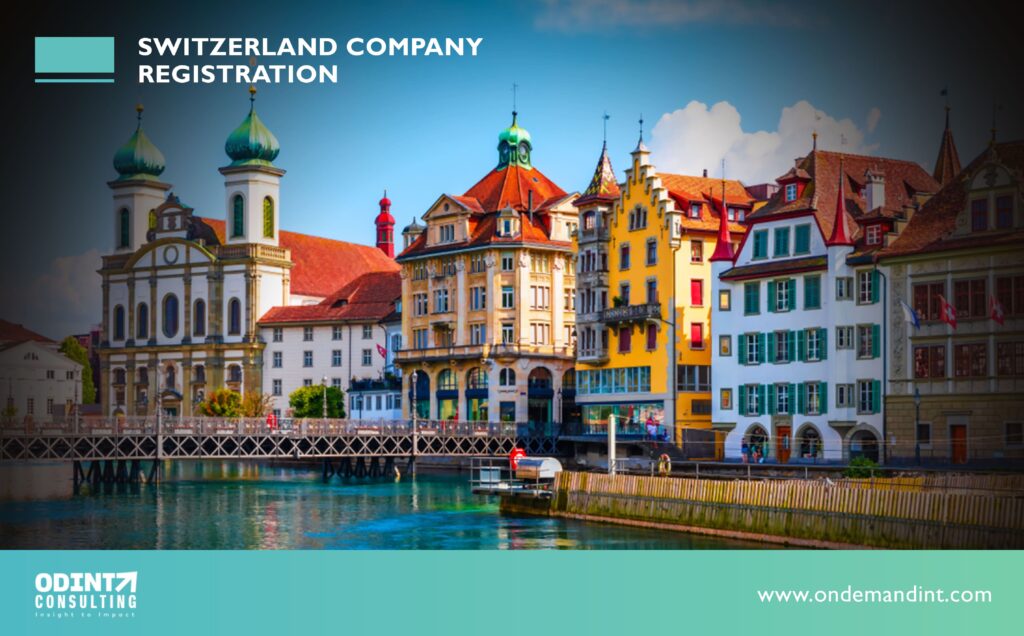 geographic position of the country make the process of registering a company in Switzerland appealing indeed.  It gives you quick access to European markets as the infrastructure for transportation is also very efficient in Switzerland. In addition to being a great location, it is also a place where the Fintech sector is growing in Switzerland because the local authorities are supportive of its growth.
This article discusses the procedure for Switzerland company registration. It also focuses on the various advantages, eligibility criteria, and documents required to register a company in Switzerland.
Why should register a company in Switzerland?
Switzerland is an extremely expensive place to establish a company. However, all of your investments are guaranteed to earn interest if you establish the correct type of firm in the country and efficiently conduct your business operations. 
A company registration in Switzerland is a good financial sense if you want to enjoy some of the following advantages:
Get access to the highest-quality banking services.
Earn money by offering logistics and transportation services.
To trade freely with European or American states.
To start a Fintech startup.
For registration of exchange for a cryptocurrency (pay particular attention to the town in Zug).
Steps for Switzerland company registration
The most important steps to follow in Switzerland company registration are:
Step 1: Select a business structure: Select the most appropriate kind of company to meet your goals in business.
Step 2: Business name registration: Select a unique name to be the trading name of the company – create at least 3 business names for the future business, one of which will be your trade name. Once the name has been selected, you can register and reserve the chosen name.
Step 3: Create a bank account: Create a corporate bank account to facilitate future transactions. The minimum capital for an AS or Swiss GMBH as well as an AS is required to be put in here.
Step 4: Prepare the incorporation documents: Create the articles as well as draft the deed of incorporation. Sign the articles of association along with the official deed in an official notary public in Switzerland.
Step 5: Fill out the business forms: Complete the Stampa Declaration Form and the Lex Friedrich Declaration Form.
Step 6: Register the business: Register your business by submitting all necessary documents required to the Swiss Trade Register.
Eligibility criteria for Switzerland company registration
A minimum of 1 shareholder (Individual or Corporation Entity).
Minimum 1 director.
Directors and shareholders can be the same person.
There is a need for directors who are local or resident to run a Swiss Company.
100% foreign or local shares are also allowed.
The required minimum capital contribution for registration of an LLC is CHF 20,000 .
A registered office address in the local area is mandatory.
It is mandatory to choose an official of the company as a Secretary.
The firm owners are not required to be present in person throughout the process of company registration in Switzerland. However, banks in Switzerland require the presence of the proprietors of the company at the moment of opening a new account for the due diligence process.
Documents for Switzerland company registration
To be granted an official legal identity, every Switzerland company registration must sign up on the Commercial Register. To be able to achieve it, its founders have to submit an application that includes an extensive set of legal documents, containing detailed information about the proposed business and the activities it will engage in. 
These are the legal documents as well as the information needed for the procedure of company registration in Switzerland:
The Articles of Association which are the principal legal documents of local companies must be notarized before registration.
Specimen signatures of the managing board (company's secretary, directors, and company's shareholders/founders);
Stamp a Declaration Form and Lex Friedrich Declaration Form and details on the registered address of the firm.
Details about Social capital and the business along with the primary objectives of the activities that will be managed by the legal entity that will be created;
Additional papers may need to be submitted, based on the kind of company that is registered.
Types of business structure for Switzerland company registration.
These are the types of business structures for company registration in Switzerland:
Sole proprietorship
The sole proprietorship business in Switzerland is managed by one individual (known as a sole proprietor) and is liable for all liability, and the name of the sole proprietor must be listed in the company. In addition, the sole proprietor must have to be a Swiss resident. He/she is the sole recipient of the profits and is also personally accountable for the obligations and debts of the business. If the annual revenue for a sole-proprietorship is greater than CHF100,000, it has to have a registration by the Chamber of Commerce in Switzerland.
General Partnership
A general partnership within Switzerland is a business owned by two or more partners with unlimited liability. Partners must be Swiss citizens. A general partnership requires obligatory enrollment at the Chamber of Commerce.
Limited Partnership
The concept of a Limited partnership within Switzerland is like that of general partnerships, except it is that in the first some of the members (general partners) are liable for unlimited liabilities and other partners (limited partners) are responsible for the company to a certain amount.
Limited Liability Company (GmBH)
The term "limited liability company" refers to an LLC with limited liability (LLC) in Switzerland is formed with a minimum of two shareholders. The shareholders of an LLC have limited responsibility, i.e., they are not liable for the obligations or debts of the company in a personal capacity. The minimum amount of equity needed to establish an LLC is CHF 20,000.
Joint Stock Company
Switzerland company registration for a joint-stock company can be established with a minimum of three shareholders along with an initial capital requirement of CHF100,000. Every shareholder is limited to the amount they contribute to the capital investment. Joint stock companies function as autonomous legal entities and have a board of Swiss as well as European citizens who are the majority. 
Public Shareholding Company
A publicly-owned shareholding corporation located in Switzerland is the most well-known and widely used legal entity in Switzerland and was established for the primary reason of acquiring and managing the participation of other companies A minimum capital investment of CHF100,000,00 is needed to establish a business of this type.
Subsidiary
A subsidiary is a legally independent company that is affiliated with an entity from another country. It functions as a Swiss company and can be a limited liability company or corporation.
Branch Office
A foreign company can open the possibility of opening a subsidiary office within Switzerland to increase the range of its products or services within the country. The parent company of the foreign entity is responsible for the cost of the branch however because a branch office falls under Swiss laws, it's classified as a Swiss company.
Representative Office
A Representative office located in Switzerland can be described as an organization that was established to serve non-commercial needs. It is designed for businesses that wish to expand their market reach for research and other marketing activities. 
Advantages of Company Registration in Switzerland
The process of company registration in Switzerland offers the following advantages:
Switzerland is one of the more open and business-friendly economies around the globe and its government is focused on encouraging international direct investments (FDI) as well as R&D.
The banking laws particularly the rules on banking secrecy in Switzerland provide immense protection to foreign businessmen and investors.
Switzerland is a highly developed country in regards to infrastructure and research direction and offers companies the most modern facilities to grow.
Several reputed international companies and businesses have their headquarters in Switzerland which has earned it its reputation as a place of security and stability over the long term.
Cost to register a company in Switzerland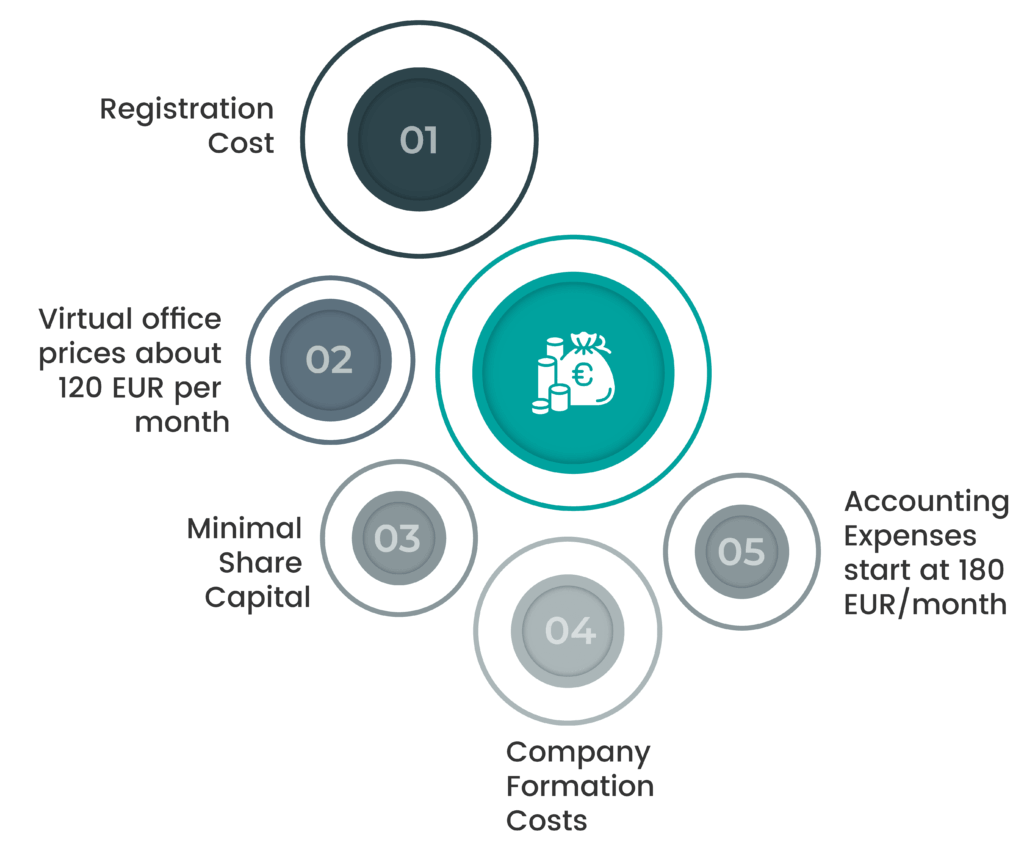 The principal cost of company registration in Switzerland are:
Registration cost: The standard cost of registration of an LLC is approximately CHF420. However, the amount varies by the Swiss area you decide to register your company.
Virtual office prices about 120 EUR per month: With an online office in Switzerland you'll get an official registered office that is required to establish a Swiss business;
Minimal share capital: There are a variety of businesses that need the minimum share capital at the time of incorporation, for instance, the GmbH is required to have 20000 CHF.
Company formation costs: Approximately 2500 EUR is a reasonable price for the corporate formation specialists located in Switzerland
Accounting expenses start at 180 EUR/month: The price includes taxation and bookkeeping assistance.
Registering a company in Switzerland is the most sought-after because of its status as being among the best-performing economies around the globe. Additionally, you should know that Switzerland has a strict policy regarding immigrants from abroad moving to Switzerland. Therefore, one possibility is to establish yourself as a self-employed worker or even to register a company in Switzerland.
If you still have questions about Switzerland company registration. Consult our professionals at OnDemand International. Our experts are here to help you.