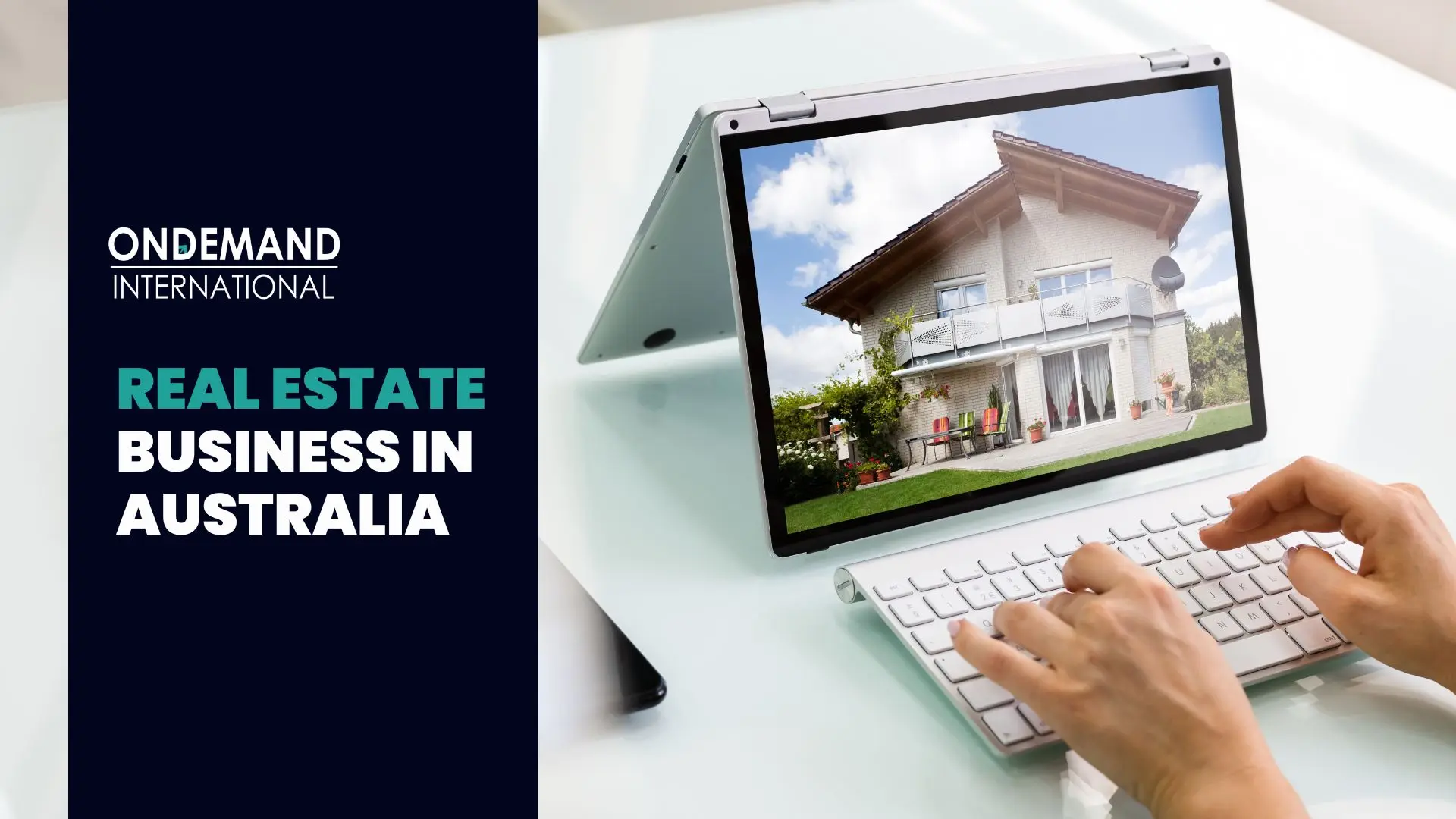 Starting a real estate business in Australia can be a profitable endeavour if you have the necessary expertise, resources, support, and a sound plan in place. The Australian real estate market, with its diverse landscapes ranging from bustling urban centres to serene coastal towns, has always been a focal point for both domestic and international investors. The real estate business in Australia encompasses a wide array of sectors, including residential, commercial, and industrial properties, each presenting unique opportunities and challenges. Historically, this industry has been a significant contributor to the nation's economy, reflecting the country's growth, socio-economic trends, and evolving urbanization patterns
This comprehensive guide will walk you through the essential steps to establish a successful real estate business in Australia, ensuring that you're well-prepared for this exciting journey.
What is a Real Estate Business in Australia?
A real estate business includes a variety of activities such as buying, selling, managing, and investing in real estate. Some organizations cover all of these areas, whereas some focus on certain services such as home buying and selling. Additionally, you can become a real estate broker, providing guidance to clients on their real estate investments and assisting them through the purchase process.
Eligibility Criteria to Start a Real Estate Business in Australia
Before you can dive into the world of real estate, you need to meet specific eligibility criteria:
Resident:

You must be an Australian resident or possess a valid visa.

Licensing:

You must have a valid real estate license issued by the applicable state or territory authority.

Age requirement:

You must be at least 18 years old

.
Criminal Record:

A clean criminal record is required to ensure that you can conduct real estate transactions without difficulty.

Professional Indemnity Insurance:

You must possess the required insurance to protect your clients from potential financial losses.

Educational criteria:

It is critical to meet the education criteria imposed by the applicable state or territorial government.
It's crucial to remember that the particular eligibility requirements may differ based on the state or territory where your business will operate. It's advisable to contact the relevant authorities to ascertain the exact requirements that apply to your situation or you can consult with OnDemand International's Specialist team.
Procedure to Start a Real Estate Business in Australia
Here is the procedure to start a real estate business in Australia:
Registration of your business
Obtain the Required Licences and Certifications
To work as a real estate agent in Australia, you must first obtain a license. Although licensing standards differ by state, the following criteria must be met:
Qualifications:

Some states, such as South Australia, the Northern Territory, Western Australia, and Tasmania, may demand a Certificate IV in Property Services, while others, such as South Australia, the Northern Territory, Western Australia, and Tasmania, require a Diploma of Property Services.

Fit and Proper Person:

This includes a background check, which may include a police check, and maybe revealing evidence of your financial situation.

Industry Experience:

Most states require one or two years of experience as a property manager or agent's representative before acquiring a license.
Before diving in, ensure you thoroughly research the specific requirements in your state to plan your real estate business effectively.
Prepare a Balanced Business Plan
When starting a new firm, a well-structured business plan is vital. When you're starting a real estate business, your business plan should outline risks, costs, expected income, pricing structure, and the necessary startup resources. This document provides a clear picture of your business's feasibility and projections, making it indispensable if you plan to seek financing from lenders or investors.
Conduct Market Research
Market research is a vital ongoing process that helps businesses identify opportunities, areas for improvement, and strategies for increasing revenue and market share. Initially, research is focused on determining the viability of your real estate firm. During this stage, you will: 
Define your target audience.
Assess the competition in your area.

Determine what sets your agency apart from established real estate companies.

Gather data to validate the viability of your business.

The research conducted at this stage can later be incorporated into your marketing strategy, giving you a head start in promoting your business through the right channels.
Organize Your Finances
While you may not require significant capital to start a real estate business, you should consider other essential financial aspects:
Office Space:

Secure a suitable office space.

Equipment:

Consider professional vehicles, office furnishings, insurance, legal representation, branding, and a website.

Financing Options:

Explore business loans, external investors, partnerships, or alternative financing methods. Your well-prepared business plan will be crucial when approaching potential lenders or investors.
Choose the Most Suitable Legal Entity
In Australia, there are several company structure possibilities, each having pros and cons. Consider factors like personal liability, compliance, and tax obligations when making your choice:
Sole Trader

: A simple structure where business and personal income and expenses are combined in your tax return.

Proprietary Company:

Provides separation of legal responsibility from personal liability but entails more compliance and tax obligations.

Partnership:

Suitable if you're entering into business with another person; research the different partnership types before proceeding.
Get your Tax File Number (TIN)
Get Business Insurance
Running a real estate firm involves the following forms of insurance:
Professional indemnity

Public liability

Worker's compensation

Cyber and crime

General business insurance

Management liability
Carefully consider the cost of each required insurance type and consult specialized real estate insurance providers for quotes.
Choose Your Business Location
Efficiency is paramount in real estate, making it ideal to concentrate your work within a specific geographic location. A location near your house not only makes after-hours work easier but also provides a personal connection and insight into the surrounding neighbourhood. Choose a location with active real estate activity or market gaps, leveraging insights gained from your market research.
Develop a Marketing Plan
Knowing how to start a real estate business is just the beginning; effectively marketing it is equally crucial. Your market research will guide your marketing decisions, and you should explore a variety of options:
Social media

Pay-per-click (PPC) advertising

Cold-calling

Email marketing

Signage

Brochures

Radio/TV advertising

Video Marketing

Search Engine Optimization (SEO)
Evaluate all these avenues to capture your target audience's attention, considering automation and outsourcing for tasks like email marketing.
Build a Website
Your website is a critical tool for attracting potential sellers and buyers. A well-optimized website can be expensive, but cost-effective options, such as Square Online, make it easier to create a professional online presence.
Is An Australian Real Estate Business Profitable?
Indeed, an Australian real estate business can be highly profitable, provided you possess the essential skills, experience, and knowledge required to run a successful enterprise. Many people in Australia excel in real estate because they have strong interpersonal skills, in-depth market knowledge, and a knack for sales. It is crucial to emphasize, however, that being a successful real estate salesperson does not imply being a good businessperson.
Even when engaged by established firms, most real estate agents work on a commission basis.
When you operate your own business, the payment structure remains largely the same, with the key difference being that you retain the entire commission. However, this freedom entails shouldering all of the costs associated with running the business.
You may surely develop a prosperous real estate business in Australia with the correct direction, thorough preparation, and access to the necessary business tools.
Conclusion
The real estate business in Australia is a dynamic and multifaceted sector that has historically played a significant role in the nation's economy. Characterized by its diverse range of property types—from urban residential units in cities like Sydney and Melbourne to vast agricultural lands in the outback—the industry reflects the country's unique geographical and cultural landscape. With Australia's strict regulatory framework, innovative property solutions, and a continuous influx of both domestic and international investors, the Australian real estate sector remains robust and adaptable. 
If you're considering venturing into the real estate industry in Australia, seeking expert guidance can be invaluable. At OnDemand International, we pride ourselves on being at the forefront of business consultancy. With a dedicated team of professionals well-versed in the nuances of the Australian real estate market, we are positioned to offer insights, guidance, and comprehensive assistance for your business setup