Register A Construction Company In Dubai
Choosing Dubai as your construction company location is a great decision. The reason is, Dubai is a fast-paced country and the most attractive country. This country has evolved and has proven to become the most quickly growing nation. The beauty of this country is at its peak, and it is the right time for you to benefit from it by establishing a business in Dubai. It is a nation that has sky-scraping buildings, beautiful sites, and eye-catching beaches.
The sky-high infrastructure of Dubai is eye-candy for tourists and visitors from all around the world. It is no less than a giant corporate hub for all businessmen.
People from the corporate field should visit Dubai and experience its luxurious lifestyle, classy and rich culture, increasing GDP, easy-going business options, and tax-free workspace. Such opportunities are one of a kind and make Dubai the best place to start your construction business.
Through this article, we will be going to provide you detail process of registering a construction company in Dubai and the various document requires for registration. So, without any further ado, let jump into it
The reason why you should eye Dubai for your company registration needs is that it has various kinds of construction events coming towards it in the future. Currently, there are many projects in progress for the next World Expo. 
You should consider Dubai for registering your construction company as it is known to have recorded as the country with a massive project valuation in the Gulf Cooperation Council region. The amount totals USD 319.1 Billion. Our purpose of making you familiar with this data is to let you know why Dubai is a great choice for registering a construction company.
Future Of A Construction Company In Dubai
The building industry is among the largest growing sector in the Emirates. Burj Khalifa, which is the tallest building in the world, and Marina 101 which is globally known for being the highest residential multiplex. The 2 most popular landmarks are the Burj Arab and the Princess Tower.
The Dubai parliament approved a USD 7.8 billion expansion of Dubai International Airport and a USD 6.8 billion reconstruction of Abu Dhabi International Airport. Not to mention the fact that Dubai organized the World Expo, which opened up a plethora of construction prospects.
The government body of Dubai has put in a lot of time, capital, and effort to grow the tourism industry of Dubai. The advertising operations of the Palm Jumeirah, the globe's biggest man-made island, also are increasing frequently. Other initiatives, such as Dubai Land, the Arabian Canal, and many others, are in the process.
Steps To Start A Construction Company In Dubai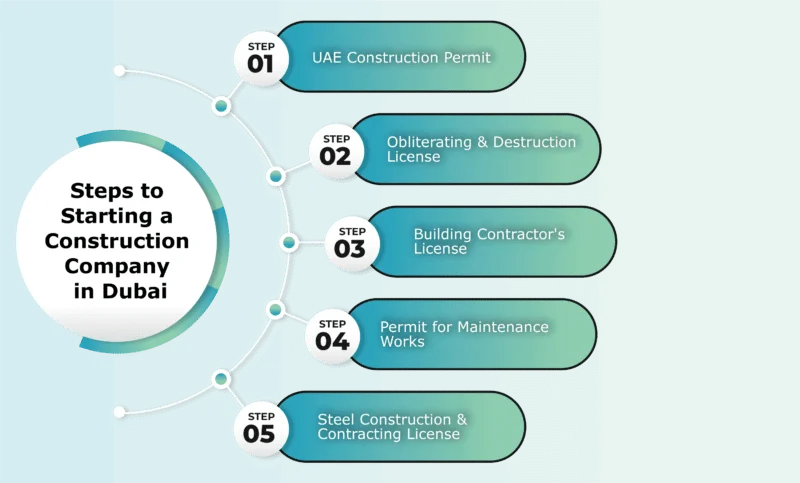 UAE Construction Permit
Before registering a construction company in Dubai, you must first secure a license to begin operations. The following are the several types of construction licenses available in Dubai:
Obliterating and Destruction License
451001: The activity code
License Category: Building and Constructing Works
With this license, you will be able to destroy large structures that are in disrepair and on the verge of collapsing or to substitute them using various methods such as forklifts for tall structures, manual labor for medium-rise buildings, bulldozers, and infrastructure detonation using explosive materials.
Building Contractor's License
452001: The activity code
License category: Business
Procurement and construction work is a group of activities.
Under this license, you will be employed in the development of a variety of structures, including residential, farms, public, airports, rural structures, hospitals, schools, commercial, and industrial.
Permit for Maintenance Works
454007: The activity code.
License Category: Commercial
Work in the Activity Group includes construction, maintenance, monitoring, and cleaning.
This license will enable you to restore and repair roofs, floors, walls, columns, and other structures inside structures that do not have any technology or extensions accessible.
Steel Construction and Contracting License
452008: The activity code
License Category: Commercial
The activity group manages the contracting and Building assignment.
To describe the activity, using this license, you'll be able to take forward all your processes concerning steel construction and you'll also be able to install steel infrastructures in various locations like bridges, warehouses, factories, sheds, structures, and tunnels.
Read More: General Trade License in Dubai
Procedure To Setup A Construction Company In Dubai
There is a set pattern to everything, and the same applies to starting a new firm. To register a construction company in Dubai, you need to follow certain steps.
The steps are as follows:
Select a name for your business
You must first decide on a name for the newly formed organization. Dubai requires that company names abide by specific rules. You are not permitted to use any vulgar or derogatory language. Avoid acronyms if you decide to name your business after yourself.
Additionally, make sure that no other organizations or enterprises already in existence have names that are identical to your chosen one. Given that your name must be distinct, it is a good idea to present a few alternatives in case your first choice is not accessible. Once you've made a decision, we'll register your business name on your account.
Choose your business structure 
The next step for registering a construction company in Dubai involves choosing a business structure that is suitable for you. 
Submit a license application
In the next stage, you can submit an application for your business license. When opening a business on the Mainland, this application should be forwarded to the Department of Economic Development. You must submit an application to the appropriate managing authority if you want to launch your business in a free zone.
Along with the application, you will also be required to submit supporting documentation, such as a valid passport copy.
Obtain permits and other necessary approvals
Applying for your building permit, or your G+1 permit if you're operating from a free zone, is best done right away. You ought to submit applications for any other approvals you might need for registering a construction company in Dubai.
Apply for a visa
To live and work in Dubai, United Arab Emirates, you will require a residency visa. The health and fitness assessment, which involves a blood test and a chest X-ray, is a crucial component of this procedure. 
You are able to sponsor the visas of your dependents, including your spouse, children, parents, and household employees, if you have a visa for the United Arab Emirates.
Our professionals at OnDemand International can assist you in obtaining the visa and gathering the necessary paperwork for your visa application.
Documents required for setting up a construction company in Dubai
The list of documents required to set up a construction company in Dubai is as follows:
Trade name registration certificate: This is a document issued by the Department of Economic Development (DED) that confirms the availability of the trade name you have chosen for your company.
Memorandum of Association (MoA) and Articles of Association (AoA): These are the governing documents of your company that outline its structure, operations, and ownership. They must be drafted in Arabic and English and certified by a lawyer.
Shareholders' and directors' passport copies: You must submit copies of the passports of all shareholders and directors of your company.
Shareholders' and directors' national ID copies: You must also submit copies of the national IDs of all shareholders and directors of your company.
Visas for all shareholders and directors: If the shareholders and directors are not UAE nationals, they will need to obtain visas to live and work in Dubai.
Lease agreement for the company's office space: You must submit a copy of the lease agreement for the company's office space.
NOC from the landlord: You must also obtain a no-objection certificate (NOC) from the landlord of the company's office space.
Proof of capital: You must show that the company has the required capital to operate. The amount of capital required will vary depending on the type of construction work the company will be undertaking.
Company seal: You must have a company seal that is used to authenticate documents issued by the company.
Necessary Permits and Authorizations Required for Dubai Construction Company
Permission for infrastructure projects, which covers work done before any bases are laid. The contractor must submit detailed plans of the planned project to the relevant rule to get a permit to build. So, let's dive into details and know more about the mandatory permits one needs to have to register a construction company in Dubai.
You would need:  
An authorized environmental license from a relevant body.
An official allowance from the Roads and Transport Authority to use the external & internal roads for transport needs.
Approval from relevant bodies to get rid of dangerous waste and residual building material.
Another permit that is required is from the UAE government bodies, for utilities. The utilities include electricity, water, and sewage. So, you will need permission from the Dubai Electricity and Water Authority. To gain a permit for telecommunications you will need a confirmation from Etisalat.
The next permit you would need is a NOC for Dubai Airports Corporation from the Dubai Civil Defence.
Last but not the least, you will also need a Building Completion Certificate that helps you gain a permit to occupy the building.
The rising economy, quick infrastructure growth, and ambitious construction projects in Dubai create an ideal atmosphere for the growth of the construction industry. Since Dubai is one of the major building industries in the United Arab Emirates, starting a construction company there could prove to be a rewarding business venture for you. By obtaining the necessary licenses and approvals from relevant authorities, obtaining a visa, and adhering to the legal requirements, you can establish a construction company in Dubai.
If you wish to set up your construction company in Dubai, you can contact our experts at OnDemand International. You will be assisted in registering your construction company and securing the necessary approvals by our experts who will analyze a number of factors in order to help you build a successful business.
In this article, we have discussed about Dubai Company Registration Process in 2023-24. Read the complete article to get the complete information about Company formatiion process.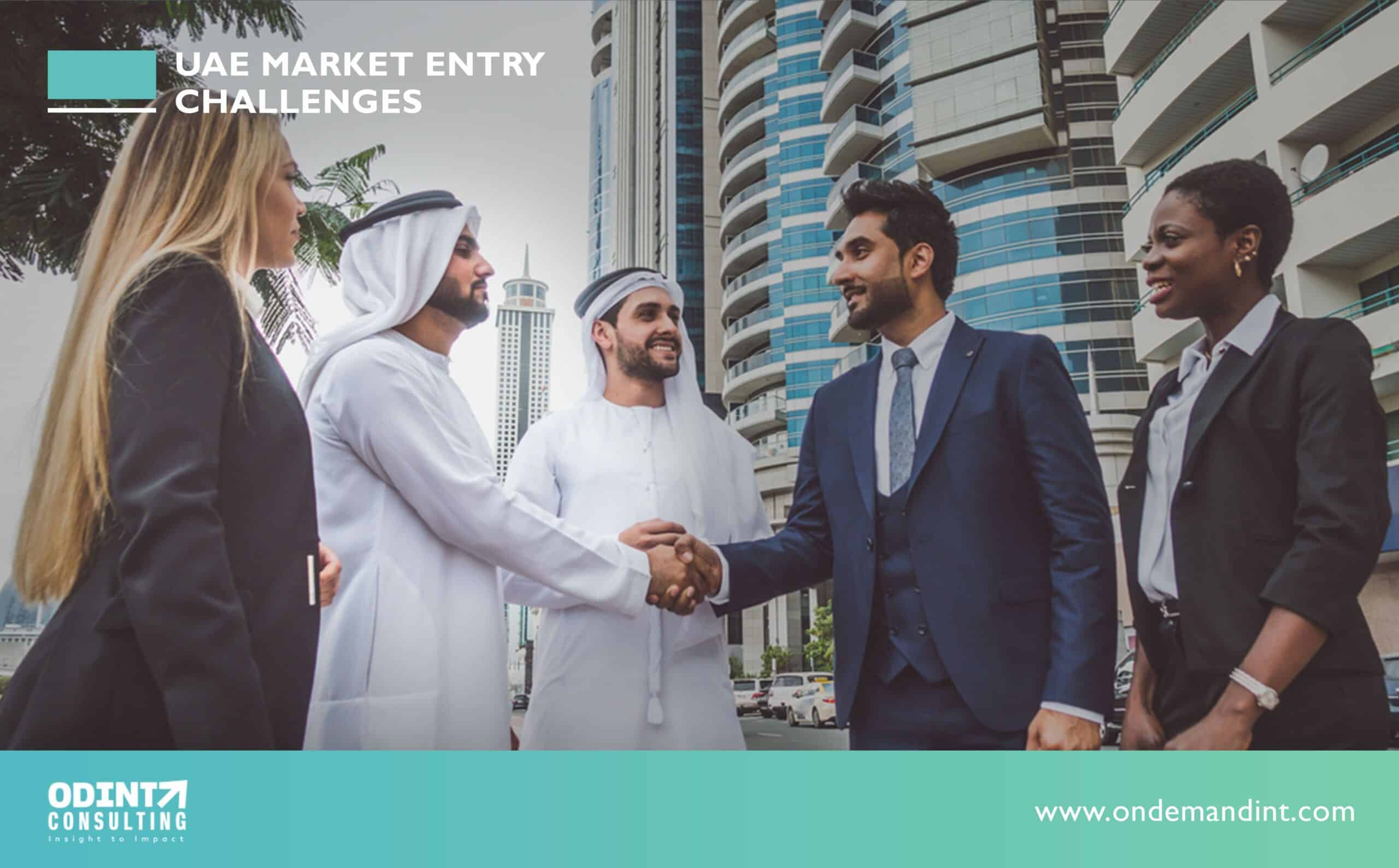 UAE is a tax-friendly state as well, with specific laws and offering numerous business opportunities. But, as with any international country, challenges to market entry occur in UAE as well. This article details the difficulties of UAE market entry challenges.
There are several types of companies in Dubai. You have to choose the proper sort of commercial structure before incorporating a business in Dubai.