If you are seeking a work pass in Singapore that offers the flexibility to switch employers during your employment in the country, the Personalised Employment Pass (PEP) is the ideal choice for you. The Personalised Employment Pass is a particular kind of work permit that is issued by the Ministry of Manpower (MOM) in Singapore.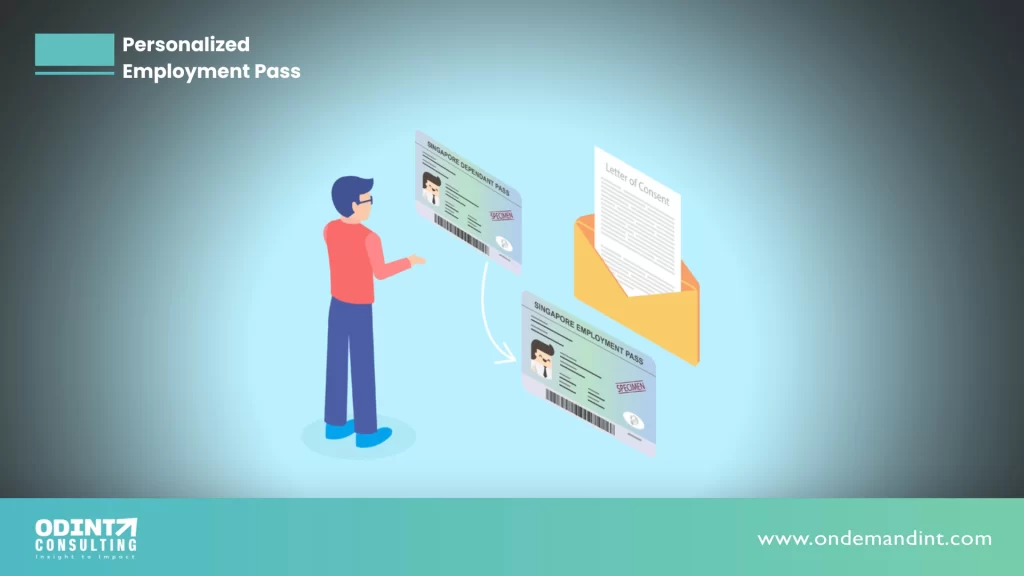 The PEP in Singapore is designed to attract and retain high-earning overseas professionals in the nation. In comparison to other work passes, such as the Employment Pass and S Pass, it provides greater flexibility and freedom for job changes. This is because it is not attached to a certain employer, allowing holders to change occupations without requiring a new work pass.
In this article, we would be covering the Personalised Employment Pass in Singapore. We will further cover the eligibility requirements, application procedure, and advantages of PEP in Singapore.
What is Personalised Employment Pass in Singapore?
The Personalised Employment Pass in Singapore is a work permit that enables a foreign national to reside and find employment in the nation, move freely within and outside of the nation, bring relatives with them, and switch companies without obtaining prior permission from the governmental authorities. 
Here are some facts related to the PEP in Singapore:
Holders of Employment Pass who wish to submit an application for the PEP in Singapore must earn a fixed amount per month of no less than $12,000.

To apply for a PEP in Singapore, international professionals from outside must earn a fixed wage every month of a minimum of $18,000.

The PEP is given for a duration of three years.

The PEP in Singapore can only be granted once, therefore it cannot be reissued.

PEP owners may enter Singapore with selected family members using a Dependent Pass or Long Term Visit Pass.
Eligibility for a PEP in Singapore
Applying for a Personalised Employment Pass (PEP) is possible if the following conditions are satisfied:
Being an international professional working abroad, the most recent amount you have received is a minimum fixed monthly wage of $18,000. 

Prior to submitting the application, your most recent income must have been obtained within the preceding six months.

You currently possess an Employment Pass and make at least $12,000 on a monthly basis in fixed compensation.
Additional requirements must be satisfied in order to maintain a PEP, including:
In Singapore, you cannot be jobless for longer than six months at a time. You'll have to cancel the pass if that happens.

Irrespective of the period for which you have been employed, you must make a set wage of a minimum of $144,000 annually.
Who is not eligible for PEP in Singapore?
Under the following situations, you will not be qualified for a Personalised Employment Pass in Singapore: 
If you are the owner of an Employment Pass as per the sponsorship program.

If you are a sole proprietor, a partner, or in a situation in which the director is also a stakeholder of an ACRA-registered firm.

If you are an outsider or freelancer who plans to operate alone.

If you are an editor, subeditor, producer, or journalist.
Procedure to apply for a PEP in Singapore
You can apply for a Singaporean Personalised Employment Pass by adhering to the steps given below:
Eligibility Assessment
Check your eligibility to see if you satisfy the requirements for a PEP in Singapore. This involves making not less than SGD 144,000 annually, maintaining an active Employment Pass (EP) with a minimum fixed monthly income of SGD 12,000, and having a solid employment history.
Submit an application
An online application must be submitted on the MOM portal using Singpass in order to be considered for a Personalized Employment Pass. Applicants or their representatives can submit the application for a charge of SGD105 which has to be signed electronically.
Submitting the paperwork
The following paperwork must be enclosed with the application when submitting it:
Filled-out and signed the application

Screenshot of the banking tab that confirms the transaction

Additional paperwork is provided in the application form
Acquire the in-principle approval (IPA) letter
The processing of the application requires about 8 weeks. When an application is accepted, applicants will be notified by the IPA through email at the address they submitted. The candidate has six months after the IPA's notification to visit Singapore and acquire the pass.
Collection of PEP in Singapore
For the PEP to be requested, the individual has to be in Singapore. Make an appointment at Employment Pass Services Centre (EPSC) and bring the required paperwork, including your passport, contact information, and the IPA letter. Finish registering by paying them a total of $2 registration fee for each pass.
Receiving the notification letter
You will receive a letter of notification that includes the following information:
It specifies whether the applicant must submit fingerprints and a picture for card enrollment.

It allows the applicant to begin working and traveling both inside and outside of Singapore while they wait for the pass card.
Note: The validity of the notice document is one month from the day of issuance. You may ask to have the expiration date extended if the applicant requires additional time to finish the card enrollment process.
Register your fingerprints and photographs
You should schedule a visit to EPSC to register your fingerprints and pictures, either on your own or through your employment agent. Following the pass's issuance, you have two weeks for registration.
Obtain the card
Following your visit to the EPSC and verification of documentation, the applicant will obtain the card in five business days.
Paperwork expected to apply for Personalised Employment Pass
You are not obligated to submit any more documentation if you already have an Employment Pass.
Nevertheless, the following information must be entered on your Personalised Employment Pass application form:  
The applicant's passport's section with personal information

Information about the job offer and pay from the Singapore-based company.

Employer details

Information about bearers of dependent passes, if relevant

If appropriate, information about 

long-term visit permit holders

Local contact information if presently in Singapore
Copies of the relevant documentation are necessary if you don't presently possess an Employment Pass:
A duplicate of the passport document with your private information

Paystubs and corresponding bank statements for the preceding three months

The employment agreement from your current job or old job

Specifics of the employment agreement that was provided in Singapore

Tax documentation proving the income from a prior position

A copy of your most recent CV and copies of any necessary academic credentials
Advantages of PEP in Singapore
The Personalised Employment Pass in Singapore provides a number of advantages as compared to other work passes, it allows you more flexibility in your employment:
Normally, you can find employment in any industry. The PEP doesn't, nevertheless, exclude you from fulfilling the registration requirements to work in Singapore in industries such as medicine, dentistry, pharmaceuticals, architecture, legislation, and other professions.

PEP holders can choose their own employers and work independently without having to renew a work permit. This enables individuals to investigate various employment alternatives and adjust to the changing job market.

You are permitted to remain in Singapore for an extended duration of up to six months while looking for work.
Passes for relatives of PEP holders
PEP owners are permitted to bring some members of their families to Singapore. It is valid for family members to enter Singapore with a Dependant Pass (DP) or Long-Term Visit Pass (LTVP).
With the DP, the family members listed below are permitted entry into the nation:
Spouse (Lawfully married)

Children under the age of 21
With the LTVP, the family members listed below are permitted entry into the nation:
A common-law partner

Children with disabilities who are single and over the age of 21

Stepchildren under 21 who are not married

Parents
Procedure for Canceling the Personalised Employment Pass
The actions below must be followed in order to cancel a Personalised Employment Pass (PEP):
By using the online form provided by the MOM portal
Sign in to the Ministry of Manpower (MOM) portal with your SingPass credentials.

Access the PEP cancellation form and complete the necessary information.

As instructed by the MOM, gather and upload the required paperwork. 

A 90-day Short-Term Visit Pass (STVP) will be emailed to you when the pass is canceled so you can continue your stay. 

When departing Singapore, you have to print the STVP and provide it to the immigration official along with a passport that is in good condition. 
Note: The processing period for canceling PEP in Singapore via the online form is approximately two weeks.
Canceling via EP eService 
Sign in to the EP eService to cancel the pass, on account of the pass owner.

On EP eService, go to the "Cancellation" area.

Include all pertinent information about your PEP cancellation, along with any necessary paperwork.

After submitting the cancellation request, the MOM will review your application. You will be informed via email or other means confirming the cancellation of your PEP. 

Pass holders who remain in Singapore for 90 days can stay legally throughout the period with a Short-Term Visit Pass (STVP).
Book end-to-end experts consultation with Odint finance and legal experts
In one of Asia's top economic hubs, Singapore's Personalised Employment Pass (PEP) provides highly qualified international professionals with an exceptional possibility to work and prosper. With its adaptability, employment mobility, and alluring incentives, the PEP in Singapore offers a means for top individuals to contribute to Singapore's thriving economy and cosmopolitan society.
Odint Consulting provides expert guidance for a hassle-free Personalized Employment Pass application in Singapore. Our seasoned experts navigate the process with precision, minimizing rejection risks and maximizing your chances of success. Rely on our experience to increase your chances of obtaining a successful PEP application.