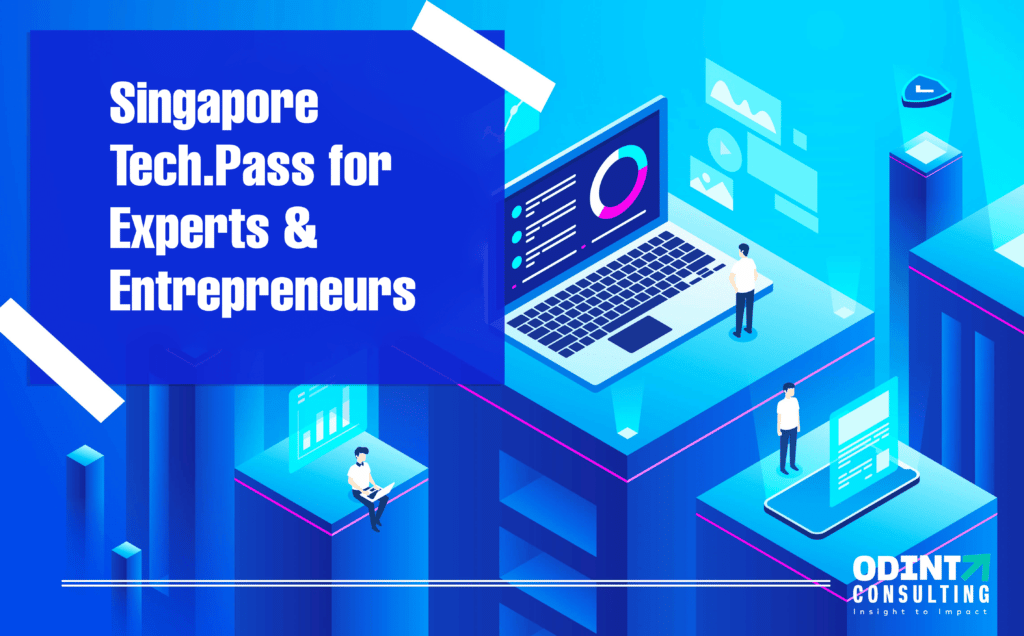 Overview: Singapore Tech.Pass
In the race to attract top talent from around the globe, Singapore is constantly seeking to be innovative. Singapore's government is determined to establish Singapore's status as a technology hub, in the hopes of making it the Silicon Valley of Asia.
Many strategies & programs have been put in place to help support Singapore's tech-based ecosystem, expand the pool of talent and make Singapore more appealing for international techno professionals looking to migrate, start their businesses, and chase their goals.
One of these initiatives is Tech.Pass, and while the existing employment Pass along with the S-Pass are mostly targeted at blue-collar workers Tech.Pass will lure foreign tech experts to Singapore's growing tech industry.
This article will have a look through the complete guide to the new innovative Tech Pass and figure out how to gain access to one of the most exciting technology hubs.
What is Singapore Tech.Pass?
Singapore Tech.Pass came into effect by the Singapore Economic Development Board (EDB), & was started on January 20, 2021. There will be a yearly quota of 500 Tech.Passes are given to foreign tech professionals & will be allotted on a first-come-first-served basis.
This Tech.Pass is designed to attract high-quality experts and entrepreneurs from the technology industry from all over the globe. Additionally, the applicants can apply for Tech.Pass at their discretion.
Before the introduction of work permits such as S-Pass and Employment Pass, applicants had to get the job before applying, & the employer then applied for the pass for them on their behalf.
The Tech.Pass is expected to last for two years when the employee may apply to be renewed.
Why was the Singapore Tech.Pass created?
In the past few years, Singapore has focussed heavily on importing blue-collar work from abroad However, the government has made a major shift in the direction of promoting the engineering, science and science (STEM) sector.
Alongside other high-level strategies the Tech.Pass is one of them. It is an initiative to encourage technological innovation by attracting the most talented people in the world.
According to the EDB explained in its statement, Tech.Pass can be described as part of a "multi-pronged approach to develop a strong base of technology companies and talent to ensure Singapore remains globally competitive".
The Tech.Pass also provides advantages to already Singaporean firms & individuals by enabling local talent via global collaboration and sharing of networks.
What Can you do with the Singapore Tech.Pass?
The holders of the brand Singapore Tech.Pass will be able to enjoy a range of benefits. Singapore Tech.Pass will be given many advantages that were not included in any existing work pass.
Create a tech-based company in Singapore.
Transition away from the role of an employer becoming an Entrepreneur.
Join any Singapore-based company at any time as an employee.
Participate as an investor or shareholder in any of the Singapore-based companies.
Be a director of any of the Singapore-based businesses.
You can become a mentor, consultant or mentor at a Singaporean university and teach in the local universities of higher education.
Begin by joining your family members who are already living in Singapore.
You can sponsor a family member with a dependant's pass (or the Long-Term Visit Card to stay together in Singapore.
Fundamental Benefits of Tech.Pass
Tech.Pass allows holders to enjoy more freedom by letting them be involved in a wide range of commercial activities and participate in Singapore's tech industry without the need to purchase various passes. In contrast to other work permits, Tech.Pass is tied to an individual and not a corporation.
A few key advantages of Singapore Tech.Pass:
Pass over between employers
Be a tech entrepreneur; instructor, mentor, or consultant
Employed by multiple businesses at the same time.
As a director or invest in more than one technology firm
Take your parents, children & spouse to Singapore
A job letter or sponsorship isn't needed from the employees.
Eligibility Criteria For Tech.Pass
To be eligible for the work permit, a person must be able to meet at least two criteria:
You must have a last-drawn fixed monthly salary of not less than $20,000 (or an equivalent value in any other currency) over the last twelve months. Candidates whose annual earnings are greater than S$240,000 (or equivalent in any currency) are also assessed.
At least five years of experience in an executive position in the tech industry with:
You need to possess an estimated market value or market cap of over US$500 million.
OR
You must generate US$30 million of funding at least.
At least five years of cumulative experience playing an influential role in the design or development of a technology product (e.g. or made a significant contribution to the design or implementation of a tech product) that includes:
You should maintain active monthly users of 100,000 at least.
OR
You must have at least $100 million in annual income of at least US$100 million annually.
The Tech.Pass is good for two years and holders of the pass can apply for renewal on a single occasion for an additional two years. To be eligible for renewal Tech.Pass users must satisfy the eligibility requirements.
Application Procedure For Tech.Pass
To apply for the Tech.Pass candidates must follow the steps below:
1. Apply for the position
Before submitting an application for Tech.Pass Make sure your eligibility requirements are defined in the preceding paragraph of the article & then prepare the documents to support your application. Documents that are not in English must translate into English by an expert translation service.
The applicant needs to fill out & download their Tech.Pass form in soft copy for himself or her, as well as any associates, and then, get an application form(s) completed and signed by the applicant.
2. Payment
The application form generates a reference number for the payment. After submitting the application and required documents, you must adhere to the payment instructions on the request form. Then follow the payment procedure. 
The application fee of S$105 cannot be refunded. The payment is settled through PayNow as well as a wire transfer.
3. Send an application
Once all the documents are completed & the full payment has been received through EDB, Tech.Pass applicants should complete their online Tech.Pass the application form on this MOM website. 
The entire process shouldn't take longer than thirty minutes. On this form, the candidate should provide personal contact information and upload the supporting documents:
The application form must be signed and completed;
Screenshot of bank page that confirms the payment
The travel document page should include the details of the person applying;
Documents verifying the relationship between the applicant's children (if appropriate) and their confirmation of vaccination requirements in a document that is issued from the Health Promotion Board (if required);
Documents that confirm that the qualifications meet. The documents must be uploaded on the MOM website either before or after when you submit the Tech.Pass application. Based on the criteria the applicant uses to justify the application, the supporting documents needed to support the application should be uploaded
Criterion 1
Payslips of the applicant for the last 3 months or most recent tax declarations.
Criterion 2
Annual report on company valuation, annual report, or financial statements with the company's valuation highlighted
Data on the company's funding;
Other documents that indicate the value, e.g. public sources like Pitchbook and Crunchbase.
Criterion 3
Monthly active user reports for the Product;
Screenshots of download figures for applications;
Other documents that indicate month-to-month active users, or revenues earned from these products (e.g. pitch document).
4. Processing of applications
The EDB will begin processing the application once it has received the full amount of payment as well as a complete list of documentation. It can take up to eight weeks the processing an application. It could be longer if additional details are needed.
When the request is accepted, Tech.Pass applicants will receive an in-principle acceptance (IPA) letter via email. After the IPA is received, the applicant has six months to get into Singapore and have the pass. This time frame cannot be extended.
5. Issue the pass
Within six months from getting within 6 months of receiving the IPA notice, the applicant must visit Singapore for a request to issue the pass.
 The application for the pass can be made via EP Online (if the applicant is SingPass) or EP Online (if the applicant has a SingPass) and in-person at MOM's Employment Pass Services Centre by appointment.
You Tech.Pass is issued through MOM, and the cost of issuance is S$225 for each pass.
Tech.Pass holders are eligible to renew their pass within 2 years. Tech.Pass can be renewed only once. In order to be eligible the holder of the pass must satisfy any or more of these requirements:
At the minimum of S$240,000 of assessable income as per the most recent Notice of Assessment issued by the Inland Revenue Authority of Singapore (IRAS). A Notice of Assessment could comprise the amount of business income and/or salaries or
Show the total annual business expenditure that is at least S$100,000. Utilize:
At least one at least 1 local manager or professional or at least one executive (Singaporean and Singapore PR) who is paid an annual fixed salary that is at least S$3,900, and are eligible for CPF contribution for at most three months following the definitions in the EntrePass renewal requirements OR
Singaporeans or Singapore PRs earn a minimum monthly salary of not less than S$1,400, and receive CPF contribution for at most 3 months according to the definitions in the Renewal criteria for EntrePass.
Can Tech.Pass holders bring their relatives to Singapore?
Tech.Pass holders can bring relatives to Singapore. Family members can move to Singapore using either the Dependent Pass (DP) or a Long-Term Visit Pass (LTVP) granted by MOM.
These family members are eligible to receive the benefit of a DP issued by MOM:
Legally married partners
Children who are not married, under 21 including children legally adopted.
Family members are eligible to receive an LTVP granted by MOM:
A common-law spouse
Children who are disabled and unmarried, over 21 years old
Unmarried stepchildren below 21
What Makes a Singapore Tech.Pass different from a Entrepass or Employment Pass?
Singapore Tech.Pass differs from the standard Singapore work pass in many ways, such as:
At the moment it is estimated that there will be 500 Tech.Passes are distributed, while there's no quota set for traditional work permits.
A Tech.Pass is a pass that can be obtained by the person applying for it. A traditional work permit is required to be requested through the company.
A Tech.Pass applicant does not have to be employed in Singapore prior to applying.
In addition, if you're currently a holder of an Employment Pass, you can still apply for Tech.Pass If they meet eligibility requirements.
The following table will illustrate the distinction between the Tech.Pass, Entrepass, and Employment Pass in Singapore:
| | | | |
| --- | --- | --- | --- |
|   | Tech.Pass | Entrepass | Employment Pass |
| Applicant's Profile | Tech entrepreneurs, leaders, or technical experts | Overseas business owners to launch and run a company with innovative technologies. | Foreign professionals, managers, and executives |
| Validity of the visa | Valid for 2 years | Valid for 1 year | Valid for 1-2 years |
| Eligibility Requirements | Monthly income of at least S$20,000 | Have created, or want to start, a private limited business that is backed by venture capital or has innovative technologies and is registered with ACRA. | Possess a work offer in Singapore and receive a salary of no less than $5,000 per month. |
| Feature | Launch and Manage one or more tech businesses; | Only one business may be operated. | Only permitted to work for a single employer. |
With the Tech.Pass visa, established tech executives, business owners, and technical specialists from all over the globe can travel to Singapore to carry out inventive and revolutionary innovations. It offers qualified people the chance to work and reside in Singapore for no more than two years, with the option of renewal for an additional two years. By attracting skilled tech professionals from overseas the purpose of the Tech.Pass program is to aid in the development of Singapore's tech ecosystem and to ensure that Singapore is competitive globally.
If you want to apply for Tech.Pass or have any queries regarding Singapore Tech.pass, we are Odint Consultancy. We would be pleased to assist you.