e-RUPI is an initiative taken by PM Narendra Modi in New Delhi on 2nd August 2021 to promote contactless transactions and Digital India. It was decided and initiated via a conference amidst Covid times.
The aim behind this huge move was to accelerate the digital governance role in India and make it a sign of digital growth by connecting technology with the people.
 e-RUPI is a message-based e-voucher or a QR code to make transactions run smoothly without any disruptions. It is only issued to the government of India or to the corporates for their workers, thus restricting the usage of e-RUPI to only merchants and not the general public.
 It is a one-time payment mechanism that can be operated even without cards, online apps like Gpay, Paytm, etc., e-RUPI is SMS based voucher sent to the message box of the receiver, and he can thus redeem them. It is a development by the National Payment Corporation of India in alliance with the Department of financial services, Health Ministry.
It provides seamless and transparent transactions, thus paving out the way for the government to keep a check on the transactions. It proves great governance by making the transactions targeted and leakproof.
As it is just the beginning, e-RUPI currently is operated for only health and medical services due to Covid times but will further move on to the other segments of the market as well.
Significant features of e-RUPI
Only the banks directed by RBI can issue the e-voucher known as e-RUPI, and no other corporate or bank can do that. Even the banks are mandated to adhere to the rules and guidelines given by the RBI to issue the vouchers.
e-RUPI is supposed to be transferred in only digital formats like SMS or Qr code and will be considered invalid if shared in a paper or document format.
Those requesting the e-RUPI vouchers need to disclose all the necessary details to the bank about their businesses, and only a fully KYC'ed account can request the e-RUPI voucher.
The maximum limit for the e-RUPI voucher has been set to INR 10,000 per voucher, and for the healthcare industries during the covid time, one single mobile number can be appointed up to 10 e-vouchers.
Not just the limit is set for the money; e-vouchers come with a definite period as well. The valid period is one year after the issue of such vouchers.
It is a non-transferable voucher that means once issued, and it can't be redeemed back as cash or cash equivalents.
The banks that have given the access to issue e-vouchers are Axis bank, Hdfc bank, ICICI Bank, Canara Bank, Indian Bank, Kotak Mahindra Bank, State Bank Of India, Punjab National Bank.
Transfer of funds via e-voucher does not require any mobile applications, cards, cheques, thus differentiating and making it better from other modes of payment.
It promotes digital growth and signs of a developed nation.
It reduces the use of paper and makes it environment friendly.
It assures the merchants of real-time payments and easy transactions.
Benefits of e-RUPI to rural India:
The aim behind this is to move the country towards a digital world. It is designed to ensure the wellness of the Indian Rural and MSME markets. Some other benefits are-
To protect the payment mechanism- Many times, there has been misappropriation of funds due to intermediaries in between. These vouchers will help eliminate the intermediaries and thus note the secure flow of funds.
This will help in the growth of MSME and rural markets and flourish their business.
A large population in the rural area still does not have a bank account, and this will initiate business and bring them into the formal economic system.
This eliminates the hurdles that come and forms a bridge between beneficiaries and sponsors.
As most of the payments include digital applications or the use of cards and banks, e-vouchers are here to change the game as they don't need any applications, cards, banks, or whatsoever. Thus making it easy for the rural people.
It is a person and payment-specific voucher making a great revolutionary move promoting progressive Indians.
How to use e-RUPI vouchers?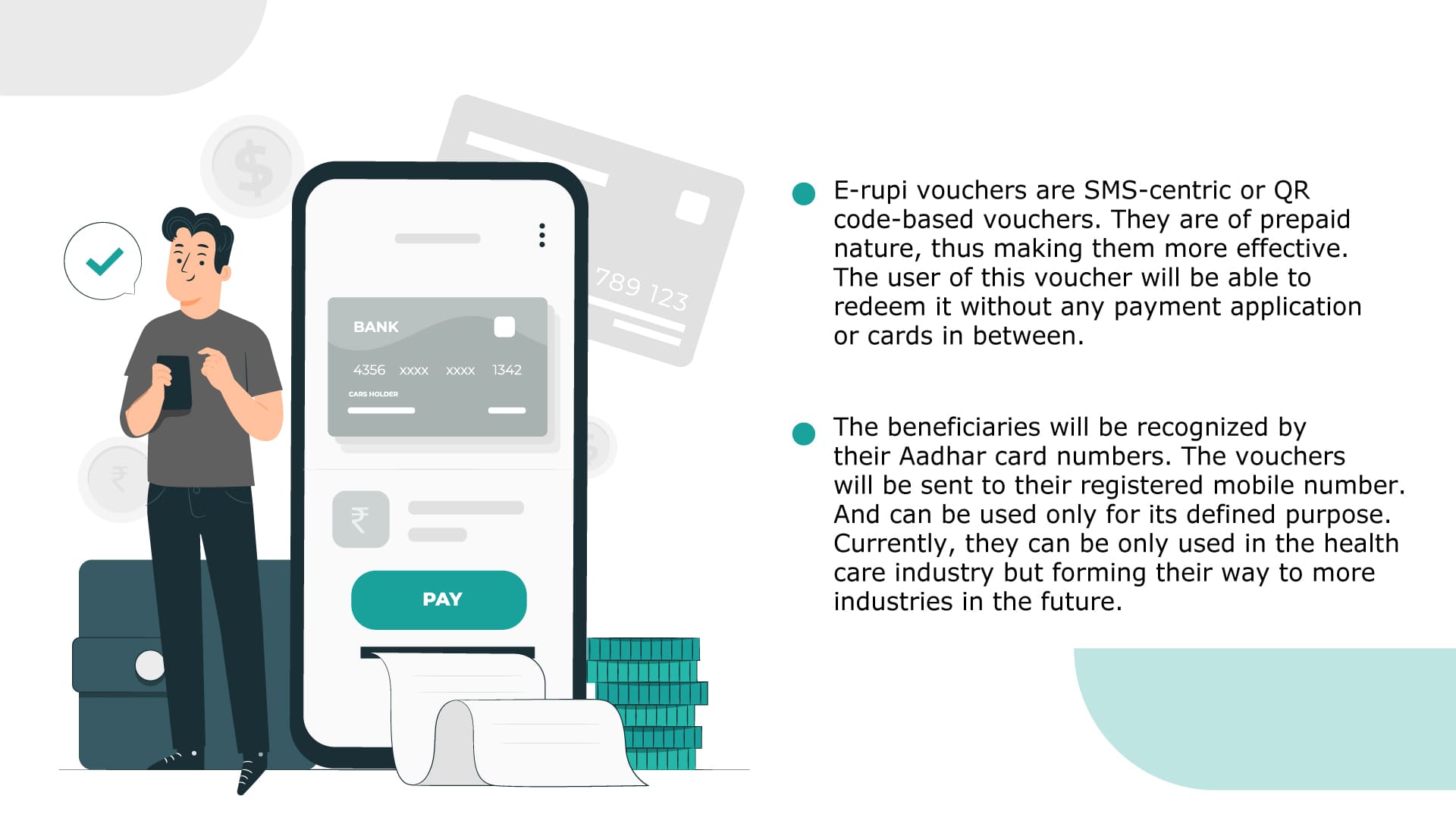 E-rupi vouchers are SMS-centric or QR code-based vouchers. They are of prepaid nature, thus making them more effective. Beneficiaries may use this one-time contactless, cashless voucher-based means of payment for redeeming it without a card, a digital wallet, or an online banking connection.
The beneficiaries will be recognized by their Aadhar card numbers or UID numbers. The vouchers will be sent to their registered mobile number. And can be used only for its defined purpose. Currently, they can be only used in the health care industry but forming their way to more industries in the future.
While e-RUPI is loaded with many benefits, there are some disadvantages too which we have mentioned below:
Because of the rules and formalities laid down by the RBI, only a few banks are designated to issue e-RUPI vouchers. It means that banks in regional areas have to wait till the vouchers serve nationwide.
As harsh as it is, many people in rural areas still do not use mobile phones. It is a huge drawback for the Indian economy as well. Therefore, e-RUPI cannot be used there.
As discussed before, the validity of the e-RUPI voucher is only one year, and it expires after that. It becomes invalid even if it is used for some other purpose than defined.
Fear of piracy is a major issue here. Anybody with the user's phone and details can take advantage of the e-RUPI voucher.
The server is still developing, so there might be some technical issues as well while operating the server, thus creating chaos for the users.
How can e-RUPI help curb black money?
India has taken a huge step while it implemented e-RUPI. It will not only ease the transactions but will also help track money. With that in use, the circulation of black money will be reduced to a number.
Its biggest advantage is that it is linked to an Aadhaar card that will help the government to track money easily. As it is paperless, it will make sure nobody is misusing it in any way.
Central bank digital currency (CBDC) is governed by RBI and helps it monitor the transactions. It will help in changing the economic system of the country, backing it up with huge developments.
This all will, in turn, help the government monitor the money in circulation. And it will help the government to track expenses and taxes, paving out the way for any misuse.
What Sets e-RUPI Apart From UPI?
The electronic rupee (e-RUPI) is a type of government money, however, UPI programs like PhonePe, and Google Pay, ARE alternative ways to transmit money or payment instruments. The main difference between the two is that UPI transactions are fully guaranteed by real money, while the digital rupee is a form of legitimate cash that isn't supported by real money. 

Every UPI transaction requires bank involvement. The payments are sent to the recipient's account whenever you utilize a UPI application, and your financial institution's account is debited. Paper money allows you to take out a set amount from the financial institution, save it in your wallet, and use it anyplace without the financial institutions being aware of it. In a similar manner, in e-Rupi, you'll take out the virtual money and store it in your mobile wallet. The funds travel from your digital wallet to the recipient's when you send a transfer to an organization or another individual and hence there is no intermediation by banks.
Axis Bank

Bank of Baroda

Canara Bank

Punjab National Bank

HDFC Bank

Indian Bank

ICICI Bank

IndusInd Bank

Kotak Mahindra Bank

State Bank of India

Union Bank of India
e-RUPI is an e-voucher scheme initiated by Prime Minister Narendra Modi on 2nd August 2021 via a conference meeting to speed up the process of business transactions while keeping a check on the money as well.
 This was a great initiative and a huge success for the Indian government in collaboration with the department of finance and health ministry. At this present Covid time, e-RUPI is only accessible to the health industry, but it has a plan to diversify in other industries as well.
e-RUPI has many benefits, right from monitoring the funds to curbing black money and making business easier. It is here to develop the nation's economic market. This is a new move towards the digital country our government is aiming at.
It can be used by the government and corporates for their employees but not anybody else. It will be issued to only those having KYC'ed bank accounts that too only by some specified banks.
Such banks are assigned to do the job with RBI-issued special guidelines. And RBI will monitor the transactions and keep a check on the money circulations.
e-RUPI, however, once issued, is non-transferable and cannot be converted back into cash. It has an expiry period, and after the expiry period, it is of no use. It cannot even be used for any other purpose other than the one specified. This makes it a little difficult for people to use but constitutes a great advantage for the government.
In the coming future, e-RUPI is, however, going to be huge as it will spread to more industries as well. It is easier for businesses and people as you do not need any special applications, cards, banks for the e-RUPI transactions. You just need an Aadhaar Card and registered mobile number to carry on the transaction.
It is a prepaid voucher and is sent digitally via SMS or a QR code, thus making a paperless transaction owing to the digital India we're building. This is why e-RUPI is a different scheme than any other payment method and is a better one as it does not require anyone to be tech-savvy or have fancy phones, gadgets, internet connection.
e-RUPI is here to stay and rule the game!