There is absolutely no doubt that the Irish business climate is a fierce network of companies cooperating instead of promoting robust competition. This kind of corporate mob mentality has encouraged the development of new ventures within Ireland.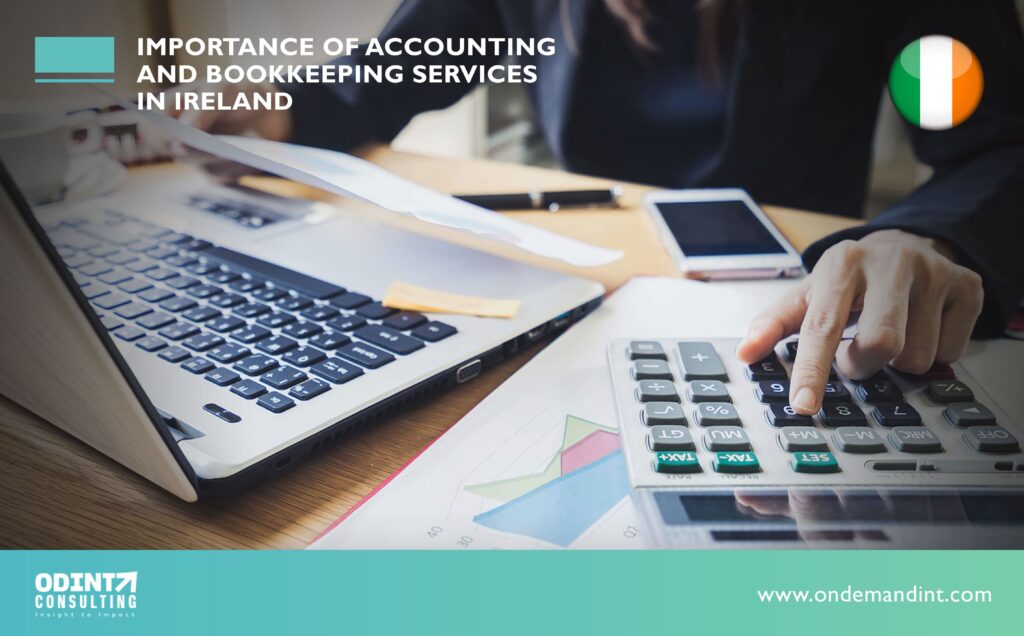 As a result, many outsourcing organizations such as independent distributors or trading companies wanted to take advantage of the opportunities and were able to form partnerships or joint ventures with a variety of firms.
Although the country has an abundance of business resources like labor, land, networks, and policies that support it, the only essential service that was of minimal supply was accounting and bookkeeping.
The importance of Accounting and Bookkeeping services in Ireland must be considered by entrepreneurs because of the variety of commercial operations that generate a need for various forms of financial paperwork, including Accounting and Bookkeeping.
However, in this article, we will be briefing you all about the importance of Accounting and Bookkeeping services in Ireland. So, without any ado let's dive into it.
Why does a firm need accounting and bookkeeping services in Ireland?
A business communicates through its books of accounts. However, the importance of accounting & bookkeeping services in Ireland are the primary communication channel for a business. Eventually, most of the transactions are handled by the various stakeholders in a different method, thus, it's important to keep track of each transaction.
In the past, many businesses kept business records on paper transactions. This might initially appear to be convenient, but it can expose an organization to risks if records become damaged or destroyed by unexpected situations.
Recording and calculating transactions manually can be a tedious task and takes time which could be better used elsewhere in your company.
The accuracy of your accounting records is not just an essential legal requirement, but it's also crucial to the success of your business. A well-organized bookkeeping system will allow you to make informed choices about spending as well as planning investments, and control the flow of cash.
Due diligence is vital and no one would like to be faced with unanticipated tax bills that could be the result of inadequate accounting practices.
4 Importance of accounting and bookkeeping services in Ireland
The method of recording daily transactions is referred to as bookkeeping. Once they are recorded, they have to be analyzed, understood, and compiled in a manner that is called accounting which is a broad concept.
Here, we have briefed about the importance of accounting and bookkeeping services in Ireland & the various cases which signifies its importance.
1. A growing demand by the Government
So Ireland's government is urging the excess of businesses that are constructing the economy to make sure that their accounting obligations are being met and the supporting documents are presented for government approval. 
The various administration institutions like The Revenue Commissioners Office and the Company Registrations Office generally required the firm's accounts and examine the books of accounts to serve different taxation and investigation reasons. 
While the market is flexible, however, the government has put in place stricter documentation and taxation policies to ensure that businesses regularly supply their financial records so that the government has an accurate record of the financial condition of the business.
2. Revenue Commissioners Office
The Irish Taxation Authority is also known as "the Revenue Commissioners Office is the principal government agency that oversees customs tax, excise, tariffs, and taxation policies that cover the back end of the Irish economy across all 27 counties that comprise the Republic of Ireland. 
The Revenues Office imposes taxes based on a company's growth rates, for instance, an increase in the annual turnover that exceeds a specific threshold. In line with these obligations, companies must file, accounts and pay the obligatory taxes within the buffer period given to the business through the Office. 
The various requirements that require the company's accounting books to be provided to the office include-
Comprehensive books of account Balance sheets statements of cash flow, balance sheets and more
Pay as You Earn (PAYE) system
Value-added Tax (VAT) system
Tax system applicable to relevant contracts, sole traders as well as companies
Businesses (such as offshore corporations) that are exempt from tax due to specific reasons have to present the tax exemption letter to the tax office
The documents have to be kept for six years, as per the guidelines of the government.
3. Company Registrations Office (CRO)
Any business that wants to establish operations in Ireland should first consider making contact with an organization called the Company Registrations Office (CRO) to operate within Ireland. 
The CRO is not just responsible for the smooth running of businesses operating that operate in the market, but it also monitors the performance of various firms. 
Based on the annual economic changes and the yearly economic fluctuations the CRO is also responsible for registering new tax-deductible goods and services according to the various thresholds these companies have to cross by their earnings. The CRO is also the sole body to exempt certain businesses from tax obligations.
Companies must apply to become tax-exempt entities with the CRO according to the services they offer. The CRO also releases the list of tax-exempt goods and services, with various rates, of which fishing and agricultural items and services are the majority of cases exempt from taxation.
4. A potential market for accounting services
Offering a variety of businesses in the country's economic landscape, Ireland is undoubtedly a market that is open to new opportunities, and the increasing need for accountants is evidence of that. 
A majority of businesses look to their primary operations to earn profits, which leaves an untapped area in their administrative processes such as auditing, financial and secretarial services that link businesses directly with the government. 
 The success of these firms is a shout of joy for their expected success. This has led to the creation of new companies which offer services such as accounting, bookkeeping, corporate secretarial services, and more.
There is no doubt that the Irish marketplace for business is a place of possibilities and, in the fun journey, no venture should be hindered by administrative processes that could impede the focus of its production areas.
Benefits of accounting and bookkeeping services in Ireland
We've witnessed the importance of accounting and bookkeeping services in Ireland for any business regardless of its size or nature. That's the reason why these services are crucial.
Let's take a look at the advantages that can be gained through these accounting and bookkeeping services:
It is simple to build a budget for your finances.
It is an efficient time- and cost-saving device.
It is beneficial to acknowledge the stand of the firm in the market.
It helps build trust.
Maintains a tracker of the financials.
Ireland is undoubtedly a market that is open to new opportunities, and the increasing need for accountants is evidence of that. However, if you looking for such a thought you must consider a professional expert for this role, to keep your accounts maintain correctly.
 Odint Consultancy's teams of experts look attentively at the delicate aspects and provide you with the most effective solution for your company.