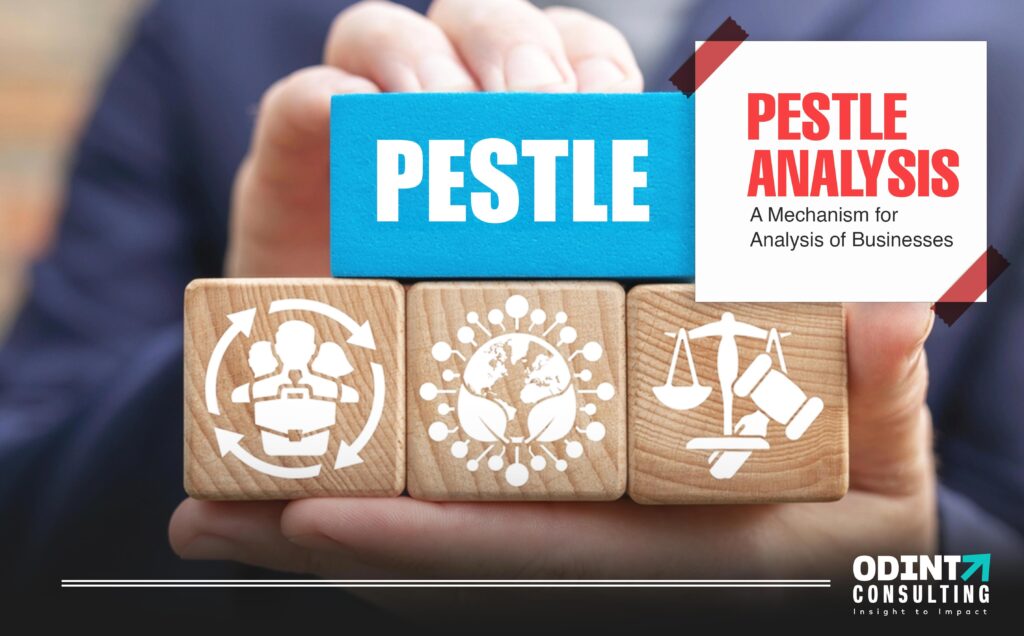 Overview: PESTLE Analysis - Mechanism for Business Analysis
PESTLE analysis is a method for the study of the most important elements (Political economic, sociological and Technological, as well as Legal and environmental) that impact an organization from the outside.
It offers professionals the ability to understand the external factors that impact their business. The factors are analyzed to see what effect they may impact the company. The results of a Pestle analysis can be used to identify opportunities and threats of the SWOT analysis.
Pestle analysis is a flexible method. Pestle analysis is a flexible method and can be employed by organizations in a range of situations. Professionals, employees, as well as senior managers, could utilize the findings from the Pestle analysis to help them make strategic decisions.
Crucial Factors Of Pestle Analysis
Let's begin to discover the significance of each of the crucial factors that are the basis of Pestle's investigation.
1. Political influences:
Political considerations determine to what extent a particular government's actions will impact the economy or any other sector. For example, a government could introduce an additional tax or duty that can modify the entire structure of an organization that generates revenue.
In many cases, political influences affect the way organizations operate and in which they conduct business. Companies must be able to adapt to the current and future legislation and alter their marketing practices to reflect the changing laws.
The elements of Pestle analysis could be as follows: :
Government stability/instability
Corruption level
Tax policies
Foreign trade policy
Voter participation rates
The number of protests by the government
Subsidies from the government
Bilateral relations
Import-export regulation/restrictions
Control of trade
Lobbying activities
The budgets of the government are huge
Freedom of the press
Regulators and government regulation
Special rates
Political action committees
The involvement of the government in trade unions and other agreements
Regulations on competition
2. Economic considerations:
Economic variables are the key to the economic performance that directly affect a company and can have long-term effects. For instance, an increase in the inflation rate of the economy will impact how their goods or services will be priced by firms. Additionally, it could affect the purchasing power of consumers and alter demand/supply models in the current economy.
The elements of Pestle analysis can comprise the following :
The growth rate in GDP
The rate of growth in interest
Inflation rate
Exchange rate
Tendency to work
Markets and trends in the financial market
Variations in price
Credit card availability
Disposable income level of both businesses and consumers
People's tendency to invest
Deficits in the Federal Budget
The trends in gross domestic product
3. Social influences
Social variables evaluate the social climate in the market and measure the impact of factors like cultural patterns such as demographics, population analysis, and more. These topics are based on people's common opinions and beliefs. These aspects are of particular significance because they directly influence the way marketers perceive their clients and the motivations behind them.
These elements of Pestle analysis can be as follows: :
The size of the population and its growth rate
Rates of immigration and emigration
Age distribution
Wealth distribution
Social classes
Faith and religion
Attitudes toward saving
Attitude toward investing
The attitudes toward retirement
Attitudes to product quality
Customer service attitudes
Size and organization of the family
Lifestyles
Health consciousness
Shopping habits
Ethics concerns
Values and norms of culture
4. Technology-related factors:
These are factors that relate to technological advancements that could positively or negatively impact the operation of the business and market in general. This is the case with automation and research and development and also the amount of technical information the market has.
Technological forces can have three distinct impacts on the management of marketing that is, (i) Fresh ways to provide goods as well as services and (ii) innovative ways that products and services are sold, and (iii) innovative methods of gaining knowledge about market segments.
Technologies involved in Pestle analysis can comprise some of the following:
Incentives to Technology
Automation
Development activities. 
Technological revolution
Incorporating modern technology
Innovation Level
Expertise in the field of technology
Web infrastructure
Transmission infrastructure
Technology-lifecycle
5. Legal issues
Some regulations impact a specific nation's market environment as well as certain guidelines that businesses adapt to themselves. The legal analysis examines these two aspects and exposes the methods in relation to the law. It is evident that businesses have to be aware of the legalities and what's not legal to be able to conduct a successful trade.
The elements of Pestle analysis could comprise the following :
These are the Laws on discrimination
Laws that relate to employment and work
Laws that protect consumers
Copyright and patent rules
Safety of the product and labeling
These are the Laws on health and safety
Standards for advertising
The Laws of Education
Consumer protection laws
Data security laws
6. Environmental factors
Environmental factors are all aspects that affect the environment or are influenced by it. Due to the ever-growing shortage of natural resources, emission levels, and the need to be viewed as a sustainable and ethical business, carbon footprint limits are established by government agencies as well as other government agencies. The environmental aspects are now more crucial.
The carbon footprint targets that are set by governments can be a good illustration of a situation where one element can be classified both environmental as well as political.
Environmental elements of Pestle analysis could comprise some of the following :
Weather
Climate change
Pollution targets
Greenhouse gas emission factors
Environmental policies and climate management
The burden of compliance and pressure from NGO
Use of land and water as well as biodiversity
Natural calamities
Water pollution and air pollution
Recycle-related standards
Green attitudes products or goods
Ensuring renewable and clean energy sources
Book end-to-end experts consultation with Odint finance and legal experts
How To Do a Pestle Analysis? With Examples
Step 1. Think about every aspect of Pestle analysis that affects your business's domain.
Step 2: After you've noticed the shifts that are taking place in your company environment, it's time to take a look at each shift and consider the possibilities they may present for you.
Step 3. It is essential to consider the ways these changes may impact your business (threats). You'll be able to stop these problems or limit the impact if you recognize this before it is too late.
Step 4: Develop the steps you'll take to capitalize on the identified important possibilities in the business strategy. In addition, you should take the appropriate action to eliminate or reduce the identified risk.
A few examples of Pestle analysis
Example 1: Pestle analysis of Starbucks coffee
The company was established in 1971. Starbucks Coffee Company has evolved into an international corporation.
The largest organization for coffeehouses worldwide, Starbucks continues to lead in the field of sustainable business and innovation. Its Pestle analysis research method can reveal the most significant Starbucks results based on the remote or macro-environmental factors.
External factors that affect Starbucks' macro-environment
Results: The above Pestle analysis/study demonstrates that the majority of external factors present opportunities for Starbucks's micro- or remote environment. However, Starbucks Coffee must nevertheless try to mitigate the identified risks, notably the possibility of substitution due to the increasing availability of specialty coffee machines that can be used at home.
Example 2: Pestle Analysis utilized in S & P Global in the process of assigning ratings S & P Global Ratings incorporates credit factors in its credit analysis across all industries when they determine these factors to be crucial and relevant to their opinions on creditworthiness.
They believe that these factors impact headroom ratings, appraisal forecasts, and ratings. their impact differs between sectors. Ratings for credit are issued through S & P Global depending on the extent to which external influences affect the ability and ability of an obligor in meeting its financial obligations.
 When organizations rated react to these opportunities and challenges, S&P Global Ratings tracks the impact on credit of financial, economic, and management (ESG) factors.
Importance of PESTLE Analysis With Examples
Pestle analysis plays an important part in the growth of an organization. When expanding the product range or launching the business in an entirely new location, understanding PESTEL is crucial in drafting plans and creating business strategies.
Its significance is evident from the following aspects :
It doesn't matter if it's a new venture or an existing business and the process of evaluating PESTEL can help every business owner to identify major changes in the political, economic technical, social environmental, and legal aspects.
It aids companies to expand their operations through strategic planning.
Each department of the business including distribution, accounting, and promotions, is managed through internal control.
For example, there is the possibility of having more employees put into distribution to earn more revenue. But, unlike internal variables that can be controlled by an organization Pestle's analysis sheds the spotlight on external factors that continue to exist and influence the organization from the outside.
It's a cost-effective method of business analysis because the only expense of Pestle analysis is time and energy.
It is a simple way to summarize the elements that influence the international business environment.
In the case of innovative merchandise is considered, it enhances the strategic thinking process and provides a better comprehension of the various elements like the regulations of consumers, technological advancements as well as other factors. which affects the introduction of the new product.
It assists companies in planning for the future risks that may are triggered from time to time because of external influences.
For example, technological advancements such as the mobile app's enhancement can be an issue when the manufacturing of mobiles is not able to adapt to modifications in the mobile market.
It allows companies to take advantage of opportunities that arise at times because of external influences.
For example, a lower interest rate on the real market for real estate is an economic factor that creates an incentive to increase the number of homes for sale, because mortgage loans become affordable due to the reduced interest.
Positive aspects of a PESTLE analysis
It has a basic structure.

It makes it easier to comprehend the larger business environment. 

It promotes the growth of analytical and strategic thinking. 

It can help a company foresee possible risks to business and take precautions to lessen or eliminate their effects.

It makes it easier for an organization to be able to recognize and take full advantage of commercial possibilities.
Drawbacks of a PESTLE analysis
It's simple to employ inadequate information while using PESTLE analysis, thus some individuals oversimplify the quantity of data employed to make judgments.

The danger of gathering more data could result in "paralysis by analysis." 

The information may have been derived from presumptions that afterward turned out to be incorrect.
Book end-to-end experts consultation with Odint finance and legal experts
Pestle analysis is an examination of the cultural, political social, technological, and other elements of an organization's external environment that could impact its operations and results. It is the process of selecting and presentation of external influences which may, or influence the business. The result is an organization that has both potential and obstacles.
If you still have any queries related to the Pestle analysis, we are OnDemand International, here to help you out in each & every step of yours.