Set up a Representative Office in Singapore
Singapore has been recognised among the top countries for ease of doing business and provides a business-friendly environment for establishing businesses. Due of this, the country is a desirable option for foreign business owners. Numerous different types of businesses can be registered in Singapore. A representative office is one such corporate structure that is favoured by foreign investors.
Before launching a commercial venture in Singapore, foreign enterprises who are interested in researching prospective business possibilities may establish a Representative Office (RO).
A representative office lacks legal standing and is not allowed to carry out any business operations. Therefore, before opening a branch or subsidiary firm, overseas businesses would frequently set up a representative office in Singapore.
Permitted Activities for a Representative Office in Singapore
A representative office is allowed to carry out the following process with the aim of performing market research on the opportunity to establish a stable company in Singapore:
Assemble data on rivals and clients.
Research the market for growth, consumer demands, and pricing assumptions.
Comprehensive data on establishing a permanent business organization in Singapore.
Make business connections and respond to product queries.
Display and take part in trade exhibits
A representative office specifically isn't authorized to do the following things:
Carry out commercial or business activity
Engage in commercial agreements or sales negotiations
Send out bills or receipts
Open certificates of loans and obtain them
Lease real estate
Promote your business or offer marketing-related services.
Locate, acquire, or name providers of components or raw materials
Interact with distributors or agents on behalf of the main firm
The parent firm and its clients organize sales or other commercial activities.
Perform quality assurance inspections or act as technical lead.
Registration Requirements for a Representative Office In Singapore
The overseas parent firm must fulfill the following conditions in order to set up a representative office:
At least US$250,000 in revenue from the overseas parent firm is required.
It should be operating for at least three years for the overseas parent business.
A designated representative of the overseas parent firm may be one of the representative offices which can be a maximum of five employees.
In addition, the following paperwork is required for all fresh applications for a representative office:
A duplicate of the parent company's formation or establishment document.
A hardcopy of the most recent books of accounts of the parent business.
Every document must be formally translated into English or written in English.
Registration Procedure of a Representative Office In Singapore
Satisfy the prerequisites 
One of the first steps for setting up a representative office in Singapore involves fulfilling the requirements.
Collect necessary documentation
Gather all the paperwork required to open a representative office in Singapore, including an attested copy of the governing organization's certificate of incorporation, a copy of the holding organization's most recent annual report and audit, etc.
Register the representative office
Fill out a registration form for a representative office and send it, along with the necessary paperwork, to Enterprise Singapore. 
Pay the fees and wait for approval
The S$200 registration cost must be paid by the foreign firm once the application has been filed. The registration will generally be processed by IE within 5 working days.
Approval
IE will provide a Letter of Approval verifying the registration after it has been accepted. 
Compliance requirements to set up a Representative Office in Singapore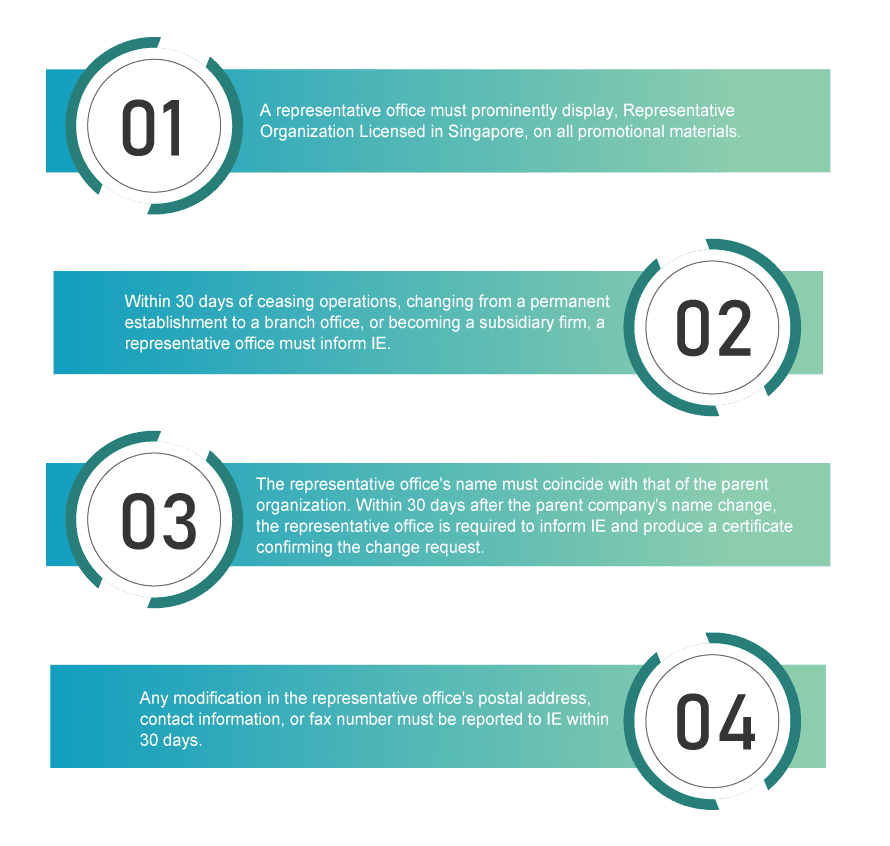 A representative office must fulfill the following rules to continue to be compliant:
A representative office must prominently display, Representative Organization Licensed in Singapore, on all promotional materials.
Within 30 days of ceasing operations, changing from a permanent establishment to a branch office, or becoming a subsidiary firm, a representative office must inform IE.
The representative office's name must coincide with that of the parent organization. Within 30 days after the parent company's name change, the representative office is required to inform IE and produce a certificate confirming the change request.
Any modification in the representative office's postal address, contact information, or fax number must be reported to IE within 30 days.
A representative office is not expected to send yearly income statements to ACRA or annual tax returns to IRAS since it has no legal validity.
Converting to Local Company
By establishing a local branch or a parent business with the Accounting and Corporate Regulatory Authority of Singapore, a trade deal in Singapore can be transformed into an established corporation. Singapore mandates that foreign businesses use a licensed reporting agent, such as a business network operator, to create a coworking space or parent business. A corporate network operator will assist in gathering and preparing the required paperwork and completing the ACRA filing process.
Renewal Procedure of a Representative Office in Singapore
A multinational corporation is valid for a year after approval. To keep operating, it must be updated each year. IE will typically issue a renewing notification 60 days before the representative office's renewal date. The representative office also has to be renewed within a week of the renewal date. The RO must be updated by filing an application on IE's portal, just like they did for the first registration. Normally, renewals do not call for audited accounts. To renew a representative office, IE may nevertheless request the most recent financial documents from the parent organization.
The trade deal must be transformed into a business unit or a subordinate firm in order to maintain operation after the initial three years.
Factors to consider to Set up a Representative Office in Singapore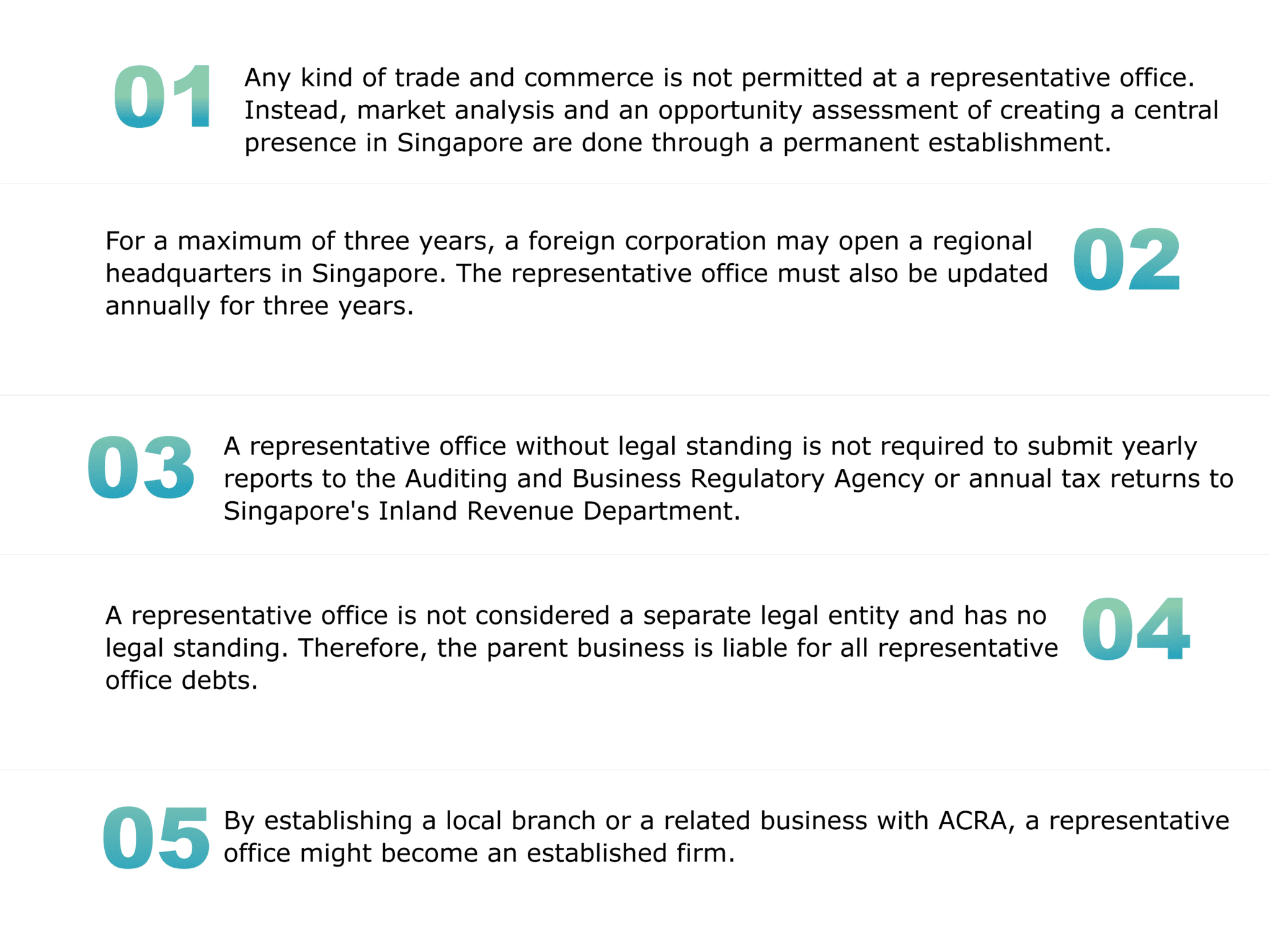 Any kind of trade and commerce is not permitted at a representative office. Instead, market analysis and an opportunity assessment of creating a central presence in Singapore are done through a permanent establishment.
For a maximum of three years, a foreign corporation may open a regional headquarters in Singapore. The representative office must also be updated annually for three years.
A representative office without legal standing is not required to submit yearly reports to the Auditing and Business Regulatory Agency or annual tax returns to Singapore's Inland Revenue Department.
A representative office is not considered a separate legal entity and has no legal standing. Therefore, the parent business is liable for all representative office debts.
By establishing a local branch or a related business with ACRA, a representative office might become an established firm.
Setting up a representative office in Singapore can be a good alternative for foreign businesses wishing to increase their regional presence. A representative office cannot conduct any profitable commercial or business activity because it is a temporary organization with no legal standing. However, a foreign company may benefit from opening a representative office in Singapore to examine the local business climate and determine whether it would be beneficial to do operations there.
If you are looking to setup a representative office in Singapore, you can consult Odint Consultancy. Our experts will assist you with the entire registration procedure.