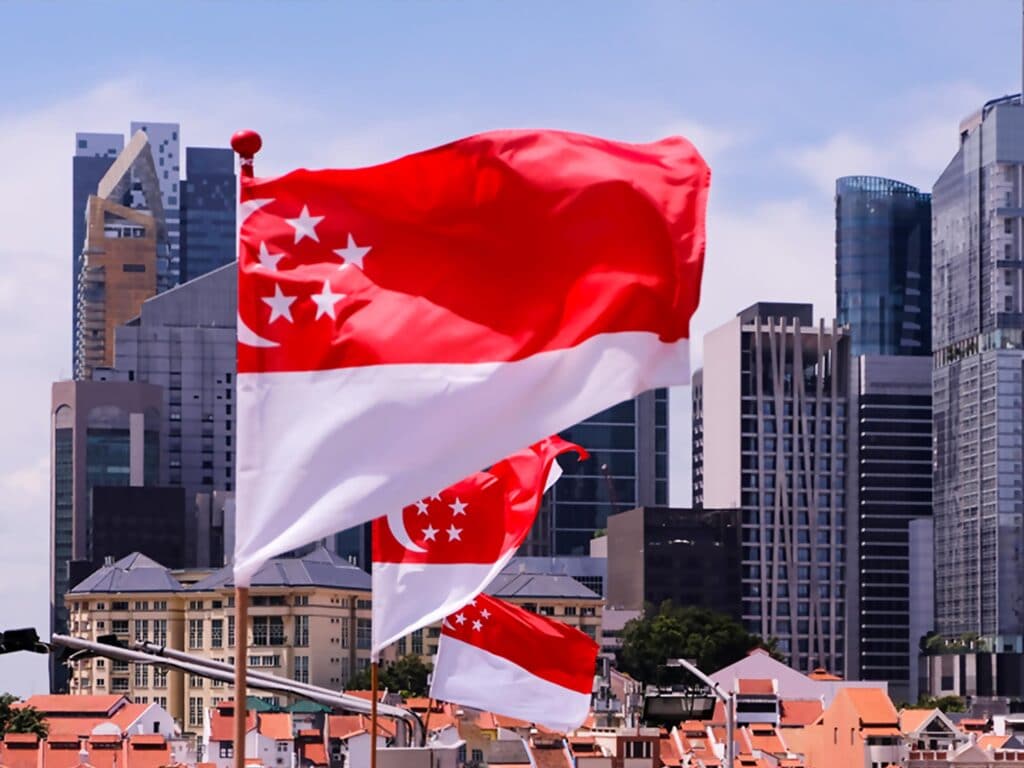 The price of real estate and office spaces are an important indicator of a market's business environment. Stamp duties are the Singapore government's means of moderating those prices and utilizing the funds so collected toward development work.
Singapore imposes stamp duties on specific legal papers. In accordance with the kind of paper and the deal's total worth, different stamp duty rates apply.

This article will tell you what stamp duties are, current Singapore stamp duty rates, how they apply to real estate buyers of commercial and residential properties, and how to pay them.
Meaning of Stamp Duties in Singapore
In ordinary parlance, stamp duties are taxes that the state levies on documents accompanying the transfer of legal titles to property (whether self-owned or taken on rent), shares, or stock in a company. Stamp duty was implemented to make sure that these lawful operations are correctly recorded and registered with the appropriate officials.
Although the primary purpose of a stamp duty is to raise money for government activities, they can also temper the prices of the property market.
The stamp duty rates in Singapore differ based on the kind of documentation and the amount of the transfer. In Singapore, these tariffs are the responsibility of the Inland Revenue Authority of Singapore (IRAS). If you're acquiring residential commodities in Singapore, whether as a tenant, a buyer, or a seller, you would be required to pay the following 3 Singapore stamp duties.
Buyer's Stamp Duty
Additional Buyer's Stamp Duty
Seller's Stamp Duty
Residential Property Legal Definition
A built-up property will be considered residential if it is so designated under its Permitted Use. 
Unbuilt properties and lands will be classified as residential if zoning laws for the particular area have that designation.
Some built-up properties will have both commercial and residential parts. These mixed use properties will be considered residential till such parts which are exclusively meant for living purposes only.
Note: Establish a strong legal presence in Asia by registering your company in Singapore.
Buyer's Stamp Duty (BSD) is the tax that the IRAS levies when property is bought and its liability falls on the person buying the property in question.
Applicable BSD rates will be levied on the greater of the following amounts:
Price as mentioned in the agreement of sale
Market value of the property during valuation
For example, if you buy a mansion that is valued by the market at $2 mn. However, you bargain and buy at just $1.8 mn. Your Buyer's Stamp Duty rate will, in any case, be computed on $2 million, since it's the higher of the two sums.
Further, courts will only consider those documents for verification of titles that have had stamp duties paid against them.
BSD Rates & BSD Calculation
After the 20th of February 2018, Buyer's Stamp Duty is levied as per the table shown below:
| What Part of the Buyer's Base Value? | BSD Rate applicable |
| --- | --- |
| First $180,000 | 1% |
| Next $180,000 | 2% |
| Next $640,000 | 3% |
| Rest of the Base | 4% |
BSD is also estimated on the price agreed upon.
For example, if you're a Singapore Citizen acquiring a condominium rated at $3000,000, your BSD estimation would involve the following calculations.
If you are buying property at an auction or the building is rated below $1 million, this is an existing prescription you can use to swiftly compute the BSD:
(3% x investment tax or demanded rate) – $5,400 = BSD you will be charged
For example, a $500,000 HDB steady would (3% x $500,000) – $5,400 = $9,600 in Buyer Stamp Duty.
For instance,, if the property tariff of a commodity is $600,000, the BSD expected to give is:
(1% x $180,000) + (2% x $180,000) + (3% x (600,000 – 180,000 – 180,000)) = $12,600.
Additional Buyer's Stamp Duty
If you're not a Singapore PR or citizen, or if you have multiple residential assets in Singapore, you may be charged with Additional Buyer's Stamp Duty.
Want to know more about how to get a Singapore PR : Click here.
How to calculate Additional Buyer's Stamp Duty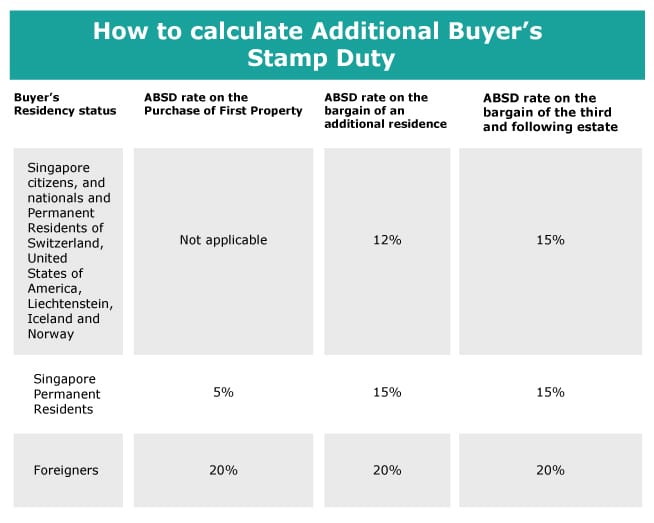 Where you have already signed sale documents for your current residential property before entering into an Option to Purchase.
You are buying a less expensive place from your previous property on the land to an HDB resale flat (Mixed use properties). Note that you are required to sell off your existing house in 6 months after singing the purchase agreement for the HDB.
If you have separated legally from your partner.
If you and your partner are shifting house. You may need to deposit the ABSD Singapore first and get a refund later in the next 6 months.
Seller's Stamp Duty (SSD)
Applicable to residential property and sold after February 20, 2010.
Current rates post and on March 11, 2017:
If held for 1 year or less: 12%
If held for between 1 and 2 years: 8%
If held for between 2 and 3 years: 4%
If held for more than 3 years: 0%
Modes of Payment of Stamp Duties
You can pay via GIRO, AXS, bank transfer, cheques, or the SingPost.
| Location | Accepted payment modes |
| --- | --- |
| e-Stamping Portal (online) | eNETS, cheque, cashier's order |
| IRAS Surf Centre e-Terminals | eNET, NETS, cashcard |
| SingPost Service Bureaus (at Chinatown, Novena, Raffles Place and Shenton Way) | Cash, cheque, cashier's order, NETS |
BSD and ABSD are usually large amounts and you may need to save beforehand.
It is possible to borrow money from the Central Provident Fund (CPF) for stamp duty payments. However, because you earn considerably higher interest on your CPF, it is smarter to borrow and then recover the loan from your CPF.
Don't have a CPF yet? Not sure about the CPF rates? 
Read more: Singapore CPF Contribution Rates, Eligibility, Process
In general, stamp duties must be paid 14 days after signing the agreement for sale of an immovable asset.
Where the contract was signed outside Singapore, you may be given a period of 30 days.
Consequences of late payment
All registered sale deeds will be scanned by the Singapore authorities and failure to submit stamp duty charges is punishable with a penalty.
The penalties are:
Interest for up to 3 months: $10 or an amount in the ratio of the BSD and ABSD expected, whichever is greater
If 3 months or more of unpaid stamp duty: $25 or an amount that is 4 times the BSD and ABSD expected, whichever is greater
The IRAS can send demand notices to your bank, or attorney for recovery of stamp duty. Action may also be taken for recovery.
In Singapore, stamp duties play a significant role in the legal framework. They are assessed on a variety of legally binding papers, such as those involving shares, stocks, and real estate transfers. Stamp duties are designed to guarantee that such transactions have been accurately recorded and lodged with the authorities in order to avoid deceit and to protect the legal privileges of all parties engaged. Singapore's stamp duty rates fluctuate based on the transaction and the kind of document. In Singapore, paying stamp duty is mandatory; neglecting to do so will result in fines.
For any questions regarding stamp duties in Singapore, get in touch with our specialists at Odint Consulting.