Overview: Appeal Against The Rejection Of The Employment Pass
The employment pass is a type of work permit that is necessary for foreign citizens to avail of if they wish to get employed in Singapore. The employment pass is filed by the ministry of manpower  of Singapore, and it lets the foreign nationals take up professional positions like managers, directors, or firm owners in Singapore. Additionally, this employment pass also lets the foreign citizens employed in Singapore stay and travel from city to state easily, without having to file for any entry visa. The work visa remains valid for 1-2 years and can be renewed for a maximum of 3 years. The owners of the work permit can also file for the SPR, Singapore Permanent Residency.
Rejection Of Employment Pass Application
Supposedly, you have gotten a great job role in Singapore, your skills are being addressed, and you start thinking of your blissful future in Singapore, but then suddenly there comes a big obstacle in your way. Which obstacle? Employment pass rejection. In such conditions, it is normal to get annoyed or angry. You may think what if rejection puts an end to all your dreams? So, you are ready to do anything to find a solution.
One should never be in a hurry with his/her application appeal, as a half-baked plan can easily cause the rejection of EP. All the application information should be properly checked and set in compliance with the strict needs of the MOM. Yes, you can place your appeal for the rejected EP even if you don't succeed, but another mistake wouldn't be tolerated.
The Ministry Of Manpower of Singapore is pretty generous when it comes to rejections. The rejection of EP is more like a provision. This can be better understood by knowing that in the past the residents of Singapore were heartbroken when the foreign nationals swooped in and took away their jobs. So, since 2014 new provisions have been introduced regarding foreign nationals.
So, for instance, if you get an EP rejection letter from the MOM which states that you aren't eligible to apply, the first question that would pop into your head would be, "How can I make it better?". In the letter, MOM will also elaborate on the reason for rejection, and may also include suggestions to succeed in the next attempt. So, take up the MOM's advice, work on the mistake and file a new appeal. The applicant gets 3 months for the new appeal.
Book end-to-end experts consultation with Odint finance and legal experts
Reasons For Employment Pass Rejection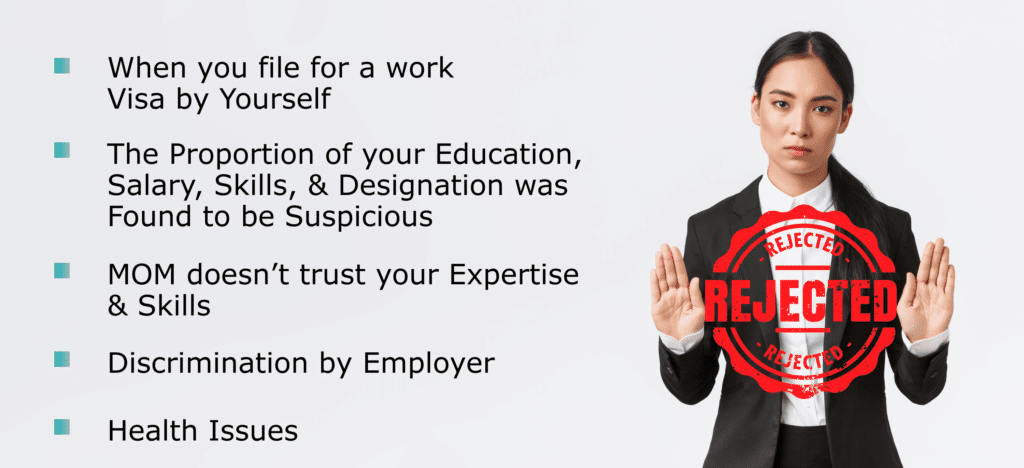 There are several reasons for the rejection of the work visa. Some of them can be:
When you file for a work visa by yourself
The sponsored work permits do not allow applicants to file a work visa on their own. In such cases, only the firm that is going to hire you can file an employment visa for you.
The proportion of your education, salary, skills, and designation was found to be suspicious
In some cases, the MOM officials find the employee's education, salary, skills, etc suspicious. This reason is solely based on the MOM's assessment. For instance, if $2,500 is a minimum wage that lets you be eligible, but it will be helpful only when you are young, graduated, and studied from a reputed institute, and you have few working experiences, and needed skills for Singapore. If one is older, he/she should have better qualifications and experience and should get more money.
MOM doesn't trust your expertise and skills
As harsh as it may sound, there can be cases where the MOM finds your skills or expertise to be of no use to Singapore. If they feel that the work offered to you can be performed better by any local citizen of Singapore, your work visa can get rejected. The only way to ace it is by outperforming yourself in the application profile. If you do a good representation of your skills, you will have a better chance.
Discrimination by employer
If there have been situations of discrimination in HR operations in the past or currently, then your EP can get rejected.
Health issues
If you have HIV or used to suffer from HIV, your work visa can get rejected.
Factors To Consider While Appealing Against Your Rejection
There are some factors one should consider when appealing against your rejection. Let's learn more about these factors:
Lack of support information
When appealing against your rejection, you should have full support information. If one lacks information, it is a sign that you don't take the provisions of MOM seriously, and it can cause another rejection. More rejections can ruin your history of immigration. So, to save your changes, keep full information.       
Don't bombard MOM with appeals
Another point to consider is that one should avoid sending in too many appeals to the MOM. It can have reverse outcomes and can cause more rejections.
Avoid constant calls
Another factor to consider is that you are not calling the department too frequently to get updates on your appeal.
Book end-to-end experts consultation with Odint finance and legal experts
Things To Do While Submitting An Appeal
There are certain things that one should do, consider, and keep in mind when submitting an appeal. These things are:
Crosscheck all the mentioned reasons for rejection, and then based on the finalized reasons, prepare only the needed details as per the requirements of the MOM.
If due for any reason you are skeptical about the reasons for rejection, or if you are not confident if you are mentioning the right reasons, you can always reach out for help to our trained experts at ODINT Consulting. These skilled immigration consultants will assist and review your situation properly and create detailed documentation for you to enhance your growth rate.
We have now reached the end of this article, and we hope that you must have understood what is an employment pass, why it gets rejected, and what factors can prevent the rejection. We suggest that you let external agencies handle your appeal and place your case to the official body. The reason is that they are aware of all the diplomacies to be applied, and that can help you in winning the case in no time.
There isn't any law that stops applicants from applying for different work visas. The rejection of the EP application only pertains to the EP. So, if you are eligible for other kinds of work visas, you can place an application.
Different work permits include Entrepreneur pass, S pass, and PEP, Personalised Employment Pass.
Meet Apurva Gaur, an accomplished and dedicated Company Secretary, whose passion for corporate governance and legal compliance has shaped her remarkable journey in the business world. With a wealth of experience and a keen eye for detail, Apurva has emerged as a leading authority in the field of corporate governance, earning accolades for her invaluable contributions to the companies she serves.