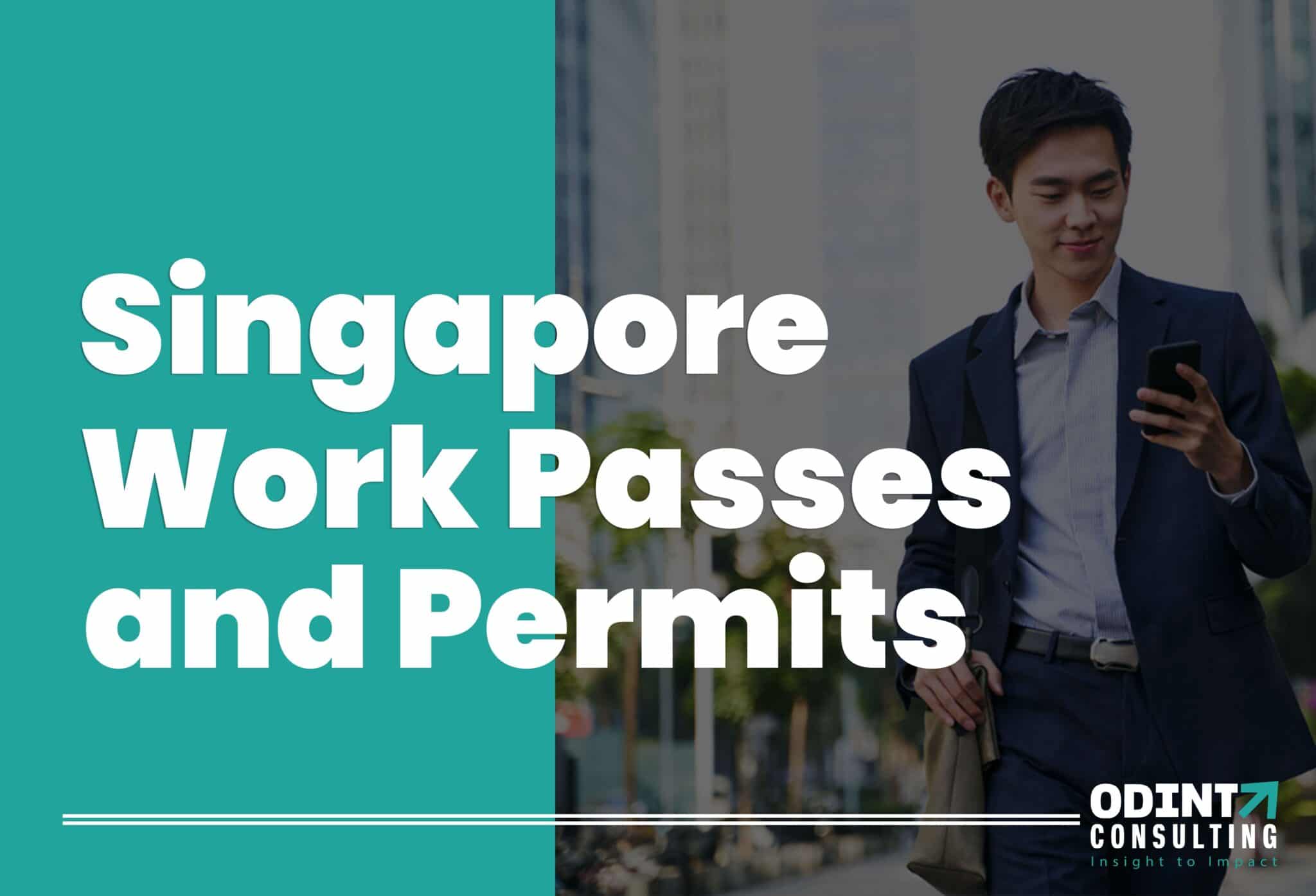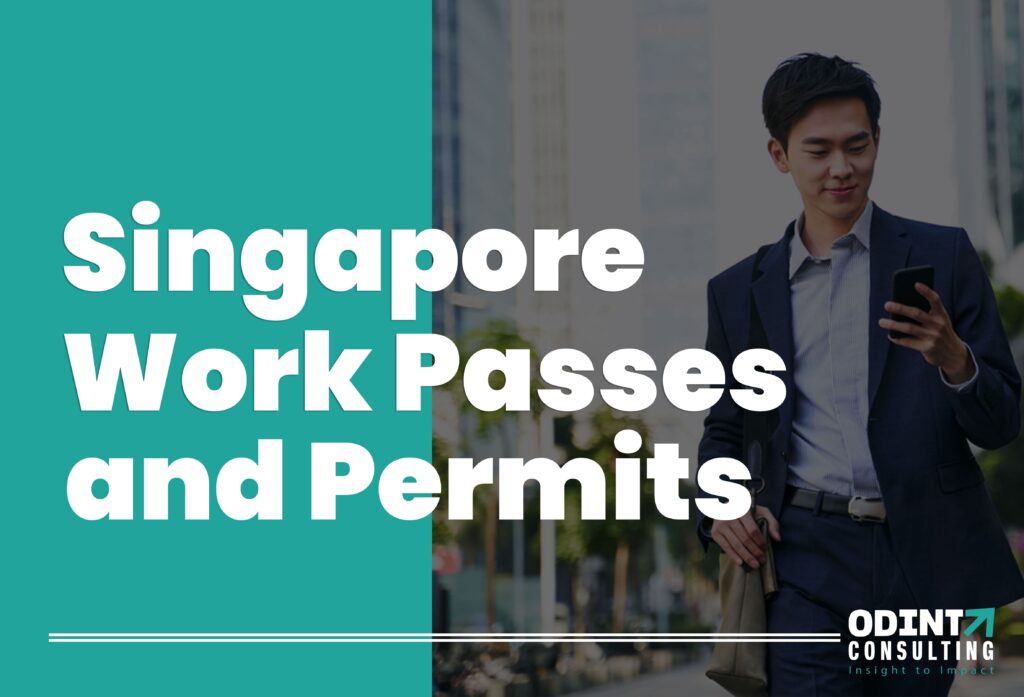 Overview: Singapore Work Passes and Permits
Singapore is a highly developed, global economy offering business and employment opportunities to entrepreneurs and students all across the world. The ideal business environment, great taxation policies, and high-paying jobs attract foreigners to seek their career path in Singapore. 
In order to work in Singapore, a foreigner would require a valid work visa or a work pass. Depending on the type of work, level of skill, and duration of your work, there are different types of work passes through which you can live and work legally in Singapore. 
The Employment Pass, S Pass, EntrePass, are some of the work passes and permits that are available in Singapore. Even the students that are pursuing education in Singapore can obtain a work pass in order to train and work in the country.
Through this article, we will explore the various types of work passes and permits available in Singapore.
Types of Work Passes and Permits in Singapore
The work passes of Singapore have been divided into the categories that are mentioned below:
Work visa for professionals
Work visa for skilled and semi-skilled workers
Work visa for students and trainees
Short-term work passes
Long-term visas
Work Visa for Professionals
These are the work passes that can be obtained if you're a professional worker:
Employment Pass (E-pass)
An employment pass or an E-pass can be obtained by professionals, managers, directors and executive directors, and specialists. You need to earn a minimum of 5000 dollars in order to qualify as a professional for this pass.
Entrepreneurship Pass (EntrePass)
An EntrePass can be obtained by foreign entrepreneurs who want to set up their new businesses in Singapore. The company must be registered with ACRA as a Private and Limited company for not more than six months at the time of application of this pass.
Personalized Employment Pass (PEP)
A personalized employment pass can be obtained by a high-earning foreign employee with your latest salary to be at least $18,000 monthly. It can also be obtained by a current employment pass holder with the latest salary being at least $12,000 monthly. The last drawn salary must not be older than six months from the time of application of a PEP.
Overseas Networks & Expertise Pass
Top talent in company operations, the arts and sciences, athletics, academics, and research can apply for this work pass.
Work Visa for Skilled and Semi-skilled Workers
These are work passes that can be obtained if you are a skilled or a semi-skilled worker:
S-Pass
S pass can be obtained by mid-level and skilled workers with a monthly salary of at least $3000.
Work Permits for Foreign Workers
Work permits for foreign workers can be obtained by semi-skilled and unskilled workers from other nationalities that can work in the manufacturing, construction, marine shipyards, and services sector.
Work Permit for Foreign Domestic Workers 
This can be obtained by semi-skilled and unskilled domestic workers from certain foreign lands such as Bangladesh, Malaysia, Macau, etc. in order to work in Singapore. The age limit for this work permit lies between 23 years to 50 years.
Work Permit for confinement nanny 
With the help of this visa, Malaysian confinement nannies are allowed to be employed in Singapore for a maximum of sixteen weeks, beginning with the birth of the employer's baby.
Work Permit for performing artiste
This permit is required for international entertainers who operate public places of entertainment like bars, restaurants, and nightclubs.
Work Visa for Students and Trainees
There are separate work visas for students and trainees seeking employment in Singapore:
Training Employment Pass
A training employment pass can be obtained by those foreign nationals who are intending to go through training for professional, executive and managerial jobs. The training period cannot exceed more than three months. To be eligible for this pass, applicants must make no less than $3,000 per month in income.
Work Holiday Pass
Work Holiday Pass can be obtained by those who are enrolled under the Working Holiday Programme with Singapore. It is only available to people with the age limit of 18 to 25 years and cannot exceed for more than six months. The countries that are enrolled in the Working Holiday Programme include Australia, France, Japan, Germany, Hong Kong, New Zealand, the UK, USA. The age limit for Australia is 18 to 30 years and for a time period of one year.
Training Work Permit 
This can be obtained by semi-skilled or unskilled foreign students who are seeking education and training in Singapore. They undergo practical training that should not last for more than six months.
Book end-to-end experts consultation with Odint finance and legal experts
A short-term work pass allows a foreigner to be in Singapore as a journalist or a speaker at a public event. It does not allow the foreigner to take up any employment opportunity or job in Singapore and it only lasts for up to 60 days.
Other than work permits, there are some different passes that allow you to visit and stay in Singapore on a long-term basis.
Dependent Pass
The dependent pass can be obtained by legally married couples or children under-21-year-old, including lawfully adopted children. It can also be obtained by previous holders of employment and S-pass earning at least $6000 monthly.
Long-Term Visit Pass (LTVP)
The long term visit pass can be obtained by holders of employment pass with a minimum salary of $6000 and are allowed to bring their legally married spouse, unmarried children, and step-children below the age of 21 years. For EP holders earning a minimum of $12000 monthly, they are allowed to bring their parents and handicapped children above 21 years of age.
There are many different types of work permits and passes that allow you to train, work and reside in Singapore. Whether you're a professional, skilled or unskilled worker or a student, Singapore offers employment opportunities to everyone from different parts of the world. 
Along with a work permit and residence, it also provides an opportunity to bring your family to Singapore and seek residence in the country. All you need to decide is the category that matches your work and follows the procedure ahead.
All you have to do is choose the sort of work pass or permit that is best for you and submit an application. Our professionals at Odint Consulting can guide you in selecting the permit that is best suitable for you and help you with the visa application process. Contact us today.
Meet Apurva Gaur, an accomplished and dedicated Company Secretary, whose passion for corporate governance and legal compliance has shaped her remarkable journey in the business world. With a wealth of experience and a keen eye for detail, Apurva has emerged as a leading authority in the field of corporate governance, earning accolades for her invaluable contributions to the companies she serves.